Xi Beta Omicron 'elves' have Christmas fun
December 18, 2012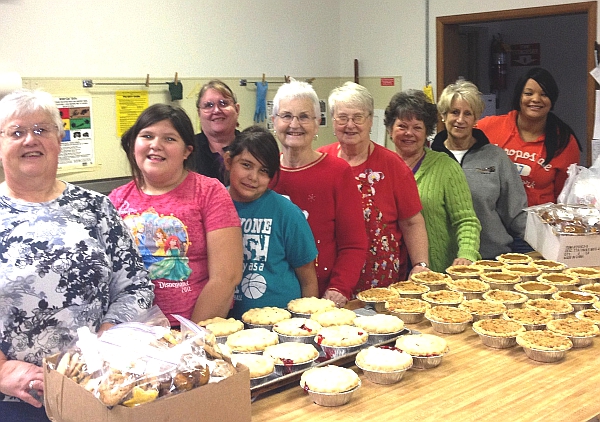 Pictured from left to right : Linda Alt, Savannah Alt, Natalie Adams, Barbara Kovacs, Elaine Atkins, Audrey Schenck, Joanie Mark, Jill Jurgensen and Kalindee Tamayo.
Xi Beta Omicron chapter of Beta Sigma Phi was looking for a special project for this Christmas season. They decided that they could brighten the lives of some of Boundary County's senior citizens and have fun at the same time.

On Saturday morning, they met at the Senior Hospitality Center and, in assembly-line fashion, made 45 individual pies – pumpkin, apple and cherry – to be given to those who attended today's lunch at the center.

They also brought a variety of homemade cookies and individual-size pumpkin bread loaves and mini muffins for the seniors. To top off this Christmas project, each person attending the lunch received a gift certificate to a local restaurant.

Chapter members Elaine Atkins, Audrey Schenck, Jill Jurgensen, Joanie Mark, Barb Kovacs and Linda Alt were Santa's kitchen helpers. Other "elves" helping with the pie-making were Savannah Alt, Natalie Adams and Kalindee Tamayo.

Questions or comments about this article? Click here to e-mail!