Free training for high-tech future is brought to Boundary County (and the rest of Idaho) by Inspire Idaho program
March 27, 2018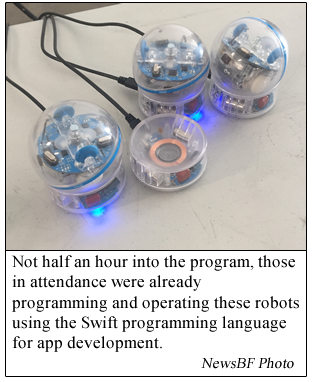 Robots were zipping around the Exhibit Hall at the Fairgrounds Tuesday, following programming code instructions that had been written by people who only moments before were your everyday, average, non-coding North Idahoans.

Having been introduced to Apple's Swift programming language, and with mentoring by experts present at the event, those attending Tuesday's Inspire Idaho program immediately put their new-found programming knowledge to work instructing a platoon of spherical robots to cruise the Exhibit Hall.

This was the first day of of a twenty-city tour across Idaho by the Inspire Idaho team, a collaborative effort by Innovation Collective and the University of Idaho. Their goal: teach coding language to any and all comers, free of charge. Their longer-term goal: to prepare Idahoans with the skills and training to be qualified to step into the high tech jobs looming on the horizon of the future.

The idea is to team up a couple of teaching and educational heavyweights, the University of Idaho and a Coeur d'Alene-based company called Innovation Collective, who sees our future economy leaning heavily toward the the technological advances of robotics, automation, and machine learning. They intend to see people in the here and now become prepared and develop the skills to thrive in that future, through their mission to rebuild inclusive communities, inspire innovation, and unlock economic prosperity.

They intend to take this mission throughout Idaho, leveraging the extended reach the University of Idaho has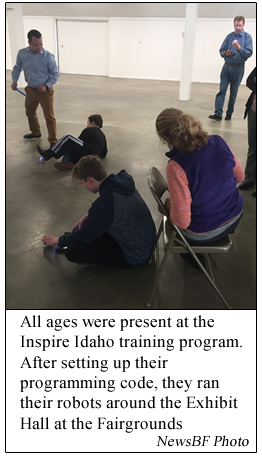 into 42 of the state's 44 counties through extension offices, facilities, teaching, and resources, and thus provide innovative training to prepare people for the jobs and the economy of the future.

So back to Tuesday's program. This was the kickoff session for any who might be interested to attend to learn how to create and develop "apps," those little specialty programs on all of our cell phones and computers that help us keep track of our budgets, check the weather, calculate, find our way around, follow the stars. And a host of other seemingly innumerable applications. If you have ever thought to yourself, "They should have an app that does . . . " then this is the opportunity for you to develop that very app yourself.

This year the emphasis of the Inspire Idaho program is on providing those who want to learn Swift code and App Development the opportunity to do so at no cost, and to make available to all counties and interested citizens of Idaho—from the busiest urban county to the most isolated rural area—the resources needed for this learning, including necessary computers, training, and access to nationally-known experts and mentors.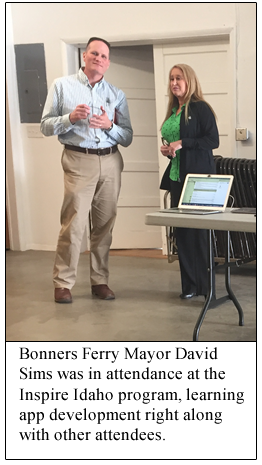 The training program will utilize Apple Inc's "Everyone Can Code" curriculum, and participants will be supported by the University of Idaho and Innovation Collective. The intention is to leverage the statewide reach of U of I Extension to promote the creation of App Development Teams in every one of Idaho's 44 counties. Experts and mentors in the community will also provide guidance and support. Upon completion of Apple's full 180-hour "Everyone Can Code" curriculum, and as part of their training, each team will generate a fully-developed app. And each participant will emerge with significant app development skills.

Those who attended and signed up at Tuesday's session have already taken the first step. If you missed the program, but want to jump in, get involved, and be ready for the economy of tomorrow, check out the details at the Inspire Idaho website, www.InspireIdaho.org, then sign up by filling out the form located here.

The application development field is the first skill being trained this year in the Inspire Idaho program. This field currently generates $1.3 trillion in revenue, and is expected to grow to $6.3 trillion by 2021. This year, 2018, is the first year of the Inspire Idaho program. While this year's training will focus on app development, training in other skills and knowledge will be introduced around the state in coming years through the program.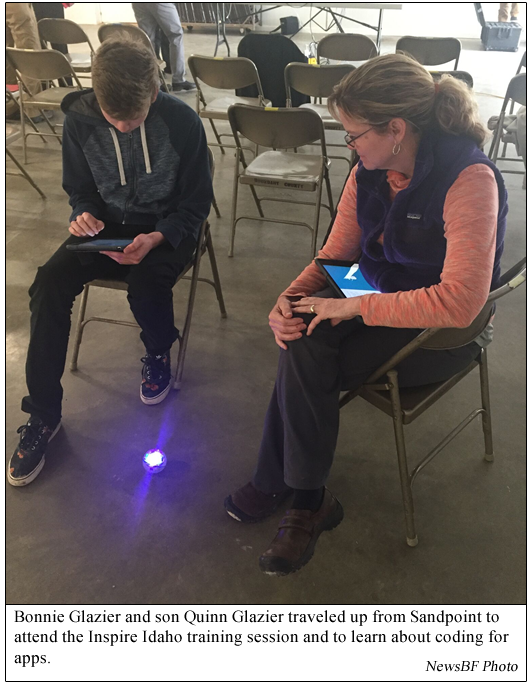 Questions or comments about this article? Click here to e-mail!