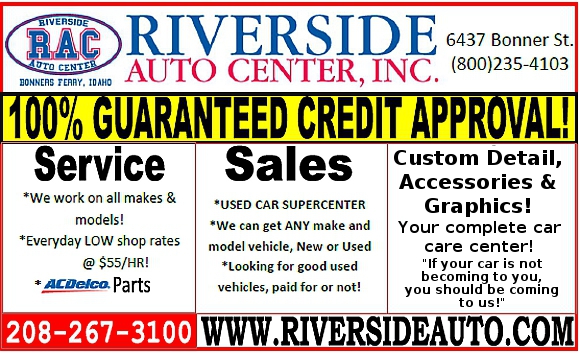 Rucker pleads not guilty to St. Ann's arson: Shane Rucker, 33, Bonners Ferry, appeared in U.S. District Court Friday in Coeur d'Alene and entered a plea of not guilty to two charges brought Wednesday by a Boise grand jury for allegedly burning down St. Ann's Catholic Church in Bonners Ferry April 21, 2016.
Nasty roads ...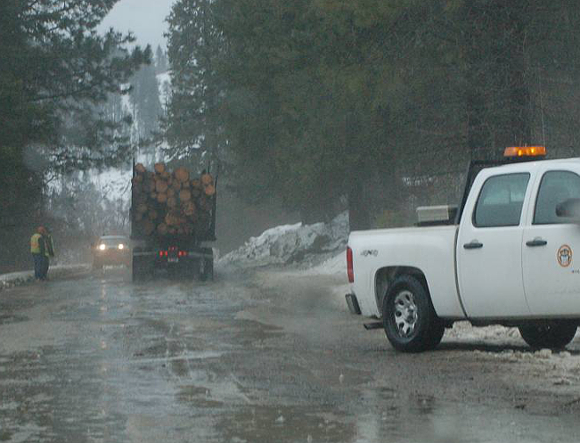 Photo by Sara McIntyre
With all the recent bad weather, roads around Boundary County, especially the side and feeder roads, have been treacherous of late, with a combination of slush, ice and water making travel difficult and the timing of the weather making it hard for hard-working road crews to get and stay caught up. This shot was taken today on Crossport Road near Katka, where Dobson Creek has overflowed.
Be prepared for spring road break-up: Once again it is the time of the year we need to think about break up road closures. Trust me; it is not my favorite part of this job. Temperatures are warming up and hard surfaced roads are soaking in the sunshine and a surface thaw will begin. Cold nights will slow it down. By Clint Kimball
BCH certified as level IV trauma center: Boundary Community Hospital has recently been designated as a Level IV Trauma Center by the State of Idaho. The designation for the hospital is part of the Idaho Time Sensitive Emergency System (TSE) and is reserved for hospitals that meet the stringent criteria established by the state.
Crapo accepting internship applications: The deadline is rapidly approaching for Idaho's students to apply for internship opportunities in U.S. Senator Mike Crapo's Washington, D.C., office, or in one of his six regional offices throughout Idaho.
Boundary County Commissioners minutes, January 16
Snow storm is over, digging continues: The snow storm is over, the roads are getting better, and slowly members of our community are digging out. By Michael Meier, Boundary County Director of Emergency Management

Arrest made in St. Ann's arson: Shane Rucker, 33, Bonners Ferry, was arrested today on a two-count federal indictment in the District of Idaho charging him with destruction of religious property and using a fire to damage or destroy religious property.
Sandbags available at Road & Bridge: Today the National Weather Bureau issued a flood warning for Boundary County and others. With the melting snow and light rain falling, county residents may be experiencing some local water problems with their homes or driveways. By County PIO Michael Meier

Our kids really are worth whatever it takes: February has been an unpredictable month of school, or lack of school I should say. I know students, staff, and parents are ready to get back to normal. Speaking of normal, this winter has been anything but. However, as I was shoveling the roofs of Naples Elementary and Mt. Hall Elementary, I was touched by how many people turned out to help the schools. By Principal Lisa Iverson
4-H Friday Friends seeking coordinator: Boundary County 4-H Friday Friends is looking for a program coordinator. The position is 19 hours a week total with 10 of those hours on Fridays during the school year.
USFS Region 1 accepting job applications: U.S. Forest Service Region 1 is pleased to announce the beginning of their summer temporary positions being advertised on www.usajobs.gov starting today. The advertisements will close on February 22 at midnight EST.
More News →
Letters & Opinions
Linda Sue Nash: Shane Rucker is my nephew. He lived with me in 2015. Poor kid should never have joined the Marines.
W. Gillham: I recently called the NewsBF office to seek assistance with finding a contractor to clear the snow off my parents house on Wells Street while my elderly parents were hospitalized in California.
U.S. Congressman Raul Labrador: This week I was honored and humbled to introduce the Shauna Hill Post 9/11 Education Benefits Transferability Act (H.R. 1112). This legislation will correct an oversight in current law regarding benefits under the GI Bill on behalf of one of Idaho's veterans.
More Letters →
Sports & Outdoors
Still good ice fishing in the Panhandle
: Winter certainly has been cold and snowy in the Panhandle this year. Shoveling snow and contending with slippery roads can make winter a less than pleasant time for many people. Fortunately, the winter has also provided a good ice fishing season that many anglers have gotten out and enjoyed. By Andy Dux
IFWF accepting grant applications
: The Idaho Fish & Wildlife Foundation is accepting applications for its 2017 grants cycle. The grants program provides funding on a competitive basis to nonprofit organizations, the Idaho Department of Fish and Game, and tax-exempt organizations.

Bosworth inducted into Timbersports Hall of Fame
: Bonners Ferry native Carson Bosworth is one of three timber sports athletes to be inducted into the Stihl Timbersports Hall of Fame Class of 2016.
More Sports →
Obituaries
Robert "David" Abeyta, February 2, 2017
Florence Arlene Carey passed away peacefully into the loving arms of the Lord, with her daughters by her side, on February 15, 2017, at Boundary Community Hospital following as short illness. Services will be held at 11 a.m. Saturday, February 25, at United Methodist Church, Bonners Ferry.
Carol Lee Andrews, December 26, 1936 ~ February 4, 2017
More Obituaries →
Search News Bonners Ferry:
Loading
Social News

Darrelyn Rose is Artist of the Month: Local artist Darrelyn Rose is the Boundary County Artist Association's Artist of the Month of February. Her work will be on display in the Mountain West Bank lobby from February 13 to March 13.

Halleman joins staff at BF Family Medicine: Bonners Ferry Family Medicine, 6488 Chinook Street, Bonners Ferry, is honored to have Haley Halleman join the practice. Haley is a certified Physician Assistant, licensed in Idaho as well as Oregon.
Host families needed: Two more foreign exchange student host families are needed for the 2017-2018 school year.
More Social News →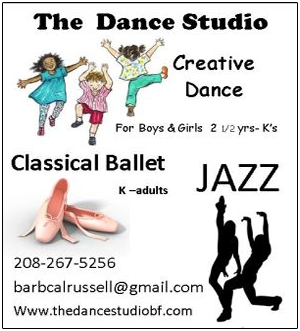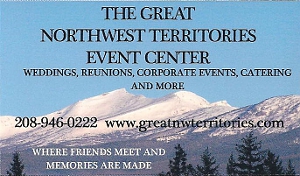 Events
Sunday, February 19
Monday, February 20
Tuesday, February 21
Badger Boys Basketball at 3A District 1 Championships, North Idaho College.
Bonners Ferry City Council meeting, 7 p.m., Bonners Ferry City Hall, 7232 Main Street. For the agenda, click here.
Thursday, February 23
Free Marketing Seminar, 5 p.m., Kootenai River Inn, 7169 Plaza Street, Bonners Ferry.
The BCSD Theatre Troupe presents "Aida," 7 p.m., Bonners Ferry High School Becker Auditorium. Tickets for the premier Thursday showing are $5 adult and $3 students and seniors.
Monday, February 27
BCSD 101 Maintenance and Operations Levy Workshop, 6 p.m., Moyie Springs Community Center.The presentations are meant to educate community members so that they might make an informed decision on whether or not to support the $2.4 million levy that will be on the ballot on Tuesday, March 14.
Friday, March 3
Annual Spring United Methodist Women's Rummage, Bake and Book Sale, 9 a.m. to 4 p.m., United Methodist Church, 6568 Lincoln Street, Bonners Ferry. To find out more, call Judy Dirks, (208) 267-3859.
Saturday, March 4
Annual Spring United Methodist Women's Rummage, Bake and Book Sale, 9 a.m. to noon, United Methodist Church, 6568 Lincoln Street, Bonners Ferry. To find out more, call Judy Dirks, (208) 267-3859.
Wednesday, March 8
Rod Benders Car Club meeting, 5:30 p.m., Chic-n-Chop Restaurant, 6421 Main Street, Bonners Ferry. New members welcome! They would love community involvement in planning the upcoming car show scheduled for June 3.
More Events →