News
December 10
Don't miss the Geminids as 3200 Phaethon swings near: The Geminid meteor shower – always a highlight of the meteor year – will peak in 2017 around the mornings of December 13 and 14. Geminid meteors tend to be few and far between at early evening, but intensify in number as evening deepens into late night.
December 9

Maya shines in Miss Teen of America Pageant: Bonners Ferry's own Miss Teen of Idaho, Maya Roberts, traveled to Orlando, Florida, in November to compete in the 2018 Miss Teen of America Pageant, and against a strong field of amazing young women, she brought home the title of third runner up!

BCMS sending both robotics teams to next level: Science teacher and robotics coach Jacob Garrison and not one, but both of his Boundary County Middle School Omega robotics teams are moving on to Moscow for the next competition.
Spokane man dies in Bonner County crash: A 29 year-old Spokane man died Friday night in a single vehicle crash on Dufort Road near Priest River. According to the Idaho State Police, Andrew P. Blum was driving a maroon Mazda Tribute west in the 9000 block of Dufort Road at about 9:19 p.m. when he lost control while negotiating a curve.
December 8

VVES lost and found overflowing: The Valley View Elementary lost and found is overflowing! Coats, sweatshirts, hats, gloves and lunch boxes. These treasures will be donated to local thrift stores over Christmas break if not claimed. Please have your children check for their personal belongings before December 21!
Air stagnation advisory issued for week ahead: The National Weather Service has issued a week-long air stagnation advisory as an air mass settles over the region. Pollutants are expected to increase through noon Thursday, December 14.
ICF makes North Idaho grant cycle more responsive: The Idaho Community Foundation (ICF) has made several important changes to the Regional Grant Cycle program in North Idaho in response to feedback provided by its past applicants and grantees. The Northern Region Grant Cycle, which provides grants of up to $5,000 to nonprofits, schools and public entities, is now open year-round.
December 7

'CELEBRATE' the end of an era: The Bonners Ferry Community Choir is celebrating 40 years under the direction of conductors Vicki Blake Thompson and Barb Nelson, who are presenting their final community choir Christmas concert together. "CELEBRATE!" will be staged at 7:30 p.m. Friday December 15, and at 3 p.m. Sunday, December 17, at Trinity Lutheran Church.

More than 13 years later, missing daughter found: The body of Christine Lott, who went missing more than 13 years ago, has been found. Her parents, Leonard Jr. and Lucille Kucera, were notified on Wednesday. They spent the rest of the day and well into the night contacting family to let them know the sad but so long awaited news.
BCSD 101 loses most free breakfast benefits: Boundary County School District #101 Food Service recently closed a review from the Idaho State Department of Education, and unfortunately, as of January 8, all schools except Valley View Elementary will no longer be participating in the Provision 2 Breakfast Program.
Elderly man believed killed after interrupting burglary: On the evening of Wednesday, December 6, members of the Bonner County Sheriff's Office were dispatched to the 1200 block of Mountain View Road, Clark Fork, to a report of a deceased male. Detectives believe the victim, George Andres, 73, Clark Fork, was returning home and interrupted a burglary in progress.

Former RMA director killed in police shootout: Former Rocky Mountain Academy director Scott Addison, 49, was shot and killed Wednesday afternoon in Cheyenne, Wyoming, after a brief standoff with police. Addison had been charged March 1 in Laramie, Wyoming, where he was living, with 25 felony counts after multiple women accused him of sexual assault and attempted blackmail.
ICF grants help local behavioral health programs: The North Idaho Action Fund in the Idaho Community Foundation is providing over $55,000 in grants to four projects working to improve the accessibility and quality of behavioral health programs in Boundary and Bonner Counties.
December 6

Christmas Concert & Silent Auction around the corner: The Bonners Ferry Band's annual Christmas Concert and Silent Auction will be held at 7 p.m. Thursday, December 14, in the Becker Auditorium at Bonners Ferry High School. Students need to arrive before 6:30 p.m., dressed in their finest concert black. Band Notes, by Jessica Hanna

The Pearl ringing in the New Year in style: The Pearl Theater is ringing in the New Year in style at their 5th annual New Years Eve Party, with the theme, "Decades," at which guests are encouraged to dress to the nines in the style of their favorite decades. Celebrated from 6 to 9 p.m., this fundraising event will be the perfect way to spend the evening!
More News →
Letters & Opinions

U.S. Congressman Raul Labrador: On December 8, 1967 – 50 years ago today – the biggest story in America was the Vietnam War ("2 Battalions of Vietcong Crushed in Mekong Delta" was the headline in the next day's New York Times); the number one song was "Daydream Believer"by The Monkees; the number one movie was Hells Angels on Wheels (don't worry, I've never seen it either); and the number one toy for Christmas was Battleship. Oh – and that day was the day I was born.
More Letters →
Sports & Outdoors
Girls win, boys fall to Bulldogs: The Badger girls pulled off a win in the house of the Bulldogs Saturday, keeping their winning streak so far this season alive at five with a final score of 65-52. The Badger boys put up a tough fight, but couldn't over come a second quarter deficit and suffered their first loss of the season to the Bulldogs, 75-66.

BCMS wrestlers win District 1 championship: Your District 1 Middle School Champions for the second year in a row are the Bonners Ferry Badgers!Taking first place spots on the dais were Jake Summerfield, Marcus Regehr, Eli Richards, Joel Cowley, Kyle Smith, Andrew Sandelin and Hunter Higeretta.
Badger varsity romps at Cusick, face Sandpoint: The Badger girls trounced the Cusick Panthers in an away game Thursday, outshooting their opponents in every quarter to chalk up a 59-24 win. The undefeated Badger boys also won their match Thursday with a 78-66 win.
More Sports →
Obituaries
John Stuart McClelland, 84, went home to be with The Lord on November 26, 2017, after a three month battle with leukemia. A memorial will be held in the spring at the McClelland Ranch in Sagle. Date and time will be published.
Todd L. Gerdes, November 7, 1963 ~ December 6, 2017
Joseph Paul Hessenkemper, August 28, 1954 ~ December 4, 2017
Charlotte Rae (Carter) Perin, 76, passed away on Friday, December 1, at Alderwood Manor in Spokane. A celebration of life will take place at 1 p.m. Sunday, December 17, at Millwood Presbyterian Church, N3223 Marguerite Road, Spokane Valley.
More Obituaries →
Search News Bonners Ferry:
Loading
Social News
Happy December 11 birthdays to David Cowell, Christne June Garcia, Ty Bell, Jane Kelley, Bonnie Grove and Lynnette Kent!
Thanks to Facebook & Bonners Ferry Beta Sigma Phi!

Three graduate BCH fall CNA class: Boundary Community Hospital and North Idaho College announced the graduation today of the fall semester Certified Nursing Assistant (CNA) class. They are Lanilyn Hughes, Cheyenne Bennett and Summer Norman.

Victoria Rae Badger awesome student of the week: It is my pleasure to introduce Victoria Rae as the Bonners Ferry High School Student of the Week. Victoria is a sophomore with a 4.0 GPA who also excels on the varsity volleyball team .... By P.E. Teacher Ed DePriest
More Social News →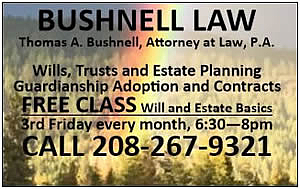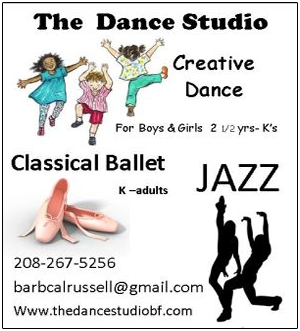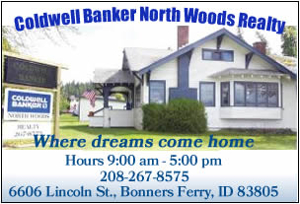 First half tax deadline just ahead


Boundary County Treasurer Susan M. Larson would like to remind all Boundary County taxpayers that the deadline for paying the first half of the 2018 property taxes without penalty is Wednesday, December 20.
Events
North Idaho events Pacific Time,
Montana & Creston events Mountain Time
Monday, December 11
Fab Lab Classes, 1 to 7 p.m. by appointment. Boundary County Library. To reserve your class, call 267-3750.
Troy School Board Meeting, 5 p.m., high school library.
Boundary County School District 101 Board Meeting, 6 p.m., Valley View Elementary.
Tuesday, December 12
Kootenai Valley Resource Initiative Board/Forestry Committee Combined Meeting, 9 a.m., Kootenai Tribal Office. Scoping prep on Camp Robinhood Project. To find out more, call (208) 267-3519, extension 551, or email patty@kootenai.org.
Computer Tutor, 1 to 4 p.m. by appointment, Boundary County Library, 6370 Kootenai Street, Bonners Ferry. For more information, call 267-3750.
Gifts in a Jar Class, 2 to 3 p.m., Boundary County Extension Office. Learn many different ways to create a unique gift in a jar. Cost is $10. Class size is limited. To register, call (208) 267-3235.
Badger Boys Freshman Basketball, home vs. Lakeland, 4 p.m.
Troy Elementary Winter Concert, 5 p.m., Troy Activity Center, 236 Spokane Avenue, Troy.
Badger Boys JV Basketball, home vs. Lakeland, 5:30 p.m.
Badger Boys Basketball, 7 p.m., home vs. Lakeland.
Wednesday, December 13
Mt. Hall Elementary Christmas Program, 6:30 to 8 p.m., Mt. Hall School, 1275 Highway 1.
More Events →