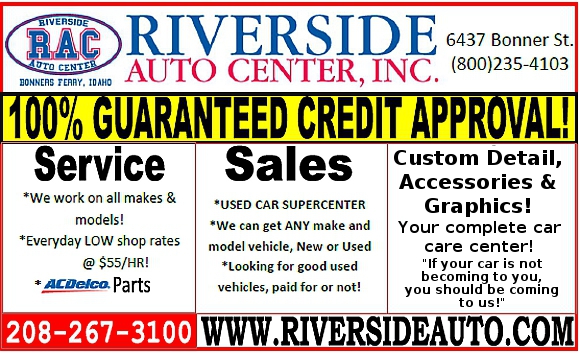 News
Winter storm watch calling for snow: The National Weather Service has issued a winter storm watch for the possibility of heavy snowfall Thursday through Saturday morning in the Idaho Panhandle.
First half property taxes due December 20: Boundary County Treasurer Susan Larson would like to remind all Boundary County taxpayers that the deadline for paying the first half of the 2016 property taxes without penalty is Tuesday, December 20.
County P&Z to consider conditional use: The Boundary County Planning and Zoning Commission will hold public hearing at 5:30 p.m. Thursday, December 15, in the main courtroom at the Boundary County Courthouse to accept public comment on Conditional Use Application 17-016 by John Oxley.
Explorers raising funds to attend memorial: It is estimated that every 53 hours a law enforcement officer is killed in the line of duty in the United States. The month of November has seen the tragic loss of 20 officers' nationwide; more than any other month in 2016.
Holiday season busy at BCMS: Our Penny War fundraiser was a fantastic success! Through the efforts of our students and the competitive nature of our school, we were able to raise $1,517.40 to donate to local organizations. The money was split and checks given to the local Legion and VFW chapters. By Principal David Miles II
ITD seeking public input on projects: The Idaho Transportation Department is taking public comment on 26 bridge projects on highway routes across the state. The bridges will be built as funding becomes available. That list includes five spans in the Idaho Panhandle, including the Round Prairie Creek Bridge, Highway 95 at Mile 529.96 in Boundary County.
Winter weather could finally be coming: After a relatively mild November, the arrival of December could finally bring the onset of winter, with the next six days in a row offering a good chance of snowfall, and temperatures predicted to drop into the single digits a week from today.
BCH hosting Giving Tree: This year, Boundary Community Hospital is sponsoring a Christmas Giving Tree in the Outpatient Services Lobby for the benefit of Boundary County children through the BoCo Backpacks program.
Man arrested for disturbance at Naples School: On November 21 at about 8:15 a.m., Naples Elementary School contacted the Sheriff's Office to report that they had placed the school on lock down due to an intruder being on the school grounds.
ISP working to resolve *ISP issues: Through public feedback, Idaho State Police recently learned that *ISP (*477) was not working for some users with certain mobile phones.
Licenses, ID cards running late: The Idaho Division of Motor Vehicles wants to reassure customers who have not yet received a driver's license or identification card applied for in the last five weeks.
School district seeks bids: Boundary County School District 101 is seeking sealed bids for work to be done on the Valley View Elementary gym floor. The deadline is 2 p.m. Monday, December 19.

FFA digging their vermicompost project: The Idaho Farm Bureau recently chose the Bonners Ferry FFA Chapter as a recipient of the Agricultural and Environmental Research Foundation Grant, and now several local FFA members are up to their elbows in worms.

Rotary members make holiday delivery: Bonners Ferry Rotary heard the call from the local food back a few weeks ago ... so yesterday, a group of representatives gathered together to help pay for and transfer 20 turkeys to the food bank for Thanksgiving Dinner Baskets.
Care-n-Share gearing up for its 34th season: Applications for this year's Care-N-Share are now available at the Panhandle Health Clinic, 7402 Caribou Street, Bonners Ferry, and at the Bamboo Room Crafts Store, 35 Automation Lane on Highway 95 about a mile north of Three Mile, to help ensure that no child in Boundary County has to go without a gift at Christmas.
More News →
Letters & Opinions
U.S. Congressman Raul Labrador
: Some Americans are so disappointed by the result of the election that they call for abolition of a 229-year-old institution that has kept our nation strong and united, the Electoral College.
Rosanne Smith
: Moyie Springs News ... Seems the city council has filled the position of mayor with Chad Farrens and appointed Heather Andrews to fill the seat vacated by Farrens. Also, in other news you won't see with your monthly water bill ...
Henry Yoder
: I want to thank all the volunteers who participated in the second annual community thanksgiving meal last night and especially Tammy Schneider and Lisa Carle for your hard work and good job in running the operation.
More Letters →
Sports & Outdoors
IDFG seeks input on proposals
: Idaho Fish and Game wants to hear from hunters on proposed changes to moose, bighorn sheep and mountain goat seasons for 2017 and 2018.
Idaho hunting and fishing licenses back online
: People can once again buy Idaho hunting and fishing licenses and tags online, but they will have to establish a user name and password to get entrance into the system.
More Sports →
Obituaries
Cheryl Jean Adkison, July 19, 1944 ~ November 26, 2016
Kenneth Dale Gee, December 17, 1952 ~ November 27, 2016
Johnnie Allen Cook, April 20, 1945 ~ November 22, 2016
More Obituaries →
Search News Bonners Ferry:
Loading