News
February 22

Lolah missing across border in Canada, may be trapped: Two dogs had been gone over a week from their home in West Creston, just across the border into Canada; on Wednesday, Janelle's white dog came home with a broken snare around his neck. Her friend's older female black Lab, Lolah, is still missing, and Janelle fears she may be snared as well.
Boundary County Middle School congratulating many! Congratulations to our January Citizens of the Month who were celebrated for their fairness at all times. Sixth grade, Dillon McLeish, seventh grade, Maggie Bateman, eighth grade, Jaden Villeli, and staff, Mrs. Heigel and Mr. Arthur. February citizens will be honored for caring.
Fire destroys family home: A Bonners Ferry family, whose names have not yet been released, lost their home up Twenty Mile Road to fire this morning. According to Sheriff Dave Kramer, the family was in Spokane when the fire was reported at about 8:46 a.m.
All our effort needed to keep landfill open: Boundary County started the site certification for the Boundary County Municipal Landfill in 1995. Through this process Boundary County fell under the small community exemption. By Michael Meier, Boundary County Public Information
February 20
~ County roads temporarily open to hauling ~
Despite the signs, the current cold snap has enabled trucks to resume hauling on Boundary County roads through Sunday, February 25, without special permits. For the most up-to-date county road closure information,
click here.

On making 'Rant and Rave' fodder: We are halfway through the 2017-2018 school year ... how did that happen? I find it truly amazing how times moves faster the older I get! When I was in school, time moved sooooo slowly; must be the new math! Superintendent's Scoop, by Gary Pfleuger

Barking Saddle has 'soft' opening: After far too long, Boundary County once again has a western shop, Barking Saddle, in the Bonnerport Mall just off the city parking lot in downtown Bonners Ferry. Walking in, you're sure to think, "wow, this is neat!" What's a little hard to believe is that the main lines of merchandise are still at the manufacturer's, waiting to be made.

'Justice for Jesseka' rally slated: A Justice for Jesseka Rally has been scheduled for 11 a.m. Saturday, March 3, at the gazebo at the Boundary County Fairgrounds, for a peaceful protest before the sentencing date for Eric Dante, who pled guilty to the May 1, 2017, murder of Jesseka Munson in Bonners Ferry.
Spring begins early for ITD: Work will begin Monday, February 26, to replace the bridge over Interstate 90 near Kingston, 30 miles east of Coeur d'Alene. This is one of several projects throughout the North Idaho region, including a project near Eastport.
Bonners Ferry City Council minutes, January 2
February 19
BCH offers CNA scholarships, jobs: Boundary Community Hospital is offering several scholarships for the spring Certified Nurse's Assistant class, and the scholarships each come with a job offer to work at BCH.
February 18
FFA Week in the halls of BFHS: Boundary County FFA Members are reminded not to forget about the Chapter FFA Week activities to celebrate National FFA Week!
Kaia is safe! News from two separate sources, including family: Kaia is safe and has turned herself in to Williston Police. While the details are few, Kaia is said to have talked with a friend early this morning, and agreed to turn herself in at about 5 a.m. PST today.
February 17

Kaia Kramer still missing: 7:25 p.m.: Police in Williston, North Dakota, are still searching for 13-year-old Kaia Kramer, who has been missing from Bonners Ferry since early Friday morning after allegedly stealing her grandfather's GMC Yukon and driving her best friend, Alisa Hannaman, to meet boys they'd met online in Williston, North Dakota.
~ One missing girl found ~
2:40 p.m.: We have word from her brother, Tyler Hannaman, that Alissa Hannaman has been found and is now in police custody. Kaia Kramer, 13, and Colin Edwards, 14, are still missing. UPDATE: At 3:27 p.m., a family member reports that Colin is safe and has been released to the family.
Bonners Ferry girls missing: Bonners Ferry Idaho has two missing teenage girls, Kaia Kramer 13, and Alisa Hannaman 14-15 years old. These girls may have been lured away from their homes. Boundary County Public Information

Young entrepreneur trying again: You can't keep an entrepreneur down for long! Now that we have another heavy snow, Jackie's son Gabe is wanting to give shoveling another go since no one called last time. He and his daddy can do sidewalks, decks and small driveways in Bonners Ferry!
Yukon found, search for girls underway: The vehicle stolen in Bonners Ferry and believed used by Kaia Kramer and Alisa Hannaman to get to North Dakota was found this morning before 7 a.m. in a Williston, North Dakota, housing area. Williston Police are investigating.
More News →
Letters & Opinions
Julie Richardson: A heart felt thank you to each and every one of you who sent us information, messages of support and updated post shares through out this truly terrifying ordeal. From Bonners Ferry to North Dakota, you have all played a part in finding my daughter, Alisa Hannaman.
District 1 Representative Sage Dixon: I have received a couple of emails regarding a vote taken on the floor of the house yesterday. Because I am aware that not everybody will take the time to ask for themselves whether something they read on Facebook is true, I thought it prudent to explain the vote on House Bill 463.
More Letters →
Sports & Outdoors
Lady Badgers fall to Snake River, Timberlake crushes Buhl: Snake River edged Bonners Ferry in the Idaho State 3-A girl's basketball championships at Skyview High School, Nampa today, 58-51. Timberlake made easy work of Buhl, winning 46 to 25.
Foundation accepting applications for grants: The Idaho Fish & Wildlife Foundation is accepting applications for its 2018 grants cycle. The grants program provides funding on a competitive basis to nonprofit organizations, the Idaho Department of Fish and Game, and tax-exempt organizations.
More Sports →
Obituaries
George Douglas Gemind, 57, passed away at his home near Bonners Ferry of cancer on February 18, 2018. A complete obituary is pending and services are to be announced.
Kermit Wilford Bandimere, 90, Bonners Ferry, passed away at Bonner General Hospital on February 14, 2018. Interment will be in the Eastern Washington State Veterans Cemetery.
James "Shamus" Sedler, 86, passed through this life on February 2, 2018. A celebration of his life will be held on Saturday, March 17, at the Double J in Troy. The time is to be set.
More Obituaries →
Search News Bonners Ferry:
Loading
Social News
Festival of Hearts a big success: The Fry Healthcare Foundation Festival of Hearts was a resounding success, raising more than $40,000 to benefit Boundary Community Hospital.

Rhoades graduates Air Force basic training: U.S. Air Force Basic Airman Jade Alana Rhoades, graduated from basic military training at Joint Base San Antonio-Lackland, San Antonio, Texas, in January.
More Social News →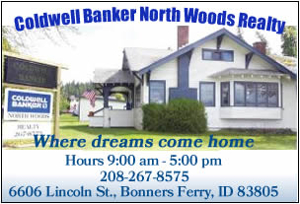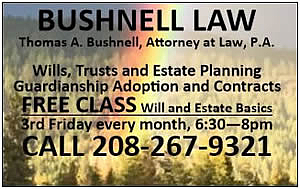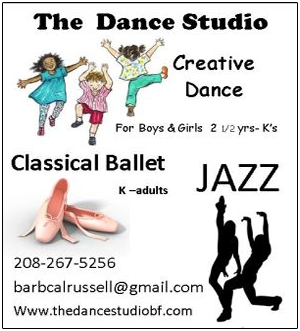 Events
Friday, February 23
UMC Potluck, 11 a.m., Bonners Ferry United Methodist Church, 6568 Lincoln Street, Bonners Ferry.
Lego Club, 1 to 3 p.m., Boundary County Library.
Fab Lab Classes by appointment, 1 to 7 p.m., Boundary County Library. To reserve your session, call (208) 267-3750.
Performers Circle, 7 p.m., The Pearl Theater, 7160 Ash Street, Bonners Ferry.
Saturday, February 24
Breakfast & Politics, 9 a.m., The CrossTime Saloon, 6371 Kootenai Street, Suite 3. A full breakfast will be served for $15. Hosted by the Boundary County Democrats.
Legislative Town Hall Meeting, 9:30 a.m., Providence Church, 6530 Washington Street, Bonners Ferry. Meet Idaho District 1 Representatives Heather Scott and Sage Dixon.
Chess Club, 10 a.m. to noon, Boundary County Library, 6370 Kootenai Street, Bonners Ferry.
Computer Tutor by appointment, noon to 4 p.m., Boundary County Library. Call (208) 267-3750.
Owl Walk, 4 p.m., Kootenai National Wildlife Refuge, 287 Westside Road, Bonners Ferry. To learn more, call guide David Siebenthaler at (208) 267-2155.
Nerf Wars, 4:30 to 6:30, Boundary County Library.
Runaway Symphony, 7 p.m., The Pearl Theater, 7160 Ash Street, Bonners Ferry. Tickets $12 advance, $15 at the door, $5 students at Bonners Books, Iron Mike's or online. Doors open at 6 p.m.
Monday, February 26
Fab Lab Classes by appointment, 1 to 7 p.m., Boundary County Library, 6370 Kootenai Street, Bonners Ferry. To reserve your session, call (208) 267-3750.
Boundary County School District 101 Board Meeting, 6 p.m., Boundary County Middle School library.
Tuesday, February 27
Fab Lab Independent Time by appointment, noon to 5 p.m., Boundary County Library, 6370 Kootenai Street, Bonners Ferry. To reserve your session, call (208) 267-3750.
More Events →