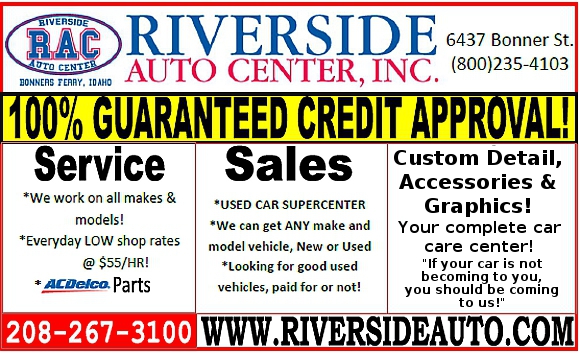 News

Schedule of Boundary County Fourth of July Activities: Click on this story for the schedule of events for Monday's Fourth of July celebration, and additional information about the big day.
Learn about wheat and barley varieties in Boundary County at the Extension Office Field Day and Farm Tour: Interested in learning which wheat and barley varieties do best in Boundary County? That question and many others will be examined at this Field Day and Farm tour. Sign up now—lunch provided!
Golf, fun, and prizes at this year's Fry Healthcare Foundation 8th Annual Golf

Tournament: Golf tournament was fun for all, then there was the helicopter golf ball drop with a flat screen TV grand prize. This story also mentions big changes with what has been the annual Festival of Trees event.
Auto accident near Post Falls claims lives of two Boundary County men, a third is injured: The accident occurred at about 1:00 a.m. this morning (Sunday, June 26).
Railroad crossing at Highland Flats to be temporarily closed: Dates and times and details are given in this brief story.
School Board to hold special meeting for the public on budgets; other issues also to be discussed: Boundary County School District 101 will be holding a special meeting, open to the public, to provide information and answer questions regarding the District's 2015-16 Amended Budget, and the proposed 2016-17 Budget.
Boundary Community Hospital Rehabilitation Department receives award for clinic quality: Local Rehab department exceeds national average for improvement

Wildfire season: looking back and looking ahead; Three fires in Boundary County already this season: As dozens of wildfires burn around the country, with evacuations and homes destroyed in some areas, Idaho has so far held up fairly well, although Boundary County has already had three fires so far.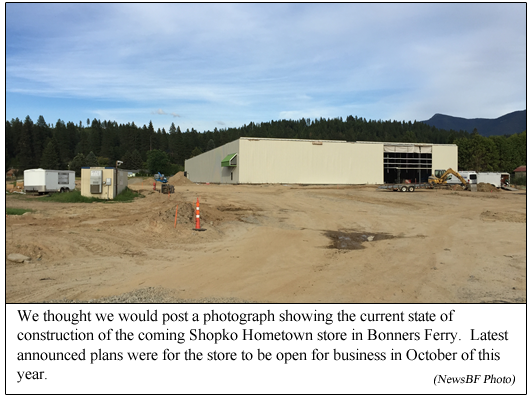 Do you own a boat, canoe, kayak, or raft? Get On Board with The Idaho Invasive Species

Sticker for Watercraft!: Check this story for details on which watercraft require the special invasive species sticker and which ones don't.

Critters (stuffed) donated to Boundary Community Hospital thanks to memorial fund for former nurse: They are available for children or others in need of comfort at the hospital.
Southern Idaho murder suspect who escaped Bonner County police chase has been arrested in Spokane: A south Idaho murder suspect who ended up in a police chase in northern Bonner County this past March was spotted and arrested in Spokane over the weekend. He and his female companion had eluded officers in a chase just a few miles south of the Boundary County line. The woman was arrested last month in Las Vegas.

Dance Recital Photographic Report: The annual Dance Recital,

performed by students of Bonners Ferry's Dance Studio, was held this past weekend. Click on this article to see our collection of over 20 photographs from the event.
Popular Two Mouth Lakes Trail closed through the summer: Forest Service considers the area unsafe at this time.

In huge emergency exercise, an earthquake that didn't really hit Seattle had a big

impact on Boundary County: It was one of the biggest emergency exercises ever undertaken. Boundary County emergency services, governments, and resources played their role in helping with a massive earthquake and tsunami that, in the emergency drill scenario, had occurred on the west coast. We've got all the details and the photographs.
Own forest land? Learn useful tips at Forest Landowner Field Day: This educational and fun event for the entire family is a chance for forest landowners to learn about several useful subjects at this event located on an award-winning tree farm. Family forest landowners and anyone interested in forest stewardship will gain valuable information through demonstrations, classes, and exhibits throughout the day.
Bonners Ferry National Guard Armory to close soon: In what the Idaho National Guard calls an effort to modernize and realign its facilities with changing demographics and new Department of Defense requirements, the Idaho National Guard plans to end its use of the Bonners Ferry National Guard Armory in the near future.
Classic cars and show cars take over the streets of Bonners Ferry: On a very hot day

last Saturday, the streets of downtown Bonners Ferry were lined with a lot of very hot cars.

Bonners Ferry High School Class of 2016 Graduation Ceremony: Eighty-eight seniors graduated on Saturday. Our story has details on what happened at graduation, the talks given, lots of photographs, and you can watch a 20 second video of graduation caps flying into the air as the Class of 2016 was officially presented at the end of the event. We also have the link to a taped replay of the entire Graduation Ceremony.
More News →
Letters & Opinions
Gerald B. Higgs: What does the BREXIT vote in the United Kingdom have to do with us?
More Letters →
Sports & Outdoors

Bonners Ferry 'Border Patrol' adds depth to Logger roster: In this story re-published from the Libby, Montana Western News, a few players from Bonners Ferry's championship baseball team are making significant contributions to Libby's team in the summer American Legion Baseball league. Thanks to the Western News for giving permission to re-publish this interesting story.
More Sports →
Obituaries
Sarah Lou Hudnall: December 22, 1955 ~ June 18, 2016
Carolann Foote: June 15, 1939 ~ June 02, 2016
Duane Edward Saunders: September 26, 1961 ~ June 12, 2016
Roy Everett Day: January 7, 1931 ~ June 3, 2016
Oiva "Pete" Wakkinen: July 21, 1927 ~ May 27, 2016
More Obituaries →
Search News Bonners Ferry:
Loading