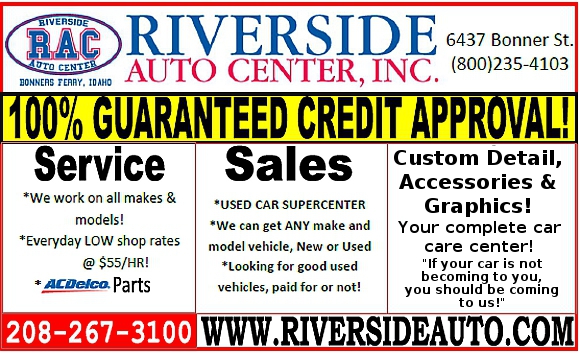 News
June 26

Storm brings power outages: As of 9:10 this evening, many Northern Lights customers remain without power as storms continue to move through the area, bringing wind and lightning but sparse showers. There have as yet been no reports of fires sparked by lightning strikes, but dangerous weather is expected to continue through 11 p.m. today.

Comedy coming to Kootenai River Days: A couple comedian friends of Tamra Hiatt's from Spokane will be performing at the Kootenai River Inn at 8 p.m. Friday, July 7, as part of the 2017 Kootenai River Days festivities in Bonners Ferry. You don't want to miss this fun event, and there are lots of other fun events going throughout that whole week.
Mountain Springs launching Early Learning Academy: ollowing the precept of Proverbs 22:6, "Train up a child in the way he should go and when he is old he will not turn from it," Mountain Springs Church is launching the Mountain Springs Early Learning Academy preschool and kindergarten to help instill God's love in each child so that he or she may grow to find his or her courage and confidence from knowing God's unwavering love.

Brown tabs to protect trees: Have you seen these packets attached to trees and wondered what they do Idaho Department of Lands, Forest Health Protection and volunteers came together recently to staple anti-aggregation pheromone bubble capsules onto trees on nearly 1,000 acres of Idaho State land.
Boy, that beer has a wizz to it! It seems the world never runs out of new and different ideas, some good but most on the debatable side as far as being useful to mankind. About 7,000 years ago one of mankind's greatest achievements took place. Musings from Moyie Boy by Ken Carpenter
June 24
Great d
ay for salin'!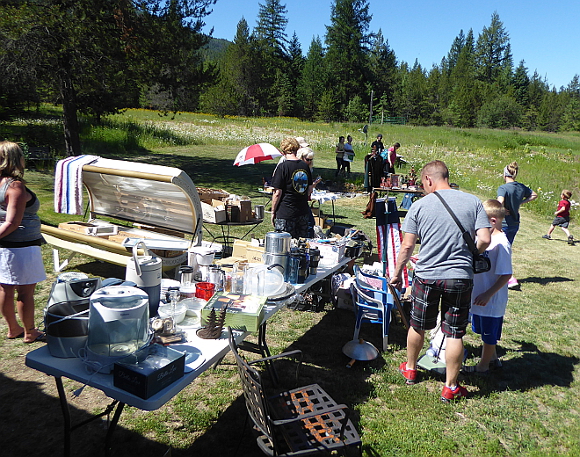 Saturday dawned sunny and warm and just right for attending to one of the many yard sales underway in Boundary County, including the sixth annual community yard sale at Wildhorse Mercantile on Highway 95 in Round Prairie!
June 23
Trout Creek Road reopened: The Bonners Ferry Ranger District has reopened Trout Creek Road (Forest Service Road 634) in Boundary County. Repairs have been completed and the popular road leading to the trail heads of Pyramid Ball Lakes Trail, Fisher Peak Trail, Big Fisher Lake Trail, Pyramid Pass Trail and others is ready for summer travelers!
June 22
Team category added to Kootenai River Run 2017: This year the Kootenai River Run is adding a team category for the 5K run, with winners to be determined by the combined times of the five team members. This in addition to the regular gender and age categories as in years past that have made the Kootenai River Run, coming up Saturday, July 1, one of the Northwest's premier fun runs.
Friendly reminder; no fireworks in Bonners Ferry: As the Fourth of July holiday approaches, the City of Bonners Ferry would like to issue a friendly reminder to city residents and those visiting the city for the holiday about city ordinances and Idaho State Code regarding fireworks inside city limits.
More News →
Letters & Opinions
Kirk Dixon: I'd like to ask this community if they believe in the electronic voting machines. If some do, I suggest they check out the Stanford study that was made.
More Letters →
Sports & Outdoors
Badgers travel to Omaha with Loggers: Five Badger baseball players were able to check an item off their bucket lists courtesy of their summer American Legion baseball team, the Libby Loggers, as they are now at the College Baseball World Series in Omaha, Nebraska.

Lake Pend Oreille kokanee fishing outlook: Kokanee fishing is finally beginning to pick up on Idaho's largest body of water. Unusually cool and blustery spring conditions and high inflows have kept most kokanee anglers away from Lake Pend Oreille. With the increasing numbers of kokanee in Pend Oreille over the past few years, anglers have been pleased with the number of relatively large kokanee available from this popular fishery.
More Sports →
Obituaries
DeWayne Lee Wedel, October 11, 1927 ~ June 22, 2017
Marvin Robert Everhart, June 2, 1929 ~ May 13, 2017
Joshua Wayne Jessop, February 16, 1997 ~ June 19, 2017
Donald Malon Peterson, 88, passed away on June 21, 2017, at Life Care in Sandpoint. Arrangements to be announced and a full obituary to follow.
Barbara Ann MacDonald Denney-Seehafer-Johnson, 84, passed peacefully into her savior's arms June 8, 2017, in Kalispell, Montana, at the Brendon House. Graveside services and internment will be held at 10 a.m. Thursday, July 6, at Grand View Cemetery, Bonners Ferry.
Gordon Richard "Dick" Platts severed his earthly bonds on March 2, 2017, to join in a celebration with our Dad and Mom surrounded by his Bonanza, Oregon, family. A celebration of Dick's life will be held June 27 at his home in Bonanza, Oregon.
Nancy H. Orr Adams, 72, passed away on June 7, 2017, at Boundary Community Hospital ER in Bonners Ferry. A memorial pot luck will take place at 4 p.m. Saturday, July 29, at Fireman's Park in Libby, Montana.
James Kevin McNally, born March 17, 1952, passed away peacefully at his home in Bonners Ferry on December 10, 2016. A small service to bury Kevin's ashes will be held at Grandview Cemetery 11 a.m. Saturday, July 1. A get together at the Bonners Ferry Eagles Aerie will be held afterward.
More Obituaries →
Search News Bonners Ferry:
Loading
Social News
County well represented on U of I Dean's List: University Communications & Marketing at the University of Idaho is pleased to make available the 2017 spring Dean's List. More than 2,400 students qualified for the UI Dean's List for the spring 2017 semester. Several hail from Boundary County.

Geyman takes first in chess tourney: Jonathan Geyman took first place in the adult division and Mitchell Mosely was tops in the K-12 age group in a weekend chess tournament directed by Julie Nahlen of Master's Academy and hosted by Boundary Martial Arts. Thanks go to Doctor Troy Geyman for sponsoring this event.
More Social News →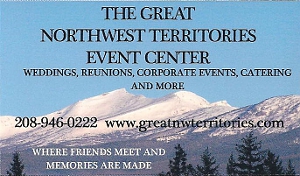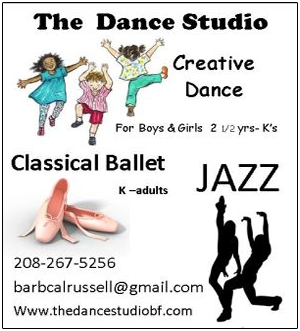 Events
Thursday, June 29
"Songs of the Cowboy" by Almeda Bradshaw, 6 p.m. at the Boundary County Library. Join in for a night of music and history highlighting how the cattle drive cowboy became our most enduring and endearing national icon.
Friday, June 30
Multi Family Yard Sale, 8 a.m. to 5 p.m., 211 Echo Drive. First road on the right past Sharon's Country Store, left hand side. Wood stove, small furniture, wicker toy chest, lots of jewelry, DVDs, VHS tapes, glassware and lots of old goodies!
4-H Friday Friends Rocket Science, 8 a.m., Boundary County Fairgrounds playground. Students will learn about how real rockets "blast off" as well as build their own miniature candy-tube rockets. To register your child, call (208) 267-3235 or stop by the Boundary County Extension Office, 6447 Kootenai Street, Bonners Ferry.
Canning Jams & Jellies, 1 to 4 p.m., UI Extension Office, 6447 Kootenai Street, Bonners Ferry. Learn how to make your own jams and jellies and how to safely preserve them using a boiling water canner. Each participant will take home a jar of jam or jelly made during the class. Cost is $10 and c lass size is limited, so call to reserve your spot, (208) 267-3235.
Saturday, July 1
Multi Family Yard Sale, 8 a.m. to 5 p.m., 211 Echo Drive. First road on the right past Sharon's Country Store, left hand side. Wood stove, small furniture, wicker toy chest, lots of jewelry, DVDs, VHS tapes, glassware and lots of old goodies!
Free Day at the Boundary County Museum, 10 a.m. to 4 p.m. Sponsors for the day are Howard and Donna Kent.
Holy Myrrhbearers Orthodox Christian Chuch Benefit Luncheon, noon, 1957 Pleasant Valley Loop. Donations welcome. Proceeds benefit A Blessedbeginning Pregnancy Care Center. To reserve a seat, call Andrea at (208) 267-4531 or email anmatwall@gmail.com.
Monday, July 3
Boundary County Amateur Radio Club (BARC) meeting, 7:30 p.m., Bonners Ferry Visitors Center.
July 4 - July 9 ~ Kootenai River Days!
Tuesday, July 4 ~ Independence Day
14th Annual Eastport 4th of July Parade, 1 p.m. All United States and Canadian residents are encouraged to participate or be a spectator in this unorganized and all volunteer parade! Parade line-up at Frontier Trading Starting at noon. Potluck to follow at Hall Mountain Fire Department #3 behind Good Grief. Hamburgers, lemonade and water will be furnished. Bring a side dish or dessert to share! For questions or more information please contact Justine Williams at (208) 267-5730 or email classicpidg@gmail.com.
Bonners Ferry Fourth of July Parade, 5 p.m., Main Street.
Kootenai River Days Opening Ceremony, 6 p.m., Boundary County Fairgrounds. Includes BBQ!
Fourth of July Fireworks, dusk, Boundary County Fairgrounds.
Wednesday, July 5
Boundary County Victim Services Support Group, noon, United Methodist Church. For victims of domestic violence or sexual abuse. Free child care provided. First Wednesday of every month. The 24/7 Crisis and Information line is (208) 267-5211.
Free Family Movie, Batman vs. Superman, 4 p.m., United Methodist Church.
More Events →