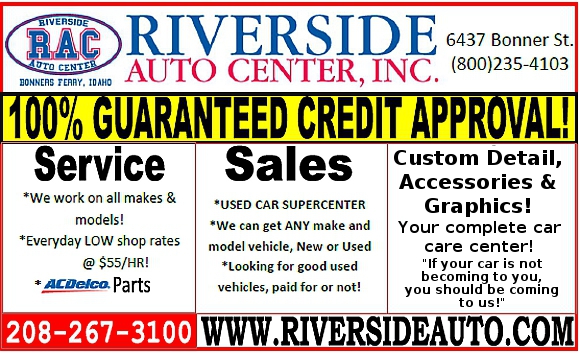 News
Thinking about burning that slash pile or that field? Burn permits required after May 9: Closed fire season in Idaho begins May 10 and extends through October 20 each year.
Free Breakfast helps raise funds for scholarships: Our 13th annual Free CommUNITY Breakfast and Silent Auction will help many students earn scholarships for college and vocational school.
Reconstruction on I-90 from Mullan to Montana has begun: Reconstruction has begun on Interstate 90 from Mullan to the Idaho/Montana State line, which is about a 4.5-mile-long stretch of freeway and includes Lookout Pass. If you plan to use I-90 eastbound, you'll want to know in advance about this road construction project.
Earthquake in Idaho Panhandle felt by many in Boundary County: An earthquake with epicenter near Sandpoint was felt by many in Boundary County. The USGS is saying the 4.1 magnitude quake was 5 km below the surface. Click on this story for more details.

Distinguished Young Women 2015: In a swashbuckling adventure, BFHS Junior Shaleyna Higgins was selected last Saturday to serve as Bonners Ferry's 2015 Distinguished Young Woman. Click on this story to read full coverage of the fun Distinguished Young Women event, including 25 great photographs of the contestants, dance routines, talent presentations, and more.
Idaho legislators close session with funding bill for roads: Bill passes that meets about one-third of funding estimated to maintain roads. "The fact is we are driving on the infrastructure that was designed and built for our grandparents."

Sandpoint man named as wanted for theft from Boundary Computer: A warrant for the arrest of a suspect has been issued by Judge Justin Julian.

Fourth of July celebration in planning stages: In order to have another of Boundary County's fantastic Fourth of July celebrations as in years past, planning and funding needs to start now. Gary Leonard, who has spearheaded the organizing and funding of our area's Fourth of July celebrations in recent years, has again volunteered to help coordinate this year's July Fourth event.
Rotary Club celebrates local law enforcement: It was a packed house at the Bonners Ferry Rotary Club's First Annual Law Enforcement Appreciation Dinner.
Boundary County's BFHS Robotics team wins Regional Title: FIRST Robotics Team 2130 Alpha+, along with their alliance partners, Bulldogs from Calgary, Alberta and K-Bots from Standoff, Alberta, were the Regional Winners of the FIRST Robotics Western Canada Regional in Calgary, Alberta.

Got a teen interested in aviation? ACE Academy offers teenagers chance to learn about aviation careers: Navigating small airplanes, controlling air traffic and exploring Blackhawk helicopters are all part of the Aviation Career Exploration Academy, offered by the Idaho Transportation Department. The three day academy also includes discussions with representatives from aeronautical schools, tours of the Boise airport and local aviation businesses, and tours with the Idaho Army and Air National Guard. Also

—

flights to nearby airports. See this story for more details.

Health Fair coming: informational booths, Fun Run, Kids' Bike Rodeo, helicopter/firetruck/ambulance displays, and more: This year's Boundary Community Hospital offers information, free lab testing, and fun.
Downtown Radio Shack reports stolen computer, asks public help with security photos:

Boundary Computer Radio Shack, on Main Street in downtown Bonners Ferry, is asking for assistance from the public to help resolve what appears to be a theft of one of their computers. They want to know if you can identify the man shown in their security camera photos. Click on this article to see eight security photos.

Chamber of Commerce issues silver coin commemorating Boundary County

Centennial: As planning for the Boundary County Centennial celebration progressed, the folks at the Bonners Ferry Chamber of Commerce had an idea. Working with the Sunshine Mine, the Bonners Ferry Chamber of Commerce commissioned a special silver coin, commemorating the Centennial of Boundary County.
More News →
Letters & Opinions
Raúl Labrador: Concerned re management of national forests
Bethany Cavender: Replies to question on spending priorities
Larry Bauer: Questions priorities
Gerald Higgs: Opposed to Labrador's bill on employment in family logging companies
Idaho Fish and Game Commission: There appears to be a misperception among some Idaho lawmakers . . .
More Letters →
Sports & Outdoors
Badgers pound Wildcats 14-4 in five innings: After a sluggish first three innings, the Badgers unleashed 13 runs on 10 hits in the 4th and 5th innings to beat the Kellogg Wildcats 14-4 in an Intermountain League game.

Badgers thump Spartans behind Anzalone's 10 strikeout performance: Senior Steve Anzalone struck out 10 batters, walked one, allowed one hit in five innings, and the Badger offense exploded for 11 runs in the second inning to beat Intermountain League opponent Priest River 13-1. See this story for details and photos.

Badger Track duels with Timberlake, Kellogg, and in Freeman meet: Three meets in seven days made for a tough week for the BFHS track team. Take a look at this story for all the details and some great action photos from Karen Perkins.
Fish and Game releases rainbow stocking schedule for area lakes: Idaho Fish and Game has released their planned schedule for stocking Idaho Panhandle area lakes with rainbow trout.
More Sports →
Obituaries
Jack W. Stallings: November 8, 1922 ~ April 11, 2015
Catherine C. Nagel: May 24, 1923 ~ April 05, 2015
More Obituaries →
Search News Bonners Ferry:
Loading