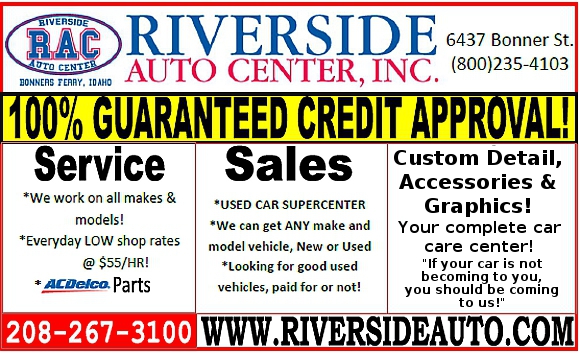 Names of those involved in Bonner County shooting released: The Kootenai County Sheriff's Office has identified the Bonner County Sheriff's deputies shot on Monday while attempting to serve a warrant in Blanchard, as well as the name of the suspect.
Areal flood watch issued: The National Weather Service has issued an areal flood watch for North Idaho and northeast Washington, in effect from Wednesday morning through late Thursday night.
Attendance vital to student performance: Are you looking for a New Year's Resolution that will help your children succeed? I have an easy plan. The business of education is to help people make informed decisions. The only way to do this is to teach the facts, increase communication and share knowledge. Superintendent's Scoop by Gary Pflueger
Idaho to receive $7.48 million in settlement with Moody's: Idaho Attorney General Lawrence Wasden announced on Friday that a nearly $864 million settlement has been reached with Moody's Corporation, Moody's Investors Service, Inc. and Moody's Analytics, Inc., by the U.S. Department of Justice, 21 states and the District of Columbia.
Otter takes steps to protect state computer networks: Governor C.L. "Butch" Otter signed an executive order Monday enacting the recommendations of his Cybersecurity Task Force. They include appointing a "Director of Information Security" to lead efforts to detect, identify and thwart hacks on the State of Idaho's computer networks.
Storm warning issued for snow, sleet, ice: The National Weather Service has issued a winter storm warning for snow, freezing rain and sleet in effect from 7 a.m. Tuesday through 8 a.m. Thursday. The winter storm watch issued Sunday is no longer in effect.

Two Bonner County deputies shot: An investigation is underway after two Bonner County Sheriff's deputies were shot while attempting to serve a warrant on Mountain View Road in Blanchard shortly before 11:30 a.m. today. At a press conference this afternoon, a Kootenai County deputy told reporters that both deputies and the suspect, all of whom were transported to Kootenai Health, are expected to survive. Both deputies, he said, were shot three times. As yet no names are being released, nor is the condition of the suspect.
BCH orthopedic clinic expands: The Orthopedic Clinic at Boundary Community Hospital is expanding. Mike Schicker, DO, from North Idaho Orthopedics and Sports Medicine in Ponderay will have specialist clinic hours on Friday mornings starting this month.
Emergency responders train for river spill: On Saturday, January 14, several first responders from local fire departments, Boundary County Search and Rescue, the Sheriff's Office and Kootenai Tribal Police came together to train with Burlington Northern/Santa Fe Railroad personnel on spill containment on the Kootenai and Moyie Rivers.
Stay safe from scam tax calls: The Boundary County Sheriff's Office reminds everyone that it's income tax time again, and with that comes the telephone scams by people representing themselves as being with the IRS or State Tax Commission.
Bonners Ferry City Council minutes, December 20
Capturing wolverines with pixels and wire brushes: The forest floor has a thick blanket of snow topped by a layer of bone-chilling air that's so still a creaking tree sounds like an airhorn. It appears all animals have abandoned the forest for warmer climes, but biologist Diane Evans Mack's remote cameras tell a different story. A handful of hardy animals roam Idaho's snowy, mountainous forests, and among them are wolverines.

North Idaho elk study in its fourth year: Fish and Game biologists in Idaho's Panhandle region have started the fourth year of a comprehensive elk mortality study. Working with a private helicopter contractor, biologists have been in the field capturing and collaring elk since January 8.
Warm up coming next week, flooding possible: A change in the weather pattern next week will bring above freezing temperatures to much of the region and the potential for significant rainfall to far eastern Washington and the Idaho Panhandle.

Scott stripped of committee assignments: Idaho District 1A Representative Heather Scott was stripped of all legislative committee assignments on the House floor today, disciplined under rules that forbid members from disparaging colleagues or the legislative body as a whole.
Weed program applications available: The Boundary County Weed Department has applications for the 2017 Neighborhood Co-op Weed Program at the U of I Extension Office in Bonners Ferry.
Rob Gust-CJ Erickson scholarships offered: The Rob Gust-CJ Erickson School Scholarship will be awarded to two graduating seniors of Bonners Ferry High School pursuing higher education through the attendance of an accredited vocational program.
More News →
Letters & Opinions
U.S. Senator Mike Crapo
: I recently wrote about the need to heed the Social Security Trustee's warnings and shore up Social Security. Like the requirements for the Social Security Trustees to annually assess the state of the trust funds that support the Social Security program, the Medicare Trustees are also required by law to report to Congress on the state of the Medicare trust funds.
Idaho Representative Heather Scott
: Monday kicked off with Governor Otter delivering the annual State of the State address. Idaho's future is looking bright as it is going into its seventh straight year of economic growth.
U.S. Congressman Raul Labrador
: This week I moved to relieve Idaho's overloaded federal courts by introducing a bill authorizing a third U.S. District judge in the District of Idaho. Since 2015, Idaho has had just one full-time district court judge and the Judicial Conference of the United States has declared a judicial emergency in our state.
More Letters →
Sports & Outdoors
Take that hunter education course before the season starts
: Even though Idaho's spring turkey hunting season is months away, now is a great time for beginning hunters to register for and complete a hunter education course.
Time to apply for spring bear hunt nears
: Hunters wanting to participate in this spring's controlled hunts for black bear can apply from January 15 through February 15.
IDFG Commission to meet
: The Idaho Fish and Game Commission will set seasons for moose, bighorn sheep, and mountain goat when it meets January 25 and 26 at Fish and Game headquarters in Boise.
More Sports →
Obituaries
Cynthia Nell "Tyler" Tajan, 68, went to the sun on the night of January 9, 2017, alongside her beloved husband Joe, youngest son Adam and dear daughter-in-law Jessica. There will be a celebration of Tyler's life later in 2017, date and details to be announced.
Joyce Ellen Johnson, July 4, 1936 ~ January 1, 2017
Elizabeth "Betty" Beck, November 13, 1942 ~ January 2, 2017
More Obituaries →
Search News Bonners Ferry:
Loading
Social News

MacDonald introduces Rotary to IDCIS: On Tuesday, Summer MacDonald, Idaho Department of Labor Bonners Ferry, spoke to the Bonners Ferry Rotary Club about the Idaho Career Information System, the Educate Idaho Network and the North Idaho Education Partnership.

Bonnell to teach history at NIC: Beginning with the Spring 2017 semester, Paul Bonnell, Bonners Ferry, will teach History 112-60, U.S. History After 1876, at North Idaho College. Paul has taught several semesters for North Idaho College over the past decade in both dual-credit and adjunct capacities.
More Social News →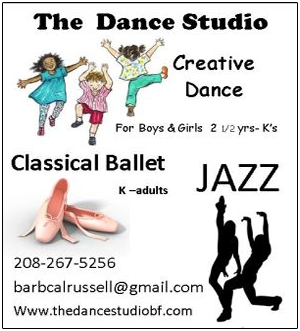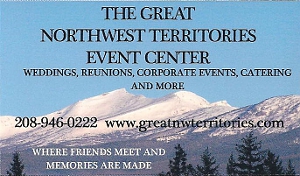 Events
Tuesday, January 17
UI Master Gardener Series, 1 to 4 p.m., Extension Office meeting room. Beginning gardeners are welcome. Cost is $125. Call (208) 267-3235 for more information or to register.
Bonners Ferry City Council meeting, 7 p.m., Bonners Ferry City Hall, 7232 Main Street. For the agenda, click here.
Thursday, January 19
Badger Wrestling vs. Kellogg, 6 p.m., home.
Badger Boys Basketball vs. St. Maries, 7 p.m., away.
Friday, January 20
Badger Wrestling at Timberlake Dual Tourney, 3 p.m., Timberlake.
Chili Feed and Auction to benefit Bonners Ferry Lacrosse, 6 p.m., United Methodist Church, 6558 Lincoln Street. Great auction items and great chili by donation.
Saturday, January 21
Badger Wrestling at Timberlake Dual Tourney, 8 a.m., Timberlake.
Quilting Class, 10:30 a.m. to 3 p.m., A Little Comfort Quilting, 7189 Main Street, #641, Bonners Ferry. Class fee is $45. To register, call (208) 267-9200.
Badger Girls Basketball vs. Kellogg, 3:30 p.m., home.
Badger Boys Basketball vs. Kellogg, 5 p.m., home.
Burns Night, 7 p.m. at the Pearl Theater. Tickets are $15 advance, $17 at the door and $5 students. Advance tickets available at Mountain Mikes and Bonners Books.
Monday, January 23
Winter Food Preservation Class: Canning Wild Game, 1 to 4 p.m., Boundary County Extension Office, 6447 Kootenai Street, Bonners Ferry. Learn how to safely preserve your wild game using a pressure canner. Information on how to properly care for your pressure canner will also be provided. Cost is $15. Seating limited, preregistration requied; to register or find out more, call (208) 267-3235.
Wednesday, January 25
Idaho Wheat and Barley Commission cereal school, 8 a.m. to 1 p.m. at the Boundary County Fairgrounds. Topics range from dietary benefits and misconceptions of wheat consumption to a discussion of variety trials and falling numbers issues. Pesticide recertification and continuing education credits will be available. For more information, download the flier. Call (208) 267-3235 to register.
More Events →