Want to help Boundary County prepare for and recover from local disasters? Volunteer with the Red Cross as a disaster responder or community preparedness team member! You'll make our communities safer and have a huge impact on people in need. Apply today!
NewsBF


Est. March 1, 2011


Mike Weland
Editor

(208) 295-1016
P.O. Box 1640
Bonners Ferry, Idaho 83805

Click to email!
News Bonners Ferry
Archives


Get breaking news fast by email or on Facebook!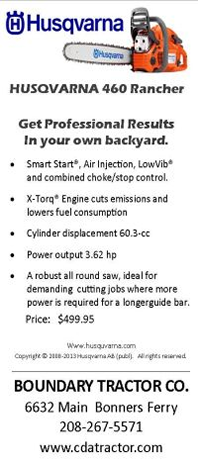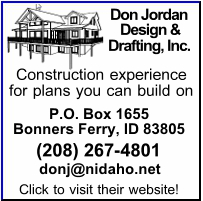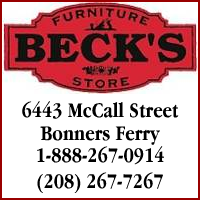 News
Events
Obituaries
Social
Sports
Letters
News
August 22
Two who died 50 years ago to be remembered: Sundance Mountain is the site of a horrific lightning caused wildfire that ignited in August, 1967, and claimed two lives: assistant fire control officer Luther Rodarte, 36, Santa Maria, California, and bulldozer operator Lee Collins, 53, of Thompson Falls, Montana. Both men perished in the blaze of The Sundance on September 1, 1967. Fifty years later, commemoration programs are being held in honor of these two wildfire firefighters.
August 21
BCMS gearing up for another awesome year: Welcome back to the beginning of another school year! Boundary County Middle School is excited to open the doors to students once again for another amazing year. Student schedules will be available beginning Tuesday, August 29. By Principal David Miles II
Scam targeting those on jury duty: The Idaho courts have recently received multiple reports that a phone scam is currently being attempted in Idaho. Citizens are being targeted with calls threatening them with prosecution for failing to report for jury service.
August 20
Bonners Ferry will get a good eclipse show: With the 2017 Solar Eclipse just hours away, there is still some misconception that to see it, you have to get to a narrow band that spans the U.S. from Oregon to South Carolina. While those within that band, the band of totality, will have the best show, nearly everyone in the continental United States and Canada will see a spectacle to remember. Article includes instructions for making a cereal box eclipse viewer!
Fundraiser set for Mt. Hall Church children's ministry: Mt. Hall Community Church will host a day-long Biscuits-n-Gravy Breakfast with a yard sale and several raffles fundraiser at the Fairgrounds Memorial Hall Saturday, September 2, to raise funds for the church's new Children's Ministry Community Outreaches!
August 17

What's cooking at the fair? Friends, family and fun aplenty!

There's a whole lot cooking at the 2017 Boundary County Fair, and you don't want to miss a minute of it! To see what is still ahead and a few new pictures of what has happened, click here. To see the full schedule and all the NewsBF pictures, visit the print version!

IPNF weekend wildfire update: Stage 2 fire restrictions are in effect until further notice in all state, federal, and private forestland and rangeland in Benewah, Bonner, Boundary, Kootenai, Shoshone, and Latah Counties. This also includes public lands in Washington and Montana that are administered by the Idaho Panhandle National Forests.
Wildfire and the eclipse; what land managers are doing: With all the additional people outside enjoying the historic eclipse event in Idaho on Monday, land managers and fire managers are taking extra steps to ensure public safety when it comes to wildfire.
Land Board sets new record for endowments for FY19: The State Board of Land Commissioners approved on Tuesday a 6.4-percent year-over-year increase in the fiscal year (FY) 2019 payout from the eight endowment funds that support Idaho's public school system, universities and other beneficiaries.
It's a beeping, bleeping world: I've had it with dummy alarms. It seems like you can't go anywhere or do anything without some infernal contraption beeping at you. They do it with one goal in mind: to alert you, the dummy, that something is amiss, or done, or desiring your instant attention. Musings from Moyieboy, by Ken Carpenter
More News →

Letters & Opinions

U.S. Congressman Raul Labrador: Shauna HillLast month I wrote you about the House's unanimous passage of the Harry W. Colmery Veterans Education Assistance Act, which includes a bill I introduced to bring relief to veteran families. I have more good news.
U.S. Senator Mike Crapo: "Today, we need to feed some 7 billion people. By the year 2050, that population will swell to 9.5 billion ... To put the demand for food into perspective, we are going to have to double our production between now and 2050. We will have to produce more food in the next 30 years than has been produced in the last 8,000 years ..."
More Letters →

Sports & Outdoors

2017 should be another productive hunting season: Idaho big game hunters have been on a roll in recent years with a top-10, all-time deer harvest in 2016, an all-time record whitetail harvest in 2015, and a top-five, all-time elk harvest in 2015.
River cleanup set on the North Fork: The North Fork Coeur d'Alene River Watershed Advisory Group and the Idaho Panhandle National Forests invite you to participate in the fourth public cleanup day on the North Fork Coeur d'Alene River.
More Sports →

Obituaries

James "Jim" Edward Chubb, 75, passed away on August 13, 2017, at Boundary Community Hospital in Bonners Ferry. Services will be held at 2 p.m. Saturday, August 26, at Trinity Lutheran Church, 6784 Cody Street, Bonners Ferry.
Aubyn Ann Curtiss, July 1, 1925 ~ August 9, 2017
More Obituaries →
Search News Bonners Ferry:

Loading

Social News

Three graduate Community Hospital CNA program: Boundary Community Hospital and North Idaho College announced the graduation of the summer semester Certified Nursing Assistants (CNA) class in Bonners Ferry. Pictured left to right: Instructor Tracey Maas, RN, Jennah Smith, Chloe Fletcher and Hannah Olson.
More Social News →

Events

Tuesday, August 22
Badger girls league soccer at St. Maries, 2 p.m.
Badger boys league soccer at St. Maries, 4 p.m.
Thursday, August 24
Badger boys soccer, home vs. Lakeland, 4 p.m.
Badger girls league soccer at Kellogg, 6 p.m.
Friday, August 25
Multi family yard sale, 8 a.m. to 3 p.m., Homestead Great Room near Three Mile. Tons of items; furniture, television, clothes, household items, books, pictures, tires and wheels, many items are brand new! We even have a jeep to sell. All items are reasonably priced. Baked goods are for sale and coffee too! Come find a bargain!
Badger football, home vs. Libby, 7 p.m.
Performer's Circle at the Pearl Theater, 7 p.m., 7160 Ash Street, Bonners Ferry.
Mr. E Band, 9 to 11 p.m., Jack's Club, 6416 Kootenai Street, Bonners Ferry.
Saturday, August 26
Badger cross country, home vs. Coeur d'Alene Charter, tba.
Bonners Ferry Farmers Market Garlic Fest, 8 a.m. to 1 p.m., Bonners Ferry City parking lot.
Multi family yard sale, 8 a.m. to 3 p.m., Homestead Great Room near Three Mile. Tons of items; furniture, television, clothes, household items, books, pictures, tires and wheels, many items are brand new! We even have a jeep to sell. All items are reasonably priced. Baked goods are for sale and coffee too! Come find a bargain!
Chess Club, 10 a.m. to noon at the Boundary County Library.
Badger girls soccer, home vs. Stillwater Christian, 10 a.m.
Badger boys soccer, home vs. Stillwater Christian, noon.
Badger volleyball, home vs. Lakeland, 4:30 p.m.
Televised Boxing, 6 p.m. Floyd Mayweather vs. Conor McGregor. Jack's Club, 6416 Kootenai Street, Bonners Ferry. $5 at the door includes one free drink.
Movie Night at The Pearl, 6:30 p.m., The Pearl Theater, 7160 Ash Street, Bonners Ferry.
Mr. E Band, 9 to 11 p.m., Jack's Club, 6416 Kootenai Street, Bonners Ferry.
Monday, August 28
Badger volleyball, home vs. Troy, 6 p.m.
Tuesday, August 29
Badger girls soccer, home vs. Coeur d'Alene Charter, 5 p.m.
Badger boys soccer, home vs. Immaculate Conception Academy, 7 p.m.
More Events →