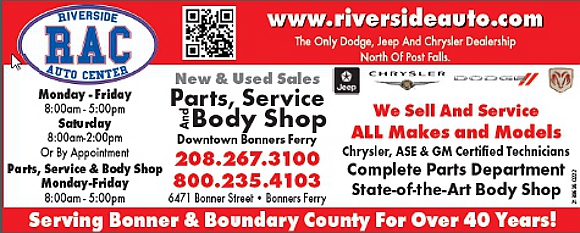 Click here for money-saving Riverside Auto coupons!
News
Decision pending on mud bog: Despite contention, a public hearing this morning on a proposed one-time special event permit to hold a mud bog/rock crawl in Highland Flats in August ran remarkably smooth, with even vocal critics congratulating applicant DelRay Romero on both his preparation and presentation. A decision is pending until next Tuesday.

Local author to have book signing: After raising six rambunctious kids and setting them loose on the world, Willow Feller found the time, and the peace, to pursue her passion for writing, and she'll be signing copies of her first novel, "The Epic Undoing of Haley Ann Ewing" by Evergreen Press, from 11 a.m. to 2 p.m. Saturday, June 1, at Bonners Books, 7159 Main Street in downtown Bonners Ferry.
White Caribou Bar dedicated: It took a lot of people to bring back to life the old White Caribou Bar, founded more than 100 years ago in Bonners Ferry.
Fred Fisher opened the bar, which featured the iconic Bonners Ferry white caribou, on Main Street in 1905, and ran it until it closed four years later in 1909.
Court records and sheriff's log
On the mend ...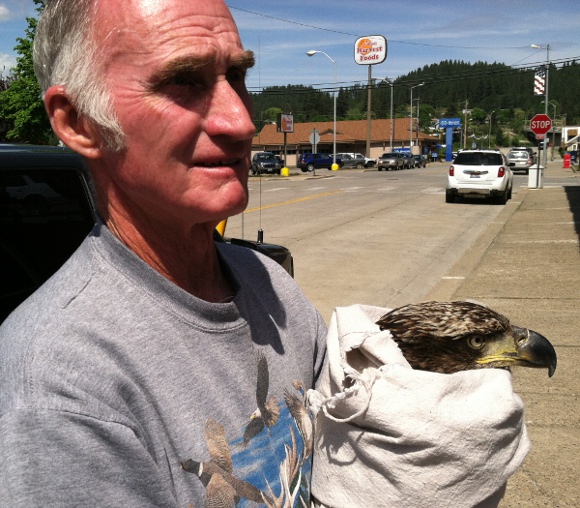 Raptor rehabilitator Ken English, Moyie Springs, has spent years putting broken birds of prey back together. His latest patient is this fierce-looking juvenile bald eagle, acquired earlier this month after suffering a broken wing from hitting a semi. Once recovered, the bird will be set free to once more soar majestically.

Memorial Day theme; 'Because They Gave:' Monday, May 27, American Legion Boundary Post 55 will host the annual Boundary County Memorial Day Parade. This year's parade theme is "Because They Gave."
Meet school board candidate Kim Peterson: My name is Kim Peterson and I am running for School Board Trustee in Zone 5 of Boundary County. As a constitutional and fiscal conservative, I believe we have to move towards a smaller, more fiscally efficient government. This starts at the local level.
Hams to celebrate Amateur Radio Week: Amateur radio is alive and well in North Idaho during Amateur Radio Week June 16-23. Field Day, June 22-23, is a celebration of our ability to talk to the world via radio and takes place during Amateur Radio Week.
Commissioners to decide on August mud bog: Boundary County Commissioners will hold public hearing at 10 a.m. Tuesday, May 21, in the extension office meeting room to consider an application for a one-time special event; a three day mud bog/rock crawl August 9-11 at 3096 Highland Flats Road.
BCSD bidding farewell to retirees: Boundary County School District 101 will bid farewell to nine teachers and employees at the end of the school year, including some long familiar faces, all going off to new adventures in retirement.
Hearing set on boarding kennel: The Boundary County Planning and Zoning Commission will hold public hearing at 5:30 p.m. Thursday, June 20, in the main courtroom at the Boundary County Courthouse to accept public comment on Conditional Use Permit Application 13-037 by Ken Comer to open a dog grooming and boarding commercial operation on property located on Bridle Path Road in Naples, on parcel RP61N01E282414A.
Survey bodes ill for school administration: A recent district-wide survey of Boundary County School District 101 employees appears to show an unsettling lack of confidence in school superintendent Dick Conley or the school board.
County commission minutes, April 29-30
County commission minutes, April 22-23
Missing teen safe
The search on Grizzly Gap Road in south Boundary County for an 18 year old autistic man reported missing at 11:24 a.m. today ended well. Family and caregivers had already been searching three hours before the call was made. An Air Force rescue helicopter has been called in to assist deputies, the sheriff's posse and Boundary Search and Dive Rescue look for Reese Brown, said to have the mental capacity of a seven or eight year old, who is familiar with the rough terrain of the area and who has a propensity to hide from approaching people and/or vehicles. After an all-day search, he came out of the woods on his own, and was seen, safe, by a neighbor at about 7:30 p.m.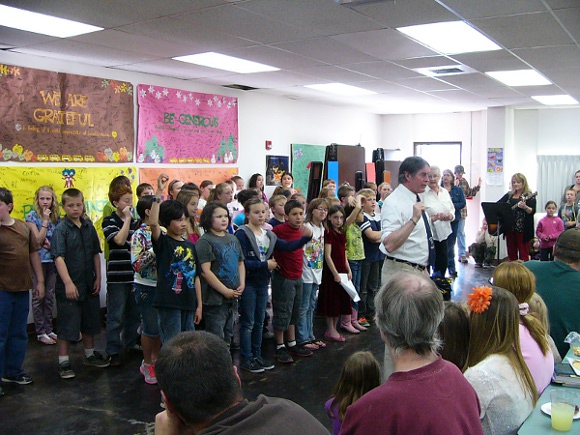 Valley View Principal Gary Pfleuger introduces the school's fourth graders as they get ready to perform for a packed school cafeteria Thursday.
Fun Day at Valley View! Valley View Elementary was a hive of activity Thursday, with both a Book Fair and a Knowledge Fair going on at the same time, along with a free dinner for guests, entertainment by the fourth-grade class and a dessert auction.
Work on Twin Rivers hatchery to begin: The Kootenai Tribe of Idaho will begin construction of a new hatchery at the Twin River's Resort in June of 2013. The Twin Rivers Hatchery will produce Kootenai River white sturgeon and native burbot.
P&Z nixes motocross proposal: The Boundary County Planning and Zoning Commission faced a packed house Thursday evening for a public hearing on a proposed motocross track on Smith Lake Road, about equally divided pro and con, but in the end the application was denied.
More News →
Letters & Opinions
U.S. Senator Mike Crapo: As part of our government's system of checks and balances, Congress conducts oversight over agencies to bring about transparency and accountability. This is even more necessary with the Consumer Financial Protection Bureau (CFPB), which was established unlike any other federal department or agency.
Gary Leonard: You know I am a big fan of sheriff involvement in crime prevention and our community. I commend Detective McClelland for his efforts and I hope you encourage his efforts as we all should.
Troy Janda: Mr. Weland, an article you published in reference to posting the name of the Juvenile in Naples I found to be lacking in ethics as you say. I personally talked to the Boundary Paper, and the Bonner Bee both of which did not publish the name in the articles they ran. Comments added
More Letters →
Sports & Outdoors
Badgers one game short of state: The Badger baseball team endured a rough season all year but never gave up the fight, missing the state tournament for a second straight year by one game. The Badgers finished the season 11-12 overall last Saturday, losing to Priest River in the winner to state game.
Idaho stream fishing already open for fun: The general fishing season in Idaho, often referred to by anglers as "stream season," opened the Saturday before Memorial Day for many years. A few years ago that changed, and most streams are now open all year.
Badger spring football begins soon: Badger football spring practices for players in eighth thru 11th grades start at 4:30 p.m. Tuesday, May 28.
More Sports →
Obituaries
Carmel Sandy, February 19, 1922 ~ May 9, 2013
Evan Miles Gatherers passed away December 28, 2012, at his home in Bonners Ferry at the age of 53. A remembrance gathering for Evan's family and friends will be held at Evan's home at 2 p.m. May 25. It will be a potluck meal so bring a dish.
Tamera Lynn Stemmene, 53, passed away on May 12, 2013, at Kootenai Medical Center in Coeur d'Alene. Private services will be held and a complete obituary will follow.
More Obituaries →
Search News Bonners Ferry:
Loading
Weather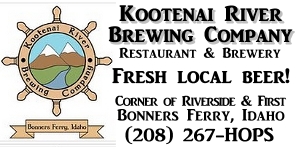 Social News

Bushnells welcome baby girl: Rosalyn Anne Bushnell was born May 10 at Lavendar and Rose Birth and Mothering Center, Libby, Montana, to Jacob and Renita Bushnell, Bonners Ferry. She joins big brother Kyler Jacob Bushnell.

Jaxon Barajas first spring baby: In observance of agriculture, spring, and new beginnings, Farm Bureau is pleased to announce this year's first baby of spring, Jaxon Barajas.
Friends of the Restorium raffle winners: Terri Dunning and Jamie Hull were winners of the Friends of the Restorium basket raffle drawings held in April at Akin's Harvest Foods.
More Social News →
Events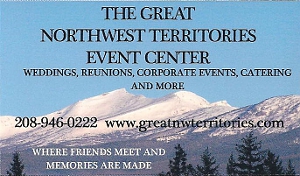 Tuesday, May 21
Boundary County School District 101 trustee elections, Zones 1 and 5. Click here to learn more.
Wednesday, May 22
Bonners Ferry Community Blood Drive, 11 a.m. to 5:15 p.m., Mountain Springs Church, 6789 Main Street. To sign up, visit www.inbcsaves.org or call 1-800-423-0151.
Wednesday, May 22
Bonners Ferry Community Blood Drive, 11 a.m. to 5:15 p.m., Mountain Springs Church, 6789 Main Street. To sign up, visit www.inbcsaves.org or call 1-800-423-0151.
Friday, May 24
Farm Bureau and the Boundary Soil Conservation District have joined together to offer this free to the public Boundary County farm tour. Rain or shine! Meet the bus at the fairgrounds by 8:30 a.m. and we will return approx. at 4 p.m. Lunch will be served along the way. We will be touring a saw mill, visiting a nursery, seeing how bio-fuel is made and if the weather permits we will visit a research farming operation. Wear appropriate shoes. Space is limited so please R.S.V.P. on or before Wednesday, May 22, at (208) 267-3340 extension 107 or (208) 267-5502. Hope to see you there!
Second Harvest
and
Thrivent Fincial
will be distributing food from their mobile food truck in Bonners Ferry at 10 a.m. at Trinity Lutheran Church, 6784 Cody Street. To find out more, call Dave Gause, (208) 267-7862.
The Boundary County Historical Society welcomes Idaho State Historian Keith Peterson, presenting "Inventing Idaho," a lively talk on Idaho's territorial era of 1863 to 1890, the period when the Gem State invented itself. Peterson will speak at 7:30 p.m. in the Museum Portrait Hall. The presentation is free and open to the public, donations are appreciated. To find out more, call (208) 267-7720.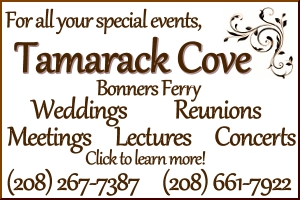 Saturday, May 25
The first Huckleberry Pancake Breakfast at 8 a.m. at the Boundary County Airport, hosted by the local EAA club. Bring your hungry bellies and a donation ($5 suggested) to enjoy your local airport and all you can eat huckleberry pancakes, eggs, sausage coffee and juice!
Monday, May 27
Memorial Day, courthouse closed, no mail delivery, Boundary County public schools closed. Those participating in the Bonners Ferry Memorial Day Parade begin gathering at 9 a.m., parade through downtown Bonners Ferry begins at 10 a.m. Memorial Day services at Grandview Cemetery begins after the parade has ended. A re-dedication of American Legion Post #55 begins at 3 p.m.
Tuesday, May 28
Boundary County Commissioners will reconvene public hearing at 10 a.m. in the Extension Office to render a decision on a special event application by DelMar Romero to stage a mud bog/rock crawl event on property he owns in Highland Flats in August. For more, click here.
Wednesday, May 29
The Kootenai Valley Resource Initiative Wildlife/Auto Collision Committee will meet at the Kootenai Tribal Office at 8:30 a.m. to conduct a field trip with Sloan Associates. To find out more call Patty Perry at (208) 267-3519 or email patty@kootenai.org.
Thursday, May 30
Last day of school for the Bonners Ferry High School Class of 2013.
The U.S. Army Corps of Engineers is hosting a combined Columbia River Treaty and Libby Dam annual operations public information meeting at the Kootenai River Inn in Bonners Ferry from 6 to 9 p.m. Representatives from the Corps will discuss water supply forecasts, Libby Dam operations, and Corps flood assistance and permitting. The U.S. Fish and Wildlife Service will discuss Kootenai River white sturgeon recovery. In addition, the open house meeting will include a portion dedicated to review of the Columbia River Treaty. Corps staff will be present to discuss the potential future of the Treaty and efforts underway to understand what change could mean to the region.
More Events →