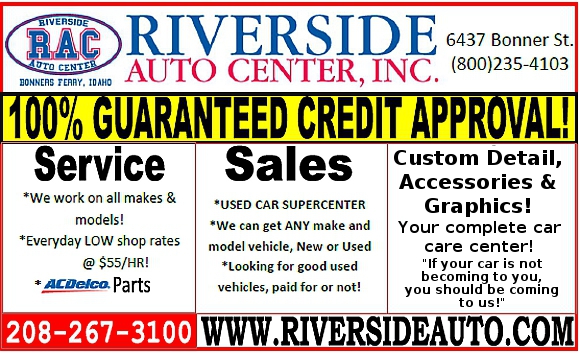 News
April 29

Venus at its brightest this Sunday morning: Before sunrise tomorrow – April 30, 2017 – the planet Venus will display its greatest illuminated extent. That means the planet's daytime side is now covering more square area of Earth's sky than at any other time during its present morning apparition. So this weekend is a great time to look for Venus!
April 28
Major highway projects to begin in Kootenai County: The Idaho Department of Transportation will begin two major improvement projects on US 95 and Interstate 90 in Kootenai County in the days ahead.
Power outage set for Priest Lake area: There will be a Bonneville Power Administration planned outage in the Priest Lake area beginning at 11 p.m. Friday, May 12, and lasting until 7 a.m. Saturday, May 13.
Answering Specialists to hold hiring event May 3: Answering Specialists Inc., an established Bonners Ferry business, is an inbound call center acting as receptionists for several types of businesses throughout the U.S. and Canada. Due to rapid growth, the company is hiring remote operators to work from home as well as in-house supervisors.
Kootenai Tribe invites public's help in sturgeon release: On Friday, May 12, the Kootenai Tribe of Idaho invites the public to assist the Kootenai Tribe's staff with releasing young sturgeon into the cool waters of the Kootenai River from 9 a.m. to noon at the Search and Rescue County Boat Ramp Boundary County Waterways Building one mile west of Highway 95 on Riverside Street.
Pearl seeking to raise $2,500 during Idaho Gives: The Pearl Theater is joining a statewide giving movement, Idaho Gives 2017, to support the missions of Idaho nonprofits and build a stronger Idaho!
Department of Education seeks comment: The State Department of Education is seeking public comment on the latest draft of Idaho's plan for federal education funds to serve disadvantaged children. The department released the fourth draft of Idaho's Consolidated Plan for public review on its website today.
April 27
Let's hear the siren!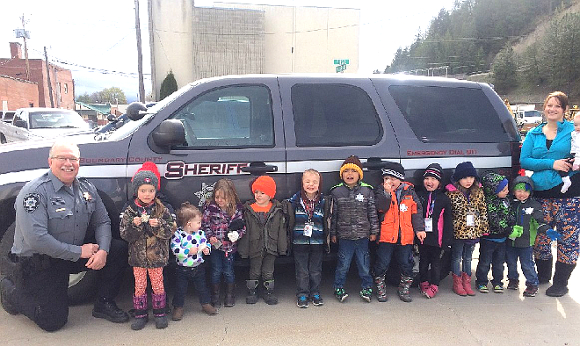 Boundary County Sheriff Dave Kramer and Chief Deputy Rich Stephens had the pleasure today of giving the Bonners Ferry Head Start students a tour of the sheriff's office. The kids got to see the dispatch center, jail area and the patrol cars. Of course, the highlight for several were the sirens and lights!

Cushman ladies run an eggciting local ag business! The Boundary County Farm Bureau is proud to showcase three young business women this week. Katie, Peyton, and Avery Cushman make up Cushman Egg Company and Cushman Hatchery. "When we first thought of having our own business, we already had chickens that were easy to take care of, so we thought we would get more and sell the eggs," the young ladies said in unison. By Kristi Kellogg
Extension now offers pH testing: The Boundary County Extension Office now offers pH testing to local gardeners who want to attain just the right balance in their soil for the plants they hope to grow.
More News →
Letters & Opinions
Rosanne Smith: The land within the city limits Moyie Springs is changing by leaps and bounds! New housing is replacing fields and pasture land. This rapid growth is placing severe demands on city services.
U.S. Congressman Raul Labrador: As you may know, Saturday is President Trump's 100th day in office, and while the media has a habit of overhyping the 100-day mark in a new President's term, it does provide a good opportunity to reflect on the pace of the President's accomplishments and his commitment to keeping his promises.
More Letters →
Sports & Outdoors
200th win for Turpin and third IML Championship!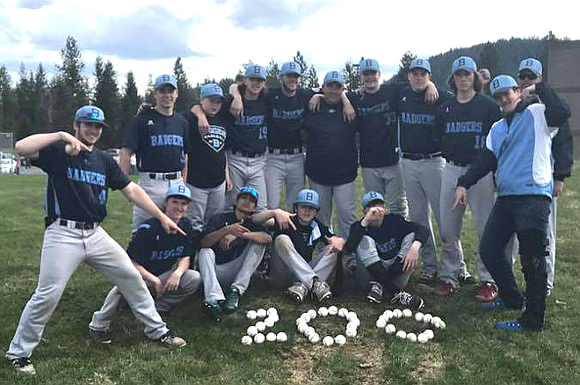 S

aturday was a great day for Badger baseball coach Tom Turpin (back row, center) , who chalked up his 200th career victory as a head coach and led the Badgers to their third straight Intermountain League championship in a double header at Timberlake.
Dunham strikes out six in shutout, senior day coming
: Jesse Dunham didn't allow a run as he struck out six and walked the lead off batter of the game and only allowed two hits to secure a five inning, 10-0 win over rival Timberlake Tigers. The win improves Dunham's record to 4-0 in the season. By Coach Tom Turpin
Making tracks for BCH Run 17
: Since when is a run fun? When it's the Boundary Community Hospital Family Fun Run. On Saturday, May 13, lace up those running shoes and come out with neighbors, friends and family to get some exercise on the north side of Bonners Ferry. By Lauren Kuczka
More Sports →
Obituaries
Stephen Moody, 76, passed away peacefully at his home in Bonners Ferry to be with Jesus on December 5, 2016. A memorial service will be held at 2 p.m. Sunday, April 30, at Mountain Springs Church, 6789 Main Street, Bonners Ferry.
Wanda Maxine Carpender, 84, passed away suddenly on January 31 in Bonners Ferry with her loving husband Sam by her side. A memorial service is being planned for May 14, 2017.
James Kevin McNally, born March 17, 1952, passed away peacefully at his home in Bonners Ferry on December 10, 2016. A small service to bury Kevin's ashes will be held at Grandview Cemetery 11 a.m. Saturday, July 1. A get together at the Bonners Ferry Eagles Aerie will be held afterward.
More Obituaries →
Search News Bonners Ferry:
Loading
Social News

Nishek school district's April Teacher of the Month: Laura Nishek is Boundary County School District's April Certified Employee of the Month. Anyone who has had the privilege of working with Mrs. Nishek can speak to the professionalism and dedication she brings to her students and classroom. By Principal Lisa Iverson

Rod Benders support Explorer trip: Bonners Ferry Border Patrol Explorer Post #190 sends out a big thank you to the Rod Benders Car Club for presenting Explorer Post 190 with a check for $500. The Rod Benders have been a strong supporter of the post for several years and the Explorers appreciate the car club's support yet again for the post's upcoming trip to D.C. to take part in the National Peace Officer's Memorial.
More Social News →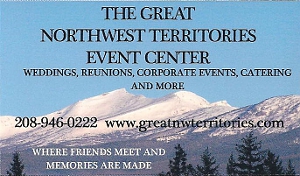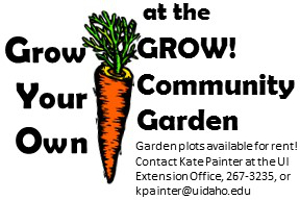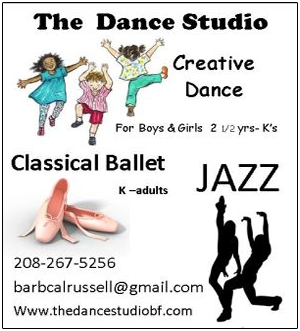 Events
Sunday, April 30
Yard sale, 8 a.m. to 2 p.m., 1758 Highland Flats Road.
Monday, May 1
Boundary County Amateur Radio Club (BARC) meeting, 7:30 p.m., Bonners Ferry Visitors Center.
Tuesday, May 2
Badger Softball, 4 p.m., vs. Priest River, home.
Badger Baseball, 4 p.m., vs. Priest River, home.
Union Pacific Informational Open House, 4 to 6 p.m., Bonners Ferry Visitor Center. Union Pacific Railroad personnel will update the community on the Meadow Creek Siding Project north of Moyie Springs.
Wednesday, May 3
Boundary County Victim Services Support Group, noon, United Methodist Church. For victims of domestic violence or sexual abuse. Free child care provided. The 24/7 Crisis and Information line is (208) 267-5211.
Thursday, May 4
National Day of Prayer, noon at the flag pole by the library. Led by the Ministerial Association.
Friday, May 5
Semi-annual Community FREE Dinner, 5 to 7 p.m., BridgeWay Assembly of God, 66027 Highway 2, Bonners Ferry. Potato and Taco Bar with all the fixin's! All are welcome!
Community Worship Service, at 6:30 p.m., at the Bonners Ferry High School Auditorium. Hosted by the Boundary County Ministerial Association, speaker is Pastor/President Henry Yoder. Let's worship the Lord together.
Saturday, May 6
Free Day at the Museum, 10 a.m. to 4 p.m., Boundary County Museum, 7229 Main Street, Bonners Ferry. This month's sponsors are Don Jordan and Kathy Konek. Admission paid for by Friends of the Museum.
Customer Appreciation Day at Moose Valley Farms, 11 a.m. to 2 p.m., 138 Latigo Lane, Mile 495.5 Highway 95, Naples. Come join us in our 14th Annual Customer Appreciation Day! A must-attend social and family event with free hot dogs, cake, homemade ice cream, a jump castle for the kids, free face painting, INBC mobile blood drive from 10:30 a.m. to 2:15 p.m. (for an appointment, call 1-800-423-0151 or visit www.inbcsaves.org), Panhandle Animal Shelter volunteers will be microchipping and bringing adoptable dogs, fabulous sales and specials, and a great kick-off to the spring season. Come join in the fun and become a part of the Moose Valley Family!
Community Blood Drive, , Moose Valley Farms, Highway 95, mile 495.5, Naples. For an appointment, call 1-800-423-0151 or visit www.inbcsaves.org.
Boundary County Democrats Cornhole Tournament, 4 to 7 p.m., Homestead Great Room, David Thompson Drive, Bonners Ferry. Join in for an old-fashioned fun family and community event. Bring the kids! There will also be a cakewalk. Adult tickets are $1 per ticket and kids ages 1-12 are 50₵ per ticket at the door. The tournament requires two tickets per game and the cakewalk five tickets per round.
Monday, May 8
Badger Softball at 3A District 1 Championships.
Badger Baseball at 3A District 1 Championships.
More Events →