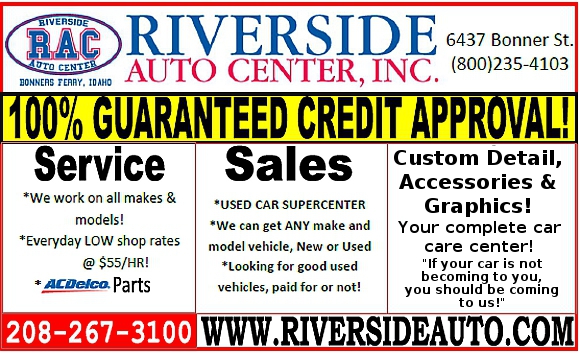 News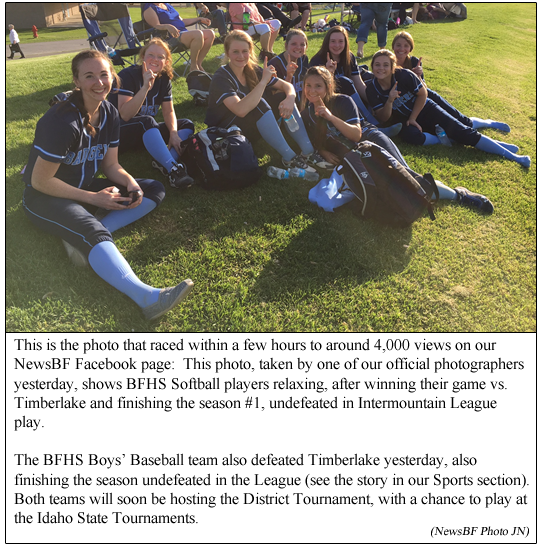 All invited to upcoming Kootenai Tribe public sturgeon release: The

Kootenai Tribe of Idaho would like to extend an invitation to the community to participate in the release of hatchery-reared juvenile white sturgeon into the Kootenai River.
Slight change in location for Mt. Hall / Copeland voting site; Read this if you will be voting there: County Clerk wishes to make sure everyone knows where the new location will be.

Local FFA chapter attends Idaho State Leadership Conference: Lots of learning and lots of fun for BFHS FFA members.
Burn permits required beginning May 10: Starting May 10, Idahoans must obtain a burn permit from the Idaho Department of Lands (IDL) before starting certain controlled burn activities. Permits can be obtained online or in person.
29 employers looking to hire at event in Post Falls: Employers who are seeking to hire new workers include Kootenai Health, Cracker Barrel, Silverwood, Cabela's, Dave Smith Motors, Badger Building Center, Farmers' Insurance, and several more.
Idaho Commission on Aging seeks your comments on Senior Services State Plan: Comments from the public are being requested on Idaho's Senior Services State Plan for Fiscal Year 2016 - 2020. The comment period is open May 4 – 18, 2016.

Brittany Spangler new Bonners Ferry Distinguished Young Woman: The

Bonners Ferry Distinguished Young Women program, staged on Saturday, fulfilled its promise to dazzle all those in attendance with its performances, stage decorations, costumes and dresses, and eleven remarkable and talented young women participating in the event, all with the backdrop of this year's theme: Around the World in 80 Days.

Bonners Ferry Fire Department wins $52,000 in fire gear in nationwide contest: The City of Bonners Ferry Volunteer Fire Department just won a nationwide contest, scooping up first prize of over $52,000 in firefighting gear. The contest they won? A dance video contest.

Badger Girls Softball, Boys Baseball sweep all games vs Timberlake on Saturday, four games to none; both Badger teams now alone in first place in Intermountain League: Brief summary and photos of the Girls' game included here. Full story and photos on the Boys' game is in our Sports section.
Details on new Bonners Ferry Shopko Hometown store announced at Chamber of Commerce dinner meeting: A representative from the Shopko company was in town last

night, and presented details and an update on the new Bonners Ferry Shopko Hometown store now being constructed on the South Hill. You can read those details by clicking on this story.

New Boundary County businesses discussed at Big Ideas Dinner: Big Ideas were shared at last night's Bonners Ferry Chamber of Commerce Big Ideas Dinner 2016. Along with dinner, Chamber of Commerce officers presented details for upcoming events being planned for Boundary County, and several local entrepreneurs presented summaries of businesses they are developing. The evenng included an update on the status of Bonners Ferry's new Shopko store currently being built on the South Hill.

St. Ann's Catholic Church building destroyed by fire, arson

suspected: Reports are that police have identified a suspect. Investigation continues. Congregation will be meeting in temporary quarters. Several photographs included with this story.

Boundary County's 2016 "First Baby of Spring": "In observance of agriculture, spring, and new beginnings, Farm Bureau is pleased to announce this year's first baby of spring," said Farm Bureau Chairwoman René Riddle.

Won't be around for May 17 election day? Consider voting an absentee ballot: Not going to be around for the upcoming May 17 Idaho Statewide Primary Election? You can still exercise your voting privilege.
More News →
Letters & Opinions
Rosanne Smith: Not filing quarterly report violates state law, again
Sandy Daniel: Just the facts . . .
Phyllis Dirks: Fire at St. Ann's
More Letters →
Sports & Outdoors
Badgers defeat Timbelake Tigers to finish perfect in IML Baseball: The Badger baseball team completed their first ever perfect season in Intermountain League history by beating the Timberlake Tigers 9-5 last Tuesday.
Badgers sweep Kellogg Wildcats in IML Baseball, locking up second straight league title: Badgers break open a 5-5 tie in Game 1 when they score seven runs in sixth inning. Mercy rule, again, in Game 2.
With injured players out, Badgers still win in IML game: The Badger baseball team improved their IML record to 6-0 and 16-2 overall with a 9-1 win over the Priest River Spartans yesterday.
Boundary County Fishing Secret revealed here: Take a look at this story for some big hints about the secret.

Badger Boys sweep Tigers for sole possession of First Place: The Badger baseball team took control of first place in the Intermountain League by sweeping the rival Timberlake Tigers on Senior Day in Bonners Ferry.


Senior Badger Baseball Trading Cards: Collect them all!
Badgers pound Wildcats in IML baseball—invoke mercy rule yet again: The Badger baseball team beat the Kellogg Wildcats 19-6 in Intermountain League play on a sun-soaked Tuesday afternoon yesterday. The win improves their overall record to 13-2 and 3-0 in league.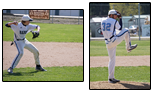 Badger Baseball sweeps Spartan series: The Badger baseball team began defense of their 2015 3A Intermountain League title by sweeping the Priest River Spartans Saturday at Bonners Ferry High School.
Badgers win Colville Invitational: Defeat teams from Colville, Washington and Trail, B.C.
Badgers pound Rams in doubleheader: Dunham pitches first no-hitter of the season.
Badger Baseball keeps on winning; Latest victory features home run, standout pitching, diving catches, double play, and more: The team is playing great; details on their latest win by clicking on this story.

BFHS Cheer and Dance Teams at State Competition; Track Team at Lewiston Invitational: Things have been busy for several BFHS teams in recent weeks. The dance and cheer teams have been to the Idaho State competitions, and the Track Team has already been to a large invitational meet in Lewiston.
Badger Baseball continues on a hot streak, takes two of three games from 4A Sandpoint: Badgers continue strong play, win series with higher-division school.
More Sports →
Obituaries
Dorothy Jean Smith: July 3, 1926 ~ April 26, 2016
William Don Moore: November 28, 1948 ~ April 20, 2016
Joseph (Joe) Swanson: November 27, 1935 ~ April 15, 2016
More Obituaries →
Search News Bonners Ferry:
Loading
Weather
Social News
Kathy Riebli BCSD April Employee of the

Month: Kathy is a paraprofessional at Mount Hall Elementary.
More Social News →
Schools Information
School District 101:
Agenda for Mar 21 Board Meeting
Mt. Hall / Naples News, Principal Iverson, Feb 2016
BCMS News, Principal Miles, Mar 23
BCMS News, Principal Miles, April 11
BFHS News, Principal Gering: Newsletter, Feb 9
BFHS News, Principal Gering: Newsletter, Mar 15
Supt Scoop, Superintendent Pflueger: Feb 16
Local Government
Boundary County:
Commissioners Minutes, Feb 15
Boundary County:
Commissioners Minutes, Feb 22
Bonners Ferry:
Agenda for Apr 5 City Council
Bonners Ferry:
Agenda for April 19 City Council
Moyie Springs:
Minutes for Feb 17 Special City Council
Moyie Springs:
Minutes for March 9 City Council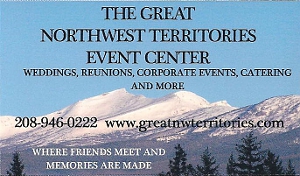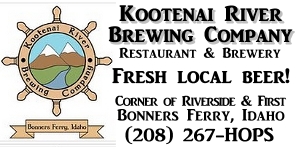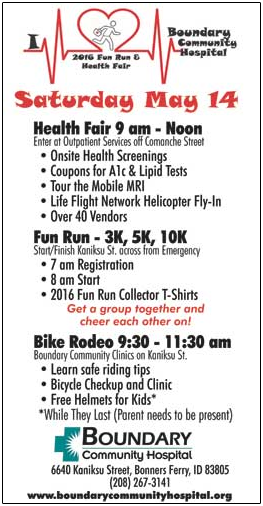 Events
Friday, May 6
Please join us at Kootenai National Wildlife Refuge for the first Friends of KNWR sponsored program of 2016 to learn about the fascinating geology of North Idaho. Dr. McFaddan will explain how geologic upheaval and colossal forces formed the Purcell Trench which connects the Purcell and Selkirk mountain ranges. This will be an indoor and outdoor program. Dress appropriately for the weather.

What: Geology of the Purcell Trench; preceded by a short walk to see some of the geologic features Dr. McFaddan will discuss.
Who: Dr. Mark McFaddan
When: Friday, May 6, 2016
Where: Education Barn at KNWR
Time: 6:00 PM
Suggested Donation: $2.00

The Friends of Kootenai National Wildlife Refuge is an all-volunteer organization. All program donations are used to bring future programs to the Refuge and to help fund projects the Friends assist with at the Refuge.
Saturday, May 7
The 2016 North Idaho Veterans Stand Down will take place May 7 at the Kootenai County Fairgrounds from 8:00 a.m. to 2:00 p.m. The Stand Down is a kickoff to a program created by St. Vincent de Paul to assist veterans and their families in Idaho's five northern counties with services throughout the year.

Service organizations that provide medical, dental, housing, clothing, clothing repair, food assistance, haircuts, massages and bike repair will be available at the Stand Down. Employers who have immediate openings will be taking applications.

A hot meal will be served to all veterans, volunteers and service providers. There will be activities for the entire family. Military surplus will be available, but due to a new VA mandate it will only be distributed to homeless and disadvantaged veterans.

For more information or veterans assistance call Eric Swanbeck, St. Vincent de Paul Veteran Services Coordinator at (208) 664-3095, ext. 314.
Boundary County Museum special program Saturday, May 7, dedicating the "Stories of the Rails," section of the Museum Courtyard. This will include stories by retired railroad workers, lunch, stories by local historian Howard Kent, stories of logging camps and railroads, and new exhibits. Click here to see the official flyer for this event. It all begins at 10:00 a.m. at the Boundary County Museum.
Sunday, May 8
Mothers' Day
The Bonners Ferry Eagles #3522 will be hosting their annual Mother's Day breakfast from 8:00 a..m. til 11:00 a.m. on Sunday, May 8 at the Eagle Aerie on Second Street (behind Akins Harvest Foods). Menu will be omelets with ham or sausage to order, hash browns, fruit, fruit juices, coffee and tea. Donation is $6.00 with all proceeds going to The Friends of the Restorium. Bring "Mom" and the family in for a wonderful meal to honor Mothers everywhere.
More Events →