News
October 17
From the Idaho Department of Lands: With the current and expected wet weather, we are dropping fire danger to low in both the valleys and mountains. We are now issuing burn permits for all types of burning. As always, we request burners to contact the Sheriff's Office,. (208) 267-3151, to try to limit smoke reports form passers-by. As a reminder, the closed burn season will officially come to an end October 20.
A lot going on tonight at BFHS, help needed: There are a few different things happening at the high school tonight, but BFHS Principal Kevin Dinning is asking your help to make it go as smoothly as it can.
Capital for a Day coming to Ponderay: Governor C.L. "Butch" Otter announced last week that the Bonner County community of Ponderay will host the next Capital for a Day on Thursday, October 19.
Paradise Valley FD holding auction: The Paradise Valley Fire District is selling surplus equipment by sealed bid auction. The equipment listed below will be displayed at the Paradise Valley Fire District's station located at 4375 Cow Creek Road from Monday, October 23, through Monday, November 13.
October 16
Wind advisory issued for Tuesday: The National Weather Service has issued a wind advisory for North Idaho and northeast Washington in effect from 1 to 8 p.m. Tuesday. Southwest winds of 20 to 30 miles an hour are expected, with gusts of up to 50 miles per hour.

School in full action at BCMS! School is already 1/8th of the way done? Hard to believe time can go so fast, but when you are really busy, I guess it is hard to see time go by. BCMS is as active as always while students and staff participate in a myriad of events. By Principal David Miles II
October 15

Valerie Thompson wants to give back: Valerie Thompson freely admits, when she first begins to talk of her decision to run for Bonners Ferry City Council, that she originally felt way out of her comfort zone with "the whole political thing." But in a short time listening to her talk about it, you recognize without doubt that her motives are pure, and deep rooted.
Ahlquist makes good showing to small crowd: As a three-way Idaho Republican gubernatorial primary election May 15, 2018, heats up, the only candidate who has never before run for political office became the first candidate to pay a visit to Bonners Ferry earlier this month, and while the crowd at the Bonners Ferry Visitors Center was small, Dr. Tommy Ahlquist was able to present his blueprint "for an even better Idaho" as he adroitly adroitly fielded a wide-ranging barrage of questions.
Idaho students invited to submit holiday cards: The Idaho State Department of Education is now accepting Holiday Card Contest submissions from Idaho students in grades K-6.
October 14

Hannah Sims wins Idaho DYW scholastic award: On October 7, Rachel Forest of Pocatello was named Idaho Distinguished Young Woman and awarded $7,100 in cash scholarships during the Idaho Distinguished Young Women scholarship program at the Civic Auditorium in Idaho Falls. Hannah Sims, Bonners Ferry, was one of five scholastic award winners.
Book fair coming to Valley View: The Valley View Book Fair takes place from 7:45 a.m. to 4 p.m. Tuesday and Wednesday, October 17-18, and from 7:45 a.m. to 6:30 p.m. Thursday, October 19, with family night going on from 4:30 to 6:30 p.m.
An old tried and true phone scam being tried again: There's is apparently an old scam rearing its ugly head once again as the unscrupulous are tired of working at all and are trying dusty old ways to separate you from your money.
October 13

At long last, our colors fly over sheriff's office: It was a dull, gray day in Bonners Ferry, and a Friday the 13th at that, but neither the cold of fall or the omen of the date could stop a good crowd from turning out at 11 a.m. to watch as the American flag, with great ceremony, was hoisted over the Boundary County Sheriff's Office. A News Bonners Ferry pictorial
Badgers first in IML, hosting volleyball districts: Badger volleyball coach Kendra Maas announced today that the Bonners Ferry Badgers finished the regular season in first place in the Intermountain League, and will host the second round of district on Tuesday, October 17!
October 12

The end of a Christmas concert era approaches: The Bonners Ferry Community Choir will begin rehearsals for this year's Christmas concert next week, and all singers, high school age through senior citizens, are welcome. No auditions are required, but it's going to be a special year for singers, though tinged with sadness as two women who've been the choir's heart and soul for 40 years both step down.
October 11

USMC birthday party November 10: The United States Marine Corps birthday celebration in Boundary County will be at the Kootenai River Inn on Friday, November 10. Social hour starts at 5 p.m. and the program and dinner will start at 6 p.m. The cost is $25 per person.

Fioravanti to speak at Patriot Academy fundraiser: Mary Fioravanti, who graduated Bonners Ferry High School in May and now attends North Idaho College, took part in the Northwest Patriot Academy elite leadership training program in Boise last summer, and she is so thrilled by the experience she wants to invite everyone to learn more!

Symposium to kick off neighborhood watch program: The Boundary County Sheriff's Office is sponsoring "A Night Out Against Crime: A Symposium on Safety" which will be held from 3 to 7 p.m. Thursday, October 26, at the former Bonners Ferry National Guard Armory across the highway from the Boundary County Middle School.

Andy Sydow coming back by popular demand: Up-and-coming Colorado rocker Andy Sydow returns to The Pearl Theater at 7 p.m. Saturday, October 21. His performance impressed the local audience so much last year they requested his return for another show! This time Pearl Theater Open Mic favorites Paul Bonnell and Friends will open.
Students invited to envision Planning My Future: Students in public schools throughout Idaho have the opportunity to visualize their college or career goals this fall through the State Department of Education's annual Planning My Future art contest.
More News →
Letters & Opinions
U.S. Senator Mike Crapo: I recently wrote about the need for comprehensive tax reform to lower the burden on all Americans and make the tax code fairer, flatter and simpler. This column is meant to be the second in a series of columns to delve into the need for comprehensive reform.
Kirk Dixon: I want to thank Dave Kramer for his symposium for neighborhood watch. It's a really good idea. I'd like to mention that we as citizens should never forget our second amendment rights.
U.S. Congressman Raul Labrador: I wanted to share some great news with you: On Tuesday, I voted for, and the House passed, H.R. 36, the Pain-Capable Unborn Child Protection Act. This bill prohibits abortions 20 weeks after conception because of the substantial evidence that unborn babies at this stage can and do feel pain.
More Letters →
Sports & Outdoors

BCMS harriers in top form for districts: The Boundary County Middle School cross country teams had a great day Thursday when the traveled to Kellogg and the boys came home with a first place finish and the girls with a second! And to make it even better, their Kellogg hosts reciprocated what started early this season in Bonners Ferry and may become a tradition in North Idaho, if not beyond -- they provided the visiting teams with cookies as they boarded the buses to go home!
Lady Badgers end season with win: The Lady Badgers volleyball team finished their regular season tonight with a win at Kellogg, 28-18, 25-8, 25-14, ending their season with a 7-1 league record.

BF Wrestling Club hosting tourney: The Bonners Ferry Wrestling Club is hosting the Kids Folkstyle Tournament from 7 a.m. to 3 p.m. Saturday, October 21, in the Bonners Ferry High School gym, 6485 Tamarack Lane. Athletes from the North Idaho League and competitors in the USA Kids Folkstyle Tournament will take part.
More Sports →
Obituaries
Ivan "Bernie" Enger, 91, a 1944 graduate of Bonners Ferry High School, passed away October 11, 2017 at his home in Libby. There will be no services at Bernie's request. Spreading of his ashes and a memorial will be announced at a later date.
Allyce Irene Hansen, May 12, 1931 ~ September 29, 2017
Mark David Truesdell, July 20, 1955 ~ September 24, 2017
More Obituaries →
Search News Bonners Ferry:
Loading
Social News
Happy October 17 birthdays to Richard McFarland, Sherry Nash, Jayceen Swisher, Cludia Erickson, Alichia Eby, Gary Atkins and Laura Kimball, and happy anniversary to Doug and April Bennett!
Thanks to Facebook & Bonners Ferry Beta Sigma Phi!

BCH says thanks for ECF wing gifts: Boundary Community Hospital extends a big thank you to the Baptist Sewing Guild for stitching the beautiful quilt that was donated to the Extended Care Facility!

Lexie Wells a Valley View role model: We just can't get enough respectful Valley View Super Star Citizens! Lexie Wells is a fifth grade student, the daughter of proud parents Scott and Bobbi Wells.

Abby Pierce another respectful student! Why, it's another Valley View Elementary student being recognized as a Super Star Citizen for Respect! This is Abby Pierce, a second grader and the daughter of Jackie and Chris Pierce.
More Social News →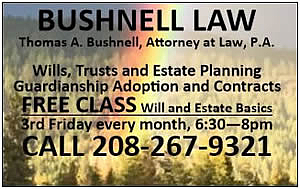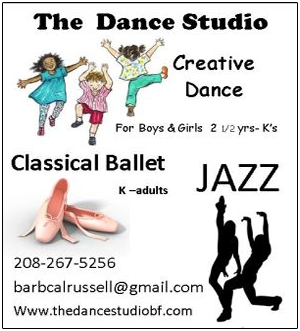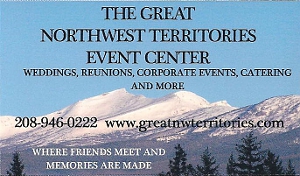 Events
Tuesday, October 17
Computer Tutoring by appointment, 1 to 4 p.m. in one hour sessions. Boundary County Library. To find out more, call (208) 267-3750.
Badger Volleyball District Play, 7 p.m., home vs. winner of Kellogg/Coeur d'Alene Charter.
Bonners Ferry City Council Meeting, 7 p.m., Bonners Ferry City Hall.
Wednesday, October 18
Badger Boys State Soccer vs. Weiser at Caldwell, time to be announced.
"Boo! Surprise!" Storytime, 10:30 a.m. and 1:30 p.m., Boundary County Library, 6370 Kootenai Street, Bonners Ferry. To find out more, call (208) 267-3750.
The Pearl Theater Annual Meeting, 5 p.m., 7160 Ash Street, Bonners Ferry. Please join them as they celebrate five years as a non-profit organization. Elect board members, review the annual report and lend your voice to important decisions for the future of our performing arts center. Light refreshments served.
Joint Worship Service, 6 p.m., Bonners Ferry High School. Hosted by the Boundary County Ministerial Association, everyone is invited to join in for an evening of community worship to lift up Jesus in the community.
Thursday, October 19
Badger cross country league at Kellogg, 2 p.m.
Friday, October 20
Lego Club, 1 to 3 p.m., Boundary County Library, 6370 Kootenai Street, Bonners Ferry. To find out more, call (208) 267-3750.
Fab Lab Classes by appointment, 1 to 7 p.m. in two hour sessions. Boundary County Library, 6370 Kootenai Street, Bonners Ferry. To find out more, call (208) 267-3750.
Wills and Trusts: the Basics, 6:30 p.m., Bushnell Law, 6430 Kootenai Street, Bonners Ferry. Free class! To reserve your seat, call (208) 267-9321 or click to email.
Badger league football, home vs. Kellogg, senior night! 7 p.m.
Saturday, October 21
Kootenai National Wildlife Refuge Bird Walk. Meet at the refuge office at 9 a.m. rain or shine. To learn more, call (208) 267-3888.
14th Annual Pink Ribbon Luncheon, check in at 12:30 p.m., program 1 to 3 p.m., Chic 'n Chop Restaurant, 6421 Main Street, Bonners Ferry. This yearly event is sponsored by the Boundary County Women's Cancer Support Group, with all proceeds to stay local to benefit the community. For more information please contact (208) 267-3751 or (208) 267-2711.
More Events →