December 2017 -- Total NewsBF hits: 1,838,112
Facebook Likes, 8,069: Follows, 8,399
~
NewsBF Snowline ~
Currently idle
News
January 19
Aiming High for Abigail: Spaghetti feed & auction coming: A benefit spaghetti feed and auction will be held at the Boundary County Middle School for Abigail Blockhan at 6 p.m. Saturday, January 20. About two years ago, Abigail fell ill with flu-like symptoms. It progressed until she was bed ridden most days. After several months, Abigail was diagnosed with dysautonomia.
Snowy weather expected to return: The National Weather Service, Spokane, says that a very active weather regime is shaping up for the next week for portions of North Idaho, North Central Washington and Northeast Washington. Periods of light snow are possible each day Saturday through Thursday.
January 18
Heart Rock rocks at chamber meet & greet: It was a full room at the Chamber of Commerce Winter Meet & Greet tonight at Heart Rock Wines and The CrossTime Saloon. Thank you to guest speakers Deborah Youngwirth of Youngwirth, Davis & Associates, Ginny Kirsch from The Pearl Theater and Dennis Weed for the Boundary County Economic Development Council.
North Bench fire annual meeting coming up: The Board of the North Bench Volunteer Fire District cordially invites all residents of the district to attend its annual business meeting, scheduled for 10 a.m. Saturday, January 27, at Station 1, 64464 Highway 2 at Three Mile.
Summer Food Service partners sought: The Child Nutrition Division of the Idaho State Department of Education is seeking partners for this year's Summer Food Service Program, which provides free meals and snacks to children ages 1-18 who live in low-income areas during the summer months.

Maddy refuses to give up on a brighter future: Madyson "Maddy" Peck and her mom came to Bonners Ferry last August to get a new, fresh start. The move was a good one, though not perfect. And not for both. Maddy, 17 and a senior at Bonners Ferry High School, is on track and looking forward to graduating with the BFHS Class of 2018. She's proud to be on the cusp of becoming the first in her family to earn a high school diploma, but needs work to fulfill that dream.
~ BCH needs night nurse ~
Boundary Community Hospital is looking for an LPN or RN to work with our award-winning Extended Care Facility team of caregivers. The position is nights, full time with benefits. Please share this opportunity with others so they can find the right person. http://www.boundarycommunityhospital.org/careers

Ailport gives Rotary High Five update: City of Bonners Ferry Planner Lisa Ailport visited with members of the Bonners Rotary Club at their Tuesday meeting at Mugsy's to give an update on the High Five grant received from the Blue Cross of Idaho Foundation.

Cereal school set to give producers an edge: The North Idaho Cereal School in Bonners Ferry is where industry leaders and university researchers will bring North Idaho growers latest information on weed and disease control, pest issues and variety trial results. Presentations will include updates on blackleg in canola, results of Boundary County wheat and barley variety trials and more.
Court dispositions and sheriff's log
January 17
A little too much truck plows into Callie's Niche: "At this point, it appears that an elderly man tried to test drive a vehicle that was a little too powerful for his abilities and it got away from him," Bonners Ferry Police Chief Vic Watson told the Bonners Ferry City Council at Tuesday night's meeting.

BCMS mental athletes battle it out: Winners of the Boundary County Middle School spelling bee today were: Sixth grade, 1st place Ana Chase, 2nd place Damon Madson; Seventh grade, 1st place Morgan Moon, 2nd place Taylor Cromwell; and eighth grade, 1st place Camille Ussher, 2nd place Kyle Smith.
Weigh-in day for the races ...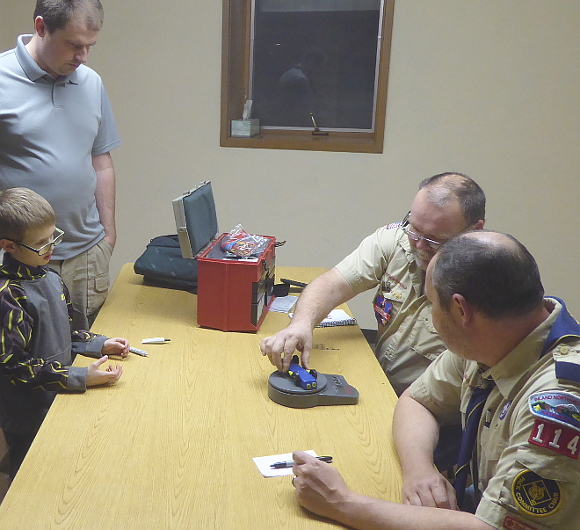 All eyes are on Cubmaster Thomas Husk during Tuesday night's Pack 114 meeting and weigh-in for this Saturday's Pinewood Derby! Mr. Husk is placing Tiger Cub Brydin Weymer's car to the moment of truth as Brydin and his dad, Colin, and Cubmaster Bill Blumenauer carefully watch the proceedings. This year's Cub Scout Pack 114 Pinewood Derby takes place at 11 a.m. Saturday at Trinity Lutheran Church, 6784 Cody Street, Bonners Ferry. All are welcome to cheer on your favorite Scout!

Spokane mom seeking return of her children: A custody dispute between a daughter in Spokane and her mother in Boundary County has grown heated, as even though a court has ordered three children returned to their biological parents, their grandmother has allegedly refused to comply.
BCMS gearing up for second semester: I would first like to thank our citizens of the month. For November -- Citizenship -- BCMS selected: Kaelynn Baisden, sixth, Blake Rice, seventh, Leah Webster, eighth, and Jessica Hanna, staff. For December -- Generosity -- BCMS selected Markynn Pluid, sixth, Evelyn Chaney, seventh, Brena Gould, eighth, and Rita Vannoy, staff. These folks showed tremendous citizenship and generosity! By Principal David Miles II

Cowell moves up in Rod Benders Car Club: Last Wednesday, Richard Cowell was elected Vice President/Show Chairman by the Rod Benders Car Club. For the last year he's been in charge of their public relations, handling their advertising and serving as webmaster. Now he'll be in charge of overseeing the car show as show chairman and running club business a vice president.
Time to diet; BCH Auxiliary pie sale coming February 15: The famous Boundary Community Hospital Auxiliary Pie Sale will be Thursday, February 15, this year, in the basement at Trinity Lutheran Church, 6784 Cody Street. Buy the whole pie or just a slice. The coffee pot will be on, ready to serve!
January 16

Eli resting after another big hurdle: Eli Ashby, 6, is finally out of recovery, in a room and resting at Seattle Children's Hospital. His dad, Allen, is a trooper in Kootenai County with the Idaho State Police, but when asked who the real trooper in the family is, Allen, Eli's mother, Jenn, and Eli's Boundary County grandparents, Mike and Linda Ashby, Moyie Springs, will all, and without a second's thought, point immediately to Eli.
Google offers online entry into IT field in a year or less: Google, the most ubiquitous search engine on the planet today, has long faced an issue that many other companies also contend with -- open IT support roles, and not enough qualified candidates to fill them. A few years ago Google personnel began working with a non-profit organization to build out trainings and pathways to roles in technical support at Google.
More News →
Letters & Opinions

Idaho Representative Ronald Nate: Every year one of the first bills in the Idaho legislature is the Tax Conformity bill. This bill updates Idaho's tax law making Idahoans' adjusted gross income (AGI) be the same as is calculated on their federal tax forms. This makes taxes for Idaho very easy to calculate because you just take the AGI from the federal form and use it on your Idaho tax form.
Tim West: For those of you who have expressed concerns over the Highway 95 reconstruction project, this is the email I received from Damon Allen at ITD. It basically states that concerns of one citizen are not taken into account, so if you have concerns and want to make a difference, then I ask that you make a simple phone call or write a quick email posting your concerns.
More Letters →
Sports & Outdoors
Badgers prevail over Post Falls JV: Miranda Wenk scored 20 points and grabbed 18 rebounds to lead the Bonners Ferry girls to a 69-51 victory over the Post Falls JV at home Thursday. In the boys game, Chris Sabin scored 22 points to lead the Badgers to a 61-49 win.
Lady Badgers fourth in IdahoSports 3A power rankings: As of January 17, the Bonners Ferry Badger girls are ranked Number 4 in the Idaho State 3A bracket of the IdahoSports.com power rankings. The Badger boys are ranked Number 10.
More Sports →
Obituaries
Russell "Doc" Murrell Docherty, April 14, 1932 ~ December 9, 2017
More Obituaries →
Search News Bonners Ferry:
Loading
Happy January 19 birthdays to Caleb Arceneux, Eli Schneurle, Erin Olson and Patrick Young!
Social News

Boundary County celebrates and honors MLK: Boundary County residents young and old joined together Saturday, January 13, at The Pearl Theater to celebrate and honor the life and dreams of Dr. Martin Luther King.

Hamptons welcome Wilbur Van Martin: Kortny and Vince Hampton are thrilled to announce the arrival of Wilbur Van Martin Hampton! Wilbur was born at 5:57 a.m. today, weighing eight pounds, five ounces.
More Social News →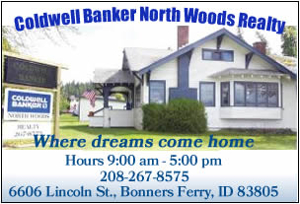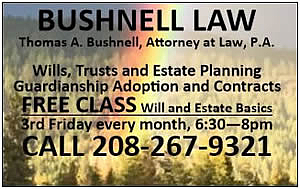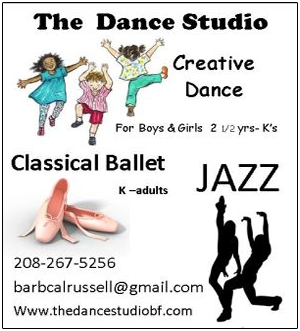 Events
Friday, January 19
Badger JV Wrestling, 4:30 p.m., at Timberlake Round Robin.
Free Wills and Trusts Class 6:30 to 8 p.m., Bushnell Law, 6430 Kootenai Street, Bonners Ferry.
Saturday, January 20
Badger Wrestling, 9 a.m. at Timberlake Tournament.
Friends of Kootenai National Wildlife Refuge Board Meeting, 9 a.m., Kootenai Refuge Education Barn, 287 Westside Road, Bonners Ferry. Public welcome!
Bonners Ferry Book Club Meeting, 10 to 11:30 a.m., Badger's Den Cafe, 6551 Main Street, Bonners Ferry.
Trojan Basketball, 11 a.m., home vs. Florence.
Cub Scout Pack 114 Pinewood Derby, 11 a.m., Trinity Lutheran Church, 6784 Cody Street, Bonners Ferry.
Badger girls basketball - Senior Day , 2 p.m., home vs. Wallace (makeup for December 15). JV starts at noon.
NERF Wars, 4:30 to 6:30 p.m., Boundary County Library, 6370 Kootenai Street, Bonners Ferry. To learn more, call (208) 267-3750.
Aiming High for Abigail Spaghetti Feed & Auction, 6 p.m., Boundary County Middle School. Proceeds will Abigail Blockhan and her family with medical expenses for dysautonomia.
Sunday, January 21
Movie at the Pearl: Little Boy; Believe the Impossible, 1:30 p.m., Pearl Theater, 7160 Ash Street, Bonners Ferry. Rated PG-13, admission $5 at the door. To find out more, call (208) 610-2846.
Monday, January 22
Fab Lab Classes by appointment, 1 to 7 p.m., Boundary County Library, 6370 Kootenai Street, Bonners Ferry. To reserve your class, call (208) 267-3750.
Boundary County School District 101 Board Meeting, 6 p.m., District Office board room, 7188 Oak Street, Bonners Ferry.
Kootenai Valley Resource Initiative Board Meeting, 7 p.m., Boundary County Extension Office. Agenda includes an update on the Camp Robinson project. To find out more, call Patty at (208) 267-3519 or email patty@kootenai.org.
Tuesday, January 23
Computer tutoring by appointment, noon to 3 p.m., Boundary County Library, 6370 Kootenai Street, Bonners Ferry. To reserve your session, call (208) 267-3750.
High Five Steering Committee founding meeting, 1 p.m., City Hall, 7232 Main Street, Bonners Ferry. To learn more, call Lisa Ailport at (208) 267-4379, or email.
Wednesday, January 24
Bonners Ferry Cereal School, 8 a.m. to 2 p.m., Extension Office Meeting Room, 6447 Kootenai Street, Bonners Ferry. Includes a catered lunch. Class is free. To register, call (208) 267-3235 or email spruitt@uidaho.edu.
Badger girls basketball, 6 p.m., home vs. Kellogg.
Thursday, January 25
Driver Safety Class, 8:30 a.m. to noon, Senior Center, 6635 Lincoln Street, Bonners Ferry. To register, call Orrin Everhart at (208) 267-6284.
Doing Business With the Government Workshop, 8:30 a.m. to 12:30 p.m., The Plaza Downtown, 7177 Main Street, Bonners Ferry. This free workshop will review requirements for contracting with the government. To register, click here.
Trojan Basketball, 2 p.m. at Libby.
Badger Wrestling, 4 p.m. vs. American Falls at Kellogg.
Badger Wrestling, 6 p.m. at Kellogg.
More Events →