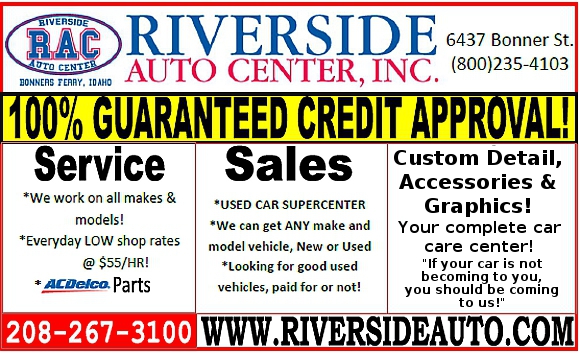 News
SBA Economic Injury Disaster Loans Available to Idaho Small Businesses: Small, nonfarm businesses in Boundary County and 10 other counties in Idaho, as well as neighboring counties in Montana, Utah, Washington and Wyoming, may be eligible to apply for low‑interest federal disaster loans from the U. S. Small Business Administration.
Police Youth Explorer Post competes in law enforcement chili cook off: The Bonners Ferry Police Department is proud to announce the Boundary County Law Enforcement Explorer Post #190 competed against area law enforcement agencies in Mt. Hall School's "Battle of the Badges" benefit chili cook off.
'Tis the season for Christmas tree permits: Many families in our forested area enjoy the tradition of scouting over Forest Service or BLM land to locate, cut, and take home their own Christmas tree. Christmas tree permits are now available from the Forest Service and Bureau of Land Management.
Governor Otter is asking a favor of us . . . "One of Idaho's very own teachers is in the final leg of an extremely competitive grant competition, and could use the support of everyone in our great state!" Click on the headline for this story to learn how you can help out.
Labrador to discuss immigration issues on national television program: Idaho 1st District Republican Congressman Raúl Labrador will appear on the nationally-televised CBS news program Face the Nation with Bob Scheiffer on Sunday.

Travelers visiting the International Selkirk Loop report spending nearly $5 million in our region: Officials of the International Selkirk Loop have recently completed an online traveler survey that provides valuable information for the member communities and businesses of the scenic Loop region. This survey asked thousands of travelers a variety of questions concerning their visit to our area.
Bonners Ferry Police arrest suspected interstate drug trafficker: The Bonners Ferry Police Department announced the arrest of a 22 year old Kila, Montana man for alleged possession for sale of a controlled substance, following an early morning traffic stop by Bonners Ferry Police.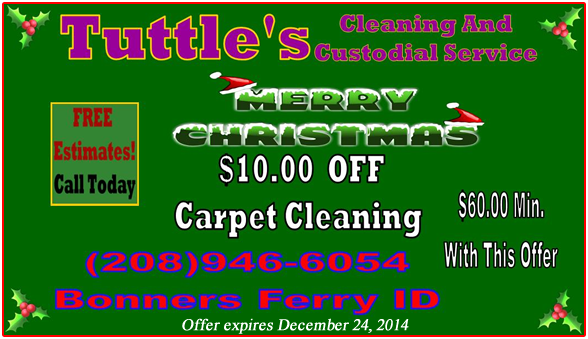 Police and school administrators identify suspect in last week's school bomb threat: Bonners Ferry Police, in cooperation with Boundary County School District 101 administrators, have identified a 12 year old suspect in last week's November 12 bomb threat at Boundary County Middle School.
Kramer elected as officer in state rescue association: David Kramer was recently elected as the First Vice-Commander of Idaho State Search and Rescue Association (ISSAR) for the 2014-2015 year.
Bonners Ferry Police sponsors hunting shotgun raffle: The Bonners Ferry Police Department is proudly raffling off this beautiful, brand new, Winchester XSP Waterfowl Max5 12 gauge hunting shotgun, just in time for Christmas.



Sandpoint woman injured in vehicle rollover on Highway 2: Earlier today at 3:25 p.m., a Sandpoint woman was involved in a serious single car rollover on U.S. Highway 2 at milepost 68.
Emergency crews check Restorium after carbon monoxide alarm sounds: The Community Restorium went into emergency precautions after a carbon monoxide alarm sounded earlier this evening.
Lost hunters located after spending night in sub-freezing temperatures: Last Wednesday, November 12, the Boundary County Sheriff's Office received a call at 11:00 p.m. regarding two missing hunters. The hunters had gone out in midafternoon for some quick hunting time before dinner. When they hadn't returned by 11:00 p.m., the search began.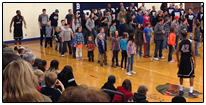 Crazy basketball with local team vs Harlem Ambassadors: It was basketball and more as the Harlem Ambassadors came to town to challenge the local NBA Wanna B's team. Not only was there fancy ball handling, impressive scoring moves, and athletic play--on both teams--but somehow during the game, a football game broke out, also a wrestling match, and somehow around sixty members of the audience ended up doing a line dance on the basketball court, led by the Harlem Ambassadors.
Preparations underway for 2014 Festival of Trees: For the past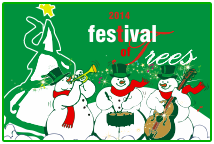 eighteen years, the Festival of Trees has been produced by the Fry Healthcare Foundation Board of Directors and friends of the organization. This year is no different. Many people are spending hours planning, organizing and preparing for the event which this year will be on Friday and Saturday, December 12 and 13.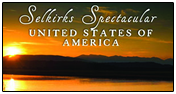 Local authors publish illustrated book of Selkirk Loop: A photographic journey encircling the spectacular Selkirk Mountains of northern Idaho, eastern Washington and southeastern British Columbia, Selkirks Spectacular, features images by local photographers Jerry Pavia and Tim Cady. Book publication parties, public invited, are scheduled and coming up soon in Bonners Ferry. Click on this headline for more details.
Boundary Community Hospital training and preparing for Ebola, just i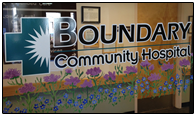 n case: With the current concern and surveillance going on worldwide regarding patients with the Ebola virus, you may want to know that our local hospital is already well into preparations and close monitoring for individuals who may have the infection, or who may have been exposed to the virus.
Report on success of recent emergency test of Idaho ham radio: If there were some emergency, and all the phones went out, what would happen to keep vital communication going? Ham radio is already organized to be ready at any time in just such a case. Last month, a statewide simulated test of Idaho ham radio emergency communication systems was done. This story reports on the success of that test.
Idaho Family Reading Week coming, Valley View is ready: Get ready . . . Idaho Family Reading Week is November 17-20! Valley View Elementary School has a full week of activities planned to get your family reading with our theme of: "Building a Community of Readers!"
Successful "Night for the Museum" fundraiser: The fourth annual
"Night for the Museum" fundraiser was held at the Museum on October 25, and was enjoyed by a sold-out crowd of nearly 100.
See how you do with a few questions about record-setting fish caught in Idaho. See our Sports section for the story.
Paradise Valley Fire District seeks to fill board vacancy: The Paradise Valley Fire District is seeking a volunteer to fill out its 3-person board of directors, according to Orrin Everhart, board chairman. More details available by clicking on the headline for this article.
More News →
Letters & Opinions
Boundary County Victim Services Board: Thanks to community
Boundary County Explorers Post 190: Thanks for community support!
More Letters →
Sports & Outdoors
Badger Girls' Varsity Basketball opens season with win: The 2014-2015 edition of the Bonners Ferry Badger Girls' Varsity Basketball Team opened their season last Thursday, November 20 against the JV team from 4A Lake City High School of Coeur d'Alene.
Low water levels at Boundary Creek-Smith Creek Wildlife Management Area: Visitors to the Boundary Creek-Smith Creek Wildlife Management Area (WMA) near Bonners Ferry have noticed that water levels across the WMA are low this year. The lower than normal water level is making trapping and waterfowl hunting very difficult.
Here's where you check your trivia skills on record fish caught in Idaho: Ready for your Idaho Record Fish Trivia Extravaganza Contest? See if you can answer a few questions about record-setting fish caught in Idaho.
Fish and Game reminds hunters of rules for hunting private land: Deer rifle seasons opened in mid-October in much of Idaho. You may be surprised at some of the rules regarding hunting on private land in Idaho.
Wolf trapper certification class scheduled in North Idaho: If you are interested in trapping, a class has been set up to be held in Coeur d'Alene in a couple of weeks. This class is required before a person can purchase wolf trapping tags.
More Sports →
Obituaries
Michael Lee Ellersick: November 17, 1955 ~ November 18, 2014
Lawrence Raymond Richardson: January 15, 1938 ~ November 15, 2014
Mary Catherine (Brechtle) Malone: September 22, 1920 ~ November 18, 2014

(complete obituary now available)
Wayne Albert Gustafson: March 27, 1942 ~ November 7, 2014
Margaret LaVerne Dieterle Peterson:
August 29, 1927 ~ November 7, 2014
Alice Lorean Miller: July 23, 1943 ~ November 3, 2014
Joy Elaine Carpenter: July 26, 1956 ~ October 31, 2014

(complete obituary now available)
More Obituaries →
Search News Bonners Ferry:
Loading