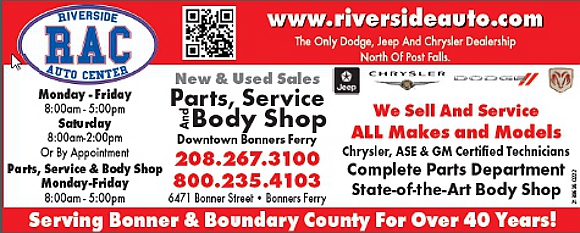 Click here for money-saving Riverside Auto coupons!
News
Info sought on school bus hit and run: A school bus hit and run at 4:30 p.m. December 11, involving a late model Ford, silver or white full size or mini van, occurred at the corner of Eisenhower and Sacramento Streets in Bonners Ferry. Both vehicles suffered damage. The van has an Idaho license plate starting with 9B, Any person with any knowledge of the hit and run please call 911 or, if out of county, (208) 267-3151, extension 0, to help identify the van or driver.
School bus in hit and run: A Boundary County school bus was involved in a hit and run collision today, no one was injured but police are seeking any information.
Neighbor needing help: A Boundary County woman is in dire need of firewood, but as she is disabled, she can't cut it on her own or afford to pay prime price. She lives 25 miles north of Bonners Ferry toward Eastport, and her sister-in-law, Kat, is trying hard to help her. If you have wood and can deliver, message Kat on Facebook. Your help is appreciated.
BCH Auxiliary ...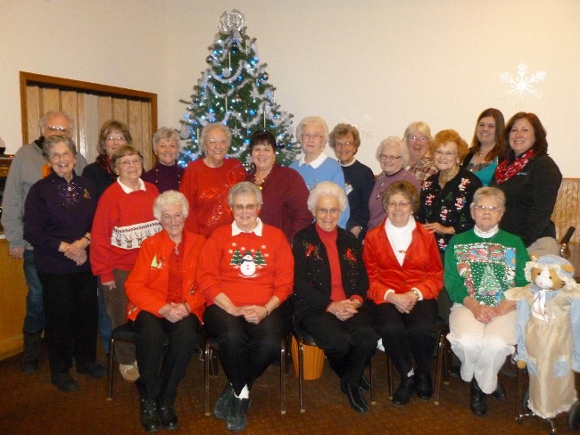 Drexel Love photo
The Boundary Community Hospital Auxiliary met for a luncheon at the Chic n'Chop Restaurant Tuesday, and while there, Rocky Burkholder drew the raffle winner of a beautiful Christmas Tree and a ton of toys. Irma Clark was the lucky winner!
The Boundary County Drivers License office will be closed all day Thursday, December 12, for installation of new flooring. The office will re-open Friday. This is very short notice because they were just told yesterday the install date! Thank you for your patience and if you have any questions please contact the sheriff's office at (208) 267-3151.
Copeland honored by district: What an elementary school needs is consistency and what Pam Copeland gives to this district is just that! Pam has worked for the Boundary County School District for 15 years.

Kathy Hampton Teacher of the Month: Every student looks forward to second grade at Naples Elementary and misses it when they graduate – and for good reason. Kathy Hampton has been teaching for 22 years – with the majority of those at Naples School.
Obama Care impacts solid waste disposal: Due to increased expenses of the federally mandated Affordable Care Act, also known as Obama Care, Boundary County is forced to reduce the hours of operation at our monitored solid waste disposal/collection sites.
National Geographic Bee coming to VVES: The first round of the 2014 National Geographic Bee kicks off next Wednesday, and Valley View Elementary students will be competing for the chance to represent Boundary County and the State of Idaho next spring in Washington, D.C.
Tribe intervenes in caribou suit: The Kootenai Tribe of Idaho (Kootenai Tribe) has moved to intervene in the litigation over the endangered woodland caribou. Woodland caribou historically inhabited all of Kootenai Territory in what is now north Idaho, northeast Washington, northwest Montana and southeast British Columbia.
Christmas concert dedicated to Glenda McCalmant: With the Bonners Ferry Community Choir and the Bonners Ferry Youth Choir "Swingin' on a Star" combined in song, over 100 voices will bring our community "We're Not That Far From Bethlehem," the 2013 annual Christmas Concert.
School district closure info sources: With the winter months at hand, Boundary County School District No. 101 wants to inform patrons that school closures due to weather/road conditions will be announced on the following ...
Court records and sheriff's log
VVES Student Council minutes
Libby water supply forecast released: The Libby Dam December April to August water supply forecast (WSF) volume is 5502 KAF, which is 87% of the long-term (1929-1999) average and 94% of the near-term (1981-2010) average; this inflow volume forecast calls for an end of December reservoir draft target of 2426.6', which is only 0.1' from a full relaxed draft target.
Missing mountain water studied: Recent Forest Service studies on high-elevation climate trends in the Pacific Northwest show that streamflow declines tie directly to decreases and changes in winter winds that bring precipitation across the region.
Tremendous year at Valley View! The end of a year comes quickly ... At this point in time, there are three ways to look; past, present and future, so let's go in these directions. Starting with our accomplishments: 2013 was a tremendous year for Valley View Elementary School! PPP by principal Gary Pfleuger
'You've been hacked, I'll tell you how to fix it!' Sherry Nash, Bonners Ferry, received a phone call this morning that sounded so insistent and sincere, she almost fell for it ... (not!). She stayed on the line, computer off, writing down details so she could report a potential crime in progress.

Male Lab found: This neutered male Lab was found yesterday at Highway 2 and Oxford Loop Road. He is very well mannered and and surely someone is missing him! If you know who he belongs to please tell his owners that he is visiting Second Chance Animal Shelter, 6651 Lincoln Street in Bonners Ferry. Or give the shelter a call at (208) 267-7504.
More News →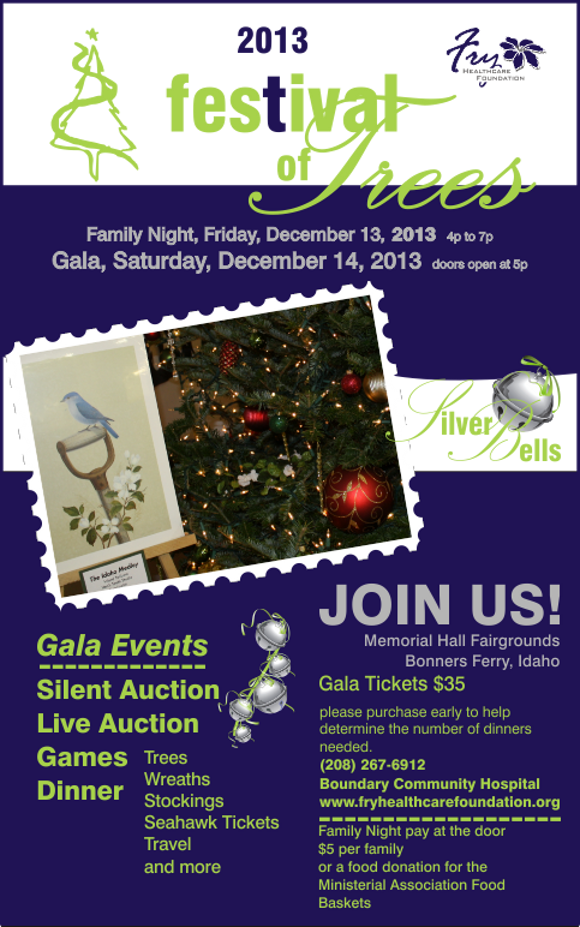 Letters & Opinions
Congressman Raul Labrador: This week, I participated in a Judiciary Committee hearing about the President's failure to fulfill his most basic Constitution duty – to "faithfully execute the law."
More Letters →
Sports & Outdoors
Lady Badgers' first win at home: The Lady Badgers played their first home game of the season Tuesday and scored their first win of the season as well, defeating the Libby Loggers 36-29.
Update on Badger home hoops: School district athletic director Steve Morton has sent out clarification on home basketball games this week as weather has upset the scheduling.
Lady Badgers lose heartbreaker: The Lady Badgers lost a heartbreaker to Lakeland Thursday, 51-45. Lakeland led by 11 points at the end of the first half, 30-19, and stretched their lead to 17 in the third quarter before the Badgers started climbing back.
More Sports →
Obituaries
Richard Alan Armstrong, passed away at Boundary Community Hospital in Bonners Ferry December 9, 2013. Services will be held at 1 p.m. Saturday, December 14, at Mountain Springs Church, Bonners Ferry.
Curtis M. Osborne, January 15, 1924 ~ December 3, 2013
Beverly Jean Docherty, 79, passed away on December 5, 2013, at Boundary Community Hospital. Services will be held at 11 a.m. Monday, December 16, at United Methodist Church in Bonners Ferry.
Greta Elaine Marcy, May 10, 1951 ~ December 4, 2013
More Obituaries →
Search News Bonners Ferry:
Loading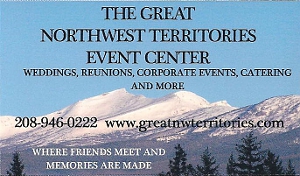 Weather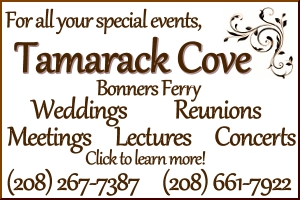 Mention this ad for 10% off any purchase at
Northwest Custom Tattoos & Treasure!
Social News

Mariah Rae named Student of the Month: A junior at Bonners Ferry High School, Mariah Rae is a happy student who likes to laugh, enjoys humor and have fun in her many activities. She is November's Student of the Month, selected by the Delta Kappa Gamma Women Educators.
More Social News →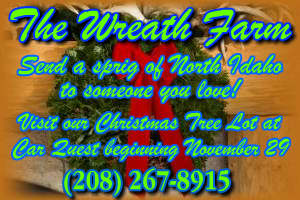 Events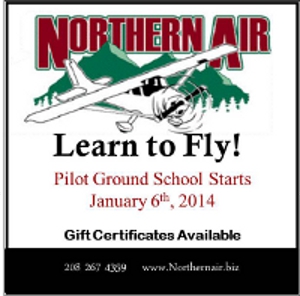 Thursday, December 12
Free Dinner and Family Movie Night, Springs of Living Water Free Methodist Church, 6957 LaBrosse Hill Street, Bonners Ferry. Dinner at 6:30 p.m., movie at 7 p.m. Tonight's show is "Despicable Me 2."
The Pearl Theater, 7160 Ash Street, Bonners Ferry, presents a free holiday sing along for the entire family with performances by Swingin' on a Star: the Bonners Ferry Youth Choir and Over the Moon: the Bonners Ferry Youth Dance Company, 7 p.m. To learn more, call (208) 610-2846.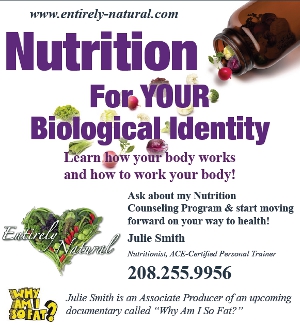 Friday, December 13
Badger wrestling at St. Maries Tournament, 3 p.m.
Free Dinner and Family Movie Night, Springs of Living Water Free Methodist Church, 6957 LaBrosse Hill Street, Bonners Ferry. Dinner at 6:30 p.m., movie at 7 p.m. Tonight's show is "Silver Bells."
Family Night at the Festival of Trees, 4 to 7 p.m. at the Fairgrounds Memorial Hall. To find out more, call(208) 267-6912.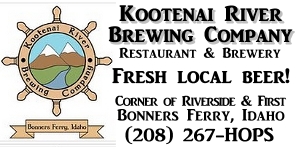 Saturday, December 14
Badger wrestling at St. Maries Tournament, 9 a.m.
The Naples Holiday Festival is looking for crafters. They will be including a craft sale this year. $5 to rent a table. Open to the public from Noon to 4 p.m. in the Naples School gym. Call (208) 627-9476 to reserve your table.
Badger girls basketball, home vs. Newport, 3 p.m.
Badger boys basketball, home vs. Newport, 4:30 p.m.
Festival of Trees Gala Night, Fairgrounds Memorial Hall. Doors open at 5 p.m., the buffet dinner will be served from 6 to 7:30 p.m. and the auction begins at 7 p.m. Tickets are $35, available online at www.fryhealthcarefoundation.org or at the Boundary Community Hospital. To find out more, call(208) 267-6912.
Sunday, December 15
The Annual Country Gospel Christmas Concert featuring the New Life Crusaders, 6 pm. at Mt. Hall Community Church. Requests and audience participation, concert followed by food and fellowship! All are welcome. To find out more, call (208) 267-7506.
Tuesday, December 17
Badger girls basketball, home vs. Priest River, 7:30 p.m.
Thursday, December 19
Ladies night at Club 55, 6416 Kootenai Street, Bonners Ferry. Featuring Nancy Meadow's Christmas show and the water aerobics girls' Christmas party! Buy one drink and get the second at half price, free slice of rum cake and more! 4:30 to 7:30 p.m., party crashers welcome!
Badger wrestling at Sandpoint, 5:30 p.m.
Free Dinner and Family Movie Night, Springs of Living Water Free Methodist Church, 6957 LaBrosse Hill Street, Bonners Ferry. Dinner at 6:30 p.m., movie at 7 p.m. Tonight's show is "Arthur Christmas."
More Events →