Boundary County News
Home
Sports
Social
Obituaries
Events
Letters
Classified Ads
Looking Back
Health Jewels
Stitch in Time
September 16
Senator Crapo invites Idahoans to tele-townhall meeting: Senator Crapo invites Idahoans to tele-townhall meeting: Idaho Senator Mike Crapo will host his third tele-townhall meeting of 2014 and is encouraging Idahoans to participate.
Historical Society offers tour of cemetery: Would you be interested in learning more about Grandview Cemetery, its history, and details on some of the prominent people of Boundary County's past? The Boundary County Historical Society is sponsoring a Historical Walking Tour of the old section of Grandview Cemetery.
September 13
New owner for ET Wireless: ET Wireless, the cell phone sales and service business, located on Bonners Ferry's south hill since 2007, was recently sold to a local businesswoman and is now under new ownership.
"Coats for Kids" Drive at Valley View Elementary School: Valley View Elementary School is beginning its annual Coats for Kids drive Monday, September 15. Anyone may drop off gently used, clean coats with working zippers.
September 12

A Boundary County Gem: The Dance Studio: So, would most people be surprised to learn that rough, tough, and rugged Boundary County is home to a dance studio, whose graduates from its graceful instruction in creative dance, jazz dance, modern, and ballet are now scattered across the USA?
September 11
Boundary County, get ready for bluegrass!: You can be there to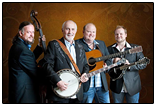 enjoy, live and in person, an internationally-recognized bluegrass band, coming up in just a couple of weeks, right here in Bonners Ferry.
ISP safety recommendations for new school year: Idaho's school children are back in school and Idaho State Police along with local law enforcement agencies want to warn motorists of the danger that may be just around the corner as children travel to and from school each day.
September 4
Fatal auto accident in early-morning hours: A Bonners Ferry area resident died in a single vehicle motor vehicle accident near Moyie Springs early this morning.
August 27
New business in downtown Bonners Ferry: Woodsman's Shop: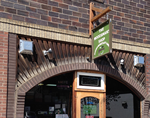 Open now for six months, the Woodsman's Shop is located in downtown Bonners Ferry at 6389 Bonner Street (just down the side street from Jill's Cafe). Click on this story for more information about this new business.
Bonners Ferry High School advises of open house and other upcoming Back-to-School events: Check this story for information about the BFHS Open House, Freshman Orientation Day, and picking up school schedules.
August 26
Idaho to auction Priest Lake lots Thursday: The Idaho Department of Lands (IDL) will auction 59 lakefront Priest Lake lots for deeded ownership during a live public auction Thursday in Coeur d'Alene.
August 25
Search and Rescue crews practice raising sunken automobile in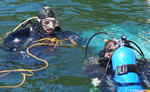 Pend Oreille: Rescue Divers from Boundary and Bonner Counties have completed a difficult training exercise involving a sunken automobile in Lake Pend Oreille.
Boundary County Clerk Glenda Poston elected Vice President of statewide Association: The Idaho Association of County Recorders and Clerks held its annual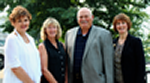 meeting in Orofino last week. One order of business was the electing of officers for the new year. Boundary County's Clerk Glenda Poston was selected as one of the state association's officers.
Idaho Senator Crapo seeking veteran's opinions on their medical care: If you are a veteran, Idaho Senator Mike Crapo is looking for information on how you feel about medical care you have received through the U.S. Department of Veterans Affairs and other federal programs administered in Idaho.
August 21
Update on medical condition: We have been advised of an update on the condition of Garrett Graupner, one of those involved in the automobile collision north of Bonners Ferry on August 18.
P

olice Explorer program holds graduation: The Bonners Ferry Police Department is proud to announce that the first group of "Police Explorer Scouts" have graduated from a one week, 40-hour boot camp. Click on this headline to learn more about the activities of the Police Explorer Post.
August 19
Social media updates on yesterday's Driver's Ed car collision: To provide full update, we note in this story news and updates that have been posted on public social media websites about yesterday's collision. This includes our own Facebook page, and the Facebook pages of relatives or associates of some of those involved in the collision.
Vehicle crash yesterday required multiple medical helicopters: Idaho State Police has

released limited information regarding yesterday's motor vehicle accident on US Highway 95 at milepost 513 at Hooten's Hollow, approximately six miles north of Bonners Ferry.
August 18
Update: Two serious motor vehicle accidents reported on US 95: Two motor vehicle collisions have been reported in Boundary County this morning (August 18), at least one of which appears to have serious injuries.
Fatal auto accident on US 95 north of Three Mile (occurred August 17): A Bonners Ferry man died at the scene in a single vehicle rollover near mile 511.6 north of Three Mile.
August 14
Here is your schedule for the Boundary County Fair, 2014: Click on this headline to see the schedule for all days of the Boundary County Fair.
August 12
Bonners Ferry holds special meeting to discuss water, sewer rates: "We are in a zero sum game in our utilities," Mayor David Anderson stated to start off Tuesday evening's special city council meeting, held to advise city residents and other utility users of water and sewer expenses, rates, and capital improvements.
August 11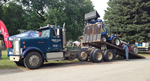 A lot happens before the Fair opens . . .
(see some photos of the day before the Boundary County Fair opened).
August 4
BFPD Corporal Winters completes DARE training: The Bonners Ferry Police Department is proud to announce that Corporal Winford "Buddy" Winters recently returned from two weeks of training in Las Vegas, Nevada at the Drug Abuse Resistance Education (D.A.R.E.) academy.
August 3
Many thanks to area power crews for their long night's work: While most of us

hunkered down in our homes after last week's terrific storm, wondering when the power was going to come back on, crews for Northern Lights and for the City of Bonners Ferry were out there working to actually bring the power back on.
August 2
Fire danger high in much of North Idaho: The persistent hot and dry weather pattern continues to dry forest fuels, prompting fire managers to raise the wildland fire danger to "High" throughout most of North Idaho, including the Boundary County area.
July 31
Inmate in Boundary County jail dies of suspected suicide. According to press release received from the Boundary County Public Information Office.
July 30
New Explorer post progressing, raising funds: Supporters of the new law enforcement-oriented Explorer Post in Boundary County, sponsored by the Bonners Ferry Police Department, are looking to raise funds.
Bonners Ferry Police Department upgrades duty weapons: The Bonners Ferry Police Department is changing to brand new 4th generation Glock Model 21's in the venerable .45 auto caliber.

No comment necessary on this photo---if you've got ties to Boundary County, you know what we're talking about . . . . .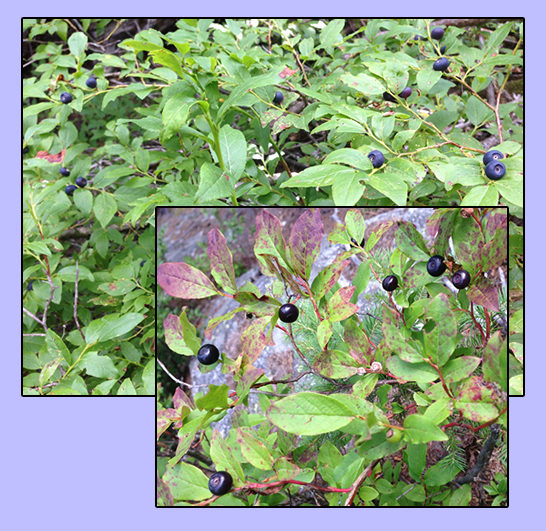 July 25
West Nile Virus detected in Boundary County: Mosquitoes infected with West Nile virus (WNV) have been detected in Boundary County. Panhandle Health District reminds people to take precautions to fight the bite.
Local plays continue: Little Women, the Broadway production currently being presented at the fabulous Pearl Theater, will be performed tomorrow, Saturday, at 7:30 p.m., with its final performance on Sunday, July 27, at 1:30 p.m. It's a great production, with very professional singing and performances!

Meanwhile, The Little Mermaid presents its final performance tomorrow, Saturday, at 7:00 p.m. at the high school auditorium. It is a fun show with wild costumes and a lot of energy.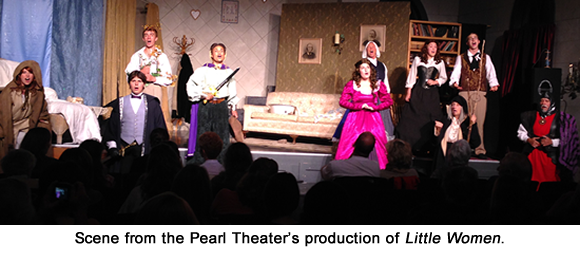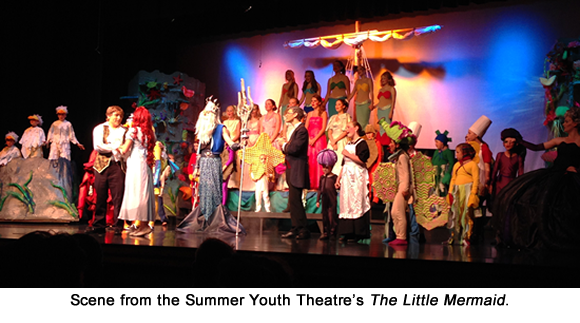 Horticulturist provides information on pruning storm-damaged trees: On the evening of July 23, a severe windstorm struck north Idaho, leaving downed and damaged trees throughout the area. Many readers may be asking, "How do I care for my damaged trees?"
Four days of construction and projected traffic delays on Highway 95 north: Idaho Transportation Department crews will replace the twin culverts for Miller Creek, located

on U.S. 95 about 20 miles north of Bonners Ferry at milepost 527.9, beginning Monday, July 28. There will be some traffic delays.
Forest Service seeks public input on Hellroaring Project near Eastport: The Bonners Ferry Ranger District is seeking public comment on the recently released Hellroaring Project Environmental Assessment (EA). Proposed activities of the project would manage vegetation, trails and roads, fish, and scenery. See this article for details on the project and how to submit your comments.
July 23
Recommendations made for North Side water tank following special City meeting: The Bonners Ferry City Council conducted a special public meeting Tuesday evening, July 22, to address ongoing concerns regarding the North Side water tank. Also in attendance at the meeting were representatives from the Idaho Department of Environmental Quality, and representatives from Welch Comer & Associates, Inc., an engineering firm consulting with the city on plans for the troubled tank.
City issues letter to residents on status of North Side water tank: A copy of the letter sent to water customers can be seen here.
July 21
DEQ notifies city of required action on North Side water; DEQ reps to attend public meeting: On Monday, July 14, a representative from the Idaho Department of Environmental Quality conducted an unannounced visit to inspect the North Side water tank with Bonners Ferry City Water officials. That particular visit happened to occur just a couple of days before last week's City Council meeting where issues regarding the sanitation and safety of the North Side water was discussed. Information on that visit and its resulting DEQ letter are presented in this article.
Everyone loves The Little Mermaid; Three performances remain: Now moving into its second and final week of public performances, the Bonners Ferry Summer Youth Theatre's production of The Little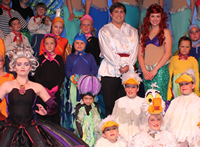 Mermaid has been met so far with widespread acclaim throughout Boundary County by those who have seen the play.

If you've thought about attending, there are three performances remaining for you to get your ticket and see the play before its run closes. Click the headline to read the story.
July 19
Boundary County unemployment numbers released: Our county continues to lag behind Idaho statewide figures, though they are in line with US nationwide figures. The county with Idaho's highest unemployment is not too distant from us.
City announces agenda for special meeting on North Side water: Following growing concern among North Side residents regarding the sanitation of their water, and after a City Council meeting where much time was spent in discussion of the problem, the city set up a special meeting of the City Council to hear from citizens and to discuss the City's plans for the North Side water issue.
Farewell to the Cinder Block Building: Howard Kent writes a tribute to the history of that old building now gone.
Hiring Event sponsored by local Department of Labor office: The local Bonners Ferry office of the Idaho Department of Labor is sponsoring a Hiring Event for a local company. That company is looking for people to fill several positions, including operators (entry and advanced level, sales personnel, an experienced bookkeeper, ranch hand, and experienced supervisors.
Police agencies increasing traffic law enforcement: Beginning July 18, state and local law enforcement are stepping up enforcement of traffic laws, specifically looking for aggressive and distracted drivers, in efforts to reduce traffic deaths through Idaho's deadliest traffic time of year.
July 17
Police release details of sequence of events for recent Sandpoint shooting: Bonner County Sheriff's Office has released information regarding the sequence of events occurring during the officer-involved shooting near the Sandpoint hospital on July 8.
Concerns increasing about sanitation of city water on the North Side: Concerns are being increasingly raised by many residents of Bonners Ferry's North Side about the clean and sanitary state of their household and drinking water. Apparently rodents, including mice, are getting into the North Side water tank.
July 16
Additional information released on shooting near Sandpoint hospital: The Bonner County Sheriff's Office has been designated as the lead agency in the investigation of the officer-involved shooting that took place near the hospital in Sandpoint on July 8. The Sheriff's Office has released additional information regarding the shooting, including the names of those involved. This story reports all updated information.
Bonners Ferry SWISH photos: Bonners Ferry SWISH has wrapped

up for another year on the blistering Main Street of downtown Bonners Ferry. Take a look at our scrapbook of SWISH 2014 photos.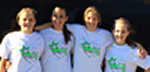 List and Photos of SWISH 2014 Champion Teams: Click on this story to see the photos of the Swish Champions for the various age groups.
Kootenai River Days on the way: Those who may remember the days when Kootenai River Days was one of the bigger celebrations in Boundary County's summer days will be glad to know that the Bonners Ferry Chamber of Commerce has helped organize a group to bring the big event back. For those who have never heard of Kootenai River Days, you've got to try it out!
Run for the Fallen event set for Bonners Ferry: Run for the Fallen will be holding its final event in Bonners Ferry on the last day of the upcoming Kootenai River Days celebration.
July 14
New physician in Boundary County: A new physician, Dr. Susan Layeux, is joining Dr. Snyder at Boundary Community Clinic.
Local filmmakers to show movie about Boundary County: The Boundary County Commissioners and the Boundary County Museum are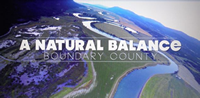 pleased to announce the premier showing of the Boundary County-produced documentary film, "A Natural Balance – Boundary County."
July 10
County-wide art contest underway: An art contest open to all residents of Boundary County, ages 5 to 105, is now underway. Those interested in participating have until August 1 to enter their work. This contest is held in conjunction with an American Music Concert Series to be presented in the county over the next year.
July 9
Bonner County Sheriff releases information on last night's officer involved shooting in Sandpoint: Bonner County Sheriff's officials have released additional information about last night's officer-involved shooting near Bonner General Hospital in Sandpoint. Click on headline for the full story.
July 8
JB's Les Schwab expanding, nearby building demolished:
You may remember the building as Cone's Cafe, or later as Cone's floor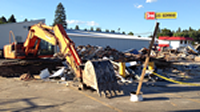 coverings, or as a South Hill Video store, or as the first home of Yoder's Market.
Woman killed by police near Sandpoint hospital: There are reports late Tuesday night that Sandpoint police were involved in a confrontation with a woman was seen to be armed with a knife.
Area police agencies launch Police Explorer Program for youth: In a joint effort to provide a positive outlet for area youth, several area police agencies have created a multi-agency law enforcement Explorer Post in Boundary County. Officers, Deputies, and Agents will work together to forge a program for boys and girls ages 14-20 who are interested in exploring a career in law enforcement.
Idaho simplifies process for growers to obtain burn permits: Idaho growers now can obtain a crop residue burn permit from the Idaho Department of Environmental Quality and a fire safety burn permit from the Idaho Department of Lands in one easy step online.

Kids fly free on Young Eagles Flight Day: Area young people ages 8-17 will have a chance to take to the skies on Saturday, July 19, as Experimental Aircraft Association (EAA) Chapter 757 hosts a Young Eagles Flight Day at the Boundary County Regional Airport in Bonners Ferry.
July 4
Thanks for your great work on the Fourth of July fireworks to Gary Leonard and his team. Without question, the fireworks display they put together in our small town rivals that of many much larger cities. It was all good--the last 10 minutes of this year's show were spectacular! Thank you for all your hard work on this!
Independence Day in Boundary County, 2014--see photos: Lots of action going on for the Fourth of July in Boundary County. Click on this story to see photos of the Eastport Parade, Bonners Ferry Parade, and the Fireworks.
Fire causes significant damage to Alpine Cleaners on the South Hill of Bonners Ferry on July 4. Click on this story to see photos.
Independence Day Events in Boundary County: Several events going on throughout the day in our area. See this story for details.
July 2
Forest Service meets with public on Hall Mountain drilling project: Turns out there was much more interest and concern about the Hall Mountain test drilling project than the Forest Service anticipated. Many attended a meeting that had been originally arranged to provide information and answer questions to a few interested individuals.
July 1
Independence Day Activities in Boundary County: Will there be any fireworks in Bonners Ferry for the Fourth of July this year? That seems to be the question recently on the minds of many people in our area as Independence Day approaches.
June 27
"All Hands on Deck" for Idaho State Police today; traffic safety emphasized: The summer days between Memorial Day and Labor Day are known as the 100 deadliest days of the year on our state's highways. The Idaho State Police want to change this sad statistic and make Idaho's roads as safe as possible.
The broncos await . . . .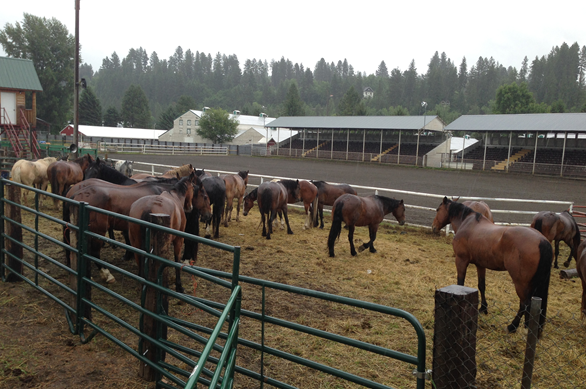 If you've ever wanted to see a mud rodeo, this may be your chance. In spite of our current downpours, a rodeo official tells us the show is still on. Don't worry, rodeo fans will be protected in the comfort of the covered bleachers.

These broncos await the action tonight and tomorrow night for the New West Rodeo at 7:00 pm at the Fairgrounds.
June 25
Leading worldwide mining company to do test drilling at Hall Mountain: Global mining company MMG Limited, with headquarters in Melbourne, Australia will start three test drills next month in Boundary County in the Hall Mountain area.
June 23
Kootenai River Inn gets upgrades and improvements: The Kootenai Tribe of Idaho's casino and hotel, the Best Western Plus Kootenai River Inn Casino and Spa, has upgraded its amenities and added new gaming machines.
Speed limits going up on southern Idaho freeways; no change on I-90 in northern Idaho: Speed limits going up on southern Idaho freeways; no change on I-90 in northern Idaho.
Field Day for Amateur Radio coming up: Amateur Radio is alive and well, and Field Day is a celebration of our ability to talk to the world via radio. Amateur Radio Field Day takes place June 28-29.
June 21
Hall Mountain area lands are high national priority for conservation program: A two thousand acre group of six privately-owned parcels of forest land in the Hall Mountain area of Boundary County, valued at $3.6 million dollars, is ranked second in the nation as a national priority to protect its timber resources and wildlife habitat under the Forest Legacy program.
Local students on NIC spring Dean's List: North Idaho College recently announced its Dean's List for spring semester 2014. Several area students have worked hard and are on the Dean's List.
June 17
Bonners Ferry Police Department hires new second in command: The Bonners Ferry Police Department has hired and sworn in a new Lieutenant for the Department, according to Michael Meier, Public Information officer for Boundary County.
June 15
Bridge Construction
Just to remind all--tomorrow is the day: Both bridges on US Highway 95 in downtown Bonners Ferry will be limited to two lanes only, beginning tomorrow, Monday, June 16, for construction upgrades. This includes the Kootenai River Bridge and the Arizona Street Bridge. Bridge decks will be resurfaced, along with other work. To read our full story on these projects, click here.
June 13
An evening in Bonners Ferry: A great evening for fun today in Bonners Ferry, Idaho. Is this one of those "only in Bonners Ferry" things, on a Friday the 13th evening in extreme northern Idaho . . . ?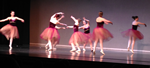 June 12
Fish and Wildlife sets local public hearings on controversial caribou issues: The U.S. Fish and Wildlife Service has announced three proposed rules and findings on the sometimes controversial issue of the southern Selkirk Mountain woodland caribou. You can find more information and give your input at their upcoming hearings.
Samples of public comments submitted on caribou issues: Many public comments have already been posted regarding the petition asking the U.S. Fish and Wildlife Service to change the Endangered Species Act listing of our local Boundary County population of southern Selkirk Mountain woodland caribou. You can read some of those comments here.
June 11
Borders 3 Jamboree has record number of entries: A r

ecord number of 222 cars were on display for the Rod Benders sponsored car show,"Borders 3 Jamboree," held this past Saturday right in downtown Bonners Ferry.

New facilities available at County Fairgrounds: As the summer months roll out here in Boundary County, we need to make sure you are aware of some of the new structures available at the County Fairgrounds.
Free fishing day this Saturday: Idaho Free Fishing Day is coming up this Saturday, June 14. That means anyone can go fishing in the state of Idaho, without having to purchase a fishing license. Note that all other fishing rules and limits still apply.
Annual community picnic at Restorium: The always fun-filled Annual Community Picnic at the Restorium is scheduled this year for Sunday, June 29. The event will be held at the Restorium, from 11:00 a.m. until 3:00 p.m.
June 9
Coach DePriest sets summer football conditioning: Ed DePriest, Head Football Coach at the high school, has sent a letter to NewsBF asking all potential football players to take advantage of the weight room being available this summer. He's also asking the players and community to commit and work together now for a successful season this fall.
June 6
Landowners can learn forest management at coming Field Day: Family forest landowners have a unique opportunity to spend a day in the woods with natural resource experts at the Idaho-Washington Forest Owners Field Day on June 21.
Barbecue for 4th of July fundraiser and Super 1 anniversary: Super 1 Foods and the folks who put on the Boundary County/Bonners Ferry July Fourth fireworks event announce a big celebration and barbecue coming up on Friday, June 13. All are invited to this fun barbecue event to help celebrate Super 1 Foods second anniversary, and to help raise funds for the July Fourth Celebration and Fireworks Show.
Graduation for local D.A.R.E. program: Local elementary schools graduate D.A.R.E. students with Bonners Ferry Police Department.
Special assignment for Bonners Ferry Police Dept.: Special Needs Children all have dreams and wishes that sometimes go undiscovered and never realized. Occasionally those dreams are possible and this is one of those stories.
The Great Golf Ball Drop: Five dollars secures an entry into the Great Golf Ball Drop game for a chance to win a 55 inch SMART TV! Perched twenty feet above hole number nine, a bright yellow bucket of golf balls will be turned upside down releasing a cascading free-for-all during Fry Healthcare Foundation's 6th Annual Golf Tournament on Friday.

Sorensen selected as Classified Employee of the Month for May: Our classified employee of the month hails from Boundary County Middle School, where she acts as the central logistical and informational hub.

Wages selected as Certified Employee of the Month for April: Bonners Ferry High School would like to congratulate Judy Wages for being selected as the certified employee of the month.
Lecrenski selected as Classified Employee of the Month for April:

Bonners Ferry High School would like to congratulate Barb Lecrenski for being selected as the classified employee of the month for April 2014.
June 4
BCSD Certified Employee of the Month for May: According to Gary Pflueger, principal at Valley View Elementary School, the best teacher is one who

epitomizes "Life-long Learning" and lives as a positive example to emulate. Mr. John Beck is such a teacher!
May 31
The graduation story, BFHS Class of 2014: The Bonners Ferry High School Class of 2014 graduated today at the sun-soaked high school football field. One hundred five students received diplomas in the ceremony.
May 28
Live internet broadcast of graduation, BFHS Class of 2014: We want to make all aware who have a relative or a friend graduating with the Bonners Ferry High School Class of 2014--- our companion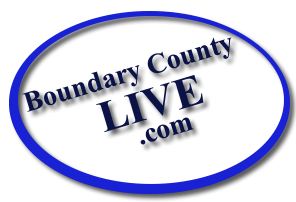 website, boundarycountylive.com will be producing a live broadcast of the entire graduation ceremony on the internet, as it happens.
Click on the headline above for the full details.
Summer Food Service Program announced for area children ages 1 - 18: The Idaho State Department of Education and Boundary County School District 101 have announced that the School District will be participating this summer in the Summer Food Service Program. Through this program, meals will be provided to all children, ages 1 - 18, without charge at various times and locations.
This week's Idaho Distinguished Student Award Winners include student from Bonners Ferry High School: Every week the Idaho Dairy Council selects four students from around the state of Idaho to honor for their exceptional academic, athletic, and civic contributions and achievements. This week's group of four Distinguished Student Award winners includes a senior from Bonners Ferry High School, Gabrielle Munson.
School District invites all to meeting tonight about special Magnet Program at Naples Elementary: Boundary County School District 101 and the administration and staff of Naples Elementary School are inviting Boundary County parents and students who may be interested in Naples' School's Magnet Program to attend a special meeting at the Naples School on Wednesday, May 28--this evening.
Abandoned cats needing help: Caring People for Animals (CPA) needs the help of some of our area cat lovers. You know who you are.
May 24
Through extraordinary effort, new playground nearing completion:
It's hectic, but it's organized . . . and determined.

We are referring to the dawn-til-dusk effort that has been going on all weekend down at the Boundary County Fairgrounds to have the new

playground facilities ready for kid action by this coming Monday, the Memorial Day Holiday. Specifically, they want it done by the time the Memorial Day Parade ends downtown, Which is now about 36 hours away!
Museum takes crowd back in time, also announces plans for Railroad Courtyard: "All Aboard!" boomed the voice of the

conductor. And with that, the crowd at the Boundary County Museum was taken back in time on a historic journey, enjoying railroads and train rides from past days in the county.
Valley View dessert auction raises funds for bleachers: Valley View Elementary School's annual Learning Fair / Dessert Auction / Free Dinner was held Thursday night in hopes of raising money towards new bleachers for the Valley View gymnasium. With 88 different desserts offered, how could you go wrong?
May 23
Semi-trailer rolls down embankment in Naples area auto accident

earlier today (May 23): A semi-trailer and a pickup were involved in an auto accident at approximately 9:30 a.m. today on U.S. Highway 95 near the area of the Naples Bridge / Schoolhouse Road.
Nineteen BNSF rail cars derail east of Bonners Ferry: Nineteen BNSF Railway cars derailed from their tracks near Crossport, just east of Bonners Ferry at 1:55 a.m. on Thursday, May 22.
May 22
Construction coming up on downtown Bonners Ferry bridges: Construction upgrades on the Kootenai River Bridge on U.S. Highway 95 in Bonners Ferry will begin soon, leading to periodic lane closures, traffic shifts, and even closure of the Main Street bridge approach during part of the construction period. The Arizona Street Bridge (the highway bridge that crosses over the railroad tracks near the Kootenai River Inn) will also see construction during the same time frame, also with temporary lane and traffic re-routing.
Corps of Engineers hosts Libby Dam public information meeting in Bonners Ferry: If you have always wanted to meet the guys behind the operation of the Libby Dam, this is your chance! The U.S. Army Corps of Engineers is hosting a Libby Dam annual operations public information meeting in Bonners Ferry, Idaho.
Guess which town is Idaho's 52nd largest? According to data released today by the U.S. Census Bureau, Bonners Ferry population estimate for 2013 was 2,473 residents, good for making Bonners Ferry Idaho's 52nd largest town!
May 20
ELECTION 2014: Final Unofficial Boundary County election tallies are now available--Click Here to review results. We will continue to post statewide and other results as they become available to us. Thanks for your patience!
Local technician warns of another computer scam: Newsbf recently posted an article about a computer scam that has been identified around the state of Idaho. Josh Henderson, Service Technician at Boundary Computer Radio Shack in Bonners Ferry, has advised us of yet another scam he has seen in his work that has affected our local area.
May 19
Fourth of July Fireworks planned, donations sought: Bonners Ferry has had a great Fourth of July fireworks celebration for the past few years. Plans are now being made for this year's fireworks celebration.
Extra enforcement focus on seat belt law: More than 75 Idaho law enforcement agencies will participate in a high-visibility mobilization effort with officers dedicating extra hours to educate citizens and to strictly enforce the state's safety restraint law during the 14-day period that includes Memorial Day.
Meeting for BFHS football players and prospects: Although the first real, actual kickoff for football isn't until late August, preparation for this fall's season is kicking off soon, on May 28.
May 16
Museum summer season begins with railroad program: The Boundary County Museum is starting off its summer schedule with a big museum event.
Read these two river stories below, you will immediately be a local expert on our current river situation!
RIVER STORY 1: Increased Kootenai flows this week part of sturgeon restoration effort: You may notice higher flows of the Kootenai River over the next week or so. This planned increase in river flow is just one part of a program to encourage spawning and, in the long run, improve populations of the Kootenai River's endangered white sturgeon.
RIVER STORY 2: Water level of local rivers rising, flooding not anticipated: The Kootenai River has risen approximately four feet over the past couple of days. Its current level is about four feet below the river's minor flood stage.
Bonners Ferry big car show coming in three weeks: The Rod Benders Car Club of Bonners Ferry, will hold their 14th annual Borders Three Jamboree Car Show in downtown Bonners Ferry, from 10:00 a.m. to 4:00 p.m., Saturday June 7. This is the largest downtown Bonners Ferry event of the year.
May 15
Bonners Ferry police arrest juvenile bomb threat suspect:
The Bonners Ferry Police Department announced today the arrest of a 12 year old Boundary County Middle School student in connection with a handwritten bomb threat that cleared the school's campus late yesterday afternoon.
May 13
Goslings consider the biggest leap of their lives:
Great video from the

Kootenai National Wildlife Refuge Eagle Cam!
A pair of Canadian geese selected the eagles' nest to raise their brood. The Refuge's Eagle Cam captured this great video of the recent day when those baby goslings leave the nest.
Law Enforcement Officers Memorial Week, 2014: The Bonners Ferry Police Department announces the week of May 12 as the nation-wide observance of "Police Officers' Memorial Week," with a ceremony taking place Thursday, May 15 in Washington D.C.
May 12
Commissioners proclain May as Mental Health Month in Boundary County: This May is Mental Health Month. NAMI Far North, the Bo

nner and Boundary County affiliate to the National Alliance on Mental Illness, is raising awareness of the role mental health plays in our lives, and providing tips and resources so anyone can take steps to promote good mental health.
May 11
Runners Ready--Kootenai River Run Coming Up: The 2014 Kootenai River Run will be held Saturday, June 21, at 9 a.m., with two runs to choose from.
May 10
Click Here to take a look at our photos of today's Boundary Community Hospital Health Fair 2014!

Big crowds at the Health Fair today . . . .
May 9
Rivkin places at State Forestry competition: Boundary County students competed at the 32nd annual Idaho State Forestry Contest this past Thursday, May 8, in Careywood, Idaho. And one local student came back home with a third place statewide finish.
SCAM ALERT: Do not renew your vehicle over the telephone:
The Idaho Transportation Department (ITD) is warning of a recent telephone scam involving vehicle-registration renewals and reminds its customers that renewal notifications are made only by mail.
Ready for summer swimming in the City Pool? Get ready for the City Pool to open for the summer! City workers are on the job now at the City Swimming Pool, getting necessary repairs and rejuvenations done so it will be ready for the Summer of 2014. Read this story for information on the pool opening, cost, and swimming lessons.
Big events coming up at the Refuge: There is a lot of action going on these days at the Kootenai National Wildlife Refuge. In addition to the beautiful scenery, the peaceful and scenic perimeter drive, and the wildlife and waterfowl one can admire on almost any trip to the refuge, some upcoming big events are planned.
Idaho Burn Permits required starting this Saturday, May 10:
The Idaho Department of Lands is notifying all Idahoans that beginning this Saturday, May 10, fire safety burn permits are required for any burning outside of city limits.
Senator to host Telephone-Townhall: Idaho Senator Mike Crapo will host his second statewide tele-townhall meeting of 2014 and is encouraging Idahoans to participate.
May 8
ISP releases information on yesterday's fatal Highway 2 auto accident: The Idaho State Police is now releasing information regarding the fatal automobile accident that occurred yesterday, May 7, at Milepost 67, near Sater's Auction on US Highway 2.
Kindergarten registration at Valley View on May 9: If you have a new kindergartener going to Valley View Elementary this fall, Friday, May 9 is the day to get them registered.
Naples Elementary Kindergarten Registration is May 9: All future Naples Elementary kindergarteners: head to the school Friday, May 9 to register.Naples Elementary Kindergarten Registration is May 9: All future Naples Elementary kindergarteners: head to the school Friday, May 9 to register.
May 6
Fish and Game live internet chat about fishing: The Idaho Department of Fish and Game has scheduled an internet chat about fishing in Idaho, and is inviting all who wish to participate to join in.
May 6
Customs and Border Protection looking for new officers: If you know someone who might be interested in a career with the U.S. Customs, let them know that Customs is now hiring. U.S. Customs and Border Protection, the agency responsible for securing U.S. borders from all threats, is now accepting applications nationwide to fill 2,000 additional officer positions at air, land and sea ports across the country.
May 6
Health Fair and Fun Run Coming this Weekend: Ready for this year's Health Fair, sponsored by Boundary Community Hospital?

Health advocates will fill over sixty booths at this year's Health Fair sponsored by Boundary Community Hospital on Saturday, May 10, 2014. "The Health Fair is an event that we always look forward to," said hospital administrator, Craig A. Johnson.
May 6
Cattle dog needs help locating owners: This pretty female Cattle Dog was picked up as a stray just north of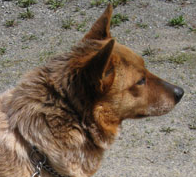 McArthur Lake in Boundary County Idaho, and she is now at Second Chance Animal Shelter in Bonners Ferry.
May 5
Could the Kootenai or Moyie Rivers flood this season? Do you have river plans for the summer? Innertubing on the Moyie, perhaps? Rafting on the Kootenai? Fishing? Swimming at Big Rock? Or maybe you have farmland in the Kootenai Valley.

We're going to talk rivers here, including Moyie and Kootenai river levels, and the current outlook for flooding on those rivers.
May 3
County Republicans to host candidate forum: The Boundary County Republican Central Committee has announced that they will host a candidates' forum on Monday, May 12, at 6 p.m. at the Kootenai River Inn. All Republican candidates in Legislative District 1 and in Boundary County have been invited to attend the forum.
May 2
Hospital Fun Run Coming May 10: Boundary Community Hospital's annual Fun Run in conjunction with the 2014 Health Fair includes three races, all free and all fun: a 3K, 5K, and 10K. This year's Fun Run and Health Fair is Saturday, May 10, 2014.
May 1
The latest on the NewsBF website:
Thanks, Mike.

Mike Weland came to Bonners Ferry over 20 years ago. After having worked in the newspaper business in other areas, he arrived here and employed his skills with the Bonners Ferry Herald.

Turns out, he had a little more of an ambitious, entrepreneurial streak in him.
Fish and Game announces fish stocking schedule: The Idaho Fish and Game Department has just released their schedule for stocking fish in various lakes, ponds, and reservoirs in the Idaho Panhandle. Their schedule includes many of our lakes right here in Boundary County.
April 29
Capitol for a Day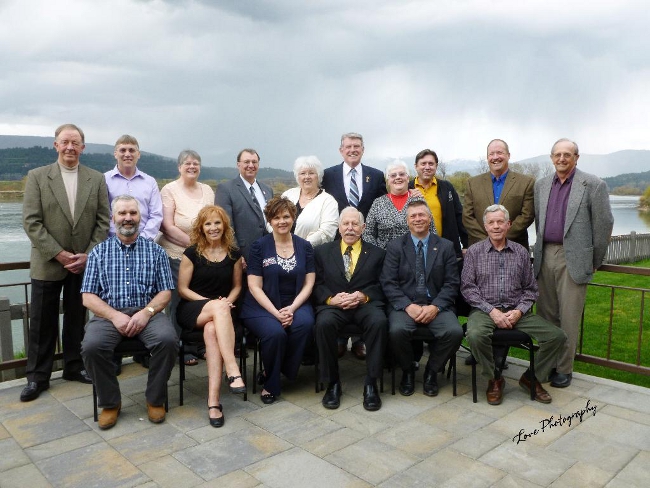 Drexel Love photo
Seven years after he brought Idaho's first "Capitol for a Day to Bonners Ferry, Idaho Governor Butch Otter and his entourage returned Friday to conduct the state's business at the Memorial Hall at the Boundary County Fairgrounds. The governor met with local elected officials, candidates and constituents, and after a day of it, retreated to the Kootenai River Inn, where the Boundary County Republican Central Committee hosted dinner.

Finding destiny and salvation: Wynword Press: It's hard to imagine finding a bona fide publishing house in a more remote setting, but if you travel down Grouse Hill Road in Boundary County, take the third drive on the right and wind your way back into the woods about a quarter of a mile, you'll find the sign, "Wynword Press."

Meet commission candidate Jeannie Robinson: My name is Jeannie Robinson. I am running for the position of Boundary County Commissioner in the May 20 primary. I have had years of experience working as a public servant for the citizens of Boundary County.
Beyond Borders to perform: The first Beyond Borders International Choir Festival will be held Saturday, May 3, at Trinity Lutheran Church in Bonners Ferry. It will culminate in a concert featuring four different area choirs and a massed choir under the direction of Max Mendes from Coeur d'Alene.
2014 Farm Tour to visit Naples: The Boundary Soil Conservation District and Farm Bureau are once again offering their free community farm tour. This year's event will feature a look at Naples.
Court records and sheriff's log
April 27
Newsbf in transition ... a goodbye: After more than 20 years reporting news in Boundary County and just over three years after launching this website, I must say "farewell" to the wonderful people of this community and turn over the reins on what has been a labor of love. By Mike Weland
Hays, White named Employees of the Month: Boundary County School District 101 has selected George Hays as certified employee of the month for April and Wendy White as the month's classified employee.
VVES kindergarten registration May 9: Valley View kindergarten registration will take place from noon to 4 p.m. Friday, May 9, and parents and their child who is taking that big step up to school should plan to attend.
Almost time to remove studded tires: Drivers can still use studded tires on Idaho roadways, but only for a few days longer, the Idaho Transportation Department announced. After that, Gem State drivers join those in Washington, Utah and Oregon, where the springtime studded tire removal date has already passed.
Court records and sheriff's log
April 26
Deadline nears for ACE applications: Navigating small airplanes, controlling air traffic and exploring Blackhawk helicopters are all part of the Aviation Career Exploration (ACE) Academy, June 16-18, hosted by the Idaho Transportation Department's Division of Aeronautics in Boise.
April 24
Boundary County is Capitol for a Day: Governor Butch Otter is bringing the State Government to Boundary County. The Governor will be in Boundary County on Friday, April 25.

Lakota is missing: Lakota is missing. (She answers to Koty). Age 8 Months, weighs about 55 lbs.
April 22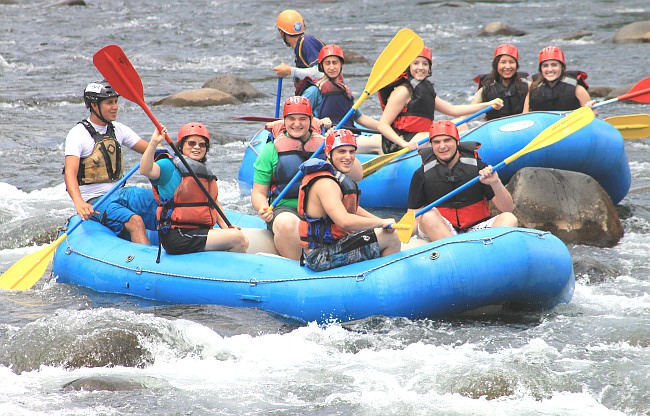 BFHS students visit Costa Rica: "See the World with EF Tours" ... This was the theme for the Foreign Language Society of Bonners Ferry High School on its trip to Costa Rica during spring break 2014.
Closed fire season begins May 10: Closed fire season in Idaho begins May 10 and extends through October 20 each year. During this period, it is unlawful for any person to set a fire outside of an incorporated city or town without first obtaining a fire safety burn permit from the Idaho Department of Lands.
Road work to begin on 95 near Athol: Construction has resumed on the reconstruction of U.S. 95 from Athol to Granite, the Idaho Transportation Department announced. The U.S. 95 work is expected to finish by October.
April 17

Introducing candidate Sue Larson: I write to introduce myself to you, as I am running for the office of Boundary County Treasurer. My name is Sue Larson, and I already have all of the requisite knowledge for the office.
Plenty of Easter Egg hunts to choose from: If you're looking for a plate to take your children, dressed up in their Easter finery and toting their darling little baskets, to enjoy that wonderful childhood tradition of hunting Easter eggs, you don't have to look far if you're in Boundary County, where you have four events to choose from Saturday.
April 16

Caitlyn is 2014 Ag Baby: In observance of agriculture, spring, and new beginnings, Farm Bureau is pleased to announce this year's first baby of spring. Caitlyn Paige Dunham, born March 20 to Bethany and Anthony Dunham.
Dam discharge at full capacity: In response to increased snowpack in the Kootenai Basin during the month of March, the U.S. Army Corps of Engineers is discharging full powerhouse capacity, about 25,000 cubic feet per second, at Libby Dam.
NI Veterans Stand Down coming May 10: The 2014 North Idaho Veterans Stand Down will take place this year from 8 a.m. to 2 p.m. Saturday, May 10, at the Kootenai County Fairgrounds. The event is held annually to provide services to homeless and disadvantaged veterans in Coeur d' Alene and the surrounding communities.

ISP seeking man who hit ambulance: The Idaho State Police are asking for the public's assistance in locating Samuel John McCartney, 36, of Twin Falls, Idaho. McCartney was charged with inattentive driving in Adams County after the car he was driving collided head-on with the Council Ambulance on Highway 95 at milepost 121 near Indian Valley on October 22, 2013.

Morty needs to find new home: Morty is a four-year-old male Lab/Rhodesian ridgeback mix who grew a whole lot more than the family who picked him up from the free box at the Bonners Ferry Farmers Market expected, and now they are trying to find him a forever family who can give him room to run and romp. Update: Morty found a forever home! Thank you!
April 15
| | | |
| --- | --- | --- |
| | | |
| Shaylee Ellson | Amanda Wilson | Kendra Urbaniak |
Meet DYW contestants 8 through 10: Here are the final three contestants in the 2014 Distinguished Young Women competition, which

takes place at 6:30 p.m. Saturday, April 26, in the Becker Auditorium at Bonners Ferry High School.

Brian Davis living his automotive dream: After years of study and work, a dream comes true on Saturday for a former Bonners Ferry couple, as Brian Davis and his wife, Jenna Richardson-Davis, open Hellbilly Customs, a complete automotive customization shop in Coeur d'Alene.
State testing going well at VVES: The first week of Idaho State testing has gone very well. The fifth grade has taken the Science ISAT assessment. This week we begin the new SBAC assessment for math and language arts. By Principal Gary Pfleuger
Court records and sheriff's log
April 11
~ Hospital phone maintenance planned ~


Boundary Community Hospital will be undergoing phone system maintenance from 3 to 3:30 a.m. Monday, April 14. Please call the Sheriff's Office by dialing 911 for all emergency calls during this time.

Lecrenski has European dreams: Bonners Ferry High School junior Kassy Lecrenski, whom you may have seen working the produce aisle at Super 1 Foods, is excited about a once in a lifetime opportunity for travel, and while she's working hard to make her dream come true on her own, her community can help her, and her aspiring classmates, get to where they hope to go.
Microsoft will not call to fix computer bug: A Bonners Ferry man reported getting a phone call today from "Microsoft" informing him that his computer has been infected by a virus, and insisting that he follow his instructions or face digital catastrophe. Fortunately, he recognized the scam before it bit him.
Birthday bash Saturday at the Eagles: The Bonners Ferry Eagles are hosting a one-of-a-kind birthday bash tomorrow evening, one during which you can share tales, laughs and memories of a combined 319 years of Boundary County living in a single sitting.
Fire destroys contents of Highland Flats home: While firefighters from three departments were able to save the shell, the interior and contents of a storage building with upstairs living quarters were completely destroyed by fire Thursday afternoon, leaving an elderly man and his dog homeless and lacking.

Roop recovering in Denver after collision: BJ Roop, 63, Naples, traveled to Denver in late March to visit family for a few weeks, but after shattering both ankles in a vehicle collision March 31, the visit there will instead be for unplanned months, time that will pass much more quickly with well wishes from friends here at home.
Library to hold meetings on expansion plans: A series of weekly public informational meetings will kick off next week to explain two measures that will go before Boundary County voters May 20 that would, if approved, bring a world-class library housing much more to Bonners Ferry.

Two with ties to county indicted: Nathan Paul Davenport, 34, and Matthew Taber Annable, 39, both of whom lived in Boundary County near Eastport when their alleged crime spree began, were indicted Wednesday by a federal grand jury in Boise for multiple bank larcenies, conspiracy, and use of a deadly weapon during a felony offense, U.S. Attorney Wendy J. Olson announced.
IPNF prescribed burns to begin: The Idaho Panhandle National Forest plans to initiate their annual prescribed fire program starting today and continue into the following weeks
April 9
| | | | |
| --- | --- | --- | --- |
| | | | |
| Joslyn Invernon | Olivia Fee | Savannah Mendenhall | Sara Schrock |
Meet DYW contestants 4-7: Here are the next four contestants in this year's Bonners Ferry Distinguished Young Women contest; if you missed the first three, click here! All 10 are working day and night for the big event, which takes place at 6:30 p.m. Saturday, April 26, in the Becker Auditorium at Bonners Ferry High School.
Health Fair coming May 10: Health advocates will man over fifty booths at this year's Health Fair sponsored by Boundary Community Hospital, taking place on Saturday, May 10.
Eight arrested in drug sting: The Bonners Ferry Police Department announced that at about 2 p.m. Monday, April 7, officers, deputies and agents from the Bonners Ferry Police Department, Boundary County Narcotics Task Force, Boundary County Sheriff's Office, U.S. Forest Service Police and the U.S. Border Patrol served narcotics related search warrants in the 6500 Block of Madison Street and the 6600 Block of Augusta Street in Bonners Ferry.
Kootenai expected to reach action stage: A forecast by the National Weather Service predicts that the Kootenai River will reach and slightly exceed flood action stage at about 11 a.m. Friday, April 11.
April 7
Rotary scholarship deadline near


Applications for Bonners Ferry Rotary Club scholarships, which are available for high school graduating seniors as well as students attending college or in vo-tech programs, are due on April 17. Applications are available on the Rotary club website.
Groups demand bull trout recovery plan: Citing the fish stock's "precarious state," Friends of the Wild Swan and Alliance for the Wild Rockies filed a legal complaint Tuesday in federal court in Portland, Oregon, faulting the U.S. Fish and Wildlife Service for failing to complete recovery plans for bull trout as required under the Endangered Species Act.

Satchwell honored for service to city: Bonners Ferry Police Chief Bob Boone recently recognized Dean Satchwell for his years of service to the community, both as an employee and volunteer for the City of Bonners Ferry and the Bonners Ferry Police Department, presenting him with the department's Distinguished Service award.

Fairgrounds to be 'Capital for a Day:' Idaho Governor Butch Otter is bringing the State Government to Boundary County when he visits on Friday, April 25, bringing part of Boise with him. The "Capital for a Day" program is designed to allow citizens the opportunity to engage with the governor and his staff regarding any concern or problem they are experiencing in dealing with an issue in the state governmental process.
'Art in the Wild' seeks talent: Friends of the Kootenai National Wildlife Refuge is hosting its third annual "Art in the Wild" art show and sale Friday and Saturday, August 29-30, and organizers recently sent out invitations to artists who've participated in the past, but they are sure there is much more talent out there.

Pipe bomb suspect waives prelim: Bonners Ferry Police Chief Bob Boone reports that pipe bomb suspect Allen Stafford, also known as Avery, appeared in front of Judge Justin Julian on Friday and waived his preliminary hearing.
March a nice, wet month in the basin: Libby Dam's April water supply forecast for April to August has been helped considerably by a lot of moisture received in the region in March, an extremely wet month in the Kootenai Basin.
Court records and sheriff's log
Archives