Boundary County News
Home
Sports
Social
Obituaries
Events
Letters
April 24

School board election May 16: Boundary County voters will be asked to go to the polls on Tuesday, May 16, to elect two trustees to the Boundary County school board, and at least one will be a new face as trustee Nichele Whittaker, has chosen to step down. She will have served the students of Boundary County for four years, the last year as chair, when she, in her own words, returns to being a regular parent.
Four common ornamentals now listed as noxious weeds: As of the close of the 2017 Idaho Legislature session, four genera of plants are now included on the Idaho Noxious Weed List as "prohibited genera;" Cytisus, Chamaecytisus, Genista, and Spartium.

Lipstick on a stick: When I was a kid, back when everything seemed old, one thing that didn't were women's lips. You couldn't see the old even if it was there because all of them were liberally painted with lipstick. Musings from Moyieboy by Ken Carpenter
78 set to graduate at UI Coeur d'Alene: Seventy-eight graduating students are eligible to receive a combined 78 degrees this spring at the University of Idaho Coeur d'Alene. Students from UI Coeur d'Alene applied for 48 bachelor's degrees, 28 master's degrees and two specialist degrees.
April 22
Online county scanner feed going off temporarily
The Broadcastify police scanner feed for Boundary County that people use online will be down for about a week starting at about noon Sunday. Allen Gemmrig, who provides the feed, will be making upgrades to improve reception and will let us know when it is back up.
Cruisin' ...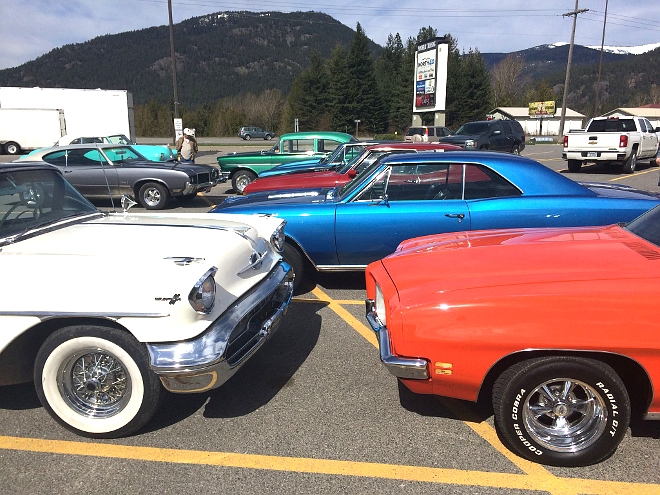 The Rod Benders and Libby Ignitors enjoyed a wonderful breakfast at Chic n' Chop Restaurant in Bonners Ferry this morning and are now out for a cruise through Bonners Ferry and Ponderay! This sunshine means cruisin' weather!

BFHS Robotics competes at Western Canada Regional: Bonners Ferry High School FIRST Robotics Team 2130 Alpha+ recently returned from Calgary, Alberta, after competing in the Western Canada Regional. This year teams competed from Turkey, Poland, China, Australia, Mexico, Canada, and the United States. The event was a celebration of diversity and the universal language of STEM was spoken by all participants.
Tech Connect Fair slated at NIC: The public is invited to meet with employers from the area and learn about career opportunities at the Tech Connect Career Fair and Open House Tuesday, April 25, from 4 to 7 p.m. at the North Idaho College Parker Technical Education Center in Rathdrum.
Idaho unemployment drops again: Idaho's seasonally adjusted unemployment rate dropped to 3.5 percent in March, down one tenth of a percent from 3.6 percent in February. March marks the 78th straight month of over-the-year labor force gains.
April 21
In the face of stroke, think FAST: A drooping face, weakness or numbness on one side, slurred or garbled speech ... this might be a stroke! Like heart attacks, a stroke is a life-and-death emergency; time is critical and every second counts, so think F-A-S-T and dial 9-1-1 immediately. By Stu Willis, MD
Spring Hiring Event to be the year's biggest: The Spring Hiring Event organized by the Idaho Department of Labor will have more than 60 employers eager to fill more than 700 job openings from 10 a.m. to 2 p.m. Wednesday, April 26, at Real Life Ministries, N1866 Cecil Road, Post Falls.
April 20
Translator channels down
There have been multiple lightening strikes near the Boundary County translator tower and several channels and stations are off the air. Crews were able to restore power today and will head up back up in the morning to diagnose and hopefully fix other issues.

A few tips on driving blind: In every family's history there are a few tales that get told and retold so much, embellished with every telling, that they actually seem to breathe a life of their own. This is not one of them. Somehow the facts about the daring deeds I am about to unfold escaped me until a measly 20 years ago. Musings from Moyieboy by Ken Carpenter

Carl Rey and the Blues Gators blowing into town: Carl Rey, a 40-year veteran of the jazz and blues music scene, blends his classic "old style" to the contemporary edge of his band, The Blues Gators, this Saturday night for a swing dance and concert at The Pearl. Doors open at 6 p.m. and Carl Rey and the Blues Gators kick it up at 7.
GROW has low-cost garden plots available: Are you interested in growing your own fresh vegetables in a ready-made organic garden? They have inexpensive plots available in the GROW Community Garden located on Buchanan Street in Bonners Ferry behind Trinity Lutheran Church.
ITD seeks input on public transportation: In January, the Idaho Transportation Department held public meetings throughout Idaho to share information and learn more about public transportation in those areas. The agency is now launching district surveys to give individuals unable to attend those meetings an opportunity to provide input.
Sheriff opening a drug drop box Monday: In co-operation with the Idaho TRUTH 208 project, the Boundary County Sheriff's Office has elected to participate in a Drug Drop Box program. The drug drop box, located in the lobby of the Sheriff's Office, is designed to provide citizens of Boundary County with a safe and secure location for disposal of unused, expired or unneeded prescription drugs.
Local TV station KBCI 9 shut down: After discovering technical issues in the handling of a contract regarding the establishment of KBCI Channel 9 between the Boundary County Translator District Board and TechPartner, owned by former translator district board chair Michael Listman, the board held a special meeting April 4 and terminated the October 4, 2015, agreement, effectively taking the local television channel off the air.
Governor urges Idahoans to be flood aware: Idaho Governor C.L. "Butch" Otter urged Idahoans to exercise increased caution and keep a close eye on the increasing risk of flooding along many of the state's waterways – from the Boise, Payette, Big Wood and Little Wood to the Bear and Upper Snake river basins.
April 19

KXLY's Kris Crocker to emcee DYW: Bonners Ferry Distinguished Young Women program is excited to announce that KXLY's chief meteorologist Kris Crocker is returning to Bonners Ferry for a third time to emcee this year's Distinguished Young Women Scholarship program, "A Night at the Oscars," on Saturday, April 29.
April 18

Another Judge Harden to serve in North Idaho: Caldwell attorney Tera Harden, the daughter of longtime Boundary County Magistrate Court Judge Quentin Harden, will soon be working a bit closer to home, having been selected to fill a vacancy on the Bonner County Magistrate Court bench as Judge Debra Heise, who has been approved for senior status after more than 32 years of service, prepares for retirement.
Stripe rust off to an early start: Stripe rust is continuing to develop on winter wheat across the region, due to weather conditions that favor rust infection and spread.
Free seedlings being given for Arbor Day: Among the pioneers moving into the Nebraska Territory in 1854 was J. Sterling Morton from Detroit. He and his wife were lovers of nature, and the home they established in barren Nebraska was quickly planted with trees, shrubs and flowers. That love formed the foundation for what became Arbor Day.
April 17
From Boundary County Road and Bridge: Furrow Road is closed just east of junction at Flat House Road continuing east to the junction at Farm to Market Road for culvert work. Farm to Market Road and Flat House Road are both open. Barricades and Road closed signs are installed while this work is being done. To learn more, call Road and Bridge at (208) 267-3838.
Time to get no spray agreements in: Spring is here and the Boundary County Weed Department will soon be spraying roadsides for noxious weeds. If you do not want weeds sprayed in front of your property you must submit a "do not spray" agreement by May 1.
The morel of the story is it's pickin' time: As the snow finally recedes and the temperatures warm, it's time to start thinking about harvesting mushrooms. The Idaho Panhandle National Forests welcomes mushroom harvesting, and offers these tips and information.
April 13
Forest Service closes more roads: The Idaho Panhandle National Forests has issued additional road closures on multiple Forest Service roads in Boundary and Bonner County for public health and safety due to flooding damage and unsafe conditions.
Concern the MP 498 slide could go again: The slide area near mile 498 at Mountain Meadows Road on Highway 95 remains active, and with the possibility of additional rain and thunderstorms this afternoon, further slide activity could take place at any time, possibly resulting in a third highway shutdown.

Bob Graham honored for 43 years' service to county: Bob Graham's service to Boundary County and to the citizens who live here was celebrated April 12 at the County Extension Office by those who had worked with him over the years. Graham served as Incident Commander in Boundary County for over 43 years. During that time he had responded to just about every type of incident possible.
Utt exonerated in Bonner County murder probe: The Bonner County Sheriff's Office on Wednesday issued a press release exonerating Nathan Utt as a suspect in a suspicious death reported in Hope, Idaho, April 5.
Flood watch extended through tonight, t-storms possible: The National Weather Service in Spokane has issued a flood watch for portions of North Idaho and Northeast Washington, including Boundary and Bonner Counties, in effect through late tonight.
April 12

Two cooling their heels at Second Chance: Two young male dogs, one a Rottweiler, the other a great Dane, went out cavorting today in separate areas and they now find themselves behind bars at Second Chance Animal Adoption, waiting for their people to pick them up and take them home.
ITD surveyor gets video of April 7 slide: ITD crews were on scene with cameras rolling as a hillside broke free and covered a section of U.S. 95 south of Bonners Ferry on Friday, April 7. In the video, now posted to YouTube, you can see tons of mud, rocks, and trees slide down, pushing two layers of concrete barriers off the road. Overall, 800 cubic yards of debris slid onto the road.
Plenty of cool cars on the summer horizon: There are many events in the area each year and the local car shows are an exciting way to get out of the house and check out some cool cars, while also providing an opportunity to bring your own special car to show off to others in the crowd.
Idahoans continue to head for the cities: The steady shift of Idaho's population from smaller to larger counties continued between July 1, 2015, and July 1, 2016, according to estimates released recently by the U.S. Census Bureau. Overall, Idaho's population grew 1.8 percent to 1,683,140.
April 11
Welcome to Bonners Ferry, Miss Idaho!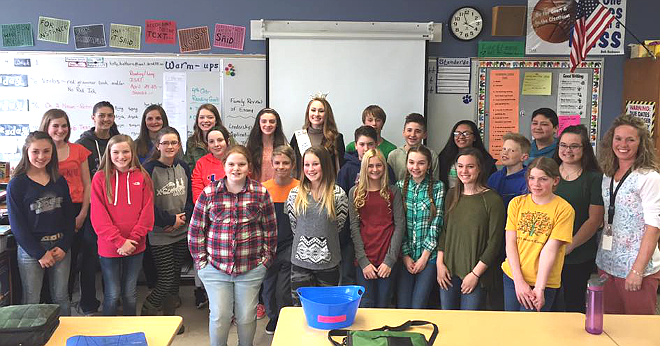 Thank you to Miss Idaho Kylee Solberg (back row, center), for talking to Boundary County Middle School students today about making good choices. Her platform focused on social media and she also gave some great leadership tips!

The attack of the flaming bacon bombs: I know people who would kill for bacon. Don't laugh, it's true. If they had been lost in the woods for a week and suddenly found their way to your campsite, and you denied them the pile of bacon on your plate, they would murder you and gobble the bacon. Musings from Moyieboy by Ken Carpenter
Boundary County Commission minutes, March 20
Boundary County Commission minutes, March 27
Archives