Boundary County News
Home
Sports
Social
Obituaries
Events
Letters
January 20

Deputy Penn released from hospital: Bonner County Sheriff's Deputy Justin Penn, 30, who was one of two deputies shot on Monday while attempting to serve a warrant on Adam Foster in Blanchard, was released from Kootenai Health earlier today.
Deputy cleared in fatal pedestrian collision: On October 8, 2016, Idaho State Police began an investigation of the fatal crash involving Kootenai County Sheriff's Office patrol vehicle driven by Deputy Andrew Nye and a pedestrian, Amber Viuhkola, on U.S. Highway 95 near Miles Road.
USFS seeking hardworking fire personnel: U.S. Forest Service Region 4 is looking for a committed, hardworking, highly skilled workforce to suppress wildfires and work in fuels management on 12 National Forests located in Idaho, Wyoming, Nevada, Utah and California.

When it comes to cold, play it safe: The weather outside may be frightful, after all, we live in North Idaho and six months out of the year it's cold and wet, windy and sometimes miserable. Did you know that the most common cold weather injuries in our area are hypothermia, frostbite, chilblains (sometimes called frost nip) and "trench foot?" By Stu Willis, MD and Pete Cassidy, RN
Beck's Furniture to close for painting: Beck's Furniture Store, 6443 McCall Street, Bonners Ferry, will be closed January 27-29 as they repaint the mattress section at the north end of the store.
January 19
If you are a parent of one of Janis Tucker's speech students or know of a speech student, please let them know Mrs. Tucker will be at the school tomorrow, Friday, January 20, from 8:30 a.m. to 3 p.m. if they need help or just need time to work on their final speech. The computer lab will be open. Enter through north end of the building.
The 2017 District Spelling Bee has been rescheduled, due to school closures, to Saturday, January 28, at Free Methodist Church. Competition begins at 9 a.m. with third grade and continues through fifth grade.

Time to renew city dog licenses: Bonners Ferry residents who own pet pooches are reminded that with the new year, it's time to get your annual dog licenses. Everyone living within Bonners Ferry city limits who keeps or harbors a dog is required, pursuant to City Code 5-3B-3 to purchase a license tag for each dog.
School board to hold M&O levy workshops: The Boundary County School District #101 board finalized dates and locations for the upcoming Maintenance and Operations Levy workshops during their meeting on Wednesday, January 11.

Pearl Theater to celebrate Robert Burns: Put on your plaid and join us at The Pearl for a glimpse of Old World Scotland at Burns Night at 7 p.m. Saturday! Come on in to share some traditional Shepherd's pie, Bubbles and Squeeks, Red and Green cake and heartwarming soup as you immerse yourself in the traditions of Scotland.

Busy but fun times at Naples and Mt. Hall! With second quarter coming to its end, it's a nice time to sit back and reflect on what a great second quarter it was. Mt. Hall and Naples were especially busy. We enjoyed our Thanksgiving and Christmas breaks, as well as all of the excitement that goes into the holiday season. By Principal Lisa Iverson
~ Due to inclement weather, Boundary and Bonner County public schools are closed today. ~
Boundary County Commission minutes, December 26-27
January 18

'Backyard Poultry' coming to NIC Sandpoint: If you are trying to decide what kinds of poultry to raise, check out "Backyard Poultry: Eggs, Meat and Much More!" at 6:30 p.m. each Monday from February 6 through February 20 at North Idaho College at Sandpoint, 102 Euclid Avenue.
~ Due to inclement weather, Boundary County Public Schools are closed today. ~
January 17

Names of those involved in Bonner County shooting released: The Kootenai County Sheriff's Office has identified the Bonner County Sheriff's deputies shot on Monday while attempting to serve a warrant in Blanchard, as well as the name of the suspect.
Areal flood watch issued: The National Weather Service has issued an areal flood watch for North Idaho and northeast Washington, in effect from Wednesday morning through late Thursday night.
Attendance vital to student performance: Are you looking for a New Year's Resolution that will help your children succeed? I have an easy plan. The business of education is to help people make informed decisions. The only way to do this is to teach the facts, increase communication and share knowledge. Superintendent's Scoop by Gary Pflueger
Idaho to receive $7.48 million in settlement with Moody's: Idaho Attorney General Lawrence Wasden announced on Friday that a nearly $864 million settlement has been reached with Moody's Corporation, Moody's Investors Service, Inc. and Moody's Analytics, Inc., by the U.S. Department of Justice, 21 states and the District of Columbia.
Otter takes steps to protect state computer networks: Governor C.L. "Butch" Otter signed an executive order Monday enacting the recommendations of his Cybersecurity Task Force. They include appointing a "Director of Information Security" to lead efforts to detect, identify and thwart hacks on the State of Idaho's computer networks.
January 16
Storm warning issued for snow, sleet, ice: The National Weather Service has issued a winter storm warning for snow, freezing rain and sleet in effect from 7 a.m. Tuesday through 8 a.m. Thursday. The winter storm watch issued Sunday is no longer in effect.

Two Bonner County deputies shot: An investigation is underway after two Bonner County Sheriff's deputies were shot while attempting to serve a warrant on Mountain View Road in Blanchard shortly before 11:30 a.m. today. At a press conference this afternoon, a Kootenai County deputy told reporters that both deputies and the suspect, all of whom were transported to Kootenai Health, are expected to survive. Both deputies, he said, were shot three times. As yet no names are being released, nor is the condition of the suspect.
BCH orthopedic clinic expands: The Orthopedic Clinic at Boundary Community Hospital is expanding. Mike Schicker, DO, from North Idaho Orthopedics and Sports Medicine in Ponderay will have specialist clinic hours on Friday mornings starting this month.
Emergency responders train for river spill: On Saturday, January 14, several first responders from local fire departments, Boundary County Search and Rescue, the Sheriff's Office and Kootenai Tribal Police came together to train with Burlington Northern/Santa Fe Railroad personnel on spill containment on the Kootenai and Moyie Rivers.
Stay safe from scam tax calls: The Boundary County Sheriff's Office reminds everyone that it's income tax time again, and with that comes the telephone scams by people representing themselves as being with the IRS or State Tax Commission.
Bonners Ferry City Council minutes, December 20
January 15
Frozen rain, sleet expected: The National Weather Service has issued a winter storm watch for North Idaho and northeast Washington for freezing rain from this evening through Wednesday morning. Update: The National Weather Service has adjusted the timing of this event to Tuesday morning and extended its duration to Wednesday night.
January 13
Capturing wolverines with pixels and wire brushes: The forest floor has a thick blanket of snow topped by a layer of bone-chilling air that's so still a creaking tree sounds like an airhorn. It appears all animals have abandoned the forest for warmer climes, but biologist Diane Evans Mack's remote cameras tell a different story. A handful of hardy animals roam Idaho's snowy, mountainous forests, and among them are wolverines.

North Idaho elk study in its fourth year: Fish and Game biologists in Idaho's Panhandle region have started the fourth year of a comprehensive elk mortality study. Working with a private helicopter contractor, biologists have been in the field capturing and collaring elk since January 8.
January 12
Warm up coming next week, flooding possible: A change in the weather pattern next week will bring above freezing temperatures to much of the region and the potential for significant rainfall to far eastern Washington and the Idaho Panhandle.

Scott stripped of committee assignments: Idaho District 1A Representative Heather Scott was stripped of all legislative committee assignments on the House floor today, disciplined under rules that forbid members from disparaging colleagues or the legislative body as a whole.
Weed program applications available: The Boundary County Weed Department has applications for the 2017 Neighborhood Co-op Weed Program at the U of I Extension Office in Bonners Ferry.
Rob Gust-CJ Erickson scholarships offered: The Rob Gust-CJ Erickson School Scholarship will be awarded to two graduating seniors of Bonners Ferry High School pursuing higher education through the attendance of an accredited vocational program.
January 11

Rockey getting back to his inimitable self: According to his sister, Teresa Becker, Rockey Burkholder is doing much better today. His speech, she posted on Facebook, is much more coherent and structured, his appetite is great and he's continually trying to set up the female and male nurses with each other, complimenting all the ladies.

Award winning team to create local snow sculpture: Boundary County friends and families are invited to join Lee Harris, captain of the Bonners Ferry international snow sculpting team, as she and her team create an original snow sculpture in our very own back yard!
Tonight's full moon mimics path of July sun: Tonight – January 11, 2017 – the moon will appear bright and full in the sky from around the world. It'll look full tomorrow night, too, because, in fact, the moon appears full for a couple of nights around its fullest phase. By Bruce McClure, EarthSky
ISP Road Safe class offered: The Idaho State Police will be holding a Road Safe Class for the 2016/2017 winter driving season from 9 a.m. to noon Saturday, January 28.
January 10
Expect chilly temps tonight: The National Weather Service has issued a wind chill advisory for North Idaho in effect from midnight tonight through 10 a.m. Wednesday.
Work to begin on Naples Bridge: Structural repairs will be made to the Naples Bridge on Deep Creek Loop, just south of the Naples Store, beginning at 7 a.m. Wednesday, January 11, and continue from 7 a.m. to 4 p.m. daily until work is completed by February 10.

Good citizenship shines at BCMS: It is unbelievable that this semester is almost over. One half a year almost completed? Where does the time go? I know where a lot of it went. It went to helping our community, competing, participating in various events and generally being great people and citizens.
Digging out ...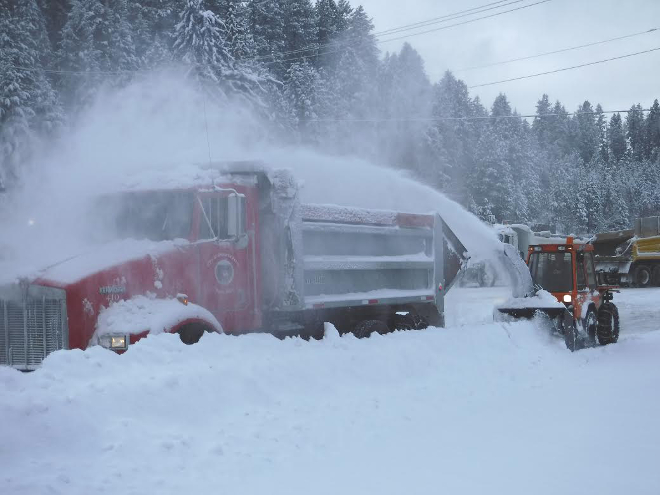 Mike Ashby photo
Kids got an extra day of vacation and city, county and state crews spent much of the day Monday digging out after another load of snow fell across the region overnight Sunday. And while we should see a bit of sun Wednesday through Friday, it's likely we'll see more snow over the weekend and into next week, and rain is likely on Wednesday, January 18, followed by a freezing rain/snow mix.
Hiring event Wednesday in Post Falls: More than 20 employers are slated for the monthly hiring event at the Idaho Department of Labor Post Falls office, N600 Thornton Street. The event runs from 10 a.m. until noon on Wednesday, January 11.

Scott, Nate work at Growing Freedom for Idaho: The Idaho Legislature will have the opportunity to support a strong agenda for Growing Freedom in Idaho during the 2017 Legislative Session. The agenda, driven by citizen input and geared toward cultivating greater personal freedoms for Idahoans, was released last week by Representatives Heather Scott and Ronald Nate.
With cold weather, be CO smart: In wake of the persistent winter weather, Panhandle Health District is reminding North Idaho residents to take precautions to prevent carbon monoxide poisoning.
Idaho second quarter wages up from last year: Idaho's private sector average weekly wage grew by $30 between the second quarters of 2015 and 2016 to $743.
Idaho population growth strongest since 2008: Idaho's population grew by 1.8 percent between mid-2015 and mid-2016, the third strongest increase of all states and 1.1 percentage point ahead of the national growth rate.
Boundary County Commission minutes, December 19-20
Boundary County Commission minutes, December 5-6
Moyie Spring City Council minutes, December 7
January 9
4-H meeting cancelled
The Roadrunners 4-H club meeting scheduled for today has been canceled due to weather conditions and and school closure. If you have any questions please call club leader Rona Fields at 267-7292.

Birders enjoy successful 117th Audubon bird count: On Wednesday, December 28, 12 birders (bird watchers) from as far away as Boise wandered a 7 ½ mile radius from downtown Bonners Ferry to join in the 117th Audubon Christmas Bird Count.

Former astronaut awarded state's highest honor: Governor C.L. "Butch" Otter today presented the highest civilian honor the State of Idaho bestows to Idaho educator and former astronaut Barbara Morgan.
Risch to head Committee on Small Business: As the new session gets underway U.S. Senator Jim Risch (R-ID) has been named Chairman of the Senate Committee on Small Business and Entrepreneurship.
January 8

County icon needs community's prayers: At about 11 a.m. today, Rockey Burkholder, 68, was found on the floor of his Bonners Ferry home, unconscious and in dire condition, but breathing, by his sister and brother-in-law, Teresa and Dr. Marty Becker. While Marty took steps to stabilize Rockey, Teresa called 911. Updated 2 p.m. January 9.
Archives