Boundary County News
Home
Sports
Social
Obituaries
Events
Letters
Classified Ads
Looking Back
Health Jewels
Stitch in Time
July 25
Boundary County to be recognized at Idaho Transportation Board meeting: Bonners Ferry Mayor, County Road and Bridge Director will also give presentations.
Brush Lake campground to be temporarily closed: If your campout plans this summer involve the campground at Brush Lake, you will want to take the following information into your planning.
July 20

Urgent announcement for all who plan to exhibit poultry at the Boundary County Fair: The Boundary County Extension Office has just been informed that they have to inspect all poultry that will be going to the Boundary County Fair to check for Avian Influenza.
Flags to half-staff for Louisiana officers: Following another attack.
July 15
A change at the School Board: David Brinkman steps down as Chairman, Nichele

Whittaker selected as new School Board Chairman: At last Monday's July meeting of the Boundary County School District 101 Board of Trustees, a change was made in the School Board's leadership.
Learn all about bats at upcoming educational program at the Kootenai National Wildlife Refuge: Special presentation by a U.S. Fish and Wildlife Biologist who is an expert on bats.

Heavy equipment returns to the river as the Kootenai Tribe river restoration construction projects ramp up for the summer: In just a few weeks, those in downtown Bonners Ferry or crossing the Kootenai Bridge will once again see heavy equipment in and around the river, as the Kootenai Tribe once again ramps up its Kootenai River restoration projects for this year.
Flags at half-staff following attack in France: To be at half-staff until next week.
July 13

Speed limit on a 15 mile section of U.S. 95 will increase to 70 m.p.h.: Traveling to Coeur d'Alene and back is going to become a little faster this Monday as highway officials raise the speed limit on a section of U.S. Highway 95.
July 11
Free sports physicals for Middle School and High School athletes: It's just three weeks until Boundary Community Hospital opens its doors for free sports physicals for Middle School and High School students who plan to participate in school athletic activities during the coming school year.
July 9
U.S. Flags are at half staff yet again following attacks: The President has ordered flags to half-staff in respect of the victims of recent attacks in Dallas. Details available at this story.
Boundary County family conserves open space along area lake: Unique project conserves Idaho's wildlife, heritage, water and agriculture across 700 acre area.
29 companies looking to hire at upcoming Idaho Department of Labor hiring event: Employers who are seeking to hire are listed, further information available.
NewsBF writer's article featured in statewide agricultural journal: An article published by NewsBF six weeks ago about the Farm Tour, organized and sponsored by the Boundary County Soil Conservation District and the Idaho Farm Bureau, has been picked up and re-published statewide in the Idaho Farm Bureau's Gem State Producer magazine.
July 6
Hospital completes installation of new CT scanner allowing better, faster images: After a couple weeks of swapping out old equipment and installing new equipment, the hospital now has a brand new CT scan machine which continues to keep our local hspital in line with current CT scanning technology.
July 5

Crime statistics for Boundary County, Bonners Ferry, and Idaho detailed in Idaho State Police 2015 report "Crime in Idaho": ISP just released their report with statistics gathered from law enforcement agencies across Idaho.
Summer Theater plays begin this weekend: Looking for a fun activity for the family and kids this weekend? There are some great productions coming in just a few days.
June 28

Schedule of Boundary County Fourth of July Activities: Click on this story for the schedule of events for Monday's Fourth of July celebration, and additional information about the big day.
Learn about wheat and barley varieties in Boundary County at the Extension Office Field Day and Farm Tour: Interested in learning which wheat and barley varieties do best in Boundary County? That question and many others will be examined at this Field Day and Farm tour. Sign up now—lunch provided!
Golf, fun, and prizes at this year's Fry Healthcare Foundation 8th Annual Golf

Tournament: Golf tournament was fun for all, then there was the helicopter golf ball drop with a flat screen TV grand prize. This story also mentions big changes with what has been the annual Festival of Trees event.
June 26
Auto accident near Post Falls claims lives of two Boundary County men, a third is injured: The accident occurred at about 1:00 a.m. this morning (Sunday, June 26).
Railroad crossing at Highland Flats to be temporarily closed: Dates and times and details are given in this brief story.
School Board to hold special meeting for the public on budgets; other issues also to be discussed: Boundary County School District 101 will be holding a special meeting, open to the public, to provide information and answer questions regarding the District's 2015-16 Amended Budget, and the proposed 2016-17 Budget.
Boundary Community Hospital Rehabilitation Department receives award for clinic quality: Local Rehab department exceeds national average for improvement
June 23

Wildfire season: looking back and looking ahead; Three fires in Boundary County already this season: As dozens of wildfires burn around the country, with evacuations and homes destroyed in some areas, Idaho has so far held up fairly well, although Boundary County has already had three fires so far.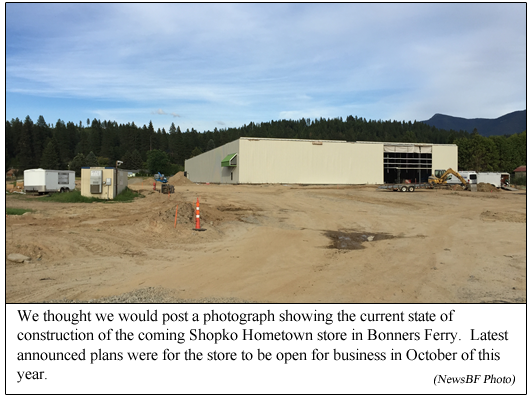 Do you own a boat, canoe, kayak, or raft? Get On Board with The Idaho Invasive Species

Sticker for Watercraft!: Check this story for details on which watercraft require the special invasive species sticker and which ones don't.

Critters (stuffed) donated to Boundary Community Hospital thanks to memorial fund for former nurse: They are available for children or others in need of comfort at the hospital.
June 20
Southern Idaho murder suspect who escaped Bonner County police chase has been arrested in Spokane: A south Idaho murder suspect who ended up in a police chase in northern Bonner County this past March was spotted and arrested in Spokane over the weekend. He and his female companion had eluded officers in a chase just a few miles south of the Boundary County line. The woman was arrested last month in Las Vegas.

Dance Recital Photographic Report: The annual Dance Recital,

performed by students of Bonners Ferry's Dance Studio, was held this past weekend. Click on this article to see our collection of over 20 photographs from the event.
June 13
Popular Two Mouth Lakes Trail closed through the summer: Forest Service considers the area unsafe at this time.
Flags ordered to half-staff: To remain at half-staff until Thursday.

In huge emergency exercise, an earthquake that didn't really hit Seattle had a big

impact on Boundary County: It was one of the biggest emergency exercises ever undertaken. Boundary County emergency services, governments, and resources played their role in helping with a massive earthquake and tsunami that, in the emergency drill scenario, had occurred on the west coast. We've got all the details and the photographs.
June 10

Kootenai Wildlife Refuge presents two programs: Birds of Prey and Bird Walk: The Friends of Kootenai National Wildlife Refuge will be hosting a couple of events next Saturday, June 18, that will be interesting and entertaining for many. Click on this story to get all the details.
Own forest land? Learn useful tips at Forest Landowner Field Day: This educational and fun event for the entire family is a chance for forest landowners to learn about several useful subjects at this event located on an award-winning tree farm. Family forest landowners and anyone interested in forest stewardship will gain valuable information through demonstrations, classes, and exhibits throughout the day.
County Treasurer reminds all of upcoming property tax deadline: Boundary County Treasurer Susan M. Larson would like to remind all Boundary County taxpayers that the deadline for paying the second half of the 2015 property taxes without penalty is Monday, June 20, 2016.
June 9
Bonners Ferry National Guard Armory to close soon: In what the Idaho National Guard calls an effort to modernize and realign its facilities with changing demographics and new Department of Defense requirements, the Idaho National Guard plans to end its use of the Bonners Ferry National Guard Armory in the near future.
June 8
Classic cars and show cars take over the streets of Bonners Ferry: On a very hot day

last Saturday, the streets of downtown Bonners Ferry were lined with a lot of very hot cars.
June 6

Bonners Ferry High School Class of 2016 Graduation Ceremony: Eighty-eight seniors graduated on Saturday. Our story has details on what happened at graduation, the talks given, lots of photographs, and you can watch a 20 second video of graduation caps flying into the air as the Class of 2016 was officially presented at the end of the event. We also have the link to a taped replay of the entire Graduation Ceremony.
June 2
P.E.O. Sisterhood represented at State Convention, continues to provide local financial awards for education: Local philanthropic educational organization has provided a lot of financial aid to to local women over the years.
June 1

Photographs from Boundary County's Memorial Day Parade and Remembrance Service: Each year Boundary County has a parade to celebrate Memorial Day. Following the parade, there is always a relatively short Remembrance Service at Grandview Cemetery, a solemn and respectful event where veterans are recognized and honored. Click on this headline for pictures of these events.
May 31
A little more information and photos on the Kootenai Islands plantings: Turns out the plants weren't the only thing that survived the recent higher waters in the river.
May 30

Question answered: Why do the plants on the new Kootenai River Islands look so brown?: Here at NewsBF, we've had people ask why the new plants placed on the newly-constructed islands just last fall already appear to be brown and dead. We put that question to the staff at the Kootenai Tribe's Fish and Wildlife Department. Following is their answer to our question.
May 27
Race for Sheriff will continue as Schuman officially files as write-in candidate: Plans to carry on through to November election. Has carved out campaign territory as "Constitutional Sheriff."
May 26
Locally-filmed vampire production showing this weekend: High school group produces comedy film about the life of a vampire family.
Couldn't make last Friday's Farm Tour? The full story on Farm Tour 2016: This year's Farm Tour included releasing sturgeon into the Kootenai River, learning about the river's dike system, forest management, noxious weeds in Idaho, and a tour of the Houck Farm at Copeland.
May 24
Hundreds accept Kootenai Tribe's invitation to help release new sturgeon into Kootenai River: Last Friday, hundreds of Boundary County residents got to see, touch, and hold something very rare nowadays—a Kootenai River sturgeon.
Boundary Community Hospital Health Fair and Fun Run: A Tradition of Caring for the

Community: Boundary Community Hospital has been celebrating National Hospital Week with its annual Health Fair and Fun Run for decades, and this year was no exception. See the details and lots of pictures in this story.
Pearl Theater looking for community volunteers: The Fabulous Pearl Theater on Ash Street in Bonners Ferry has been a wonderful place for local emerging artists to perform and grow. Now the Pearl is extending the opportunity for leadership in several positions. See this article for details.
May 20
BFHS Band's final performance of the year is memorable: Great performance numbers by the full band and the Jazz Band, three graduating seniors recognized, many awards given. And we have photos of some of the evening's highlights.
May 19

Kramer wins Primary vote, but Boundary County Sheriff race may not be over yet: Opponent considering write-in campaign for November general election.
Memorial Day events outlined, all invited: Attend, participate in activities going on this upcoming Memorial weekend.

From the cascading golf balls, someone wins a TV as part of hospital Golf Tournament: And that's a big TV, too. All part of the 8th Annual Fry Healthcare Foundation Golf Tournament, which along with golf, includes a cookout, prizes, and lots of fun.
Local FFA chapter performs well at district competitions: Local chapter members placed well in Dairy Foods, Ag Mechanics, Welding, Small Engines. Next up is the state competition.
Information meeting on Libby Dam, Kootenai River to be held in

Bonners Ferry: If you have questions about the operation of the Libby Dam and its impact on our area, you may want to attend a meeting coming up next week.
Hospital Auxiliary raffle a success, prizes won by many: One of the fun events at last Saturday's Boundary Community Hospital Health Fair was the raffle for exciting prizes. Sixteen local Boundary County businesses donated to this raffle. Proceeds helped to purchase important equipment for the hospital.

Series of musical productions and performances coming up at high school and middle school: Including two Broadway-style musicals, and end of the year galas for several school choirs.
May 18
Results for Boundary County and statewide Primary Election: Check here for vote totals and election results for both Boundary County and Idaho statewide.
May 17
ELECTION DAY--Today is the day for the Idaho Statewide Primary. Vote today for candidates for Boundary County Sheriff, County Prosecutor, County Commissioners, and for precinct committeemen. At the state level, voting is for U.S. Senator, U.S. Representative, a position on the Idaho Supreme Court, and for Idaho Senator and Representatives from our district. Your vote today helps determine who will be on the final ballot in November.
New principal hired for Bonners Ferry High School: Local candidate selected after an intense search and selection process.
May 16

Tomorrow is the day—the Idaho Statewide Primary Election: If you feel you need a little more information to help get ready to vote, we are re-running an updated version of our story from March, with details on the ballot and candidates for tomorrow's election. All candidates, and some background information.
May 13
Two railroad crossing closures next week (Sandy Ridge Road and District Two Road): If you drive on these roads, you'll want to check this story for the details on closures.
Kootenai River will be rising as Libby Dam increases river flows for sturgeon spawning: You will be seeing the Kootenai River rising and filling its banks over the next several days.

Kids complete Forest Service stewardship program with fun-filled day at the Refuge: Lots of hands-on learning and entertainment, see this story for details.
Flags to fly half-staff on Sunday: Presidential Proclamation encourages

all to display the United States flag at half-staff on Sunday.
May 12
Peace Officers' Memorial Day event set for this Sunday: In 1962, President John F. Kennedy signed a proclamation which designated May 15 as Peace Officers' Memorial Day, and the week in which that date falls as Police Week. Here in Bonners Ferry, The Boundary County Chaplain Corps is sponsoring our own memorial observance on Sunday afternoon.
Law enforcement focusing on seat belt use over next couple of weeks: Protecting

livesand reducing serious injury from motor vehicle crashes may be as simple as clicking a seat belt, so the Idaho Transportation Department is supporting efforts to increase Idahoans' safety restraint use May 16-30.
May 11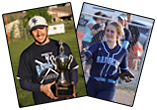 Badger Boys win District Tournament, advance to state; Badger Girls lose one-run heartbreaker: Badger Boys sweep through Districts, Girls still in running for State berth. And both Girls' and Boys' League MVPs are Bonners Ferry Badgers.
Bonners Ferry High School looking for new principal for next year: Bonners Ferry High School will be looking for a new principal to serve next school year. Principal Tim Gering, who has held the position for the past three years, has resigned as principal, effective at the end of this school year.
Visit with live birds of prey this Saturday at Libby Dam: The Libby Dam Visitor Center is hosting a biologist from Birds of Prey Northwest along with several diverse birds to celebrate International Migratory Bird Day and National Kids to Parks Day on Saturday, May 14.
May 9

Boundary County Commissioner Pinkerton testifies before Congressional subcommittee: In a recent afternoon, a Washington, D.C. congressional hearing turned its attention to Boundary County in seeking information about how federal land management policies impact rural communities along the border, and the effects of these policies on enforcement of border integrity and safety. Boundary County Commissioner LeAlan Pinkerton appeared before that congressional subcommittee.
Farm Tour coming up; learn about area agriculture and more: The Boundary Soil Conservation District and Farm Bureau are once again offering their free community farm tour. RSVP now to reserve your spot on this free and fun event.
May 7

BFHS Robotics Team in Western Canada Regional competition with teams from four other nations: Bonners Ferry High School FIRST Robotics Team 2130 Alpha+ recently returned from Calgary, Alberta after competing in the Western Canada Regional. The team did well in the competition, and had the opportunity to participate with other teams from around the world.
Conservation Service sets aside fund for fuels reduction on private lands: The Natural

Resource Conservation Service, has set aside funds for the first year of a special project to help private landowners implement practices to reduce excessive fuels and the risk of wildfire on their property.
May 5
Suspect pursued in March in northern Bonner County as accessory to murder is arrested in Las Vegas: One of the two suspects involved in a Nampa, Idaho murder, who had been pursued by police in northern Bonner County in March, has been arrested in Las Vegas.
May 4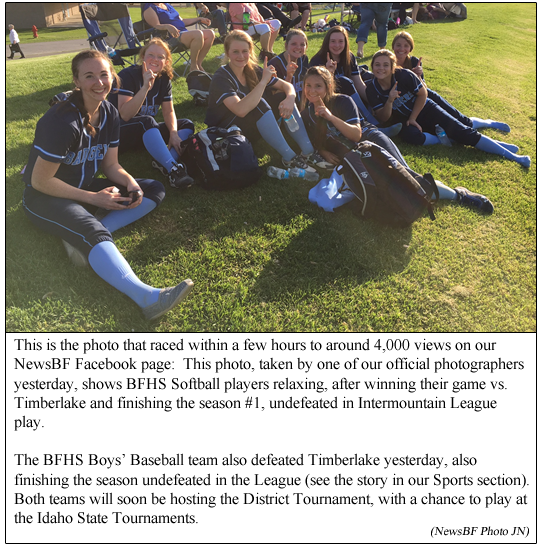 All invited to upcoming Kootenai Tribe public sturgeon release: The

Kootenai Tribe of Idaho would like to extend an invitation to the community to participate in the release of hatchery-reared juvenile white sturgeon into the Kootenai River.
Slight change in location for Mt. Hall / Copeland voting site; Read this if you will be voting there: County Clerk wishes to make sure everyone knows where the new location will be.

Local FFA chapter attends Idaho State Leadership Conference: Lots of learning and lots of fun for BFHS FFA members.
Burn permits required beginning May 10: Starting May 10, Idahoans must obtain a burn permit from the Idaho Department of Lands (IDL) before starting certain controlled burn activities. Permits can be obtained online or in person.
29 employers looking to hire at event in Post Falls: Employers who are seeking to hire new workers include Kootenai Health, Cracker Barrel, Silverwood, Cabela's, Dave Smith Motors, Badger Building Center, Farmers' Insurance, and several more.
Idaho Commission on Aging seeks your comments on Senior Services State Plan: Comments from the public are being requested on Idaho's Senior Services State Plan for Fiscal Year 2016 - 2020. The comment period is open May 4 – 18, 2016.
May 2

Brittany Spangler new Bonners Ferry Distinguished Young Woman: The

Bonners Ferry Distinguished Young Women program, staged on Saturday, fulfilled its promise to dazzle all those in attendance with its performances, stage decorations, costumes and dresses, and eleven remarkable and talented young women participating in the event, all with the backdrop of this years' theme: Around the World in 80 Days.
April 30

Distinguished Young Women Program is tonight:

Tonight is the night for this year's Bonners Ferry Distinguished Young Women, 2016. The event, with this year's theme of "Around the World in 80 Days," promises to be a scintillating and fun-filled event.
April 26

Bonners Ferry Fire Department wins $52,000 in fire gear in nationwide contest: The City of Bonners Ferry Volunteer Fire Department just won a nationwide contest, scooping up first prize of over $52,000 in firefighting gear. The contest they won? A dance video contest.

Badger Girls Softball, Boys Baseball sweep all games vs Timberlake on Saturday, four games to none; both Badger teams now alone in first place in Intermountain League: Brief summary and photos of the Girls' game included here. Full story and photos on the Boys' game is in our Sports section.
Shaleyna Higgins ends busy year as Distinguished Young Woman: Shaleyna Higgins will

take the stage at the Becker Auditorium one final time on April 30 as the Distinguished Young Woman of Bonners Ferry to welcome a new recipient of the title.
April 23
Details on new Bonners Ferry Shopko Hometown store announced at Chamber of Commerce dinner meeting: A representative from the Shopko company was in town last

night, and presented details and an update on the new Bonners Ferry Shopko Hometown store now being constructed on the South Hill. You can read those details by clicking on this story.

New Boundary County businesses discussed at Big Ideas Dinner: Big Ideas were shared at last night's Bonners Ferry Chamber of Commerce Big Ideas Dinner 2016. Along with dinner, Chamber of Commerce officers presented details for upcoming events being planned for Boundary County, and several local entrepreneurs presented summaries of businesses they are developing. The evenng included an update on the status of Bonners Ferry's new Shopko store currently being built on the South Hill.
April 22

St. Ann's Catholic Church building destroyed by fire, arson

suspected: Reports are that police have identified a suspect. Investigation continues. Congregation will be meeting in temporary quarters. Several photographs included with this story.

Disappointed (again) in Mariners baseball? Here's what you do: (Hint: it

involves a pair of dominating local teams . . .
April 21
Under court order, comment period is reopened for Caribou Critical Habitat in

Boundary County, Idaho and Pend Oreille County, Washington: The details on the latest little twist in the ongoing caribou controversy in Boundary County.
April 20

Boundary County's 2016 "First Baby of Spring": "In observance of agriculture, spring, and new beginnings, Farm Bureau is pleased to announce this year's first baby of spring," said Farm Bureau Chairwoman René Riddle.
April 13
Rotary Club of Bonners Ferry Annual Scholarship deadline is coming up very soon:

The deadline is April 18.

Those interested in applying must act fast. Click on this headline for the details and to download the scholarship application.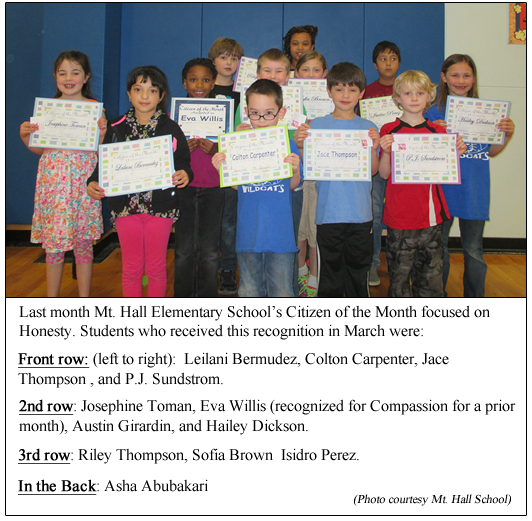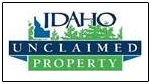 Could some of that Unclaimed Property be yours? Almost half of all Idahoans are listed as having property listed in Idaho's Unclaimed Property database.
April 6
Mobile Ultrasound is newest tool in Emergency Department at Boundary Community

Hospital: Thank you to the Fry Healthcare Foundation and their Festival of Trees for raising the funds to add a Mobile Ultrasound Machine to the Emergency Department at Boundary Community Hospital. "This is a welcome addition to our Emergency Department toolbox," says Hospital CEO Craig Johnson.

Distinguished Young Women Style Show coming up; tickets for full program available for sale soon: Being stylish is just one of the many attributes the Distinguished Young Women of Bonners Ferry participants possess, and they will share this gift at the upcoming Style Show. Thanks to several local businesses who have partnered with Distinguished Young Women of Bonners Ferry to provide an exclusive chance to practice their stage presence at the Style Show as they prepare for the scholarship program scheduled for Saturday, April 30.
April 5
BFHS Teacher Craig Anderson named EWU/KHQ Teacher of the Month for Inland

Northwest, honored at school assembly: The TV cameras rolled as Craig Anderson, a teacher at Bonners Ferry High School, was honored with March's EWU/KHQ recognition for educators.

Won't be around for May 17 election day? Consider voting an absentee ballot: Not going to be around for the upcoming May 17 Idaho Statewide Primary Election? You can still exercise your voting privilege.
April 3
Suspects wanted in connection with murder, pursued in Bonner County, appear to have traveled to Spokane area: With the recovery of a pickup they are believed to have stolen, the trail of murder suspect James Mancuso and his female companion Ashley Ford, recently pursued by police in the northern part of Bonner County, has now led to the Spokane area.

Meet the final group of Distinguished Young Women participants for this year: With this year's Distinguished Young Women program coming up in just a few weeks (April 30), we have been presenting information on those participating in the program this year. Here are the bios on the last group of four young women.
Bonners Ferry Street Department presents Cleanup Week for city residents, and it's free: Time for Spring Cleanup has arrived. The Street Department of the City of Bonners Ferry will be providing special pickup of yard and yardwork waste during the week of April 11 through April 18.
April 2
NEWSBF SUPPORTS:
No texting while driving
Fatal Highway 95 collision at McArthur Reservoir area yesterday: A Naples resident was killed, and a man from Washington injured in the collision.

Fairgrounds parking area to be paved soon: One aspect of visiting the fairgrounds will soon become a lot simpler and easier: parking. With the current parking lot's gravel and dust, occasional potholes, low areas that accumulate large pools of water following a rainfall, and its rather random and congested parking arrangement during big and busy events, paving the area should be a welcome improvement.
Shakespearience presents the play Hamlet at BFHS: The Idaho Shakespeare Festival visited Bonners Ferry High School on Monday. Wherever the cast goes they perform a Shakespeare play in what is known as "Shakespearience."
STATEWIDE: Idaho law enforcement looking for distracted drivers: If you're hoping the other driver isn't texting while coming toward you at 60 mph on the highway, be sure you also aren't texting while driving.
BOUNDARY COUNTY: 39 Idaho lives lost , over 3,000 injuries in distracted driving in recent period; police begin education and enforcement campaign: Expect to see stepped-up police attention to distracted driving in Boundary County. This effort aims to save lives and improve safety for us all.
Job Hiring Fair features 60 companies looking for employees: Hiring companies include health care facilities and the Washington State Patrol. Silverwood is looking to get its summer amusement park team hired and in place. Lowe's Home Improvement and Badger Building Supply are hiring. And many other companies. If you know someone looking for work, they might want to attend this event.
STUDIES SHOW: 25% of teens text at least once or more, every single time they drive. That's not all--10% of parents admit to texting while driving. And more lives are lost.
March 30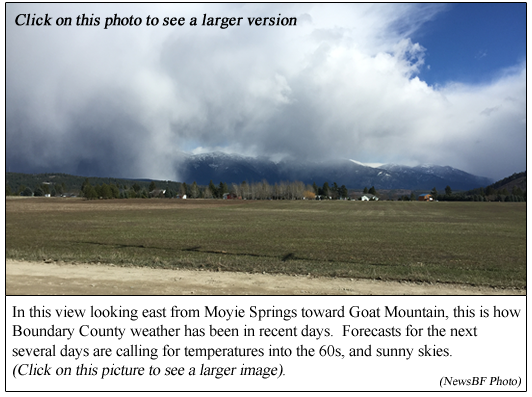 Boundary County among Idaho leaders in several areas of population growth: What is going on here? According to data released last week by the U.S. Census Bureau, rural Boundary County is among the leaders of all Idaho counties in three measures of population growth: total population increase, percent population increase, and net in-migration.

Photographs of some new businesses and business construction now underway in Boundary County: A series of photographs of some of the growing activity in new business and construction going on in Boundary County.
Photos of Curley Creek Easter Egg Hunt: A few photographs of those participating in this

past weekend's Easter activity at Curley Creek.
March 25

Landowners can apply for funds to combat weeds: As you look out over your acres this spring, are you nervous you might see too much tansy, Canada thistle, and other noxious weeds? New Boundary County Weed Superintendent Dave Wenk is announcing a program for landowners to control noxious weeds on their property.

Final results from Democratic Presidential caucuses; Boundary

County and statewide numbers: Voting results from the Democratic Presidential Caucuses held this past Tuesday show that Boundary County numbers were similar to the outcome statewide in Idaho: an overwhelming victory for Bernie Sanders. See all the results here.

Meet this year's Distinguished Young Women participants; Four more are presented here: Read the stories and background information on the latest group of four entrants in this year's Distinguished Young Women. Photographs included, thanks to Picturesque Photography by Sara. More to come on the other Young Women in coming days.
Idaho Congressional Delegation sponsoring 2016 Academy Days: At Academy Days, Idaho students have the opportunity to learn about the application process to the Military Service Academies. One of the events will be held in Coeur d'Alene. This story has the details.
Extension Office offers Friday program for children: Looking for a fun learning experience for your child grade Kindergarten through 6th? Well, come check out 4-H Friday Friends any Friday when school is in session!
March 24
Murder suspect spotted, pursued in northern Bonner County; remains at large: A man with an arrest warrant for a recent Nampa, Idaho murder escaped from a pursuit in the northern part of Bonner County, along with his female companion, according to police.
March 23
Sanders overwhelming winner in Idaho Democratic caucuses: With many counties having larger-than-expected crowds showing up, and long lines waiting to get in, Idaho Democrats held their caucuses throughout the state yesterday.
Flags at half-staff following attacks in Belgium: President Obama: "As a mark of respect for the victims of the senseless acts of violence perpetrated on March 22, 2016, in Brussels, Belgium."
Here's the official story on Penguin Plunge 2016: This story gives the official details on this year's Penguin Plunge, including this year's award winners, funds raised, and more.
March 22
Valley View students deliver big Thank You to Caring People for Animals: Recently,

representatives of Valley View Elementary School brought a "very large" thank you card, signed by many students, to "Caring People for Animals."
Times announced for kindergarten registration for next school year: Time to look ahead for kindergarten enrollment for next school year. Here are the facts you'll need to know.
March 21

Boundary County Democratic caucuses set for tomorrow: The race to the White House continues on here in Boundary County, as Democrats in the county and throughout Idaho gather tomorrow to discuss and select their preferred candidate in the Idaho Democratic caucuses. This story gives the details on how the caucuses work and what to expect.
Idaho State Police requesting assistance in road rage investigation: The Idaho State Police is requesting the public's assistance in a road rage incident investigation. The incident occurred Sunday on the freeway near Coeur d'Alene.

Penguin Plunge 2016: Are they daring, or just crazy?: What could be

better to celebrate the last day of winter than Penguin Plunging into an icy Kootenai River? For the sixth year, local plunging teams, individuals, and law enforcement officers "Took the Plunge" on Saturday by jumping into Kootenai River to raise funds for Idaho Special Olympics. See this story for details and photos.
March 17

Panhandle Health District seeking participants in local cancer research study: Panhandle Health District is now recruiting adult patients, family members, or parents of children, who have faced any type of cancer to participate in a local research study.
March 15
Farm Bureau looking for First Baby of Spring: Gifts are awaiting the first baby born on after National Agriculture Day. Get the details here.

Meet this year's Distinguished Young Women participants; Four are presented here: Read the stories and background information on four of this year's Distinguished Young Women. Photographs included, thanks to Picturesque Photography by Sara. More to come on the other Young Women in coming days.
Local FFA chapter has special seminar with visiting experts: Last Saturday was an

eventful day for the Bonners Ferry FFA Chapter, as a few national and state officers well known within the FFA traveled to Bonners Ferry to work with our local FFA members on how to become better leaders.
March 14
List of all candidates running in upcoming May 2016 Primary: Thanks for voting in Idaho's recent Presidential Primary last week, but Idaho is not finished yet with sorting out which candidates will ultimately be on the November general election ballot.
Next up are the Democratic Presidential Caucuses, coming up in about a week on March 22. Then on May 17, another statewide primary will be held which this time will focus on candidates for state and local offices. The full list of candidates and additional information is given in this story.

Did you know that two current California residents are running to be our next Idaho Congressman?
Women in Agriculture Conference at University of Idaho Extension Office: A special conference is coming up, designed for women in agriculture, as well as new and aspiring farmers. Supporting spouses, students, interns or people who own an agriculture-related business are also welcome.
Idaho Commission on Aging seeking public comment on Senior Services State Plan: The Idaho Commission on Aging, an oversight agency for state senior services, is holding public meetings at senior centers across the state to present Idaho's Senior Services State Plan and to receive public input.
Contra Dance invites all to come and participate: Enjoy live music, dance your heart out, meet your neighbors, and participate in a lively dance community that extends from coast to coast. Contra dancing is an old New England dance form that has experienced a tremendous revival in the last fifty years.
March 10

Judge orders continuing custody for Boundary County man charged in Bundy standoff; will be transported to Nevada for arraignment: A judge determined today that Todd C. Engel, a man who is reportedly from Boundary County, Idaho, will remain in federal custody and will be transported to Nevada to face charges for multiple felonies in connection with his participation in the 2014 Cliven Bundy armed standoff with law enforcement. Details of his hearing today are given in this story. A question we have: is he really from Boundary County?
March 9
Idaho Presidential Primary—Boundary County Report: Check this story for the details on

yesterday's Primary Election in Boundary County. Idaho's 32 delegates to the national Republican convention will be allocated to the candidates later today, based upon yesterday's primary election results.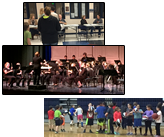 Another busy night at the Bonners Ferry High School . . . : There's a lot going on up there some evenings.
26 employers set for hiring event in Post Falls: Twenty-six employers will be looking for people to hire and interviewing in an event sponsored by the Idaho Department of Labor Kootenai County office.
March 8

Boundary County Presidential Primary Results, March 8, 2016: Results available by clicking on this story.

Boundary County snowpack and precipitation continue to look good

this year: The data, the experts, the graphs, and over 7 feet of snow at some areas in the Selkirks, are pointing to better than expected water supplies for the year.
Search for new Library District Director lands Anderson: His "professional experience as an innovative, award-winning educator combined with his vision of the library's role and mission—past, present, and most of important of all, its future potential—made him their unanimous choice."
Mr. BFHS this weekend: Don't miss this year's comical performance of Mr. BFHS! Mr. BFHS is a senior class fundraiser put on by senior boys and usually turns out to be pretty crazy.
March 7

Now it's our turn: Idaho Presidential Primary is tomorrow:
Here in Boundary County, with a slate of candidates, all the ballots, the new voting machines, and all the excitement--we're all set for tomorrow's Presidential Primary.
Flags at half-staff for former First Lady Nancy Reagan: President Barack Obama has issued a proclamation requesting that flags of the United States be flown at half-staff in respect for former First Lady Nancy Reagan.
March 5
Boundary County man arrested in five state federal sweep as part of 16 count indictment: A Boundary County man who was arrested in a multi-state sweep on Thursday made a first appearance in federal court yesterday.
March 4
Idaho Air National Guard deploying to the Middle East: The Idaho Air National Guard is

preparing to make its first major deployment in the U.S.-led fight against the Islamic State group. More than 500 members of the 124th Fighter Wing based at Gowen Field in Boise will depart for the Middle East this spring and summer as part of Operation Inherent Resolve.
Funding available for private forest lands in Lower Kootenai River Watershed Restoration Project: The local office of the Boundary Soil Conservation District has announced that Boundary County has obtained a grant to address a variety of issues on non-industrial private forest lands. Details are here, including how to find out if your property is eligible.
March 2

Twelve participating in Distinguished Young Women 2016: This year's event is set for the end of April, and the participants are already beginning their hard work and preparation for the program.
Boundary County sending five spelling champions to Regional

Spelling Bee, winner goes to Washington, D.C.: Five Boundary County champion spellers will be competing with 43 other North Idaho students, with an all-expense paid trip to Washington, D.C. on the line for the winner.
February 27
Gem State Economics: Idaho is fastest growing state in the nation in job growth; Average 2015 unemployment rate was 4.1%: Boundary County data also noted. This story reports the most recent employment, unemployment, and job growth figures for Idaho and Boundary County.

BFHS Foreign Language Society Cruises the World at University of Idaho event: The BFHS Foreign Language Society visited the University of Idaho for an international heritage festival, where they participated in many activities and experienced various international cultures.
February 20
Idaho Department of Lands to give presentations, answer questions at Open House: Topics will include forestry assistance, navigable waters, endowment management, and forest assessment (an item that may be appearing on your tax bill). Refreshments will be served.
February 17
Two wanted men arrested by local law enforcement after vehicle pursuit: Boundary County Sheriff's officers arrested two men yesterday on Brown Creek Road following a 2 ½ mile vehicle pursuit. Both were wanted on outstanding warrants, and one had allegedly threatened to shoot officers.

Valentine's Dance, Singing Valentines at BFHS: There are usually numerous activities buzzing around the

Bonners Ferry High School on Valentine's Day. This year, students had a great dance to attend, which helped raise funds for a special cause, and also some surprise Singing Valentines for sweethearts all over Boundary County.
Hospital Auxiliary's Annual Pie Sale a tasty success: Thank you to everyone who donated or purchased pies to the famous Hospital Auxiliary Pie Sale. Money was raised to help our local hospital. Notice: The Auxiliary is also looking for new members.

Ready, Set, Jump! The icy, fun Penguin Plunge is

coming up: Boundary County has the opportunity to support our Special Olympians by participating in this year's Penguin Plunge. Get the details by clicking on this story.
ITD releases video on auto safety around snowplows: You're driving

cautiously down a slick, snowy Boundary County winter highway late at night. Rounding a curve, you come up behind a late-night, hard-working snowplow, clearing the road.

Scotchman Peak trail re-opens, good goat etiquette advised: Bonner County's Sandpoint area Scotchman Peak Trail reopened February 12, after having been closed in September 2015 as a precautionary measure against aggressive mountain goats. Did you know there is a good and a bad etiquette around mountain goats? This article explains it all.
February 8
•

Special Candidates Forum to be held tomorrow

: We wanted to put this calendar announcement on the front page to make sure as many people as possible are aware:

A presentation and Question and Answer Forum for candidates for Boundary County Sheriff will be held tomorrow, Tuesday, February 9, at the auditorium at the Bonners Ferry High School. This event begins at 6:00 p.m. Those in attendance will be welcome to aske questions of the Sheriff candidates.


More than robots: Bonners Ferry High School Robotics Team update: The Bonners Ferry High School award-winning Robotics Team 2130 Alpha+ is continuing its work this season, with an eye toward the upcoming team competitions later this spring. Work on this project includes not only putting together a functional robot, but also programming, logistics, video production, writing a business plan, and more. Follow their progress with this story.
February 5
University of Idaho Researchers: U.S. Must Address 'Wicked Problem' Of Wildfires With New Partnerships: "U.S. wildfires burned more than 10.1 million acres in 2015 — a new record . . . Those fires destroyed 4,500 homes and structures and killed 13 firefighters. Wildfire suppression costs the United States, on average, $2.9 billion a year," with additional economic consequences cascading from wildfires.

After devastating North Idaho fires last summer, including a serious fire here in Boundary County, this article offers some initial steps that might be taken toward the long-term goal of mitigating the problem of wildfires.
February 3
Family to Family course will discuss mental illness issues: Family to Family, a twelve week course for family and friends of individuals with mental illness, is being offered by the Far North Chapter of National Alliance on Mental Illness (NAMI), and is coming up later this month.
February 2
Get your diploma at the Beef School agricultural seminar: Presentations at the seminar will be given by experts including University of Idaho faculty, the University of Idaho Extension, and a veterinarian. All with an interest in beef production are invited to attend, including students.

Bonners Ferry FFA Chapter attends Boise leadership conference: FFA members from Bonners Ferry attended a valuable conference in Boise where they learned a lot, met Idaho legislators, and had a generally great time.

Stage and microphone provided for aspiring local performers: The Pearl Theater sponsors an evening once a month where they turn their microphones over to any performer who shows up and wants to demonstrate their talents. This month's event is coming up this Thursday. And it's free!
January 29
Forest Service looking for comments on Boundary County area forest project: The Idaho Panhandle National Forests is inviting the public to review and make comments on

the Deer Creek Project Environmental Assessment. The Deer Creek project includes timber harvest, timber stand maintenance, fuels treatments, and road maintenance on approximately 30,000 acres of National Forest System lands located north of Moyie Springs.
January 25
Hospital Auxiliary Pie Sale coming soon: The famous Hospital Auxiliary Pie Sale is coming up. There will be sugar-free pies and gluten-free pies, as well as all of your favorites like Lemon Meringue, cream and custard, a variety of fruit, and even Huckleberry pies. It's a good idea to come early!
January 20

Time for North Idaho Cereal School!: Sorry, we're not talking about munching on breakfast cereal while watching television in your pajamas. This free workshop is for local cereal grains growers and others interested in this particular aspect of agriculture.
Bonners Ferry High School Robotics Team kicks off 10th season: Over the summer,

robotics programmers honed their coding skills, and the build and design teams started working on new projects. Many team members also undertook a team sign redesign! This year, the team is looking for more awards in their 10th year at BFHS.
January 17
Habitat for Humanity accepting applications for its next house: Boundary County

Habitat for Humanity has been building affordable housing in Boundary County since 1994 and is now accepting applications for the program's tenth house to be constructed.
Students to attend FFA Boise leadership conference: Each year towards the end of January, the Bonners Ferry FFA Chapter travels down to Boise, Idaho for a leadership building conference called 212/360. While there, they will be attending numerous events, activities, and training workshops.
January 14

Christmas Bird Count in Boundary County provides valuable information over the years: A special day is set aside once a year to observe and count birds of all species in Boundary County, and that information is put to work as it is combined with similar counts

made around the world. Local volunteers have been dedicated in enumerating our Boundary County bird populations. Check this article for details on this important yearly census, for a map, and great photographs of some of the birds counted locally.
January 13

Free seminar for students (and parents) on paying for a college education: A free seminar for high school students, their parents or guardians, and high school teachers and staff, is set for next week. University representatives will be presenting information specific to paying for college.
January 11
A Year with Frog and Toad cast to take the stage this month: Featuring a cast of fifteen

Boundary County youth (ages 8 – 17), A Year with Frog and Toad debuts right here in Boundary County this Friday. Adapted from the Broadway hit, A Year with Frog and Toad follows two best friends and their adventures through four seasons.
23 Employers Set for Hiring Event in Post Falls: Twenty-three employers will be participating in a January 13 hiring event sponsored by the Idaho Department of Labor Kootenai County office
January 9

Political rally held opposing Refugee Resettlement Resolution: A rally

organized by those opposed to the County Commissioner's recently passed resolution on refugee resettlement attracted approximately 200 people earlier today. Click on this article to read about the meeting, view photos taken at the gathering, and to select short audio clips

from some the speeches and speakers at the rally.
Distinguished Young Women Program encourages participation in upcoming program: The Bonners Ferry Distinguished Young Women Scholarship Program will soon be underway

for 2016-2017. This scholarship and honors program recognizes, rewards, and encourages excellence while promoting self-esteem among young women. All junior girls interested in participating in this year's program should plan to attend the upcoming Orientation meeting.
January 8

Boundary County now has new electronic voting tabulators, will be used in upcoming March Presidential Primary: Elections and voting in Boundary County will take a technological leap forward this year. Two months from today is the Idaho Presidential Primary election, scheduled for March 8.

Boundary County voters on that day will find there has been a substantial change in how they cast their ballots.
January 7
Local Spelling Bees scheduled, winners go to Regionals: School districts throughout North Idaho will hold spelling bees in January that qualify students for the North Idaho Spelling Bee scheduled for March 19 at North Idaho College. The winner of the regional Bee will receive an all-expense paid trip to the Scripps National Spelling Bee in Washington D.C.
January 6

Bonners Ferry City Council opens year with new mayor, council members sworn in, issues discussed: Bonners Ferry has a new mayor. At last night's City Council meeting, newly-elected Mayor David Sims was sworn into office and jumped right into work on city issues. City council members were also sworn in following last November's elections.
Outgoing Mayor Anderson lauded at council meeting: Outgoing Mayor David Anderson was roundly thanked for his service as Bonners Ferry's chief elected official at last night's City Council meeting.
Concerns expressed at City Council meeting on possible disruptions planned for Saturday political gathering: Concerns were expressed at last night's Bonners Ferry City Council meeting that attempts may be made to disrupt a planned political gathering this Saturday.
January 2
Museum schedules Centennial celebration party: Boundary County came to be in January

1915, and the end of the County's 100 year anniversary celebration is rapidly coming to a close. But not without one more big celebratory blowout, sponsored by the Boundary County Museum. And you have been specially invited.
January 1
Cold weather now makes last summer's heat and wildfires a (sort of) distant memory: In retrospect, the foundation for the record 2015 fire season was being laid in the very first months of the year: January, February, and March in early 2015, when an unusually warm, dry weather pattern settled in.

A dream-like evening at the Festival of Trees Gala: The Festival of Trees Gala Event, sponsored by the Fry Healthcare Foundation, has now run for its 20th year. Gala #20, whose theme was Joy to the World, held on December 12, was a fun evening with great food, brilliant Christmas decorations, informative conversation, and strategic bidding for items donated to help raise funds for needed equipment at Boundary Community Hospital. This article includes several photographs from the Gala evening.
Festival of Trees raises money to purchase rehab machine: The Fry Healthcare

Foundation is pleased to announce they were able to raise the funds required to purchase an important piece of shoulder and elbow rehab equipment for Boundary Community Hospital Rehabilitation Services.
December 23

Precipitation and snowpack continue to look good for now, but experts

caution they may not hold up: Things are looking good with our precipitation and snowfall so far in Boundary County. But the experts are saying ""People the world over are feeling, or soon will feel, the effects of the strongest El Niño event since 1997-98." And that could affect what happens here in the coming winter months, and next spring.
Idaho State Police gives advisory of dangerous highway conditions on Interstate 90 and State Highway 3: In cautions issued today, the Idaho State Police is advising that travel is very dangerous on Interstate 90 and State Highway 3 in the 4th of July area. Click on this story for full details.

It's "Payback" for school bus driver on "Lucky Thursday": All of School District Bus Driver Doug Reoch's "Lucky Thursdays" finally caught up with him.
Flooding results in temporary emergency road closures: Increased rain and warmer temperatures during the past week have resulted in flooding causing significant road damage on the Bonners Ferry and Sandpoint Ranger Districts.
NewsBF responds to readers' questions: How are river projects holding up in recent storms?: In recent weeks, we have had readers contact us here at NewsBF, wondering about the effects on the Kootenai River restoration projects from the big November 17 windstorm that swept through the area, and the heavy rains and ongoing snow we have had since then. We tracked down some answers.
Trees damaged in November's windstorm can lead to threats to your remaining live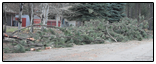 trees: Severe wind storms in northern Idaho and the Spokane area on November 17 did more than cause widespread damage to structures and power lines. They also made forested areas more susceptible to infestations of certain bark beetles next spring.
Tis the season for bald eagles to flock to Lakes Pend Oreille and Coeur d'Alene: Each year around Christmas time, large groups of bald eagles congregate at sites on Lake Pend Oreille and Lake Coeur d'Alene in the Idaho panhandle, taking advantage of kokanee spawning season. This annual nature event makes for great bald eagle viewing, right here in North Idaho.
Weather Spotter training course a success; more coming in 2016: An instructor from the Spokane office of the National Weather Service provided a Weather Spotter training course at South Boundary Fire Station in Naples on Tuesday of last week, December 15.
Driver Safety Class scheduled for January : A driver safety class will be offered on Thursday, January 14. The class is open to anyone, but emphasizes issues related to people 50 years and older.
December 14
Panhandle Health District reports first flu death of the season: Panhandle Health District is reporting the state's first influenza-related death for the 2015-2016 flu season.
BoCo Backpacks seeking help funding meals for kids: The BoCo Backpack weekend supplemental food program is approaching the half way point for the school year. They need a little extra help to finish up the year.
December 10
Large crowd in attendance as Commissioners consider refugee resolution: The crowd of 150 people who attended Monday's County Commissioners meeting weren't really there to focus on all those other agenda items. They were there for Monday afternoon's discussion on possible adoption of a resolution pertaining to refugee settlement.
Want to help the National Weather Service? Weather Spotter Training coming up: The National Weather Service in Spokane is seeking volunteers who would like to become official Weather Spotters. For those interested, a class is coming up soon in Boundary County.
December 8
Weather alert: heavy rains, potentially damaging winds possible today and tomorrow: The National Weather Service this morning issued warnings for severe weather beginning later today with high, potentially damaging winds, heavy rain, and potential flooding affecting areas of eastern Washington and Northern Idaho, including Boundary County.
Boundary County mountain snowpack and precipitation so far this year: So far, our

precipitation and snowpack for the year aren't looking too bad. We've got the data and some informative graphics in this story.

Night of Nativities and Carols: The Christmas season in Bounday County sparkled brightly at last week's second annual Night of Nativities and Carols. Over 170 nativity sets were shared for display.
Garbage pickup schedule for Christmas and New Year's Day: Frederickson's Bonners Ferry Garbage has notified customers of their pickup schedule for the holiday season.
Bald eagle migration now under way in northern Idaho: Bald eagles are now congregating at Wolf Lodge Bay and Beauty Bay on Coeur d'Alene Lake, and in the Bayview and Granite Creek areas of Lake Pend Oreille. Here are some tips for observing those eagles.
December 4
Mayor-elect David Sims resigns Director position of Development Council: Bonners Ferry mayor-elect David Sims has resigned his position as Director of the Boundary Economic Development Council.
20 employers set for hiring event in Post Falls: If you have been considering looking for a job, twenty employers will be participating in the December 9 hiring event sponsored by the Idaho Department of Labor at its Kootenai County office. Click on this story to get the details.
December 3
President orders flags to half-staff: Click on this story for details.

Construction progressing at Pro-X Homecenter: This shows just a few photographs of the ongoing construction of the new sales building at Pro-X near the Three Mile Junction.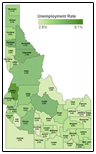 Idaho unemployment rate drops to 4%, better than nationwide rate; Boundary County numbers down slightly: So that all can see how Boundary County and Idaho are doing in unemployment, we have taken all those government numbers and figures and tried to put them together in an easily readable way. See the details in this story.
December 2
Valley View full of activities during Idaho Family Reading Week: Activities included

mystery readers, a pajama party, visits from law enforcement and other government agencies, and much more. Click on this story for all the details.

FFA sponsoring "Winter Movie Land": Who is in the holiday spirit? Come join the Bonners Ferry FFA Chapter as we spread our spirit by kicking off the season with some holiday Christmas movies. We will be hosting a "Winter Movie Land."
November 28
Turkey Trot 2015, on Thanksgiving Morning: We have posted a few photos from the Thanksgiving morning event. Click on the headline to view.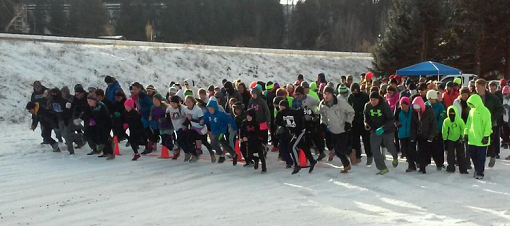 November 24
Champion Big Trees of Idaho; some are located in Boundary County: You don't have to travel far to see some of the record biggest trees in Idaho—some of them are located right here in Boundary County. Click on this story to see the details on Idaho's Big Tree Program, managed by the University of Idaho Extension Forestry.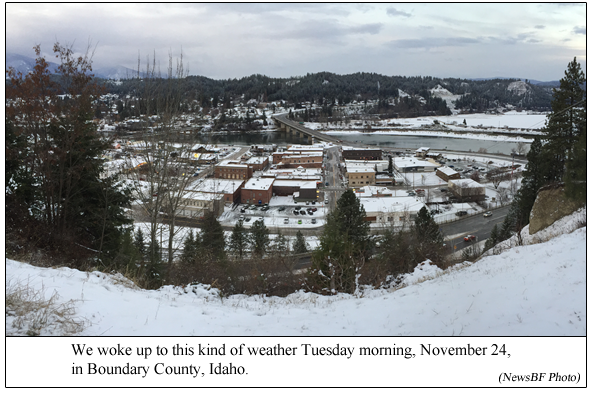 Annual Holiday "Festival of Trees " coming up: The Fry Healthcare Foundation is bringing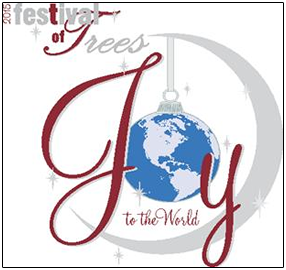 "Joy to the World" with this year's 20th Annual Festival of Trees Event, held at the Boundary County Fairgrounds in Bonners Ferry on Friday, December 11 and Saturday, December 12, 2015.
November 22
Senators encourage providing full funding for rural county program: Idaho Senator Mike Crapo has teamed with Colorado Democrat Michael Bennett to spearhead a coalition of senators who sent a letter to senate leadership recommending full funding for the Payment in Lieu of Taxes (PILT) program in any end-of-year legislation. This program has been an important source of funds for Boundary County and other local government entities around the nation.
November 20
In the aftermath of Tuesday's storm . . . : Power continues to be out for approximately 50 households in Boundary County in the wake of Tuesday's high velocity winds and driving rain storm that swept through the Pacific Northwest, including northern Idaho and Boundary County. Other damage also reported.

Dazzling Night of Nativities and Carols coming in 2 weeks: Last year, at the first-ever Night of Nativities and Carols in Boundary County, over 130 Christmas nativity scenes were on display in a beautifully-decorated Christmas atmosphere. This year, planners are anticipating far more displays, and are inviting all to come and see these unique pieces of Christmas art.
Mayor Anderson honored for work with KVRI: Last Monday's meeting of the Kootenai

Valley Resource Initiative had the usual business and discussions on best uses of resources in Boundary County, but also one other important item on the agenda.
November 18

$4 million proposed upgrades to Riverside Road would improve access to Refuge and other federal lands: Boundary County's Riverside Road would become a bigger, safer, and more widely-accessible road if Congress approves nearly $4 million in funding, under a recent proposal to make major upgrades to that route.
November 17
Update 11:30 p.m., Tuesday, November 17:

Severe storm blows through Boundary County with high winds, heavy rains: An update thrown together from available information on the storm that crashed through the Northwest and Boundary County on Tuesday.
November 16
Bonners Ferry Distinguished Young Women Program seeking volunteers: The Committee of the Bonners Ferry

Distinguished Young Women Program is looking for individuals interested in joining the committee to help with the upcoming year's program. This story tells how you can help a great program to succeed.
November 14
Naples Christmas Holiday Festival is set: A big, busy, fun day of great activities have been set for the Naples Holiday Festival, set for Saturday, December 5. Click on this story to see all the great events, goodies, and excitement that are planned.
Governor announces new Idaho Medal of Achievement: Idaho Governor Butch Otter recently announced the creation of a new award whose intent is

to honor those who have rendered notable service to Idaho and its people. The award is the highest civilian honor conferred by the State of Idaho, recognizing individual Idahoans for their "exceptional, meritorious, and inspirational" service to the people of Idaho.
November 9

Couple of new buildings going up at area businesses: Just a couple of photos of new construction going on at two businesses.
22 employers set for November 10 hiring event in Post Falls: Event begins at 10:00 a.m. with employers who are looking to hire new people.
Program this evening to help high school students continue their education (prizes available): In an effort to encourage high school students in Idaho to continue their education, beyond high school, the University of Idaho and the Extension Offices are sponsoring a special program to provide information and help students to overcome barriers that might prevent them from enrolling in higher education. Special meeting tonight.
Free 2015 Christmas tree permits for fourth graders through "Every Kid in a Park" Initiative: The Idaho Panhandle National Forests is announcing that all fourth graders are eligible for a free Christmas tree permit through the new White House initiative "Every Kid in a Park."
Know someone who has given amazing volunteer service to Idaho? Nominate them for award: The nomination deadline for Idaho's Brightest Star Awards is quickly approaching.
November 5

Kootenai Tribal Chairman Gary Aitken, Jr. at Washington, D.C.

Tribal Nations Conference today: At the Conference, he will attend meetings with Cabinet Secretaries, President Obama, other leaders of Native Country, and other officials. The meeting is going on right now, and details can be found by clicking on this story.
More Photos from the 2015 White House Tribal Nations Conference: Update to this story--Additional photos added showing President Obama at the Conference. Additional photographs from today's White House Tribal Nations Conference. Kootenai Tribal Chair Gary Aitken, Jr., is at the Conference as leader of one of the 567 federally-recognized tribes invited to the meeting. Click on this story to see the additional photographs.
November 3

Election Results for Bonners Ferry and Moyie Springs: Ballots have been counted in today's elections for the City of Bonners Ferry and the City of Moyie Springs, and all results are in. Click on this story to see the results and all details on the voting.
Fire safety burn permits no longer required this year: Effective Monday, November 2, State of Idaho fire managers no longer are requiring fire safety burn permits for burning operations outside city limits until next year.
Tennis Association invitation: "Come join your neighbors for Pickleball !": Search the web for "fastest growing sport" and you'll find that Pickleball is definitely up and coming. The Boundary County Tennis Association invites anyone and everyone to come try the game for free, including a quick lesson on the game itself and use of a loaner paddle.
November 2
Idaho National Guard proposal would close Bonners Ferry Armory—and others—many years from now: Boundary County's Idaho Army National Guard Armory in Bonners Ferry would close in a proposal the Idaho Army National Guard has submitted to the U.S. Congress. But before any immediate alarms or concerns are set off

—

that proposed closure would take place quite a few years from now.
October 28
Skeletal remains found on Kootenai River island in Bonners Ferry identified as Libby man: A newspaper in Missoula, Montana is reporting that an identification has been made on the human skeletal remains found by workers clearing brush October 12 on an island in the Kootenai River in Bonners Ferry.

Children's author Hogg visits Valley View: Noted author presents assemblies and writing workshops for the students.
Pearl Theater to host Annual Fall Festival and Fashion Show for Boundary County Victim Services: It is that time of year again! We start to lose our tan, shake off that summer heat, quit worrying about our yards, drink and eat pumpkin spice… everything… and begin the season of celebrations! And the Fall Festival and Fashion is coming up.
October 27
Preliminary hearing rescheduled for man held for failing to report body found at Roman Nose: Last Friday was the scheduled date for the preliminary hearing in Magistrate Court in Bonners Ferry for Skyler Ingraham, who is being held in Boundary County Jail in connection with the discovery of the body of Brent Barron, found in the Roman Nose Lakes area in late September.
October 26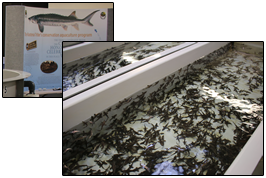 Kootenai Tribe Hatchery open house and public presentation a fun and interesting success: You don't get many chances to see the inside operations of our local world-class sturgeon and burbot hatchery. One chance was last Friday, when The Twin Rivers Sturgeon and Burbot Hatchery, located in Boundary County at the confluence of the Kootenai and the Moyie rivers and operated by the Kootenai Tribe of Idaho, was open to the public, providing public tours for the first time since its dedication a year ago. Check this story for some great photos of the event.
October 21
Pools and islands are finished in river project, other tasks ongoing: Work continues on

the Bonners Ferry Islands project of the Kootenai River Habitat Restoration Program.
October 20
School Board considers use of proceeds from sale of Evergreen: Committee set up to make recommendations, board plans to reserve proceeds for "brick and mortar" purposes.
October 19

Evergreen School sold to Idaho company; their plans for the property: This story includes details of the sale, a short history of the beginning of Evergreen School, and a visit with a representative of the purchasers.
Local Girl Scouts win Bronze Award: They put into action their great idea about recycling at

the Boundary County Fair.
October 16
Human remains found on downtown Kootenai River island: The Boundary County Sheriff's Office announced yesterday that "skeletal human remains" were discovered on a gravel island in the Kootenai River east of Bonners Ferry.
Idaho's September unemployment rate holds steady, Boundary County rate little changed: Latest data from the Idaho Department of Labor.
Speed limit now 80 mph on Montana Interstate Highways: And speeding fines go up, too.
Intern positions available for interested students in Governor's office: Idaho Governor Butch Otter's office is now accepting internship applications for the 2016 legislative session.
October 15
Twin Rivers Hatchery to host public tour; Tribe schedules public meeting to present information on river restoration: A chance to view the operation of the hatchery, and learn more about the Kootenai River Habitat Restoration Program.
Fire managers extend closed fire season, burn permits will be required past usual October 20 date: It is still too dry with unseasonably high fire danger statewide, which has prompted State of Idaho fire managers to extend the period required under law to obtain a fire safety burn permit for certain controlled burn activities.
October 14

Still wondering about the heavy equipment in the Kootenai River? All your questions answered here.: What we are seeing in the river today is just part of an ambitious, long-term program to help restore the Kootenai River. This story has details, great photos, and maps to tell the story.
Post Falls man arrested in relation to body recovered near Roman Nose Lakes: Victim apparently died of a shooting.
Sheriff's Office makes arrest in recent burglaries and thefts: The Boundary County Sheriff's Office has been conducting ongoing investigations into several large burglaries which have occurred over the past couple of months, made an arrest, and recovered stolen property.
October 13
Hospital Auxiliary purchases digital televisions and surgery cart; new raffle underway: Boundary Community Hospital Auxiliary recently purchased five digital televisions and a surgery cart for the hospital's Acute Care and Extended Care Facility.
School in session for local hay producers: The University of Idaho Extension in Boundary County is hosting a day of educational programming for hay producers at the Extension office in Bonners Ferry.
Flu shots available now at Panhandle Health District: Panhandle Health District is encouraging everyone over six months of age to get their influenza (a.k.a. "flu") vaccine. Flu season is coming and now is the best time to protect yourself.
Another low snow winter? Climate Prediction Center says Northwest on track for mild winter: The National Oceanic and Atmospheric Administration (NOAA) Climate Prediction Center released an updated El Nino forecast this week which seems to point toward a warmer, drier winter this year.
Doing business with the government? Workshops provide pointers and advice: Learn basic guidelines for doing business with the government at free workshops in Sandpoint and Post Falls.
October 3
Quilts for donation and display at the Quilt Show: Area quilters put their skills on display at

the Quilt Show on Saturday, where well over one hundred quilts were on display at the busy and well-attended show, sponsored by the Boundary County Fairgrounds.
Flags at half-staff two times this week: Boundary County residents and Americans nationwide are being asked to fly the flag at half-staff two times this week, to commemorate two somber occasions.
Coats for Kids drive commences, seeking winter clothing for area children: Valley View Elementary is now conducting its annual Coats for Kids drive. Anyone may drop off their gently used, clean coats, with working zippers. These items will be made available to children who need warm clothing for the winter months.
Wolverine program coming up at the Refuge: You probably need to know more about wolverines, right? A special educational program on wolverines is planned for this Friday.
Idaho State Police now testing applicants for Troopers; looking for candidates for rural communities: The Idaho State Police will begin testing applicants for Troopers beginning October 2, through November 8. ISP anticipates hiring approximately 20 new Troopers with positions available in all of ISP's six district offices.
September 30
Idaho Department of Labor seeks applicants for Industry Grants: The Idaho Department of Labor is launching a third round of industry sector grants of up to $250,000 each to help employers develop training solutions to fill skill gaps and address employment shortages.
Studded snow tires legal beginning October 1: Snowstorms may not be part of the immediate weather forecast, but October 1 marks the date for legal use of studded snow tires in Idaho.
43 employers set for upcoming Job Fair in Post Falls: If you know someone looking for a job, they might be interested in attending this hiring event, sponsored by the Idaho Department of Labor.
September 29
Know any adults who want to improve their basic education? NIC hosting program on Adult Basic Education and GED®: North Idaho College is hosting a special informational program to answer questions about Adult Basic Education and the GED® program. Anyone who is interested in enhancing their academic background and credentials is invited to attend the program to find out more.
September 27
Sheriff's Office announces recovery of body: Last Friday, September 25, the Boundary County Sheriff's Office announced that a body had been recovered from a remote region of Boundary County.
Local firefighters to sponsor and participate in National Fallen Firefighters Foundation observance: Here in Bonners Ferry, a parade of fire apparatus will lead to City Fire's Main Station downtown at 2:00 p.m. on that Sunday afternoon to ring the fire house bells, reflect, read the list of those that lost their lives in the fire service last year, and encourage the living.
September 23
Burn permits not being issued: Burn permits are not being issued in Boundary County at this time, according to information from the Idaho Department of Lands, with the exception of specific agricultural burns.
September 16
Highway 95 resurfacing project near Sagle cancelled for 2015: After being scheduled, then rescheduled, postponed, and then finally started, the on-again, off-again chip seal resurfacing project on six miles of U.S. Highway 95 near Sagle has now been cancelled for this year. "We're not going to be doing that seal coat this year," said an Idaho Transportation Department spokesman.
September 8
Candidates filed for Bonners Ferry mayor, city council elections: Two candidates for mayor, four file for city council.
Parent Advisory Council works hard for school district students and staff: Everyone in the community knows about the School Board and district trustees, the Superintendent and the Parent / Teacher Organizations (PTOs) that are a part of individual schools; but what about the Parent Advisory Council (the PAC)?
September 4
22 employers set for upcoming hiring event in Post Falls: Department of Labor sponsors event to help employers and those looking for work.
September 3
Kootenai Tribe enters agreement with U.S. Fish and Wildlife in developing caribou recovery plan: There was a time when a robust herd of caribou roamed through the higher elevations of Boundary County's west side mountains. The Kootenai Tribe is contributing to efforts to conserve and eventually rebuild that herd.
September 3 Parker Ridge Fire update: complete perimeter fireline will not be possible, but good progress continues: Management of fire being turned back over to local district.
September 1
September 1 Parker Ridge Fire update: Situation improving, overall fire danger continues: With recent rain and cooler weather, the situation at Boundary County's Parker Ridge Fire have improved, but still work to be done. Many areas of the Panhandle Forest remain closed.

New Superintendent Pflueger outlines vision, goals in speech to district employees: Gary Pflueger, the new Superintendent for Boundary County School District 101, met with all staff of the District yesterday, and there presented an address outlining his vision and goals for the school year, along with some of his philosophy as Superintendent.
August 27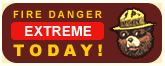 August 27 Parker Ridge Fire update: In-depth report on various aspects of the fire, including current fire status, the status of evacuation alerts, our air quality situation. BFHS soccer game for today canceled, and soccer and football tomorrow also at risk of cancellation.
BFHS Soccer game canceled today; tomorrow's soccer and football games' status being evaluated: Poor air quality deemed unsafe, see details in this story.
See our photos from the Boundary County Fair, 2015: A few photos taken over the week at the Fair.
School District hosts free parenting seminar: Boundary County School District #101 will be hosting a free seminar focused on a philosophy and approach to parenting known as Love and Logic. Free dinner, and an expert speaker.
Forest Service reminds drone operators: Steer clear of active fire areas: In fighting western wildfires this season, officials have noted a serious, emerging problem – that of interference from Unmanned Aircraft Systems, often referred to as "drones."
August 25
Moyie Shrine announces raffle winners: The Moyie Shrine Club announces the winners of its raffle for the Shrine Hospital for Children.
August 20
New Boundary County Explorer Cadets graduate from Inaugural Border Patrol

Explorer Program: Local Border Patrol office helps mentor area young adults in law enforcement. Cadets earn money and travel to Montana academy training program.
August 19

August 19 Update Parker Ridge: Crews ignite controlled field burns: No new advances

in the fire: If you don't really have a good picture of what the Parker Ridge Fire looks like or where it has burned, you really should look at the photographs and the map that go with this story. For example, the pictures illustrate the burn area across the northern Kootenai Valley. Click on this story to see the details and to examine these remarkable photos. All the photos were taken today, Wednesday, August 19.

What is that equipment doing in the river? In-river excavation has begun on Kootenai Tribe sturgeon project : In-river construction of the Bonners Ferry Islands project has begun. This is a Kootenai Tribe of Idaho project intended to help endangered Kootenai River white sturgeon, burbot, and other native fish. Click on this story for more details.
The on again / off again chip seal resurfacing of Highway 95 is now--ON again (begins tomorrow): Work begins tomorrow (August 20) with flaggers, lowered speed limits, and pilot cars. Good Luck!
Cutting firewood suspended on all Idaho endowment lands that are currently under Stage 2 fire restrictions: No new firewood permits to be issued at this time, those already issued are suspended until further notice.
New Certified Nursing Assistant class begins next month at the hospital: Community Hospital offers course that can lead to employment.
Idaho Land Board approves $63 million to endowment trust lands beneficiaries; most goes to schools: Idaho's public school system and a number of other State institutions will receive increased payouts from Idaho endowment funds in fiscal year 2017. The State Board of Land Commissioners unanimously approved an 11.8 percent increase in total Fiscal Year 2017 distributions compared to Fiscal Year 2016.
Multi-state fire coordination group region experiencing increased wildfires this season: Had been an average year until recent thunderstorms with lots of lightning.
New DMV online app allows instant check of vehicle-title status: Buying a car from someone? Check if their title to the car is valid with new DMV application.
August 18
18 August Parker Ridge Fire update: crews continue working, winds anticipated for Thursday: Latest update on the fire.
August 17
All remains steady on Parker Ridge Fire: Officials have re-calculated their estimate of the size of the fire. Efforts battling the fire continue.
Bonners Ferry Summer Youth Theatre to perform at Boundary County Fair: Group will perform selections from the famous Broadway musical Annie at the Fairgrounds gazebo during the Fair. Four photos of the cast rehearsing for their performance.
August 15
August 15, 3:30 p.m.: Parker Ridge Fire has tripled in size since yesterday: Now at

well over 6,000 acres. A few photos available with this short story with a few additional facts from the Idaho Panhandle National Forest.
Parker Ridge Fire sweeps past West Side Road and across the Kootenai Valley, forcing evacuations; one single structure confirmed burned: This story provides the latest information we have available, more official information is expected soon.
August 14
UPDATE:

August 14, 9:00 p.m.--Parker Ridge Fire crosses West Side Road, area evacuation ordered: Click on this story to read the official evacuation notice and recommendations for residents.

August 14, 3:15 p.m.---Parker Ridge Fire nearly 2,000 acres, crews working to protect nearby private properties: The fire continues to expand, having made a run overnight in both north and south directions. Crews are working to contain it to the west side of the West Side Road, and setting up defensive measures to protect homes, timber, structures, and property along the West Side Road.
Renewed efforts to bring new higher-speed internet service for Boundary County: Are you thinking your internet is too slow? Boundary Economic Development Council is looking to upgrade and improve internet service in some areas of the county.
August 14 Parker Ridge Fire: well over 1,000 acres, crews working in advance to protect property and structures. The Parker Ridge Fire in northwestern Boundary County, currently the largest fire burning in the Idaho Panhandle National Forest, has continued to spread in a northwesterly direction, toward private property and structures in that direction.
Brothers both graduate from military training today: Two Boundary County brothers graduate from training today in two different branches of military service.
August 11
August 11: Parker Ridge Fire moves some toward the northeast in direction of private

lands and structures: Spot fires spread to the northeast last night, due to gusty winds up to nearly 40 miles per hour. This is the direction from the fire where private property lies. These spot fires are beginning to merge together on the northeast flank of the fire. Fire crews plan to aggressively attack this area today.
Renovation of Paradise Valley Little White Church comes to a halt: someone stole building materials: This has been a big summer for the Little White Church in Paradise Valley. The long-time area landmark, over 100 years old, has been enjoying an intense renovation project, with all work, time, and materials procured through donations from people and businesses throughout Paradise Valley and Boundary County. Now the project comes to a halt as someone has apparently stolen needed building materials for the project. Click on this story for more details.
Update on Highway 95 Construction Project in Sagle Area: NewsBF contacted the Idaho Transportation Department on the afternoon of August 10. They tell us the company contracted to do the resurfacing of Highway 95 near Sagle, which was supposed to have begun today, has delayed the start of the project (delayed now for the second time).

The chip seal project has not started, and ITD has not heard from the contractor as to when it will start, and apparently ITD has been unable to reach the contractor to discuss the delay.
The ITD rep we spoke with says currently they have no further information, do not know of a start date for the project; but they did say that come August 28 they can seek damages from the contractor if the $27.5 million project is not in progress or completed.

We will get the word out if we hear any more on this. Until then, happy driving everyone--no construction going on yet!
August 10

August 10: Parker Ridge Fire again doubles in size; details on the fire and

firefighting efforts: Boundary County's Parker Ridge Fire continues to grow. Reported at 263 acres just three days ago, the fire has now more than doubled in acreage to 591 acres. Click on this story for details on the fire, including photos and maps of the fire area and location.
Kootenai Valley Resource Initiative working hard for Boundary County: Ever heard of KVRI? They've got a lot going on to help keep Boundary County being a great place. Click on this story to learn more about exactly what KVRI is and what they do.


August 8

Community Meeting provides information about Parker Ridge Fire: The Parker Ridge Fire continues to burn at the top of Parker Ridge, ignited by a lightning strike on July 29. Now at 263 acres, the fire has more than doubled in size over the past few days, still with 0% containment. This article provides details about Thursday's meeting fire officials held to inform and update Boundary County residents on the status of the fire.
Job / Hiring Event in Post Falls August 12 with 25 employers: Twenty-five employers will be looking to hire new employees in the August 12 hiring event sponsored by the Idaho Department of Labor at its Kootenai County office.
August 7
Boulder Creek Academy students publish book on Boundary County: Students of a local boarding school, Boulder Creek Academy, are publishing a photo journal that includes interviews of local residents in Bonners Ferry.
August 6
School District announces important information and dates for upcoming school year: Click on this story for information from Boundary County School District 101 regarding important dates throughout the school year, school district personnel, bus routes, student handbooks, insurance, student meals, those eligible for kindergarten enrollment, how to get emergency information from the school, and more.
August 5
August 5: Parker Ridge Fire grows, with more spread possible; community meeting set for Thursday: The fire area has grown by close to 25%.

Community meeting set for tomorrow, Thursday, August 6, providing fire information, questions answered by Fire and Lands officials.

Click on this story for details.
August 4
August 4 Parker Ridge fire update: Most recent fire information.
August 2
August 2 update, Parker Ridge Fire: This fire has added about 10 more acres. However, fire officials say most of the dramatic increase in smoke in our area is not from this fire, but is instead from smoke drifting in from other regional fires.
Kootenai Tribe announces start of Kootenai River habitat restoration project; begins this month: In August 2015, the Kootenai Tribe of Idaho will begin construction of the Bonners Ferry Islands project, a Kootenai River habitat restoration project to help endangered Kootenai River white sturgeon, burbot and other native fish.
August 1

Fires update: Latest information on new Parker Ridge Fire and Baker's Camp Fire: As of August 1, 3:30 p.m., the latest available updates on the largest two fires currently burning in Boundary County. Our story includes maps and location coordinates.
July 30
Badger athletes begin their preparation with free sports physicals at Boundary Community Hospital: Boundary Community Hospital hosted another successful Free Sports Physical Clinic on Tuesday, as 69 students completed their sports physicals for the school year.
July 29
Boundary County students honored on Dean's Lists of schools from around Idaho and beyond: Congratulations to all the Boundary County students whose hard work and dedication have led to their being listed on the Dean's List at colleges and universities around the area, for the most recently completed academic term.

Sandy Schnepf to step down as Fair Board Administrator: After serving eight years as Boundary County's Fair Board administrator, Sandy Schnepf has decided that this upcoming fair will be her last in that position. Over the years, Sandy has gotten to know many, many community members and has worked with them to provide our county with a fun annual event that everyone looks forward to.
Boundary County scenery featured in calendar offered by the Fair Board: To see

photographs of some of Boundary County's most beautiful scenery, consider picking up your copy of the Fair Board's 2016 calendar, now for sale at the Fair Office; soon to be for sale at the upcoming Boundary County Fair.

New docks for the Rock Point Boat Launch: Boundary County's Rock Point boat launch (located on the dike road along the river beyond the Fairgrounds) provides this community with a place for all sorts of outdoor activities, including boating and fishing. The problem? The docks at this launch are twenty years old and there are concerns about safety issues.
July 27

New principal hired for Mount Hall and Naples Elementary Schools: Learn more about the new principal and some of her goals by clicking on this story.
Huckleberry picking reminders from your Idaho Panhandle National Forest: The

huckleberry picking season is already upon us in north Idaho, and due to the dry season recreational pickers are finding fewer berries than in recent years. This shortage has resulted in many questions about huckleberry picking, and concerns for some of the rough methods and illegal picking operations recently observed on the national forest.
July 22
Idaho Transportation Department sets public meeting to discuss U.S. Highway 95 on Bonners Ferry's South Hill: ITD staff will be on hand to present information and displays, answer questions, and present the latest proposal for the South Hill section of U.S. 95. Click on this story for more information.
July 21
Search teams locate missing kayaker on Kootenai River: Montana and Idaho search crews were at work looking for Whitefish, Montana man. Click on this headline for more details.
Flags flying at half-staff: President Barack Obama today issued a proclamation ordering that flags be flown at half-staff beginning today until sunset on Saturday, July 25.
July 20
Museum offers digital BFHS yearbooks dating back over 100 years: Want to see your old high school yearbook again? Want to see everyone's BFHS high school yearbook? Take a look at this offer from the Boundary County Museum.
Museum receives antique and collectible items; some will go on exhibit, some to be sold: items available for inspection and sale beginning July 20.
Area fires coming under control; latest report on Baker's Camp Fire: Latest reports on area fires. All are coming under increasing control.
July 15
Beautiful antique aircraft visit Boundary County Airport: Boundary County residents were

treated to a beautiful display of antique aircraft on Monday, July 13, and again the following day on Tuesday, as members of the Puget Sound Antique Aircraft Club brought their 2015 Pacific Northwest Air Tour to our local airport. Don't miss some of the great photographs of the antique airplanes in this article.
SPOT Bus is doing well in Boundary County: Since mid-April, the SPOT bus has been providing public transportation for citizens of Bonners Ferry. Ridership is growing, and the operator is even looking to purchase a second bus.
Free sports physicals coming up: Boundary Community Hospital's Medical Staff and hospital employees are volunteering their time so youth in Boundary County participating in sports receive a free physical.
Neighboring South Hill businesses work together on shoe drive: With the start of a new school year quickly approaching, ET Wireless and Bonners Ferry's local food bank (Community Action Partnership) are working hard to make sure that every child has a new pair of shoes to wear on the first day.

Long time business Bear Auto now under new ownership: Located just at the top of the North Hill, Bear Auto has been in operation locally for the last thirty years. However, as of January 1, 2015, the business is under new ownership.
July 14
July 14, 8:40 p.m. Fires update: Baker's Camp Fire still with hot spots in steep area; Forest Service manages 4 smaller fires in Boundary County: Four smaller fires managed by local ranger district. New crews arriving to relieve current firefighters.
July 13
July 13, 11:20 a.m. Update on four area fires, including Baker's Camp Fire: Latest details from fire officials. Unusual incident at Blacktail Fire--crews there had to put out an unexpected fire at their own base camp.
July 11

Boundary County's Baker's Camp Fire update: Fire grows in size; photos and videos available: The Baker's Camp Fire, located on the west side of northern Boundary County near the end of the Smith Creek Road, continues to burn, and has grown in size. Additional firefighters on the way. This article also has photographs and videos of Boundary County's Baker's Camp Fire, provided by the Idaho Panhandle National Forest.
Updates on other area fires: Cape Horn, Granite, Blacktail: Check here to get the newest information on three other fires burning in the Idaho Panhandle.
See our Photos of Kootenai River Days 2015 Events:
®
Pow Wow Photos
®
Bonners Ferry SWISH Basketball Photos
Fires restrictions notched up a level: North Idaho going up to Stage II restrictions: Drought conditions coupled with very high and trending to extreme fire danger levels continue to persist in northern and central Idaho. These unprecedented conditions have prompted fire restrictions to be raised to Stage II in these areas, which includes Boundary County.
July 7

Boundary County knows how to celebrate a Fourth of July! No one can say

Boundary County, Idaho doesn't know how to put on an Independence Day celebration. We had it all!

Read this story to get all the details on all of the action. Also, take a look at our video (about 2 1/2 minutes) featuring highlights of the Eastport and Bonners Ferry Parades. You'll see the link to the video in this story.

Our July 4th celebration: the effort behind the scenes: After a parade, live performances by local musicians, various family events, a lively speech by Congresswoman Heather Scott, and an outstanding fireworks show, it is very safe to say that Boundary County's annual Fourth of July extravaganza was a smashing success. This article takes a look at what it takes to bring all of this together.
Land management agencies to implement additional Stage 1 fire restrictions in Central and Northern Idaho: With the threat of wildfire danger increasing rapidly throughout many parts of northern and central Idaho, local land management agencies will implement additional Stage 1 Fire Restrictions inclusive of all land in the Coeur d'Alene and Grangeville Dispatch areas and Zone 4 of the Payette Dispatch area beginning at 11:59 p.m. on July 7, 2015.
July 7, 11:40 a.m. Updates on Cape Horn and Baker's Camp fires: FEMA funds made available for Cape Horn Fire; public meeting tonight in Bayview. Progress being made on Baker's Camp Fire.
July 6
July 6, 5:00 p.m.
Latest update on Cape Horn Fire at Bayview; maps of Cape Horn Fire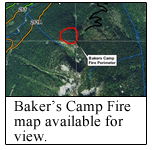 and of Baker's Camp Fire: View maps of both fires, links available by clicking on this story.
July 6, 12:40 p.m. Fires update: Cape Horn (Bayview) expands, assistance requested from Boundary County; local Baker's Camp fire coming under control: Click on this story for the latest updates on these and other area fires.
July 6, 12:27 a.m. Large forest fire in Bayview area, evacuations ordered, some structures destroyed: Bayview area fire now at 600 acres. Information and additional updated reports on this and other area fires, including Boundary County's Baker's Camp Fire.
July 5

Update on Boundary County's Bakers Camp forest fire and other Idaho Panhandle fires: The Baker's Camp Fire, currently the largest fire in the northern Idaho panhandle, continues to burn as of yesterday afternoon, according to information provided by the Idaho Panhandle National Forest.
July 4
For the complete schedule of Boundary County Fourth of July parades, fireworks, and other activities,
click here!
Two forest fires burning in Idaho panhandle; larger blaze located in Boundary County: Forest fires are burning right now in at least two areas of the Idaho Panhandle, one of the larger fires being located in Boundary County, according to information from the U.S. Forest Service and the Idaho Panhandle National Forest.
No more mountain biking on Long Canyon trail: Mountain biking on Boundary County's west side Long Canyon Trail (Forest Service Trail #16), long a magnet for mountain bikers in our area and known as one of Idaho's more popular mountain biking trails, is now prohibited with recent changes announced in the management of the west side's Long Canyon area.
July 1

New principal hired for Valley View Elementary: This upcoming school year will be full of change for many of the schools within Boundary County School District. One big change will be happening at Valley View Elementary School, as students and staff welcome their new principal.
Girls State inspires student leaders: Three young women from Boundary County recently helpe

d organize and operate the government of Idaho Girls State. How do they work long, late hours, study how government works, debate legislation, run for office, and still have fun?
"Stage 1" Fire Restrictions now in force in North Idaho: No burn permits issued, campfires restricted, and more. With the threat of wildfire danger increasing rapidly throughout many parts of northern and central Idaho, local land management agencies have implemented Stage 1 Fire Restrictions. Click on this story to get the details on the restrictions.
North Idaho streamflows continue to be low: An unusual combination of conditions last winter, along with our current string of high temperatures, and other factors, are leading to markedly low stream flows in Boundary County this spring and summer. Records have been set for low streamflows this year.
Local school district and Idaho Department of Education provide Summer Food Service Program: Provides meals through the summer for children.
June 26
Correction on articles about renovating the Paradise Valley Church: one photograph was in error: A couple of readers pointed out an error in a photograph with articles on the Paradise Valley Church. Turns out, they were right.
June 24
Man sought for shoplifting Radio Shack computer in Bonners Ferry dies during alleged shoplifting incident in Coeur d'Alene: The man who had a warrant for arrest issued two months ago in Bonners Ferry for allegedly stealing a computer from Radio Shack has died while being restrained following another alleged shoplifting incident in Coeur d'Alene.
New Appointee fills open seat on Bonners Ferry City Council: (New photo just added to this story). Meet Bonners Ferry's newest City Councilman. He's an estimator for Accurate Collision Services, a volunteer for the City of Bonners Ferry Fire Department, and now has some new responsibilities.
Final plans and schedule for Boundary County Fourth of July events: Funding is in place, the fun and entertainment is set, and fireworks plans are made. Click on this story to see the full story and the complete schedule of events for the big day.
Fry Healthcare Foundation's 7th Annual Golf Tournament is in the books; golf winners

and prize winners announced: Fifty-four players, one moose calf, and several families of geese worked their way around 18-holes of golf at Mirror Lake Golf Course

—

all to help raise money for the hospital.

Summer is here and Idaho is ready for fire season; More active fire season expected in North Idaho: It's official: summer is here and weather and fuel conditions indicate 2015 will be an active fire season. Plans, equipment, and personnel are in place and ready to go.
June 18
School board discusses: controversial novel, recommendations for auditorium, changes to Coaching Handbook: High School English teacher Theresa Nix may proceed in her literature class with her proposed use of a novel that has been considered controversial in some quarters

—with some conditions. The Board also considered recommendations made about the high school auditorium, changes to the district's Coaching Manual on disciplinary issues, and other items. Click on this headline to read more.
Recent BF City Council issues: Administrator Boorman resigns, new City councilman appointed, new rules for dog owners: Details on recent issues and action at the Bonners Ferry City Council available in this story. Click on the headline above for more information.
June 14

Paradise Valley Church renovation project progressing Work is moving along better than expected on the restoration of the Paradise Valley Church, but there is one item they are looking for.
June 12
Results of 4th Grade Idaho History coloring contest; winners earn commemorative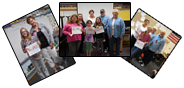 silver coins: The Boundary County Commissioners and the Boundary County Historical Society partnered with the Boundary County School District 101 Fourth Grade classes in a coloring contest. Students in the fourth grade study Idaho history, and were pleased to be a part of Boundary County's centennial year.
Second half property taxes due by June 22, 2015: Boundary County Treasurer, Sue Larson would like to remind all Boundary County taxpayers that the deadline for paying the second half of 2014 property taxes without penalty is Monday, June 22, due to June 20 falling on a weekend this year. Click on this article for more details.
The story on Boundary County Victim Services (and their soon-to-come Yard Sale and Bake Sale): If you have a mind to pick up some great bargains, or if instead you are looking for some great tasty treats, you will want to be at the Yard Sale and Bake Sale coming up next Friday, June 19, sponsored by Boundary County Victim Services. What exactly is Boundary County Victim Services? Click on this article to learn more.
Nation's news cycle trains its eye—for the moment—on Troy, Montana: Troy, Montana found itself projected across national newspapers, websites, and televisions around the country this week, as a story about a leader in the region's black community, who formerly lived in Troy, spread around the country.
Environmental Assessment allows ongoing White Sturgeon habitat restoration work to move forward: The Bonneville Power Administration has given the green light for ongoing white sturgeon habitat restoration work to continue this September in the Kootenai River near Bonners Ferry, Idaho.
Recent rains haven't done enough, predicted runoff flows still low: Despite recent rains in the Columbia Basin (of which the Kootenai and Moyie Rivers are tributaries), it hasn't been enough to alter forecasts for low river flows between now and September.
June 9
Final planning for Boundary County's Fourth of July fireworks:

Read this story to discover more about our soon to come Independence Day fireworks program.
• One of the area's biggest and best fireworks programs
• Extra touches this year to celebrate the Boundary County Centennial
• Fund raising still going on
• Raffle in progress for a pistol
• Be there for a great show on the Fourth of July!
ITD rolls out new website information featuring public transit information statewide: A new innovative website from the Idaho Transportation Department's Public Transportation Group provides information for public transit throughout Idaho.
June 3
Graduation, BFHS Class of 2015: 101 BFHS seniors graduated, as rainy weather intervened to move the graduation ceremony for the Bonners Ferry High School Class of 2015 from its scheduled outdoor location to the indoor location of the Middle School gymnasium.
June 2
(Note: this story now has a new photo of Mr. Pflueger available)


Meet Gary Pflueger, new Superintendent of Boundary County School District 101: Last week, the board of Boundary County School district 101 selected Valley View principal Gary Pflueger to serve as the new superintendent for the School District. In this story, learn more about Mr. Pflueger's outlook on his new responsibilities.
May 31

Antique aircraft air tour coming to Bonners Ferry: The Pacific Northwest Air Tour is coming to Bonners Ferry on Monday, July 13. Around thirty antique and classic airplanes will be arriving for display at the Bonners Ferry Airport.
Your invitation to the Fry Healthcare Foundation Golf Tournament: Bring your clubs and

join the 7th Annual Fry Healthcare Foundation's Golf Tournament on Friday, June 12, 2015 at Mirror Lake Golf Course. What golfer wouldn't want to play eighteen holes of golf with the towering Selkirk Mountains in the background?
. . . and, as part of the fun at the Golf Tournament----The Great Golf Ball Drop: Five dollars secures an entry into the Great Golf Ball Drop game for a chance to win a 55 inch SMART TV!
May 27

Boundary County Memorial Day, 2015: tories and photos (and a video): The day started off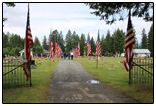 cloudy and a little rainy, but by the time the Boundary County Memorial Day Parade 2015 rolled down Main Street in Bonners Ferry, the weather was holding for a great parade. The parade was followed by a special Memorial Day Remembrance Ceremony held at Grandview Cemetery.
Candidates for School Superintendent meet the public: Two new candidates are being considered for the superintendent of Boundary County School District 101, and both spent their day last Friday in interviews and meetings with District administration and personnel. The day ended in the evening with both candidates being introduced to the public, where they presented information about themselves and took questions from the audience.
May 23
Seasonal flow augmentation for Kootenai River white sturgeon gets underway at Libby Dam: Flow augmentation for Kootenai River white sturgeon got underway last Friday.
Boundary Community Hospital Health Fair a tremendous success: Over 700 people attended this year's popular Health Fair hosted on Saturday, May 9, by Boundary Community Hospital. Activities included a fun run, kids bike rodeo, vendors and displays, free lab testing, tours of hospital and emergency equipment, and more.
ITD, law enforcement partners rally against 100 Deadliest Days: Last year, 40 percent of Idaho's fatal motor-vehicle crashes occurred during the 100 days between Memorial Day and Labor Day, according to Idaho Transportation Department (ITD) statistics. The time period between the two holidays, referred to as the "100 Deadliest Days," is when road conditions are at their best, but more lives are lost on Idaho roads than other times of the year due to vehicle crashes.
May 19
Results are now in for the Boundary County School District Zone 3 Trustee and Boundary County Library District Trustee Elections, held on May 19. Click on this headline for the election results.
Data emerging on current water outlook: Just a year ago, around this time, NewsBF was putting up stories looking at the possibility of flooding at Boundary County rivers. Readers were posting photos of their pastures with standing water in the fields. This year, just a quick glance at the Moyie River will tell you things are not the same this time around.
Click It or Ticket: Enforcing the law to save lives; Bonners Ferry PD joins in effort: Extra enforcement emphasized around Memorial Day. Chief Vic Watson writes: "If there is one thing I could urge all motorists—drivers, passengers, front seat, back seat, all ages—to do every time you get in a vehicle, it's buckle up. It is the single most effective way to avoid being killed in a crash."
May 13
Photographers, take a look at this, Quick!
Boundary County photographers
—
the Fair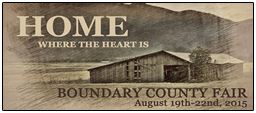 Board is looking for your help: The Boundary County Fair Board is sponsoring a contest to select a great photograph for the cover of this year's Fair Book. The winner of the contest not only has their photograph displayed as the cover photo for the Fair Book, but also collects a prize of $100. If you're interested, click on this headline to read this story immediately

—

the deadline is coming up quickly!
Boundary County Museum opens their summer season with special presentation: The

Boundary County Museum kicked off their summer season (and their summer hours) with a big event last Saturday, May 9. Special presentations were made throughout the day. Several great activities that were packed with both information and fun took place throughout the day.
May 12
Enjoy an evening with your family and friends at the downtown Bonners Ferry Artwalk: Picture yourself on a leisurely evening in May, strolling lazily around downtown Bonners Ferry, stopping by a business here, or perhaps a restaurant there, enjoying original creations of art prepared for this special day, and on display in each business.
May 8

Museum kicks off summer season with full day of great activities: Saturday, May 9 is the day for a full day of great Boundary County activities at the Museum. The Boundary County Museum kicks off their summer season with a slate of fun, entertainment, and education that will last through the day. Check this story for the full schedule of events for the day.
May 7
Badger Softball: On to State! Things weren't looking that great for the Badgers in the District Championship game. That changed quickly when a Badger grand slam home run put them in the lead. Click on this story for more details of the game.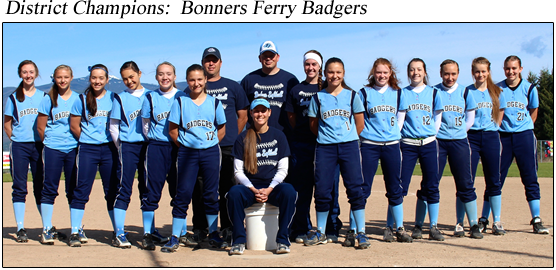 Law Enforcement Memorial Ceremony next week: The Boundary County Chaplain Corps is honored to announce it is holding a Law Enforcement Officer Memorial Ceremony to celebrate and honor the lives the those Idaho Law Enforcement Officers who have been killed in the line of duty.
Road work will affect all traffic at Eastport port of entry: U.S. Customs and Border Protection (CBP) Office of Field Operations advises that a road resurfacing project at the port of entry in Eastport, Idaho, will impact traffic entering the United States at Eastport through the summer and into the fall, until October 1, 2015.
May 5
ITD Crews cleaning, clearing U.S. 95 in Bonners Ferry through May 14: Idaho Transportation Department maintenance crews are brooming and flushing U.S. 95 of left-over winter debris throughout Bonners Ferry.
May 2
Bonners Ferry Badgers are champions in remarkable baseball season: If you haven't seen them yet this season, you get one more chance--Bonners Ferry is hosting the District Tournament this Monday. Consider rewarding yourself with a leisurely afternoon watching this exciting Badger team play.
April 29
BFPD Chief Boone retires, new Chief Watson appointed: When Robert Boone came to Bonners Ferry he came to retire after a 30-plus year career in law enforcement in San Bernardino County, California. He didn't come to launch a new career. Meanwhile, new Bonners Ferry Police Chief Vic Watson had long yearned to be
able to live in and enjoy the beauty of North Idaho. Read the story here about Bonners Ferry's retiring chief of police, and the city's newly appointed chief of police.
Coming up May 8-9-10: The 2015 Moyie Mud Bog: The countdown is down to only 9

more days: Organizers are putting the finishing touches on this year's 2015 edition of the Mud Bog at Moyie Springs, and are expecting lots of attendance, and lots of mud.
Bonners Ferry city councilman Mayo submits resignation: After six years on the Bonners Ferry City Council, and three years after retiring from the Boundary County Assessor's Office, city councilman Tom Mayo has tendered his resignation.
April 28

Boundary County Centennial coins have arrived!: The Bonners Ferry Chamber of Commerce had an idea for a special way to help commemorate the 100th birthday of Boundary County, Idaho this past January—the minting of a special silver coin. The finished coins have now arrived and can be picked up. A few coins remain available for sale.
Little white church at Paradise Valley to be renovated: A group is organizing to renovate

the little white church at Paradise Valley. The church has been a landmark building in Paradise Valley for over 100 years. "The church was built in 1903 and is in need of quite a bit of TLC," said Larry Hall, one of organizers of the project.
April 27

Earthquakes and Boundary County: Have we had earthquakes here before? Are we at risk? A series of low-magnitude earthquakes that occurred in the Sandpoint area last Thursday and Friday were felt throughout North Idaho and into areas of eastern Washington and western Montana. Many residents of Boundary County felt the shaking of these Sandpoint-area earthquakes. Once the shaking had subsided, questions regarding earthquakes in our area and region began to surface.
April 24
Thinking about burning that slash pile or that field? Burn permits required after May 9: Closed fire season in Idaho begins May 10 and extends through October 20 each year.
Free Breakfast helps raise funds for scholarships: Our 13th annual Free CommUNITY Breakfast and Silent Auction will help many students earn scholarships for college and vocational school.
Reconstruction on I-90 from Mullan to Montana has begun: Reconstruction has begun on Interstate 90 from Mullan to the Idaho/Montana State line, which is about a 4.5-mile-long stretch of freeway and includes Lookout Pass. If you plan to use I-90 eastbound, you'll want to know in advance about this road construction project.
April 23
Earthquake in Idaho Panhandle felt by many in Boundary County: An earthquake with epicenter near Sandpoint was felt by many in Boundary County. The USGS is saying the 4.1 magnitude quake was 3.1 miles below the surface. Click on this story for more details.
Updated at 3:00 a.m. on Friday, April 24: Now total of 3 earthquakes, each a few hours apart, reported since 7:30 p.m. on Thursday.
April 21

Distinguished Young Women 2015: In a swashbuckling adventure, BFHS Junior Shaleyna Higgins was selected last Saturday to serve as Bonners Ferry's 2015 Distinguished Young Woman. Click on this story to read full coverage of the fun Distinguished Young Women event, including 25 great photographs of the contestants, dance routines, talent presentations, and more.
April 14
Idaho legislators close session with funding bill for roads: Bill passes that meets about one-third of funding estimated to maintain roads. "The fact is we are driving on the infrastructure that was designed and built for our grandparents."
Driver crashes into house: On Saturday night, at about 9:10 p.m., the Sheriff's Office

received a report of a vehicle striking a residence.

Sandpoint man named as wanted for theft from Boundary Computer: A warrant for the arrest of a suspect has been issued by Judge Justin Julian.

Fourth of July celebration in planning stages: In order to have another of Boundary County's fantastic Fourth of July celebrations as in years past, planning and funding needs to start now. Gary Leonard, who has spearheaded the organizing and funding of our area's Fourth of July celebrations in recent years, has again volunteered to help coordinate this year's July Fourth event.
Rotary Club celebrates local law enforcement: It was a packed house at the Bonners Ferry Rotary Club's First Annual Law Enforcement Appreciation Dinner.
April 10
School Board meeting Monday to address variety of current schools' topics: Including policies on conflict of interest, food service and nutrition standards, increasing staffing, alternate routes to graduation, and much more. Click on this story for full details.
Spokane news anchor to emcee Bonners Ferry Distinguished Young Women Program: Co-anchor of Good Morning Northwest on KXLY out of Spokane will be returning to Bonners Ferry to emcee this year's Distinguished Young Women Scholarship program.
April 7
Boundary County's BFHS Robotics team wins Regional Title: FIRST Robotics Team 2130 Alpha+, along with their alliance partners, Bulldogs from Calgary, Alberta and K-Bots from Standoff, Alberta, were the Regional Winners of the FIRST Robotics Western Canada Regional in Calgary, Alberta.
Shuffling of some downtown businesses coming soon: There will be a little shuffling going on this month on Main Street in downtown Bonners Ferry.
51 employers participating in hiring event in Post Falls next week: Fifty-one employers will be participating in the April 15 hiring event sponsored by the Idaho Department of Labor.
April 6

Got a teen interested in aviation? ACE Academy offers teenagers chance to learn about aviation careers: Navigating small airplanes, controlling air traffic and exploring Blackhawk helicopters are all part of the Aviation Career Exploration Academy, offered by the Idaho Transportation Department. The three day academy also includes discussions with representatives from aeronautical schools, tours of the Boise airport and local aviation businesses, and tours with the Idaho Army and Air National Guard. Also

—

flights to nearby airports. See this story for more details.

Health Fair coming: informational booths, Fun Run, Kids' Bike Rodeo, helicopter/firetruck/ambulance displays, and more: This year's Boundary Community Hospital offers information, free lab testing, and fun.
April 5
Downtown Radio Shack reports stolen computer, asks public help with security photos:

Boundary Computer Radio Shack, on Main Street in downtown Bonners Ferry, is asking for assistance from the public to help resolve what appears to be a theft of one of their computers. They want to know if you can identify the man shown in their security camera photos. Click on this article to see eight security photos.

Photos for Distinguished Young Women featured in our most recent profile now available: Click here to see the Biographies and photographs of the latest three Distinguished Young Women participants.
April 3
Distinguished Young Women tickets on sale soon; Style Show coming up: Being stylish is just one of the many attributes the 2015 -2016 Distinguished Young Women of Bonners Ferry participants possess, and they will share this gift at the upcoming Style Show.
Introducing three more participants in this year's Distinguished Young Women: This week our coverage of Distinguished Young Women continues as we publish brief biographies of three more program participants, using information provided by our local Distinguished Young Women officials. Click this story for this week's biographies.
March 29
Secure Rural Schools program approved by U.S. House of Representatives, aimed at providing funds for rural counties: In Washington, D.C., the U. S. House of Representatives has passed legislation which authorizes funding for Secure Rural Schools. The legislation still has several steps to become final, but could provide funds for Boundary County.
Boundary County students participate and place in regional spelling bee: Several students from Boundary County placed in the 12th annual North Idaho Regional Spelling Bee, held March 21 at North Idaho College.
87 pies donated and sold at hospital Pie Sale: Over $1450 was raised at the Hospital Auxiliary Pie Sale in February as, once again, the community supported and enjoyed this traditional annual event.
Residence fire last week: Last Wednesday, March 25, Paradise Valley Fire responded to a residence fire.
Boundary County's icy Penguin Plunge 2015: The Bonners Ferry Idaho 2015 Penguin Plunge is now in the history books as a success. Money raised for Special Olympics in Idaho was in excess of $4,400 with additional pledges still arriving.
BoCo Backpacks looking for community help: The school year is drawing to a close, and the volunteers in the Boundary County Backpacks are in the planning stages for the weekend supplemental food program for school age children for the next school year,
March 18
Bonners Ferry Police arrest suspect at gunpoint for alleged Grand Theft: Last Thursday, March 12, the call went out to Boundary County Law Enforcement: a man described as a tall, skinny male with a dark goatee had allegedly stolen a check from a person at the Kootenai River Inn.

Introducing more of this year's participants in Distinguished Young Women: This week our coverage of Distinguished Young Women continues as we publish photos and brief biographies of three more program participants, using information provided by our local Distinguished Young Women officials. Click this story for this week's biographies.
March 14
Regional Spelling Bee competition set; includes five spellers from Boundary County: Five students from Boundary County Schools have earned their way into the North Idaho Regional Spelling Bee, to be held Saturday, March 21 at North Idaho College.
Labrador introduces bill permitting minor children to work in family logging businesses: If your children are working with you in a family-owned logging business, you may technically be violating federal law. That situation may be remedied, however, under legislation proposed by Idaho Congressman Raúl Labrador.
March 12
Locally-filmed movie The Fish Between the Falls to have Bonners Ferry premier: Boundary County residents are well aware of the ongoing effort over recent years to restore the population of the Kootenai River's signature fish, the white sturgeon. Now, a movie shot largely in Boundary County is telling the story to the world. The movie's local showing is coming up soon.
March 11

Introducing this year's participants in Distinguished Young Women: As this year's Distinguished Young Women event approaches, we will be publishing photos and brief biographies of three program participants each week, using information provided by our local Distinguished Young Women officials. Here are this week's biographies.
Local family establishes conservation easement on large forest land parcel: Seven hundred forty-eight acres of forestland in Boundary County will be conserved as working forest and wildlife habitat in perpetuity after the Idaho Department of Lands, in partnership with The Nature Conservancy and the U.S. Forest Service, purchased a conservation easement from the Hubbard family in February.
March 10
School Maintenance & Operations Levy vote totals available: Click here to view the results of the School District M&O Levy for March 10, 2015.
March 9
School levy vote totals will be available here on our website: Watch this space to see results on the school levy voting.
Idaho Day celebrated statewide and in Boundary County: Idaho celebrated its first ever Idaho Day last Wednesday, March 4. Celebretory activities were held at the state capitol building in Boise, around the state, and even here in Boundary County, where 4th graders participated in a archeological dig at the Museum.
CORRECTION / UPDATE:

One "Forest Funds" program has been authorized, county likely to receive federal payment in June: Authorization of PILT funding last December will send money to Boundary County.
March 6
Fire managers ask public to use caution during spring burning: With the lack of snow and the forecast for warm and dry weather, landowners will likely continue debris, ditch and field burning. Boundary County fire managers have some recommendations.
March 5
Forest Funds: Often mentioned in county and school district budgets--what exactly are they? Any School District discussion about funding our local schools, or about the District budget, or school levies, you'll hear those words spoken--"Forest Funds." They're also brought up in budget discussions for Boundary County. But what exactly are these mysterious "Forest Funds?" Our story explains what they are, how they came to be, how much Boundary County has received, and many more facts and details on that important money tied to forest land in our county.
March 4
Idaho Department of Labor sponsors hiring event in Post Falls; 19 employers looking to hire: Coming up next week.
March 3
School District presents levy information meeting this Friday for all to attend; will also be broadcast on the internet: This Friday, March 6, the Boundary County School District will present an information meeting on their request for $2.4 million for the Supplemental Maintenance and Operations Levy, the vote for which is set for this coming Tuesday, March 10. The District is inviting everyone to attend. The meeting will also be broadcast on Boundary County Live. Click on this story for more information.

Did you know—tomorrow is Idaho Day: Idaho's first ever Idaho Day celebration is tomorrow, March 4. Many statewide events, and a few local events, are scheduled. The official Idaho Capitol Building celebration will be broadcast on a live internet stream by Idaho Public Television at 11:10 a.m.
Icy Penguin Plunge coming up: For the fifth year, various local teams, Law Enforcement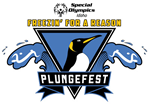 Officers, and individuals will be "Taking the Plunge" by jumping into the Kootenai River to raise funds for Idaho Special Olympics.
Idaho legislative bill recognizes Boundary County Centennial: Of all the legislating going on in Boise, one bill before the legislature is of a more personal nature for Boundary County.
ITD broadcast to inform contractors on requirements for federal projects: Construction contractors and local agencies from throughout Idaho can learn about labor regulations and requirements for federal projects at a free workshop in Boise that also will be broadcast statewide.
February 26

Museum celebrates donation of Kootenai Tribe artifacts and photographs: A unique and noteworthy collection of Kootenai Tribe art, artifacts, and photographs was unveiled for public display at the Boundary County Museum last Saturday, February 21. And of course, there was a celebration and special presentation also.
February 25
Distinguished Young Women gearing up for swash-buckling pirate fun: Nine of Bonners Ferry's most outstanding junior girls will be given an opportunity to win scholarship money and prizes in this year's annual Bonners Ferry Distinguished Young Women Scholarship Program (formerly Junior Miss).
Runaway Symphony a hit in Bonners Ferry performance: Last Saturday night, a large crowd of a few hundred

people gathered at the auditorium of Bonners Ferry High School to enjoy an evening concert by the Moscow, Idaho-based band Runaway Symphony. Why so much local interest in this band?
NIC Dean's List honors local students: North Idaho College recently announced its Dean's List for Fall Semester 2014. And we've got several Boundary County students on that list. Check this story to learn more.
February 15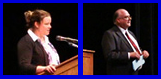 Public meets two applicants for School Superintendent position: The search is well underway for a new Superintendent for Boundary County School District 101. Current Superintendent Richard Conley announced his retirement a couple of months ago. The District has been accepting and reviewing applications, and on Friday night held formal meetings and interviews with two individuals the School Board considers to be qualified for the position.
Note: This article contains brief video clips from the public meeting and questions with the candidates.
February 11
Keough expresses concern over aging Idaho bridges; several located in Boundary County: It looks like Boundary County has 19 state and local bridges that are age 50 years or more.
Department of Labor sponsors job fair at Post Falls office: Twenty-one employers will be participating in the February 11 hiring event sponsored by the Idaho Department of Labor at its Kootenai County office in Post Falls.
Fish and Game lists statewide job openings, include some nearby summer jobs: Idaho Fish and Game periodically lists employment openings with their department. In their most recent listing, three summer jobs are included that are located in areas in or near Boundary County. Click on this headline to learn more about these Fish and Game summer job listings, and other employment opportunities with Fish and Game.
February 10
Search and Rescue trains for winter ice and water rescues: With spring around the corner, ice on the lakes and rivers is a potential hazard. Boundary County Information Officer Michael Meier reports on how local members of Boundary Search and Dive Rescue Team recently participated in training to renew and update their skills for wintertime ice and water rescues.
February 6
Looking for a fun evening? Catch a play tonight (or tomorrow) at BFHS:
Bonners Ferry

high school students will have the whole town thinking pink when they present their two final performances of Legally Blonde beginning tonight, February 6. This fun and upbeat musical follows the adventures of a sorority girl named Elle Woods – a Gemini with a double Capricorn moon – who tries to win her ex-boyfriend back by earning a Harvard law degree.

ITD presents South Hill highway construction plans at open house meeting: A lengthy section of the highway on Bonners Ferry's South Hill will be updated with a left turn lane, sidewalks, shoulders, new drainage systems, and more. Currently, the Idaho Transportation Department is looking at two different options to update the road. ITD held a public meeting in Bonners Ferry last night to inform residents on details of the project.
Runaway Symphony band to perform locally; bringing their song Bonners Ferry with them: This band features Daniel Botkin, a former resident of Boundary County. Mr. Botkin's song Bonners Ferry, is something of a hit in these parts, and has been popular with Boundary County social media circles.
Bonners Ferry High School FIRST Robotics Team 2130 is awarded 3D printer:

Bonners Ferry High School FIRST Robotics Team 2130 Alpha+ was selected to receive an EKOCYCLE™ Cube® 3D Printer. And they're already putting it to work.
Forest Service seeks comments on local area Deer Creek project, a KVRI collaboration: The Bonners Ferry Ranger District of the Idaho Panhandle National Forests (IPNF) is seeking public comments on a forest management project being developed in collaboration with the Kootenai Valley Resource Initiative as part of the Collaborative Forest Landscape Restoration Program.
Family requests help on missing teen: Reported as runaway.
February 3
ITD imposes speed restrictions on Highway 95 north of Mt. Hall junction: The Idaho Department of Transportation will begin break-up speed restrictions on this section Wednesday morning, February 4.
February 2
High School helps out with Souper Bowl during Super Bowl week: All the enthusiasm and excitement around the Super Bowl inspired a meaningful community event at BFHS last week.
Online now from Idaho Driver's License officials: practice tests and a mobile app: Building on the success of the driver's license practice-test mobile app, the Idaho Transportation Department is now offering free practice tests on its official website.
January 31

Successful Bonners Ferry High School FIRST Robotics Team 2130 Alpha+ enters ninth year: Students, mentors, parents and alumni from Bonners Ferry High School FIRST Robotics Team 2130 Alpha+ met on January 3 for the 2015 FIRST Robotics Competition Kickoff Broadcast. This year's game is "Recycle Rush," and the team hopes to continue the success they have had in previous years.
After publishing our article on the ITD travel website and the Boundary County webcam, a reader reminded us of another webcam located in Boundary County. For more information on this, see our Letters to the Editor.
January 30
Hospital Auxiliary Pie Sale is coming up: Picture in your mind tables

full of pies side by side—lemon meringue pies with towering browned meringue peaks; delicious double-crusted apple pies, huckleberry pies . . . . .

Gear Up program helps students prepare to further their education: Sometimes in rural areas, there are obstacles that might interfere with students attaining post high school education--obstacles that aren't factors in larger, more metropolitan areas. Gear Up can help students overcome those obstacles.
New Arm Bike speeds recovery at Boundary Community Hospital: Come and ride the bicycle—the arm bicycle that is.
January 28

ITD travel website contains helpful winter travel information; it even has a Boundary County webcam: Got a winter driving trip coming up? You may be glad to know that the Idaho Transportation Department maintains a website with some great information on highways and mountain passes throughout the state. You can even view a Boundary County highway location on an ITD webcam.
Idaho State Police announces 2015 National Missing Children Poster Contest: Idaho's Missing Persons Clearinghouse and the Idaho State Police Bureau of Criminal Identification invites entries from Idaho's fifth graders for the 2015 National Missing Children Poster Contest.
January 27
Changes coming to Highway 95; ITD schedules informational open house in Bonners Ferry: The Idaho Transportation Department is already well into the planning stages for upgrades and changes on Boundary County's part of Highway 95. At this upcoming open house, they will be providing information on current proposals for the Highway, and looking for your input. If you want to have any say in what happens with the Highway, this meeting will give you that opportunity.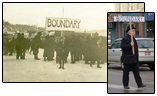 Boundary County celebrates 100 years: Wait a minute. Was this 2015? Or was it, somehow . . . . 1915? It seemed like it might be 1915, as organizers of Boundary County's Centennial celebration faithfully recreated the original celebration of 100 years ago, when residents of two-day-old Boundary County, Idaho, lauded the newly minted northernmost county in Idaho.
Photograph album of the Boundary County Centennial Celebration: Click on this headline to view our photos of the big Centennial celebration last Saturday.
Chamber of Commerce issues silver coin commemorating Boundary County Centennial: As planning for the

Boundary County Centennial celebration progressed, the folks at the Bonners Ferry Chamber of Commerce had an idea. Working with the Sunshine Mine, the Bonners Ferry Chamber of Commerce commissioned a special silver coin, commemorating the Centennial of Boundary County.
January 26

Boundary County youth qualifies for North Idaho Regionals in Elks Hoop Shoot competition: One of Idaho's premier basketball free throw shooters lives right here in Boundary County. He regularly sinks 20+ out of 25 free throws--even under the pressure of competition.
Manny Scott gives moving motivational presentations for students and community: Well-known motivational

speaker gives an inspiring presentation to students, also meets with community following a great spaghetti dinner.
Human Rights Task Force announces winners of essay contest: The Boundary County Human Rights Task Force has announced the winners of the Martin Luther King Day essay contest. These include winners at the elementary, middle, and high school levels.
Moscow Renaissance Fair coming in spring, looking for artisan vendors: Are you a Boundary County artisan? Looking for a popular venue to sell some of your creations? The Moscow Renaissance Fair - a Celebration of Spring - is looking for artisans in the Northwest to sell their wares at this year's festival.
January 23
Unemployment numbers for December released; Boundary County little changed: Boundary County December 2014 unemployment figures are up only slightly from the month before, but are clearly improved over the December figures of a year ago. See our chart listing unemployment data for all of Idaho.
NAMI offering free course on mental illness issues: Family to Family, a twelve week course for family and friends of individuals with mental illness, is being offered by the Far North Chapter of the National Alliance on Mental Illness (NAMI). The free course, facilitated by trained family members, will start on Monday, February 9.
January 22
Troy Mine shutting down operations, hopes to re-open in future when metal prices improve: The company that

owns the copper and silver mine in Troy, Montana has announced a shutdown of operations at the mine, which will lead to layoffs of approximately 70 current employees. Falling prices for copper and silver are forcing the closure, according to the company that owns the mine.
Special TV program aims to improve after-high-school education in Idaho: Students, parents can call live to college and trade school reps during upcoming TV program aimed at overcoming roadblocks to post high school education. Idahoans who end their

education in high school can expect to earn only half as much as those with a four-year degree, yet fewer than 47 percent of the state's 2013 high school graduates went on to enroll in a two- or four-year degree program.
January 15

Idaho inaugural events celebrated: On Friday, January 9, Governor Butch Otter was sworn in on the steps of the Idaho Capitol Building, in a public ceremony that also included the swearing in of the lieutenant governor, secretary of state, state controller, attorney general and superintendent of public instruction. The next day: the Inaugural Procession and Ball.
Change in voting site for Valley View Precinct: Chris Peterson, Deputy Recorder at the Courthouse, has advised of a change in election polling sites for the Valley View Precinct.
Patriot Awards given to School District adminstrators: Earlier today, personnel of

Boundary County School District 101 were recognized with the Patriot Award, given by the U.S. Department of Defense office of Employer Support of the Guard and Reserve.
Hospital Extended Care Facility visitation restriction lifted: Boundary Community Hospital announced today that the visitation restriction that was put in place last week has been lifted.
AMBER Alerts now to appear on your Facebook account: On January 13, the National Center for Missing & Exploited Children announced a partnership with Facebook to send AMBER Alerts to the social network's community to help find missing children. The new initiative will deliver AMBER Alerts to people's News Feeds in targeted search areas after a child has been abducted and the National Center has issued an alert.
Free community dinner and motivational presentation sponsored by School District: For a great (and free) dinner and a chance for a great motivational experience, consider attending a special evening sponsored by Boundary County School District 101. This event features motivational speaker Manny Scott, who will be in Bonners Ferry for two days next week.
Certified Nursing Assistant class begins next week: Boundary Community Hospital provides classes to earn certification as a Certified Nursing Assistant (CNA) four times a year. A new class will begin at the hospital Tuesday, January 20.
Driver safety course: A driver safety course will be taught on Thursday, January 29, at the Senior Center at 6635 Lincoln on the South Hill in Bonners Ferry. Safety tips and possibly a way to save money on insurance.
January 9
Hospital's Extended Care Facility temporarily closed to visitors due to influenza outbreak: Currently, Boundary Community Hospital's Extended Care Facility is under visitation restriction to protect the facility residents and the general public from influenza.
January 8
Get ready to celebrate: Boundary County Centennial blast coming up: One hundred

years ago, late on a Saturday night in 1915, Moses Alexander, who had been Idaho's governor for only 19 days, signed Idaho House Bill No. 1. With that signature, on January 23, 1915, Boundary County was officially created.

One hundred years later, we've got another party coming.
Boundary County Treasurer Fessler retiring, shares her story: Boundary County Treasurer Jenny Fessler will retire tomorrow and turn over her ledger books to new incoming Treasurer Sue Larson. We asked Ms. Fessler to share with our readers her thoughts on her career and her years serving as Boundary County Treasurer. Here is what she had to say.
January 7
Highway 95 construction and improvements coming; local website comprehensive source of information: Changes are coming to Highway 95 in its course through Boundary County, and the Idaho Transportation Department wants input from Boundary County citizens to help plan those changes. If you, like most of us, feel extremely unqualified to give any meaningful input on how our future highway should be, we have a suggestion for the first place you should start: the Highway 95 Bonners Ferry website.

National Geographic Bee champion Ethan Hubbard has opportunity to advance to state competition: Valley View Elementary held its 4th Annual National Geographic Bee, sponsored by National Geographic, on December 18, right before Christmas Break. A new school champion was named. In this article, you can take a Fifth Grade National Geographic Bee challenge quiz to see how your geography knowledge stacks up!
Icy roads lead to wreck with semi and pickup: A two vehicle collision in the early hours of Tuesday, January 6, blocked Highway 95 for hours, and sent a man to the hospital with serious injuries.
Hiring event next week in Post Falls: Fifteen employers will be participating in the January 14 hiring event sponsored by the Idaho Department of Labor at its Post Falls office.
January 6
Heavy snows hit the area; Next up: freezing rain: Snow blanketed the area, closing Boundary County schools on Monday, January 5 and causing havoc on roadways. Check this story to see how it affected snow levels, the Water Year, and more on what is coming up.
January 5
Candidates declaring for Boundary County Sheriff, 2016: It's still over a year until Primary Election 2016, but a couple of candidates have already announced their intentions to seek the office of Boundary County Sheriff. Click on this article to read about the candidates, their qualifications, and what they would hope to accomplish as Sheriff.
January 4
Winter storm warning today: The National Weather Service is continuing its Winter Storm Warning, in effect this morning from 7:00 a.m., until 4:00 p.m. tomorrow, Monday, January 5.
January 2
Counties working on plans for response to hazardous rail spills: The three northern Idaho Counties, Boundary, Bonner and Kootenai, have joined forces by way of a Federal Grant to establish or update their response plans to potential spills from rail cars.
January 1, 2015
Latest Boundary County snowpack and water supply: The early read on our water supply for next spring and summer is in. Check this story to see how our snowpack is doing, what our precipitation for the year has been, and projections for our water supply in the coming sunny months.
December 25
Festival of Trees 2014 edition raises funds to support hospital: The Festival of Trees accomplished its goal of raising funds for the continual support of our local hospital, Boundary Community Hospital. Read here to learn details of this year's event, and some of the medical items the Fry Healthcare Foundation was able to fund.
Winner announced for DARE Program shotgun raffle: The Bonners Ferry Police Department is happy to announce who holds the winning raffle ticket and is the proud winner of the brand new Winchester 12 gauge waterfowl shotgun.
Idaho population increased during 2014: Enough people moved into Idaho in 2014 to cause a net increase in the population by an amount almost equal to the combined populations of Bonners Ferry and Sandpoint.
Your New Years' Eve invitation from the Pearl: The Pearl Theater invites all to ring in the New Year at their special New Year's Eve party on Wednesday, December 31, the final day of 2014.
December 20

The Ferry at Bonners Ferry: 150 years celebrated at the Museum: Fifty cents is what it would cost you to cross the Kootenai River on Mr. Bonner's original ferryboat when it was first established back in December 1864. The Boundary County Museum marked the Sesquicentennial Anniversary (that's the 150 year anniversary) of the beginning of Mr. Edward L. Bonner's ferryboat business. Click on this headline to read about the big celebration event.
Night of Nativities and Carols event dazzles: Can you imagine 133 Christmas nativity

scenes on display in a beautiful and festive setting, with live performances of Christmas music helping to set a tone fitting for a peaceful holiday evening? This remarkable Christmas event was held earlier today, one that is planned to become an annual holiday event in Boundary County.

Lots of Nativity photos included with this story.

Christmas shopping at the Boundary County Museum: Still trying to come up with that last minute unique Christmas gift? Did you know you can purchase some great Boundary County-themed items at the Boundary County Museum?
December 19


Moose Madness is tonight. If you have never experienced Moose Madness, consider giving it a look. It is a high energy, noisy, fun-filled experience, featuring fun basketball between Bonners Ferry and Sandpoint, student competitions that take place during breaks in the basketball action, and lots of cheering, bands, and overall madness. Click on this headline to see the details on how Moose Madness works, and all the excitement to be had.
November's Idaho jobless rate under 4%, lowest in nearly 7 years: (But Boundary County's rate goes up). Above average employer payrolls and a declining labor force drove Idaho's seasonally adjusted unemployment rate below 4 percent last month for the first time since early 2008. Boundary County, however, saw a rise in unemployment over last month's figures.
Idaho ranks 2nd in the nation for volunteerism: Over 36 percent of Idahoans volunteered during 2013, the second highest percentage among the states, according to the latest report on volunteerism from the Corporation for National and Community Service and the National Conference on Citizenship.
December 17
School Board finalizes policies on drug testing and emergency response; plans upcoming M&O Levy request: The Board of Trustees for Boundary County School District 101 met Monday, and among other things, finalized updated policies on drug testing of students, finalized changes to the District's Emergency Response Plan, and came closer to determining the amount they plan to request from voters for the upcoming 2015 Supplemental Maintenance and Operations Levy.
High speed chase in Bonner and Boundary Counties: A high speed chase that started in Bonner County and crossed into south Boundary County occurred last Sunday night on December 14.
Dust off your maps! Geographic Bee is coming up: For the 27th year, the National Geographic Society is holding the National Geographic Bee for students in the fourth through eighth grades. One of those schools: Valley View Elementary School, right here in Bonners Ferry, Idaho.
Bonners Ferry Ranger District Office temporary closure: On Thursday December 18, 2014 the Bonners Ferry ranger District Office will be closed from 8:00 a.m. to 12:00 p.m. as Bonners Ferry Electric works to replace power line poles supplying the office.
December 15
Human Rights Task Force hosting art show: The Boundary County Human Rights Task Force is hosting an art show, and is inviting community members to display their artwork of any medium.
December 11
The Ferry at Bonners Ferry Sesquicentennial Birthday, 1864 - 2014: Did you know that on December 22, 2014, the Ferry at Bonners Ferry will be 150 years old? And that you are invited to help in the celebration, birthday cake and all, at the Museum.
Boundary County Library awarded funding for technology center: The Boundary County Library has received two grants, an Idaho Department of Commerce Gem Grant, and a USDA Rural Development Grant, to fund a digital technology center that will equip residents of Bonners Ferry with the new technologies that are becoming increasingly necessary in the modern world.
Follow-up: Idaho teacher wins contest for $100,000 for her school: You may have read a story here at NewsBF recently, where we relayed a request from Governor C.L. "Butch" Otter to help an Idaho teacher win a $100,000 prize for her school. Well, guess what . . . .
Annual Community Choir Holiday Concerts coming up: Once again, the long standing Bonners Ferry tradition lives on. Over 80 local singers, children and adults, join together to present "All on a Starry Night," this year's annual Bonners Ferry Community Choir Christmas Concert.
December 5
Forest Service seeking seasonal workers at Bonners Ferry Job Fair; Part of the program will focus on recruiting military veterans: The U.S. Forest Service will present job fairs statewide this Monday, December 8 at the 25 Idaho Department of Labor local offices all across Idaho, including our local office in Bonners Ferry.
Coming up this Christmas Season: Night of Nativities and Carols: Night of Nativities and Carols is another Boundary County Christmas season event. At this event, organizers are planning three things.
December 4
Seventeen employers at upcoming Hiring Event: Seventeen employers will be participating in the December 10 hiring event sponsored by the Idaho Department of Labor at its Post Falls office.
December 3
Lawsuit filed against City of Bonners Ferry: In a complaint filed with the U.S. District Court, a former employee of the City of Bonners Ferry Electrical Shop is requesting a jury trial to decide his claims of harassment and hostility at work, which he contends led to the loss of his job.
Inauguration events listed for newly elected Idaho officials; Idaho public invited: The 2015 inauguration ceremony for the Governor of Idaho and State of Idaho constitutional officers will take place on Friday, January 9, 2015. Glittering inaugural events are set for the following day at the Idaho State Capitol building.
December 1
Thinking of using aerial technology for hunting? Think violation!: Like all sports, hunting has its rules. One of those rules involves using an aerial perspective to improve one's odds in the hunt. Think carefully about that . . . .
November 25
SBA Economic Injury Disaster Loans Available to Idaho Small Businesses: Small, nonfarm businesses in Boundary County and 10 other counties in Idaho, as well as neighboring counties in Montana, Utah, Washington and Wyoming, may be eligible to apply for low‑interest federal disaster loans from the U. S. Small Business Administration.
Police Youth Explorer Post competes in law enforcement chili cook off: The Bonners Ferry Police Department is proud to announce the Boundary County Law Enforcement Explorer Post #190 competed against area law enforcement agencies in Mt. Hall School's "Battle of the Badges" benefit chili cook off.
November 21
'Tis the season for Christmas tree permits: Many families in our forested area enjoy the tradition of scouting over Forest Service or BLM land to locate, cut, and take home their own Christmas tree. Christmas tree permits are now available from the Forest Service and Bureau of Land Management.
Governor Otter is asking a favor of us . . . "One of Idaho's very own teachers is in the final leg of an extremely competitive grant competition, and could use the support of everyone in our great state!" Click on the headline for this story to learn how you can help out.
Labrador to discuss immigration issues on national television program: Idaho 1st District Republican Congressman Raúl Labrador will appear on the nationally-televised CBS news program Face the Nation with Bob Scheiffer on Sunday.

Travelers visiting the International Selkirk Loop report spending nearly $5 million in our region: Officials of the International Selkirk Loop have recently completed an online traveler survey that provides valuable information for the member communities and businesses of the scenic Loop region. This survey asked thousands of travelers a variety of questions concerning their visit to our area.
November 19
Bonners Ferry Police arrest suspected interstate drug trafficker: The Bonners Ferry Police Department announced the arrest of a 22 year old Kila, Montana man for alleged possession for sale of a controlled substance, following an early morning traffic stop by Bonners Ferry Police.
Police and school administrators identify suspect in last week's school bomb threat: Bonners Ferry Police, in cooperation with Boundary County School District 101 administrators, have identified a 12 year old suspect in last week's November 12 bomb threat at Boundary County Middle School.
Kramer elected as officer in state rescue association: David Kramer was recently elected as the First Vice-Commander of Idaho State Search and Rescue Association (ISSAR) for the 2014-2015 year.
Bonners Ferry Police sponsors hunting shotgun raffle: The Bonners Ferry Police Department is proudly raffling off this beautiful, brand new, Winchester XSP Waterfowl Max5 12 gauge hunting shotgun, just in time for Christmas.


November 17
Sandpoint woman injured in vehicle rollover on Highway 2: Earlier today at 3:25 p.m., a Sandpoint woman was involved in a serious single car rollover on U.S. Highway 2 at milepost 68.
Emergency crews check Restorium after carbon monoxide alarm sounds: The Community Restorium went into emergency precautions after a carbon monoxide alarm sounded earlier this evening.
Lost hunters located after spending night in sub-freezing temperatures: Last Wednesday, November 12, the Boundary County Sheriff's Office received a call at 11:00 p.m. regarding two missing hunters. The hunters had gone out in midafternoon for some quick hunting time before dinner. When they hadn't returned by 11:00 p.m., the search began.
November 15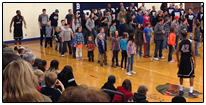 Crazy basketball with local team vs Harlem Ambassadors: It was basketball and more as the Harlem Ambassadors came to town to challenge the local NBA Wanna B's team. Not only was there fancy ball handling, impressive scoring moves, and athletic play--on both teams--but somehow during the game, a football game broke out, also a wrestling match, and somehow around sixty members of the audience ended up doing a line dance on the basketball court, led by the Harlem Ambassadors.
November 14
Flags at half staff in Idaho today (November 14) in honor of Chief Warrant Officer 4 Jon L. Hartway, one of the Idaho Army National Guard pilots killed last week in a helicopter crash during a National Guard tra Ambassadors.
November 14
Flags at half staff in Idaho today (November 14) in honor of Chief Warrant Officer 4 Jon L. Hartway, one of the Idaho Army National Guard pilots killed last week in a helicopter crash during a National Guard training mission. The other pilot killed in that crash, Chief Warrant Officer 4 Stien P. Gearhart, was similarly honored with Idaho flags at half staff two days ago on November 12.
Note: City of Bonners Ferry has announced that the hearing that had been set for November 18 to discuss water and sewer rates has been changed to December 2.
November 13
Preparations underway for 2014 Festival of Trees: For the past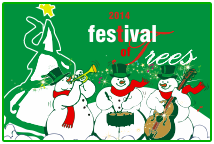 eighteen years, the Festival of Trees has been produced by the Fry Healthcare Foundation Board of Directors and friends of the organization. This year is no different. Many people are spending hours planning, organizing and preparing for the event which this year will be on Friday and Saturday, December 12 and 13.
November 12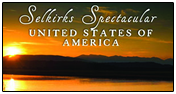 Local authors publish illustrated book of Selkirk Loop: A photographic journey encircling the spectacular Selkirk Mountains of northern Idaho, eastern Washington and southeastern British Columbia, Selkirks Spectacular, features images by local photographers Jerry Pavia and Tim Cady. Book publication parties, public invited, are scheduled and coming up soon in Bonners Ferry. Click on this headline for more details.
Boundary Community Hospital training and preparing for Ebola, just i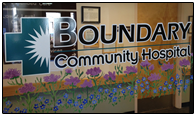 n case: With the current concern and surveillance going on worldwide regarding patients with the Ebola virus, you may want to know that our local hospital is already well into preparations and close monitoring for individuals who may have the infection, or who may have been exposed to the virus.
Report on success of recent emergency test of Idaho ham radio: If there were some emergency, and all the phones went out, what would happen to keep vital communication going? Ham radio is already organized to be ready at any time in just such a case. Last month, a statewide simulated test of Idaho ham radio emergency communication systems was done. This story reports on the success of that test.
November 11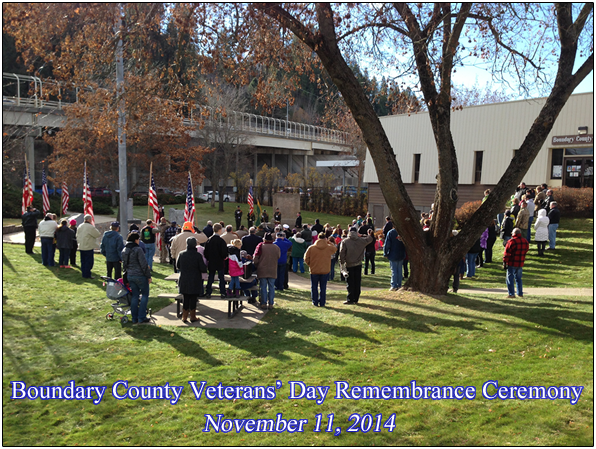 Veterans' Day Remembrance Ceremony today: Each year, a special Remembrance Ceremony is held on Veterans' Day at Veterans' Memorial Park, next to the library. Today's ceremony begins at 11:00 a.m. Click this headline for more details.
Idaho Family Reading Week coming, Valley View is ready: Get ready . . . Idaho Family Reading Week is November 17-20! Valley View Elementary School has a full week of activities planned to get your family reading with our theme of: "Building a Community of Readers!"
Successful "Night for the Museum" fundraiser: The fourth annual
"Night for the Museum" fundraiser was held at the Museum on October 25, and was enjoyed by a sold-out crowd of nearly 100.
November 8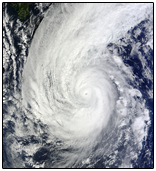 Record Alaskan storm leading to freezing temperatures here: Make the most of Boundary County's brilliant sunshine and relatively nice autumn temperatures while we have them this weekend. Drastic changes are on the way. Read here about how a storm that began thousands of miles away is sending low temperatures our way.
November 7
Idaho Army National Guard helicopter crashes near Boise: At approximately 7:00 p.m. (Mountain Time) yesterday evening on November 6, an Idaho Army National Guard AH-64D Apache helicopter with two pilots aboard crashed during a training mission.
November 6
Boundary County emergency crews respond to gunshot injury in Highland Flats area: Boundary County emergency services responded yesterday, November 5, to a call to assist a man with a gunshot wound in the area of the Highland Flats Snowmobile Park.
November 5
Paradise Valley Fire District seeks to fill board vacancy: The Paradise Valley Fire District is seeking a volunteer to fill out its 3-person board of directors, according to Orrin Everhart, board chairman. More details available by clicking on the headline for this article.
BOUNDARY COUNTY ELECTION RESULTS:

Final unofficial tallies for Boundary County are now available as of 12:45 a.m., November 5, with 7 out of 7 precincts reporting.
Click here to see local Boundary County results.
To view results for Legislative District 1 races (Keough vs Fioravanti, Sorge vs Dixon, Scott vs Bry), click here.
For statewide Idaho election results, click here.
November 4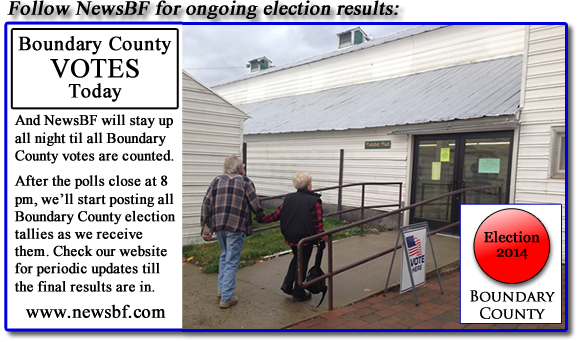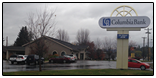 Owner changes for local branch of Panhandle State Bank: Something is different at Panhandle State Bank on the Bonners Ferry South Hill. New name. New owner. And a little bit of a new look.
Twenty-one companies looking to hire at Post Falls event: Twenty-one employers are participating in the Wednesday, November 12 hiring event sponsored by the Idaho Department of Labor. Click on this story to find out what companies are hiring, and details about the event.
Care-N-Share looking for your help for Christmas: Thirty-two years ago, Care-N-Share was started to help the children of Bonners Ferry at Christmas time. Through this program, you can help children in our area during the holiday season.
Archives