Boundary County News
Home
Sports
Social
Obituaries
Events
Letters
Classified Ads
Looking Back
Health Jewels
Stitch in Time
August 27
IDL asks for caution with outdoor fire use: Two-thirds of fires fought by the Idaho Department of Lands so far this year have been caused by people, not lightning. With fire season still in full swing and windy conditions presenting challenges for fighting wildfires across the state, IDL fire managers are asking the public to be extra cautious when working or playing in the outdoors so they do not accidentally start a wildfire.
Unemployment scam investigated: The Idaho Department of Labor is investigating a scam in which jobless benefit claimants – and possibly others – are receiving emails from an out-of-state firm called Unemployment Assist that request personally identifiable information to initiate or complete claims for unemployment insurance benefits.
IDFG license buyer info leaked: Idaho Fish and Game learned Friday that personal information for license buyers who began purchasing hunting and fishing licenses and tags prior to 2008 was potentially accessed by a breach of the online computer license sales system owned and operated by Active Network, a Texas-based company.
4-H and FFA Market Animal Sale champions: Here are a few highlights from the great Boundary County Fair Market Sale. Congratulations and thank you to all who showed, to all who bought, and to everyone who pitched in to bring off yet another great sale!
Online producer's guide to benefit local business: Are you a small farmer, hobbyist, or business owner in Boundary County? Would you like to be listed in a resource guide featuring our local suppliers? As part of our upcoming celebration of local foods, Boundary County Agricultural Extension Educator Dr. Kate Painter is producing an online guide to our local small businesses!
August 25
ISP to receive Freedom Award: The Idaho State Police has been named a recipient of the 2016 Secretary of Defense Employer Support Freedom Award, the nation's highest honor given to employers for exemplary support of National Guard and Reserve employees.
Fire weather watch issued for Saturday: Gusty winds and low relative humidity expected Saturday have prompted the National Weather Service to issue a fire weather watch in effect for North Idaho and eastern Washington from Saturday afternoon through evening.
August 24
Help make Howloween magic: To my friends in the Bonners Ferry community, Can you join Second Chance Animal Adoption in making some Halloween magic for the children of Bonners Ferry while helping our community's homeless pets at the same time? By Dr. Marty Becker
Zika virus shows up in North Idaho: A north Idaho woman over the age of 60 who recently traveled to Mexico is confirmed to have been infected with Zika virus, which can cause severe birth defects if infection occurs in pregnant women. This is the first reported case of Zika virus infection in the state.
Local horses die of West Nile Virus: Earlier this month, Panhandle Health District received notification of two dead horses testing positive for West Nile Virus in Boundary County. Both horses were unvaccinated. This is the first evidence of mosquitos potentially carrying West Nile Virus in Boundary County since 2014.
August 23

Local woman safe, sex offender in custody: Jada Ann Miller, Bonners Ferry, got quite a ride in the early morning hours of Tuesday, August 16, her 18th birthday, getting into a car in the parking lot of Super 1 Foods with Patrick Kennedy, who, she learned, was a "most wanted" sex offender with a warrant for his arrest in Mason County, Washington.
Wildfires smoke up region: Fires in northeast Washington have burned over 4,300 acres and destroyed more than 30 homes while blanketing much of North Idaho in a haze of smoke in recent days. In Montana, nine active fires have burned more than 35,000 acres, in Idaho, there are 10 active fires burning in the Boise, Nez Perce-Clearwater, Salmon-Challis, Caribou-Targhee and Sawtooth National Forests as of Tuesday morning, with 110,983 acres burned.

The Bridge: There were a great many things we youngsters of the baby boomer generation had to learn about driving. Some things we had to learn about do not even exist on today's autos. For example, there was a wee button on the left side of the driver's floor board. A tale of North Idaho by Mike Ashby
Idaho's over-the-year job growth is nation's fastest: Strong job growth, a continued demand for workers and an increase in people looking for work edged Idaho's seasonally adjusted unemployment rate up slightly in July to 3.8 percent. Idaho regained its status as number one in the nation for over-the-year job growth in July with nearly 23,000 more jobs and a 3.4 percent increase driven by across-the-board gains in all industries.
August 17
Papé Machinery closing its doors, closing business in Bonners Ferry: The Bonners Ferry office of Papé Machinery, which with its predecessor company Sims Implement has served Boundary County agriculture for 66 years, will be closing its doors and its business in Bonners Ferry within a matter of weeks.
West Nile Virus confirmed in Boundary County horses: Panhandle Health District has received notification of two dead horses testing positive for West Nile Virus in Boundary County.
August 15
Hospital to submit tax levy for voter approval in November election: Our local hospital will be going to the voters in November's election to request approval for a two year tax levy to pay for updating and upgrading the hospital and many of its services.
August 14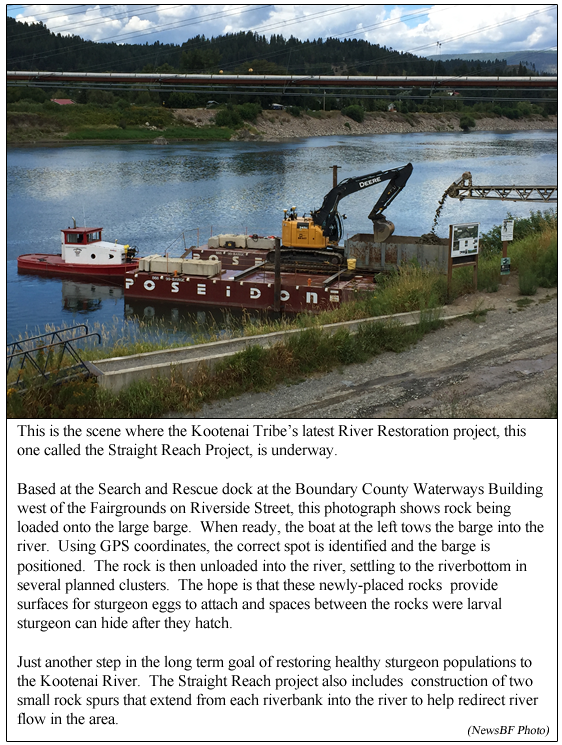 August 11
Thursday, August 11: Perseid Meteor Shower in Boundary County skies tonight
(And in other skies across America . . . . ): Tonight is predicted to be the peak night for viewing the annual Perseid Meteor Shower in the night sky, but plenty of meteors ("shooting stars") will be visible over the next few nights.
August 7
Grade school students learn at BFHS Robotics Team summer camp: In a camp organized and

conducted solely by the high school robotics team members, younger students were introduced to the joys of computer programming and robotics. The challenge: Ping Pong Panic.
Back to the 80s play a fun and successful production: "Back to the 80s" was chock full of hilarious scenes that brought back memories of what life was like living as a high schooler in the 1980's.
More than 160 positions available at upcoming Hiring Event in Post Falls: Twenty-eight employers will participate in the August 10 hiring event sponsored by the Idaho Department of Labor Kootenai County office. With more than 160 positions available, job seekers have a wide variety of employment opportunities.
August 4
21st year of Boundary Soil Conservation District annual tree sale to the public: Looking to spruce up your landscape with some of our beautiful North Idaho trees, and wondering where you can get some good starter trees? We've got a tip for you, click on this story.
Boundary County students make the NIC Dean's List: This list of academic achievement just came out, and there are seven Boundary County students on the list.
Hospital Extended Care Facility given Excellence in Caring Award—again: For the ninth time, the local facility is given this award. Click on this story for more details.
Huckleberry picking on the Idaho Panhandle National Forests: It is huckleberry season, and the folks at Idaho Panhandle National Forests have some words of advice, caution, and recommendations for us. First up on the list—picking huckleberries for commercial sale is illegal. Click on this story for more of the huckleberry details.
Beware: Consumers warned about fraudulent Unclaimed Property letters and emails: There actually is a real Unclaimed Property program going on, run by the State of Idaho. But watch out for scammers trying to deceive . . .
July 25
Boundary County to be recognized at Idaho Transportation Board meeting: Bonners Ferry Mayor, County Road and Bridge Director will also give presentations.
Brush Lake campground to be temporarily closed: If your campout plans this summer involve the campground at Brush Lake, you will want to take the following information into your planning.
July 20

Urgent announcement for all who plan to exhibit poultry at the Boundary County Fair: The Boundary County Extension Office has just been informed that they have to inspect all poultry that will be going to the Boundary County Fair to check for Avian Influenza.
Flags to half-staff for Louisiana officers: Following another attack.
July 15
A change at the School Board: David Brinkman steps down as Chairman, Nichele

Whittaker selected as new School Board Chairman: At last Monday's July meeting of the Boundary County School District 101 Board of Trustees, a change was made in the School Board's leadership.
Learn all about bats at upcoming educational program at the Kootenai National Wildlife Refuge: Special presentation by a U.S. Fish and Wildlife Biologist who is an expert on bats.

Heavy equipment returns to the river as the Kootenai Tribe river restoration construction projects ramp up for the summer: In just a few weeks, those in downtown Bonners Ferry or crossing the Kootenai Bridge will once again see heavy equipment in and around the river, as the Kootenai Tribe once again ramps up its Kootenai River restoration projects for this year.
Flags at half-staff following attack in France: To be at half-staff until next week.
July 13

Speed limit on a 15 mile section of U.S. 95 will increase to 70 m.p.h.: Traveling to Coeur d'Alene and back is going to become a little faster this Monday as highway officials raise the speed limit on a section of U.S. Highway 95.
July 11
Free sports physicals for Middle School and High School athletes: It's just three weeks until Boundary Community Hospital opens its doors for free sports physicals for Middle School and High School students who plan to participate in school athletic activities during the coming school year.
July 9
U.S. Flags are at half staff yet again following attacks: The President has ordered flags to half-staff in respect of the victims of recent attacks in Dallas. Details available at this story.
Boundary County family conserves open space along area lake: Unique project conserves Idaho's wildlife, heritage, water and agriculture across 700 acre area.
29 companies looking to hire at upcoming Idaho Department of Labor hiring event: Employers who are seeking to hire are listed, further information available.
NewsBF writer's article featured in statewide agricultural journal: An article published by NewsBF six weeks ago about the Farm Tour, organized and sponsored by the Boundary County Soil Conservation District and the Idaho Farm Bureau, has been picked up and re-published statewide in the Idaho Farm Bureau's Gem State Producer magazine.
July 6
Hospital completes installation of new CT scanner allowing better, faster images: After a couple weeks of swapping out old equipment and installing new equipment, the hospital now has a brand new CT scan machine which continues to keep our local hspital in line with current CT scanning technology.
July 5

Crime statistics for Boundary County, Bonners Ferry, and Idaho detailed in Idaho State Police 2015 report "Crime in Idaho": ISP just released their report with statistics gathered from law enforcement agencies across Idaho.
Summer Theater plays begin this weekend: Looking for a fun activity for the family and kids this weekend? There are some great productions coming in just a few days.
June 28

Schedule of Boundary County Fourth of July Activities: Click on this story for the schedule of events for Monday's Fourth of July celebration, and additional information about the big day.
Learn about wheat and barley varieties in Boundary County at the Extension Office Field Day and Farm Tour: Interested in learning which wheat and barley varieties do best in Boundary County? That question and many others will be examined at this Field Day and Farm tour. Sign up now—lunch provided!
Golf, fun, and prizes at this year's Fry Healthcare Foundation 8th Annual Golf

Tournament: Golf tournament was fun for all, then there was the helicopter golf ball drop with a flat screen TV grand prize. This story also mentions big changes with what has been the annual Festival of Trees event.
June 26
Auto accident near Post Falls claims lives of two Boundary County men, a third is injured: The accident occurred at about 1:00 a.m. this morning (Sunday, June 26).
Railroad crossing at Highland Flats to be temporarily closed: Dates and times and details are given in this brief story.
School Board to hold special meeting for the public on budgets; other issues also to be discussed: Boundary County School District 101 will be holding a special meeting, open to the public, to provide information and answer questions regarding the District's 2015-16 Amended Budget, and the proposed 2016-17 Budget.
Boundary Community Hospital Rehabilitation Department receives award for clinic quality: Local Rehab department exceeds national average for improvement
June 23

Wildfire season: looking back and looking ahead; Three fires in Boundary County already this season: As dozens of wildfires burn around the country, with evacuations and homes destroyed in some areas, Idaho has so far held up fairly well, although Boundary County has already had three fires so far.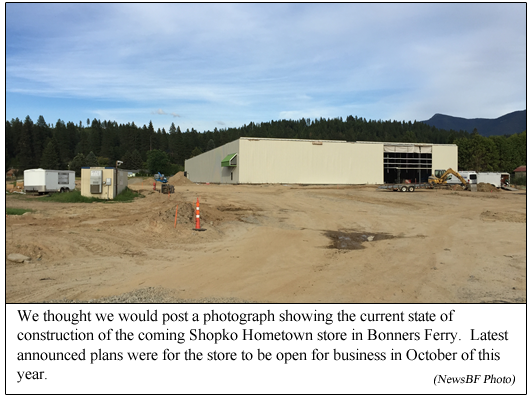 Do you own a boat, canoe, kayak, or raft? Get On Board with The Idaho Invasive Species

Sticker for Watercraft!: Check this story for details on which watercraft require the special invasive species sticker and which ones don't.

Critters (stuffed) donated to Boundary Community Hospital thanks to memorial fund for former nurse: They are available for children or others in need of comfort at the hospital.
Archives