Boundary County News
Home
Sports
Social
Obituaries
Events
Letters
April 25:

Ailport becomes new City Administrator for Bonners Ferry: Her story, background, and vision for the City. And some of her hobbies and interests.
April 23:
Bridge between Oldtown and Newport to be replaced; will require year and a half: If you use this bridge regularly, check the details here.

Arbor Day fun and activities planned: Sponsored by some agencies who know how to have fun: University of Idaho Extension Office, Boundary Soil Conservation District, and the Idaho Department of Lands.

Idaho Panhandle National Forests names new Deputy Forest Supervisor: Moves to the Panhandle after serving as District Ranger on the New Meadows Ranger District of the Payette National Forest.
Weed spraying to begin soon: The Boundary County Weed Department will be starting the annual spraying for noxious weeds throughout Boundary County.
This year's Farm Tour will focus on southern part of the county: This always popular event is coming up in a few weeks. Now is the time to book your spot on the tour.
Sheriff's officers now equipped with Narcan, an opioid reversal agent: Used to treat emergency overdoses.
April 20: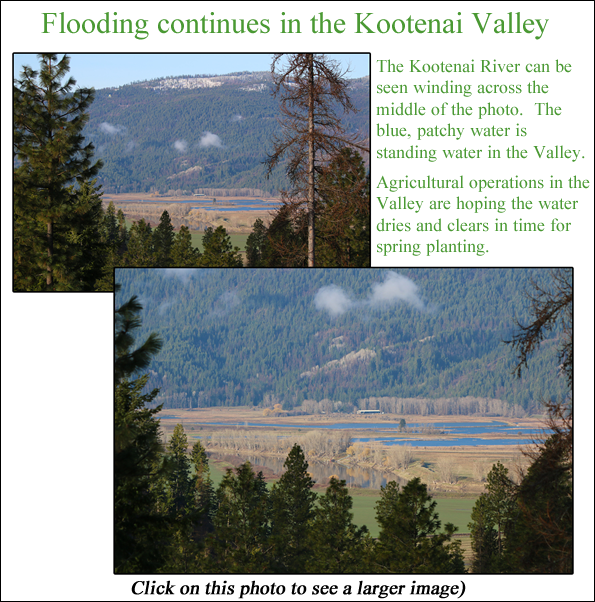 Extension Office offers lengthy list of classes: Looking to pick up some expertise from the experts? Our local Boundary County office of the University of Idaho Extension has announced a series of instructive and fun courses.
Idaho's March unemployment rate remains low; job growth continues at fastest in the nation: All the numbers and details available in this story, courtesy of the Idaho Department of Labor.

Kids can still sign up for fun and learning at 4-H Friday Friends: Though the ground is thawing and that unreachable last day of school is moving closer, 4-H Friday Friends is still in full swing. And you don't have to be in 4-H to participate in this program.
April 19:
Fellow Idahoans please note: Idaho National Guard Army Aviation Unit deploys today: Most will serve in Afghanistan in helicopter MEDEVAC.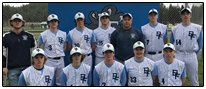 Please see our Sports section below about a double header vs Timberlake and Senior Day for Badger Baseball, coming up this Saturday morning.
Boundary Community Clinics: Start the Conversation about Advance Directives: Healthcare decisions can often be complicated and confusing even under the best of circumstances.
April 17:

Brian Zimmerman appointed as new Bonners Ferry Chief of Police: Boundary County native returns home to serve after years with Idaho State Police and after creating from scratch a brand new police department in Middleton, Idaho.

Community Health Fair coming soon, with many activities: Family Fun Run, free health care screenings, dozens of exhibits and vendors, tours, and for the first time a Mountain Trail Safety Clinic. Three hours packed with activities and information.
April 16:
Tribute to those who serve: Telecommunications: We cannot overemphasis the importance of the contribution that our public safety call takers and dispatchers are to our community's wellness and safety.
Sheriff's Office: Dispose safely of meds at Rx Takeback Day: On April 28, members of the Sheriff's Office will be setup in front of Super One with a place for people to drop their expired or no longer used prescriptions.
April 15:
Driver safety class offered: Learn some safety tips and qualify for an insurance discount.
April 12:

Candidates share their views at Republican Candidate Forum: Wednesday night was the night to meet area candidates who are running to win in the upcoming Primary election and move on to November's general election showdown. And we've got a quote from each candidate included in this article.
North Idaho choir BOUNDLESS off to perform in New York City's Carnegie Hall: "Who

could believe we'd ever get to do this?" said conductor Vicki Blake Thompson.
April 11:
May Primary Election: Information on Early Voting, Absentee Voting: Boundary County Clerk/Recorder Glenda Poston wants to make all Boundary County voters aware that Early or Absentee Voting is now open and available for the upcoming primary election on May 15.
At it again: Weather Alert—Winter Storm Warning until 11:00 a.m. Thursday: This weather alert is passed on to us from the office of Michael Meier, Boundary County Director of Emergency Management. Warning: the word "snow" may be mentioned in this article.
April 10:
Badger Bands rate highly at Group Festival, have more big events coming up (including one big event tonight!): The Badger Bands are busy, as usual. They recently earned high ratings at a Group Festival, and have several more events coming up. You can see their latest newsletter with this article.

Distinguished Young Women Style Show this Thursday; Tickets for DYW Scholarship Program event now on sale: Being stylish is just one of the many attributes the 2018-2019 Distinguished Young Women of Bonners Ferry participants possess, and they will share this gift at the upcoming Style Show.

Our Basketball Contest $100 First Place winner is announced; wins by a razor thin edge: The final tallies are in on the big Basketball Tournament Contest, sponsored by Boundary County Live-NewsBF during the recently completed NCAA College Basketball Championship Tournament—and we have a winner.
Republicans hosting candidate forum Wednesday: The Boundary County Republican Central Committee is hosting a forum for all Republican candidates for District 1 State Senate, State House of Representatives, and all Boundary County offices that are up for election.

Crime Prevention Notes: It Can Happen to Me: "What can I do to keep from being a crime victim?" In today's world it's a question we should ALL be asking ourselves.
April 6:
Wet weather still in the forecast for our area: Temperaturs warming a little into next week.
April 5:

Distinguished Young Women biographies, Participants 7-9: Here are the biographies on the final group of participants in this year's DYW program. Their big night is coming up April 28.

On their way to the World Championship: BFHS Robotics FIRST Team 2130 Alpha+: We are excited to announce that we qualified for the World Championship being held in Houston, Texas in just two short weeks!
Prank Easter eggs showing up in mailboxes: If you find one, don't touch it, call law enforcement.
Part of Oxford Road closed: Boundary County Road & Bridge announces an Emergency Road Closure of part of Oxford Road, as of April 3.
April 2:

April Fools' weather and power outage hits Boundary County: Mother Nature pulled off the biggest April Fools' prank of them all, when on April Fools' Day yesterday she slammed all of us who were gearing up for Spring with cold temperatures, a lot of snow, and a power outage to top it off.
Boundary County Live-NewsBF Basketball Challenge Contest ends tonight:

And the winner of our contest gets 100 bucks from us!

Starting from our first contest entrants back in March, we are now down to three who might be able to pull off the win in our contest. We'll know the winner when the final buzzer sounds in tonight's NCAA Tournament Championship game.
Boat Idaho instructional course offered: Three separate sessions of a Boat Idaho Course are scheduled over the next three months. The course will cover boating safety and requirements, including necessary equipment, basic boating laws, and the rules of the road with regard to navigation and boater courtesy.
March 31:
The Visitor Center needs you—Volunteers Needed: Here is a way you can help out and show people how great Boundary County really is. The tourism season is about to begin in full swing . . .
March 28:

Under the new Omnibus 2018 spending bill just passed by Congress, some big federal money is coming Boundary County's way: With the passage of last Friday's $1.3 trillion federal budget and spending bill, Boundary County will be receiving some rather large payments from two federal programs.

Distinguished Young Women biographies, Participants 4-6: More biographies on three more of the participants in this year's Distinguished Young Women program. More are on the way soon.
March Madness takes over Boundary County Middle School in more ways than

one: March Madness is the biggest collegiate basketball frenzy of the year, and the Boundary County Middle School leadership students make it a school wide event! At BCMS, they take the Tournament to a whole new level.
March 27:

Free training for high-tech future is brought to Boundary County (and the rest of Idaho) by Inspire Idaho program: Robots were zipping around the Exhibit Hall at the Fairgrounds

Tuesday, following programming code instructions that had been written by people who only moments before were your everyday, average, non-coding North Idahoans.

Kindergarten registration coming up soon: Got a future kindergartener at home? If so, you will want to know that Kindergarten Registration for all those who will be in Kindergarten for this fall's 2018-2019 school year is coming up soon. Details here.
March 26:

Museum reports on it's 2018 Idaho Day celebrations: Idaho's special day was celebrated around the state on March 5. Here is how our local museum helped students from county elementary schools celebrate Idaho Day 2018.
Forest Service announces availability of firewood permits: Firewood permits for the 2018-2019 season will be available beginning April 2, 2018 on the Idaho Panhandle National Forests.
Forest Service lists current road closures: No being on or using any type of motorized vehicle on these roads.
March 23:
Boundary County by the numbers: The latest information just released help paint a picture of Boundary County population, growth, and even the number of new babies. The latest Boundary County employment data is also included. Did you know we are #8 in Idaho for percent of net new move-ins?
Latest Census Bureau data show Idaho population figures and trends:
Overall, the word is growth, with more people living in urban areas.
Idaho's Unemployment Rate at 3 Percent for 6th Month in a Row:
Gem State is #1 in the nation in Over-the-Year Job Growth.
March 22:
Bring Spring Job Fair coming at Kootenai County Department of Labor office: 1500 jobs: They say they've got that many jobs available at this event. Check this story for a partial list of employers who will be there and positions that will be available.
March 21:

Distinguished Young Women biographies, Participants 1-3: Even though everyone involved with DYW is very busy these days, they somehow found the time to send us biographies and information on three of the DYW participants. More will be coming.
Behind The Scenes of "The Manliest Show in Town": What happens when you take 11 of the manliest

senior boys of Bonners Ferry High School and put them through two weeks of intense practices to put on the most masculine show Boundary County has to offer? Find out here.
BNSF Railroad moves ahead in project for second railroad bridge at Lake Pend Oreille; Department of Lands schedules public hearings: This article looks at the proposal for the new bridge planned for construction right next to the current railroad bridge across the lake, reviews some history of the proposal, and provides details on the public comment period and hearings set by the Idaho Department of Lands, including how you can submit your comment.
March 20:
Naples Honor Roll students announced: Naples Elementary School has released its list of Honor Roll students for Trimester 2. You can see all the names on the Honor Roll list here.
Boundary County Live-NewsBF Basketball contest continues to thrill with 16 teams remaining: The

NCAA Basketball Tournament is down to 16 teams remaining. As the Tournament builds to the excitement of the coming Championship Game, another contest, nearly almost as exciting, is also playing out in thrilling fashion. Of course we are talking about the Boundary County Live-NewsBF Basketball Tournament Challenge!

Innovative training program Inspire Idaho coming to Bonners Ferry: The Experience Tour is coming to Idaho. No, it isn't a rock band, but it is something that is going to be pretty exciting for many Idahoans. Innovation Collective and the University of Idaho are embarking on a 5-day, 20 city tour of Idaho to promote a rapid learning initiative called Inspire Idaho. This years program involves training in writing and developing computer apps.

Hiring event in Sandpoint tomorrow: Looking for a new job? The Sandpoint Office of the Idaho Department of Labor is sponsoring a hiring event to give you a chance to meet directly with employers who now have immediate job openings.
March18:
Four Boundary County students place in Regional Spelling Bee: Four local Boundary County Students participated in the North Idaho Regional Spelling Bee held yesterday at North Idaho College. Those students did fairly well, but the championship went to a fifth grade student from Hayden who won a trip to the National Spelling Bee in Washington, D.C.
Penguin Plunge 2018: Who wouldn't want to jump into the icy Kootenai River in the middle of

March, while wearing a crazy costume? That freezin' was done for a reason—to raise funds for the Special Olympics. See the details and some photographs.
March 17:

Governor Otter meets with public in Moyie Springs—Idaho's Capitol for the Day: Residents had the opportunity to meet with and question the Governor and many other state officials.
Interior Department releases report on fight against invasive mussels: As we recently reported on this problem in Idaho, we decided to include this recently published additional report, updating the work going on at the Interior Department.
March 16:

Moyie Springs to become Idaho's Capitol for a Day—today: Governor Otter brings State government to Idahoans living outside Boise each month by making a different town in Idaho the state's "Capital for a Day." The honor falls this month to Moyie Springs. Read the details and see the schedule for the day in this story.

Bonners Ferry High School group gets first-class tour of Washington, D.C.: Eight Bonners Ferry High School students had the opportunity of a lifetime when they traveled to Washington, D.C. recently for an in-depth tour of our national capitol.

"I learned a lot," said one of the students who made the trip.
Idaho Drug-Free Youth active in Boundary County: Idaho Drug Free Youth (IDFY) is once

again active in Boundary County. The program encourages students to be drug free and promote positive leadership and teambuilding. The Sheriff's office has helped provide funds for IDFY.
Public Notice of upcoming Boundary County Tax Deeded Property Auction: The Boundary County Commissioner's Office has issued a public notice of the county's upcoming tax deeded property auction. You can read the Public Notice here, including limited information about the properties.
March 15:
BFHS Students sit-in to support Florida school and anti-violence: A seventeen-minute sit-in took place at the high school yesterday, further details in the full story.
March 14:
Sign up to enter and win the

$100 Grand Prize

in our Basketball Tournament Contest: March Madness is here, and somehow this madness has affected us here at Boundary County Live and NewsBF. We are sponsoring a contest where you could win $100, if your basketball tournament bracket is good enough. Act quickly, the deadline to enter the contest is coming up VERY soon. Check this article for details.


Distinguished Young Women program set to go in April: Nine of Bonners Ferry's most outstanding junior girls will be given an opportunity to win scholarship money and prizes in this year's annual Bonners Ferry Distinguished Young Women Scholarship Program (formerly Junior Miss). Set for April 28 at the Becker Auditorium, get ready for a night of vintage family fun as they present "Under the Big Top."
March 13

Latest Idaho employment, jobs statistics released: Idaho continues to shine in terms of employment and jobs. In the latest available numbers from January, unemployment remains low in Idaho, and our state is second in the nation for job growth. Idaho had more than 22,000 online postings for Help Wanted.
March 12
Boundary County's proposal for child pedestrian safety around Naples School not selected for state funding: Boundary County put together a proposal to improve child safety around Naples Elementary and submitted the project last December to compete for state funding. The Boundary County project was one of 71 submitted from around the state.
BFHS Robotics Team ready for intense regional competitions (and, Open House coming up this Friday): The robot is ready,

competitions are scheduled in Boise and in Calgary, and you are invited to an Open House coming up Friday, March 16. (Yes, the robot will be at the Open House).
March 9

Boundary County students recognized on Deans' Lists at colleges, universities around Idaho: Colleges and universities around Idaho have wrapped up Fall Semester 2017, their most recently completed semester. Those institutions have now completed their calculations of their students' grades, and have assembled their Dean's Lists for the semester. And, as you might expect, many Boundary County students achieved Dean's List academic recognition at colleges and universities around the state.

CNA class graduates at Boundary Community Hospital; next course beginning soon: Boundary Community Hospital and North Idaho College announced the graduation of the autumn semester Certified Nursing Assistant class. See the graduating class in this story.
An Idaho-reared monarch butterfly completes multi-state flight to California: Many are

aware that Monarch butterflies from the western United States are known to migrate hundreds of miles to spend the winters in warmer areas along the coast, in the Southwest United States, and in Mexico. Recently, a Monarch butterfly reared in southern Idaho's Treasure Valley made history when it was rescued over 600 miles away from a swimming pool in California.

25th North Idaho Veterans Stand Down event provides opportunities to help veterans: The 25th North Idaho Veterans Stand Down will be held on Saturday, May 12. Through the work of volunteers and local organizations, this one-day event provides veterans and their families' invaluable information and resources.
March 7
Our nearby Idaho Star Garnet hunting area: Not far from here, in Shoshone county is one of

the few places in the world where one can find Idaho Star Garnets, our state gem. If you had plans to take the kids or the grandkids, or out-of-state visitors, or just yourself, to the Emerald Creek Garnet area to search for Idaho Star Garnets, then you need to be aware of some schedule changes for the popular area.
March 6

GED Test preparation and test available at local NIC office, helps many earn important credential: Do you know of someone who did not finish high school, but who now is thinking about pursuing some educational goals, or improving their qualifications for a job? Preparing for and taking the GED Test may be a way to help that person get on a pathway to being better qualified for many jobs, or to improve their chances of getting into college. Preparing for and taking the test is available in Bonners Ferry.
March 5
UPDATE: Sandpoint City Police releases further details regarding shooting incident of this morning: Sandpoint City Police have identified the officers involved in this morning's shootings in the southwest part of the city, at Ridley Village Road. They have also identified the deceased suspected shooter.
New Forest Supervisor on the Idaho Panhandle National Forests: Jeanne Higgins has been selected as the new Forest Supervisor on the Idaho Panhandle National Forests starting mid-May 2018. The University of Idaho graduate has served in many leadership positions with the Forest Service, and in years past started her career on the front lines, in the forest.
White Clouds wilderness area could be renamed for former Governor Cecil Andrus: Representative

Simpson's bill has passed House committee, now moves on to consideration by the full House of Representatives.

Two Sandpoint City police officers shot in early morning incident: 12:26 p.m. Two Sandpoint City Police officers were shot while responding to a call on the southwest part of Sandpoint this morning. Both sustained serious injuries, both expected to survive. This story has details as they are available at this time, also maps showing the location of the incident. This is an evolving story, and not all information is yet publicly available. More information will be posted as it becomes available from Sandpoint City authorities.
March 3

Fun, energetic play All Shook Up will keep you rockin' . . . There are still two performances for today. If you like Shakespeare, if you like Elvis, if you like swing dancing, if you like fun musical performances, if you like lots of colorful energy—if you think it's crazy all that would be wrapped up in one play, go see one of today's performances.
March 2

Part 1: Invasive mussel species are getting so bad, the government

started a contest. First, some background . . . We're going to talk a little about invasive species here. Specifically invasive mussels. Why? Because they are a big threat to invade Idaho's beautiful waterways, and if that should happen, that would change many things for the worse. And, because there is a nationwide contest underway seeking ideas to eliminate these invasive mussels. That's kind of unusual, and we thought you might want to know about it.

Part 2: Bureau receives 99 proposals in competition for solutions to stop spread of invasive mussels: The Bureau of Reclamation received nearly 100 proposals from entities participating in an agency challenge to develop new ways to stop the proliferation of invasive mussel species.

Selkirk Sweets Bakery open for business: If it's 4:30 in the morning, you might see a light on in the kitchen of Selkirk Sweets Bakery and Catering, a new business located at the south side of Bonners Ferry inside the Dodge Peak Lodge.
March 1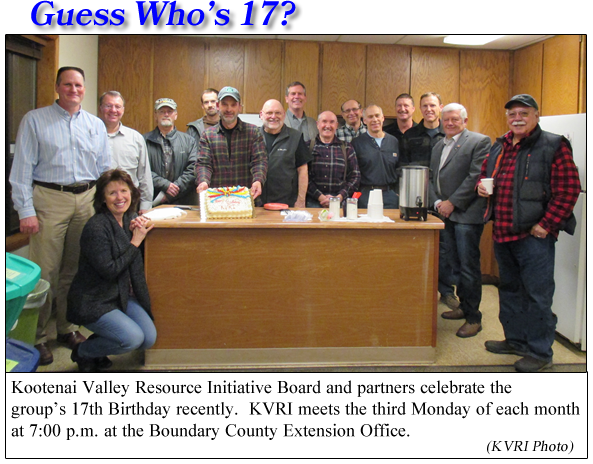 Kootenai Valley Resource Initiative was established 17 years ago in 2001 as a coalition of community members representing many diverse views from our community. It's purpose is to involve local leaders and organizations to improve coordination with agencies that have a management role over the natural resources in our county.

KVRI has had some notable accomplishments over the years, such as the Collaborative Landscape Restoration Act designation, which allows for additional funding to partner with the Forest Service on restoration activities affecting our local areas of the National Forest.

KVRI currently continues to work to help make Boundary County a great place to live, and operates several committees and working groups that focus on important issues in the county, such as water quality, federal forest management, and grizzly bear recovery.

Happy Birthday Kootenai Valley Resource Initiative!
You're invited to "Winter Birding" with an expert from North Idaho College: Join an outdoor educational specialist and field ornithologist at NIC's Winter Birding class, scheduled for Saturday, March 10.
The Kootenai Tribe of Idaho is looking for an Office Assistant for their Twin Rivers Sturgeon and Burbot Hatchery. To see the full description of about the position, click here.
February 28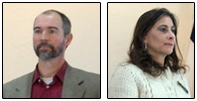 Representatives Scott, Dixon report back to Boundary County citizens in Town Hall meeting: Idaho State District 1 Representatives Heather Scott and Sage Dixon spoke to a full house during a Town Hall held at Providence Bible Presbyterian Church in Bonners Ferry on Saturday.
Penguin Plunge coming up: Once again it is "Freezin for a Reason" time. Penguin Plunge 2018, set for Saturday, March 17, is an event that supports Special Olympics, and is simply a lot of fun to watch. Along with several local residents serving as judges, one guest judge is a former Olympic athlete.
Winter storm watch, severe weather advisory continue: We've mentioned this weather system on NewsBF once before, our Severe Weather Advisory continues. Heavy snow is possible Wednesday afternoon through Thursday evening, and conditions could potentially get difficult.

Student contest to design artwork for next Junior Duck Stamp:

Here is a chance for Idaho students to show off their fine artistic abilities and possibly have gtheir picture selected for the Federal Junior Duck Stamp. Your submission needs to be postmarked by the deadline of March 15, 2018.
Members of Boundary County Organizations Learn Wilderness First Aid:

The Hall Mountain Volunteer Fire Association sponsored a two-day training workshop in Wilderness First Aid for Boundary County first responders, and others, at the Kootenai National Wildlife Refuge on Saturday.

Sheriff's Office plans Crime Prevention presentations: Sheriff Dave Kramer and his crime prevention specialists will be hosting a series of Crime Prevention Nights at locations around the county.
ITD exeriments with solar-powered pavement markings: The unusual amount ofsunshine this winter has

allowed the Idaho Transportation Department to work on their innovative thinking and to experiment with a few new traffic control gizmos.
February 27
System expected to bring heavy, wet snow: The National Weather Service, Spokane, has issued a winter storm watch for heavy snow in an area including North Idaho, in effect from Wednesday afternoon through Thursday evening.
February 26

BCMS Omega Robotics have opportunity of a lifetime: After the Boundary County Middle School Omega Robotics teams hosted the middle school district robotics championships earlier this season, just eking out a berth, they traveled to the University of Idaho for the state tournament. Their robot brought home a trophy, but not a trip to state. But the innovation, analytic ability and ability to think outside the box did win them a trip to state in another required robotics discipline ...
Tribe seeking wildlife tech: The Kootenai Tribe of Idaho is seeking to hire a wildlife technician, responsible for assisting in all phases of wildlife habitat restoration and conservation. The deadline for applications is 4 p.m. Wednesday, March 7. Native American preference will be exercised.
February 24
Legal notice of pending tax deed: The Boundary County Treasurer has released a list with a number of Boundary County properties delinquent on property taxes since January 1, 2015. If not caught up, the owners could lose the properties this year by tax deed.
41st annual 'Orchids and Onions' nominations sought: For 41 years, Preservation Idaho has hosted the Orchids and Onions Awards, an awards ceremony designed to celebrate individuals and organizations that have made a positive contribution to historic preservation, as well as to bring awareness to those projects that have shown insensitivity to the state's cultural history.
Federal notice issued for CdA Basin plan: The Environmental Protection Agency, at the request of the Coeur d'Alene Basin Natural Resource Trustees, published the Notice of Availability of the final Restoration Plan and Environmental Impact Statement in the Federal Register.
February 23
ITD hosting Idaho Freight Summit in early April: Improving freight mobility, safety and economic opportunities in Idaho will be the focus of the Idaho Freight Summit that will be held Tuesday, April 10, in Boise.
Day dawns clear on Schweitzer, snow on the way: This is the calm before the storm, folks! It is a perfectly clear, cold morning, the stars are out and the groomers are working their magic! The forecast is looking amazing for this weekend. There is so much planned on the mountain, and with the promise of great snow, there is no other place you will want to be!
More winter looming ahead: The National weather service, Spokane, has issued a winter weather advisory for portions of North Idaho, including Boundary County, in effect from 4 p.m. today through 4 p.m. Saturday, calling for sunshine and warm tropical bree ... no, wait ... sorry. Wrong advisory. Calling for (ahem) snow.
February 22

Lolah missing across border in Canada, may be trapped: Two dogs had been gone over a week from their home in West Creston, just across the border into Canada; on Wednesday, Janelle's white dog came home with a broken snare around his neck. Her friend's older female black Lab, Lolah, is still missing, and Janelle fears she may be snared as well.
Boundary County Middle School congratulating many! Congratulations to our January Citizens of the Month who were celebrated for their fairness at all times. Sixth grade, Dillon McLeish, seventh grade, Maggie Bateman, eighth grade, Jaden Villeli, and staff, Mrs. Heigel and Mr. Arthur. February citizens will be honored for caring.
Fire destroys family home: A Bonners Ferry family, whose names have not yet been released, lost their home up Twenty Mile Road to fire this morning. According to Sheriff Dave Kramer, the family was in Spokane when the fire was reported at about 8:46 a.m.
All our effort needed to keep landfill open: Boundary County started the site certification for the Boundary County Municipal Landfill in 1995. Through this process Boundary County fell under the small community exemption. By Michael Meier, Boundary County Public Information
County commission minutes, February 12
County commission minutes, January 29
County Commission minutes, December 18
February 20
~ County roads temporarily open to hauling ~
Despite the signs, the current cold snap has enabled trucks to resume hauling on Boundary County roads through Sunday, February 25, without special permits. For the most up-to-date county road closure information,
click here.
Tribe seeking wildlife habitat biologist: he Kootenai Tribe of Idaho is seeking to hire a wildlife habitat biologist to assist the tribe's wildlife division with planning, monitoring, development and implementation of long-term wildlife habitat restoration and mitigation of habitat losses.

On making 'Rant and Rave' fodder: We are halfway through the 2017-2018 school year ... how did that happen? I find it truly amazing how times moves faster the older I get! When I was in school, time moved sooooo slowly; must be the new math! Superintendent's Scoop, by Gary Pfleuger

Barking Saddle has 'soft' opening: After far too long, Boundary County once again has a western shop, Barking Saddle, in the Bonnerport Mall just off the city parking lot in downtown Bonners Ferry. Walking in, you're sure to think, "wow, this is neat!" What's a little hard to believe is that the main lines of merchandise are still at the manufacturer's, waiting to be made.

'Justice for Jesseka' rally slated: A Justice for Jesseka Rally has been scheduled for 11 a.m. Saturday, March 3, at the gazebo at the Boundary County Fairgrounds, for a peaceful protest before the sentencing date for Eric Dante, who pled guilty to the May 1, 2017, murder of Jesseka Munson in Bonners Ferry.
Spring begins early for ITD: Work will begin Monday, February 26, to replace the bridge over Interstate 90 near Kingston, 30 miles east of Coeur d'Alene. This is one of several projects throughout the North Idaho region, including a project near Eastport.
Bonners Ferry City Council minutes, January 2
February 19
BCH offers CNA scholarships, jobs: Boundary Community Hospital is offering several scholarships for the spring Certified Nurse's Assistant class, and the scholarships each come with a job offer to work at BCH.
February 18
FFA Week in the halls of BFHS: Boundary County FFA Members are reminded not to forget about the Chapter FFA Week activities to celebrate National FFA Week!
Kaia is safe! News from two separate sources, including family: Kaia is safe and has turned herself in to Williston Police. While the details are few, Kaia is said to have talked with a friend early this morning, and agreed to turn herself in at about 5 a.m. PST today.
February 17

Kaia Kramer still missing: 7:25 p.m.: Police in Williston, North Dakota, are still searching for 13-year-old Kaia Kramer, who has been missing from Bonners Ferry since early Friday morning after allegedly stealing her grandfather's GMC Yukon and driving her best friend, Alisa Hannaman, to meet boys they'd met online in Williston, North Dakota.
~ One missing girl found ~
2:40 p.m.: We have word from her brother, Tyler Hannaman, that Alissa Hannaman has been found and is now in police custody. Kaia Kramer, 13, and Colin Edwards, 14, are still missing. UPDATE: At 3:27 p.m., a family member reports that Colin is safe and has been released to the family.
Bonners Ferry girls missing: Bonners Ferry Idaho has two missing teenage girls, Kaia Kramer 13, and Alisa Hannaman 14-15 years old. These girls may have been lured away from their homes. Boundary County Public Information

Young entrepreneur trying again: You can't keep an entrepreneur down for long! Now that we have another heavy snow, Jackie's son Gabe is wanting to give shoveling another go since no one called last time. He and his daddy can do sidewalks, decks and small driveways in Bonners Ferry!
Yukon found, search for girls underway: The vehicle stolen in Bonners Ferry and believed used by Kaia Kramer and Alisa Hannaman to get to North Dakota was found this morning before 7 a.m. in a Williston, North Dakota, housing area. Williston Police are investigating.

Update on missing Bonners Ferry teens: As of 12:12 a.m. PST, the search continues for Kaia Kramer, 13, and Alisa Hannaman, 14, both of Bonners Ferry, and while details are sketchy and coming in from unofficial source, StephenLee Casarez has been cleared of involvement and the focus is now on Colin Edwards.
February 16
Update on missing Bonners Ferry teens: As of 8:15 p.m., Kaia Kramer, 13, and Alisa Hannaman, 14, are still missing. According to her brother, Alisa is believed to be going to Williston, North Dakota. "There are three boys that we believe she is with or has seen since she has been missing this morning," he said. "Their names are Colin Edwards, StephenLee Casarez and Deacon Jones, all of Williston."
Bonners Ferry teen girls missing, possibly endangered
| | |
| --- | --- |
| | |
| Kaia Kramer | Alisa Hannaman |
Two young Bonners Ferry teens are missing and may be endangered. Kaia Kramer, 13, was last seen at home by her mother at 1:30 a.m. today. She is believed to be with Alisa Hannaman, thought to be 14 or 15, but it is unknown who the girls may be with. A ping of one of the girl's cell phones came back to a tower in Montana. Click here for more information
North Idaho weather warning issued: A winter storm warning has been issued for Boundary and Bonner Counties and the northern tip of Kootenai County, in effect from 4 a.m. Saturday to 6 p.m. Sunday.
Winter storm warning issued for northwest Montana: The National Weather Service, Missoula, has elevated a storm watch issued Thursday to a winter storm warning for the Kootenai/Cabinet region of northwest Montana, in effect from 11 a.m. Saturday through 5 p.m. Sunday.
February 15
Flags to half staff after tragedy in Parkland, Florida: Our Nation grieves with those who have lost loved ones in the shooting at the Marjory Stoneman Douglas High School in Parkland, Florida. As a mark of solemn respect for the victims of the terrible act of violence ... I hereby order that the flag of the United States shall be flown at half-staff ... until sunset February 19, 2018.
February 14
Penguin Plunge 2018 nearly upon us: The 2018 Bonners Ferry Penguin Plunge is just around the corner, and folks are encouraged to print out a brochure, line up both your pledges and your costume, and be all ready to be "Freezin' for a Reason," to help Idaho Special Olympic athletes' dreams come true.

Runaway Symphony returning home to The Pearl: Runaway Symphony comes "From Out of the Woodwork" to play old favorites and new as Bonners Ferry fans celebrate their long-awaited return to the Pearl Theater. Lead singer/songwriter Daniel Botkin, who hails from Bonners Ferry, calls the band's latest work "no frills," especially their most recent album, American Blood.

Women's Basic Firearms Class offered: Paula DesBiens, a certified National Rifle Association and U.S. Concealed Carry Association firearms instructor, as well as Idaho/Western /Montana regional trainer for The Well Armed Woman, is offering her first "Women's Basic Firearms Class to Boundary County women on Saturday, March 10.

Idaho a good place to live in abject solitude: Imagine if you lived alone. No extra dishes in the sink, no one to leave the lights on when they're not home and no one to argue with over the TV channel at night. The truth is, millions of Americans live alone. Where are the best states to dwell so? Idaho is there!
New online tool lets you learn about your child's teacher: Superintendent of Public Instruction Sherri Ybarra unveiled a new Certification Lookup Tool Wednesday that allows Idahoans to quickly find information about the certification status of teachers, administrators and other education professionals.
Moyie Springs City Council Minutes, January 3, 2018
~ Schools closed ~
4:53 a.m.: Boundary County public schools are closed today, Wednesday, February 14, due to snow. Forest Bird Charter, Lake Pend Oreille and West Bonner County School District schools are also closed.
February 13

First girls join Cub Scout Pack 114: Bonners Ferry Cub Scout Pack 114 has signed up its first two young lady Cub Scouts, making Bryn Griffiths, 7, and Shelby Yocom, 6, not only the first Cub Scout girls in Bonners Ferry, but among the very first in all of Cub Scouting!

Violet missing in Twin Rivers area: HOME SAFE! Violet the Boston Terrier took off after a deer while walking with her family Monday evening near their home in the Twin Rivers area, and she seemingly disappeared. It's been almost a full day, Violet still isn't home, and the family is devastated. If you happen to see her, or know where Violet might be, please call (208) 267-1089.
Snow advisory issued for northwest Montana: The National Weather Service, Missoula, has issued a winter weather advisory for the Kootenai/Cabinet region of northwest Montana, in effect from 11 p.m. today through 5 a.m. Thursday.
Storm watch upgraded to warning: The winter storm watch issued for the region Monday has been upgraded to a winter storm warning in effect from 10 p.m. today through noon Wednesday for North Idaho and northeast Washington.
February 12
Heavy snow expected Tuesday night: The National Weather Service has issued a winter storm watch in effect from Tuesday evening through Wednesday morning for heavy snow in the Idaho Panhandle.
February 10

Buddy and Bo missing near Porthill: A black lab named Buddy and an English shepherd named Bo have been missing from their home on Porthill Loop, about 2 1/2 miles south of the Canadian border, since about 3 p.m. today. Neither is wearing a collar. FOUND SAFE!
Two local men injured in early morning collision: Two local men were injured, one of them seriously, when two trucks collided this morning on Highway 95. Details of the collision are scant as no Idaho State Police press release is being issued.
~ Serious injury crash ~
6:05 a.m.: Emergency crews are on scene and additional units responding to a serious injury vehicle collision on Highway 95 at Pleasant Valley Loop. LifeFlite is on standby. Use caution if traveling in the area and be alert to emergency vehicles on the road. 10:27 a.m.: Highway 95 is now clear.
February 9

Former BFHS math teacher now a judge: Governor Butch Otter today appointed former Bonners Ferry High School math teacher Tom Whitney to the Caldwell-based Third Judicial District judgeship left vacant by the recent retirement of Judge Thomas Ryan.
~ Dynamite found in Porthill area ~
3:06 p.m.: Expect law enforcement activity in the 6700 block of Porthill Loop as a caller reported finding dynamite.

Woman missing in Bonner County: The Sandpoint Police Department is seeking the public's help in locating a missing and at risk person. Karen "Patsy" Moore, 75, is described as five feet tall, weighing 124 pounds with blue eyes and brown hair. She was last seen several hours ago in the Westwood area in Sandpoint. Update: 3:01 p.m.: Sandpoint police report that Moore has been found safe. They send out thanks to all who helped locate her.
February 8

Hold off on planting for a little bit yet ... It's already starting to cool down as of 8:30 p.m. as a cold front begins moving through the region, with the thermometer sitting at 28-degrees on the way to an expected overnight low tonight in Bonners Ferry of 21. Then it gets chilly on Friday.
Planning just started but an exciting KRD shaping up: It was only the first planning session for a week-long event that's still months away, but even at this early stage, it's already obvious that Kootenai River Days 2018, July 16-21, is going to be a celebration the community can be proud of.
Hall Mountain auxiliary launches newsletter: Hall Mountain Fire Association members recently received Volume 1 Issue 1 of the Hall Mountain News Flash, a monthly newsletter put together by the auxiliary and being distributed by email to members and those who subscribe.
Idaho's 2017 graduation rate shows small increase: Nearly eight in 10 Idaho high school seniors graduated in 2017, a slight improvement with some bright spots and room to improve, Superintendent of Public Instruction Sherri Ybarra said Wednesday. More than 36 percent of Idaho's high schools graduate students at a rate of 90 percent or higher.

BFHS Honor Choir will sweeten Valentine's Day: On Valentine's Day, the honor choir at Bonners Ferry High School will again offer their annual singing Valentines! When purchasing a singing Valentine, a poem and a song will be delivered to the person of the purchasers choice.
February 7

American Legion Post 55 joins Facebook: Bonners Ferry American Legion Post 55 joined the world of Facebook following their meeting tonight in an effort to get word out to more members and to better let the community know what Post 55 is doing.

Jordan steps down to focus on governor's race: Representative Paulette Jordan announced today that she is officially stepping down from her District 5 legislative seat to concentrate on running for governor full-time. "It has been my privilege to be elected by and to serve the people of the fifth district since 2014," said Jordan. "My priority is my constituents and the people of Idaho."
February 6
Court dispositions and sheriff's log

Mare found in Paradise Valley: This black mare was found in Paradise Valley at the top of Alderson Lane this afternoon. If you're missing her or know who is ... HOME SAFE! Umm, and not a mare, but a gelding ... oops!
Snow watch issued for northwest Montana: The National Weather Service, Missoula, has issued a winter storm watch for the Kootenai/Cabinet region and the Flathead and Mission Valleys in effect from Wednesday evening through Thursday afternoon.
Congrats, January Golden Stand winners! January's "Golden Stand recipients in Jessica Hannah's band classes were Austin Kemmis, BFHS band, Jenny Owens and Ashley Blackmore, both in advanced band, and Zap Andrejczak and Loren Huggins, both in intermediate band!
~ Sater's Auction getting back underway ~
They're all fixed up and plowed out, and Sater's Auction will reopen after a long, dreary winter with the Leonard LeShack Estate Auction from 9:30 a.m. to 12:30 p.m. Thursday, February 15. The barn is so full at the moment, the next consignment auction won't be until Thursday, February 22, when life for Sater's Auction fans returns to normal! Sater's Auction Barn, 601 Highway 2, Bonners Ferry. To find out more, call (208) 267-7297.

A lot of snow at Schweitzer: January was an amazing snow month for Schweitzer Mountain Resort. They received 104-inches of new snow in the month, and with the snow that's fallen so far in February, they now have over 270-inches of snowfall so far this season.
See Moon, Jupiter and Mars before sunup: On the mornings of February 7 to 9, early risers can watch the moon as it moves in its orbit past the planets Jupiter and Mars in Earth's predawn sky.
Governor's Awards in the Arts nominations sought: The Idaho Commission on the Arts, on behalf of Governor C.L. "Butch" Otter, is seeking nominations for the 2018 Governor's Awards in the Arts.
February 5

Gauge missing from home on top of Alderson Lane: FOUND AND HOME SAFE! Gauge went missing today from his home in Paradise valley at the top of Alderson Lane. He's just 10 1/2 weeks old and not wearing a collar. If you've seen him or know where he might be, please call Liana at (208) 610-0833 or (208) 597-5531.

January zipped by at Naples Elementary: The first month of the New Year passed us by in the blink of an eye! The staff and students of Naples Elementary have been busily plugging away to maximize learning. Although many have been fighting a variety of illnesses, the goals have remained steady for all: Safe, Civil, and Productive! By Principal Robin Merrifield
Weed control apps available: The Neighborhood Cooperative Weed Control Program is open to all Boundary County residents to reimburse for the cost herbicide purchases for the control of noxious weeds. Residents may receive a reimbursement of up to $500.
February 2
Spring break up closures could begin soon: Once again it is the time of the year to think about break up road closures. Temperatures are warming up and hard surfaced roads are soaking in the sunshine and a surface thaw will soon begin. Cold nights will slow it down.
Grand opening day!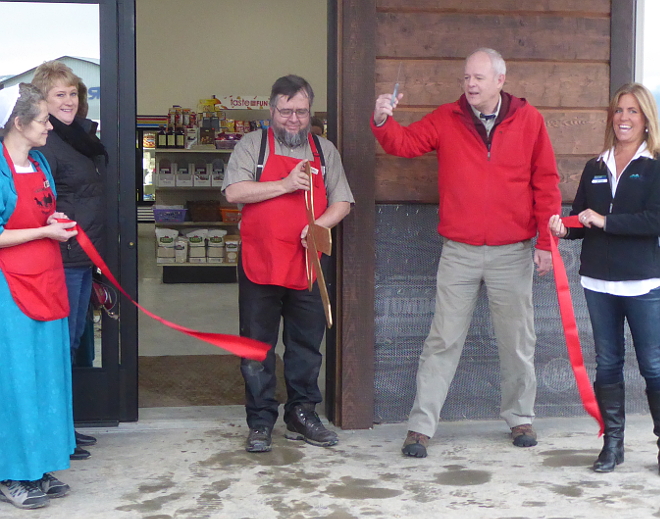 It's not the prettiest day out today but you wouldn't know that judging by all the smiling faces at today's grand opening at Yoder's Market on the west side of Highway 95 off Plato Lane. While the doors opened January 16 in Henry and Verna Yoder's quaint new store, today marks the official ribbon cutting, and the fun and savings lasts until 7 p.m.
Survey offered on school assessment system: The State Department of Education invites Idahoans to provide feedback on the state's assessment system in an online survey available through February 16. The survey takes about 20 minutes to complete and covers a variety of topics.
February 1

Troy, Libby schools win literacy grants: Montana Superintendent of Public Instruction Elsie Arntzen announced Wednesday that 21 Montana school districts are being awarded Montana Comprehensive Literacy Project grants, and Troy and Libby school districts are among them.
Sustainable farm law webinar offered: There will be a free webinar, Introduction to Sustainable Farm Law 101, from 6 to 8 p.m. Thursday, February 8, streamed live via Facebook from the Extension office in Bonners Ferry.
Northern Lights offering scholarships: If you know a high school student, undergraduate student or someone who wants to become a lineman, Northern Lights is offering a $3,000 lineman scholarship, along with eight $1,500 educational scholarships.
~ Task Force meeting canceled ~
The Boundary County Human Rights Task Force's regular meeting, February 2, has been cancelled. The next meeting will be Friday, March 2.
Boundary County Commission minutes, January 22
Archives