Boundary County News
Home
Sports
Social
Obituaries
Events
Letters
December 10
Snow advisory extended: The National Weather Service has issued a winter weather advisory for snow in Boundary and Bonner Counties from 7 p.m. today until 4 p.m. Sunday. Light to moderate snowfall is expected tonight and into Sunday morning, bringing an additional two to five inches of snow.
December 9
Snow advisory issued: The National Weather Service has issued a winter weather advisory for snow for the Idaho Panhandle, in effect until 10 a.m. Saturday.
Farm Service Agency seeks help: The USDA Farm Service Agency in Bonners Ferry is hiring for a Program Technician position. This is a temporary position with health benefits available.

Flags at half staff for John Glenn: As a mark of respect for the memory of John Glenn, I hereby order ... that the flag of the United States shall be flown at half-staff ... throughout the United States and its Territories and possessions until sunset, on the day of interment.

Idahoans come together to light up nation's capitol: It's been a wonderful and memorable week in Washington as we celebrated the holidays with the lighting of the Idaho-grown U.S. Capitol Christmas Tree. From the time it was felled with a crosscut saw at the Little Ski Hill in McCall to Tuesday's lighting ceremony at the West Front of the Capitol, the tree was warmly embraced by Idahoans and Americans.

Longest night of the year approaching: Late dawn. Early sunset. Short day. Long night. For us in the Northern Hemisphere, the December solstice marks the longest night and shortest day of the year. Meanwhile, on the day of the December solstice, the Southern Hemisphere has its longest day and shortest night.
December 8
Ministerial Association making Christmas baskets: The Boundary County Ministerial Association is creating 200 Christmas baskets again this year, and sends its thanks to our local schools for the donations and help and to local veterans for lending your helping hand.
Driver's license services to close for holidays: Boundary County driver's license services will be closed on the following dates for the Christmas, New Years and Human Rights Day holidays; December 25-26, January 2 and January 16.
December 7
Local man missing after falling into Kootenai: Lincoln County, Montana, authorities are continuing to search for a 41-year-old Bonners Ferry man who fell into the Kootenai River Tuesday night as he and his fiancé were scouting a spot to be married.

Santa's Bonners Ferry arrival caught on tape! A distinguished visitor arrived in Boundary County the day after Thanksgiving. Transported in a fire truck furnished by the Bonners Ferry Fire Department, Santa Claus arrived at the Georgia Mae Plaza in downtown Bonners Ferry to the cheers and greetings of a very large crowd of children and parents.
Holiday spirit alive and well at BCMS: Our Citizen of the Month results for November are in. November's trait was Citizenship. Please congratulate Dillon Mai sixth, Jenny Owens, seventh, Kami Bremer, eighth, and Jerry Jiminez, staff. Next month, December, the trait is Generosity. By Principal David Miles II

Community Choir to present annual Christmas concert: Bonners Ferry Community Choir presents "Peace on Earth, Goodwill to All" at 7:30 p.m. Friday, December 16, and at 3 p.m. Sunday, December 18, both at Trinity Lutheran Church, just off Highway 95 on Cody Street in Bonners Ferry.
Flags half staff for Pearl Harbor Remembrance Day: Seventy-five years ago, Japanese fighter planes attacked the United States Naval Base at Pearl Harbor, destroying much of our Pacific Fleet and killing more than 2,400 Americans. The following day, President Franklin D. Roosevelt called on the Congress to declare war and "make it very certain that this form of treachery shall never again endanger us."
County seeks Emergency Management director: Boundary County is seeking to fill the position of Director of Boundary County Office of Emergency Management to fill the shoes of current director Dave Kramer, who will be taking over as sheriff in January.
Join the 117th annual Audubon Christmas Bird Count: Boundary County is where we call home. It is that time of year to count another group that also calls it home. It is time to survey our feathered friends. No matter the weather, volunteers will start in the first light of the day to begin counting.
Moyie Springs City Council minutes, November 7
December 6
Winter storm watch calling for snow: The National Weather Service has issued a winter storm watch for the possibility of heavy snowfall Thursday through Saturday morning in the Idaho Panhandle.
First half property taxes due December 20: Boundary County Treasurer Susan Larson would like to remind all Boundary County taxpayers that the deadline for paying the first half of the 2016 property taxes without penalty is Tuesday, December 20.
County P&Z to consider conditional use: The Boundary County Planning and Zoning Commission will hold public hearing at 5:30 p.m. Thursday, December 15, in the main courtroom at the Boundary County Courthouse to accept public comment on Conditional Use Application 17-016 by John Oxley.
December 2
Night of Nativities underway at LDS Church: The first of two days of the annual Night of Nativities is underway and continues until 9 tonight at the LDS Church, 6568 Alderson Lane, Bonners Ferry. There is no charge for admission. Over 200 beautiful nativity sets are on display, from around the world, all unique in nature, many loaned by people in our community and some specially loaned by people from other states.
Winter weather advisory: The National Weather Service has issued a winter weather advisory for snow in areas above 2,500 feet in much of the Idaho Panhandle, including all of Boundary, Bonner and Shoshone Counties, in effect until 10 a.m. Saturday. Snow is expected late this afternoon through Saturday morning, with less than an inch accumulating below 2,500 feet, from two to four inches between 2,500 and 4,000 feet and three to five inches above 4,000 feet.
December 1
Explorers raising funds to attend memorial: It is estimated that every 53 hours a law enforcement officer is killed in the line of duty in the United States. The month of November has seen the tragic loss of 20 officers' nationwide; more than any other month in 2016.
Holiday season busy at BCMS: Our Penny War fundraiser was a fantastic success! Through the efforts of our students and the competitive nature of our school, we were able to raise $1,517.40 to donate to local organizations. The money was split and checks given to the local Legion and VFW chapters. By Principal David Miles II
ITD seeking public input on projects: The Idaho Transportation Department is taking public comment on 26 bridge projects on highway routes across the state. The bridges will be built as funding becomes available. That list includes five spans in the Idaho Panhandle, including the Round Prairie Creek Bridge, Highway 95 at Mile 529.96 in Boundary County.
November 29
Santa's Chariots of Fire Parade coming: Boundary Ambulance will be participating with area Fire Departments in "Santa's Chariots of Fire Parade" on Saturday, December 3.
Winter weather could finally be coming: After a relatively mild November, the arrival of December could finally bring the onset of winter, with the next six days in a row offering a good chance of snowfall, and temperatures predicted to drop into the single digits a week from today.
BCH hosting Giving Tree: This year, Boundary Community Hospital is sponsoring a Christmas Giving Tree in the Outpatient Services Lobby for the benefit of Boundary County children through the BoCo Backpacks program.
November 28
Man arrested for disturbance at Naples School: On November 21 at about 8:15 a.m., Naples Elementary School contacted the Sheriff's Office to report that they had placed the school on lock down due to an intruder being on the school grounds.
November 25
'Tis the Season!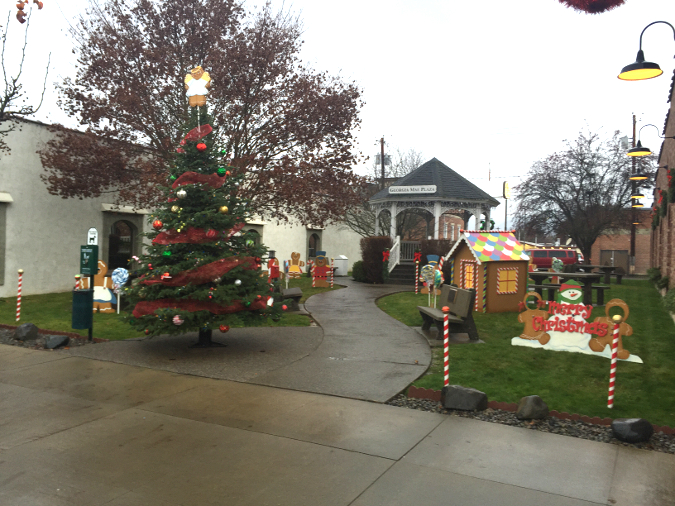 NewsBF photo
All was still at Georgia Mae Plaza this afternoon after Barb LePoidevan had put the finishing touches on her beautiful Gingerbread Wonderland and all the arrangements made for the arrival of Santa. By 4 p.m., though, excited children and their parents thronged as Santa arrived aboard a Bonners Ferry fire truck and the Bonners Ferry Christmas season was officially begun!
November 24
Santa schedules annual visit: Santa arrives in downtown Bonners Ferry tomorrow evening to be on hand at Georgia Mae Plaza as the Mayor throws the switch to light the Bonners Ferry Christmas tree!
ISP working to resolve *ISP issues: Through public feedback, Idaho State Police recently learned that *ISP (*477) was not working for some users with certain mobile phones.
November 23
Storm watch upgraded to warning: The winter storm watch issued yesterday by the National Weather Service has been upgraded to a winter storm warning in North Idaho and northeast Washington at elevations above 3,000 feet. The warning, which calls for heavy snow, is in effect from 8 a.m. Thanksgiving day through 10 a.m. Friday.
November 22
Winter storm could affect Thanksgiving travel: The National Weather Service has issued a winter storm watch in effect from late Wednesday night through 10 a.m. Friday for an area including Boundary and Bonner Counties.
Licenses, ID cards running late: The Idaho Division of Motor Vehicles wants to reassure customers who have not yet received a driver's license or identification card applied for in the last five weeks.
School district seeks bids: Boundary County School District 101 is seeking sealed bids for work to be done on the Valley View Elementary gym floor. The deadline is 2 p.m. Monday, December 19.

FFA digging their vermicompost project: The Idaho Farm Bureau recently chose the Bonners Ferry FFA Chapter as a recipient of the Agricultural and Environmental Research Foundation Grant, and now several local FFA members are up to their elbows in worms.

Rotary members make holiday delivery: Bonners Ferry Rotary heard the call from the local food back a few weeks ago ... so yesterday, a group of representatives gathered together to help pay for and transfer 20 turkeys to the food bank for Thanksgiving Dinner Baskets.
Idaho's unemployment holds at 3.8 percent: Idaho's seasonally adjusted unemployment rate held at 3.8 percent in October. Nationally, the unemployment rate decreased from 5 percent to 4.9 percent.
Boundary County Commission minutes: October 31, November 7, November 14
Archives