Boundary County News
Home
Sports
Social
Obituaries
Events
Letters
November 20
Idahoans invited to state tree lighting ceremony: Governor C.L. "Butch" Otter and First Lady Lori Otter invite everyone to join them on the evening of Monday, November 27, for a celebration of the holiday season at the ceremonial lighting of Idaho's Capitol Christmas Tree.
NewsBF proving itself an important news source: If you wonder about the effectiveness of News Bonners Ferry as a source of news, the North Hill manhunt of Sunday evening might hold some answers. Unlike traditional news media, such as radio, television and newspaper, most of which, incidentally, also have websites, NewsBF is geared to take advantage of the internet to get accurate breaking news out as a situation develops, in real time, allowing the reader to take action in time to make a difference. By editor Mike Weland
Blood center faces holiday donation drop: The Inland Northwest Blood Center is challenging its residents to help make up for a large decrease in blood donations expected during the holiday season, and there are two drives taking place in Bonners Ferry this week so residents here can take part.
Important dates for Medicare beneficiaries: The Idaho Department of Insurance would like to remind Medicare beneficiaries who are under the age of 65 that they are eligible to purchase a Medicare Supplement, also known as Medigap, policy with an effective date of January 1.
Be careful not to sit on your bunions: There is no more frightening threat you could make to a kid than " You behave or you will have to massage your Grandma's bunions!" My own stomach still flip-flops at the thought of it. Musings from Moyieboy, by Ken Carpenter
Bonners Ferry City Council minutes, September 5
Bonners Ferry Special City Council minutes, September 12
Bonners Ferry City Council minutes, September 19
Bonners Ferry City Council minutes, October 3
Bonners Ferry City Council minutes, October 17
November 19
Search underway on North Hill: Law enforcement personnel are continuing the search for a man believed to have a nation-wide no-bond felony warrant for his arrest after the individual bailed out of a vehicle sought by Idaho State Police at about 4 p.m. today on the North Hill and has so far evaded those searching the area around the Boundary County Landfill. The suspect has been apprehended.
November 18

It's beginning to look like the holidays are here! The one day of the year you can almost guarantee a traffic jam on the normally placid Moon Shadow Road is on the Saturday before Thanksgiving, when the congregation at the Kootenai Valley Mennonite Church put on their annual Holiday Craft and Bake Sale. And today, the Mennonite congregation weren't the only ones making it feel that the holidays have arrived in Boundary County! A NewsBF pictorial
Second semester of Classical Conversations to begin: Home schoolers interested in the classical approach to education might consider Classical Conversations as the second semester begins January 10. An informational meeting to share more about the programs with interested parents will be held on Friday, December 1.

BCMS has plenty to be thankful for: First let me say happy Thanksgiving to all of you out there. We appreciate and are thankful for the support we get from this community every day. We strive to help give back when we can and though we probably don't say it enough, Thank You! By Principal David Miles II
Schweitzer opening earliest in 20 years: It's opening day at Schweitzer Mountain Resort, and they are off to a great start this season with the earliest opening they've had in 20 years! The mountain is in good shape with the recent snow fall and all the work our snow making and grooming crew has been doing.
November 17
Free 'Cyberbu//y' showing and forum slated: The Boundary County Human Rights Task Force is presenting a film and forum to address the serious issue of cyber-bullying at 6:30 p.m. Thursday, November 30, at the Becker Auditorium at Bonners Ferry High School.
November 16
Please send me your news! A lot of people tell me they're surprised and pleased to find news of their organization that I've picked up from a website or on Facebook, or found on a poster on a wall downtown. I will keep looking and sharing, but instead of waiting for me to find it, why not make sure I get it by sending it to me?

A lot to be thankful for at Mt. Hall Elementary: Greetings from up north! We have snow on the playground and the first progress reports have been sent home for the year. We made it halfway through the first trimester, and our students and staff have been working hard. By Principal Lisa Iverson

Bonners Ferry FFA members celebrate Ag Days: On Friday and Saturday, October 6 and 7, members of the Bonners Ferry FFA Chapter took a bus down to the University of Idaho in Moscow for Ag Days. The adventures and activities started the minute the bus parked on campus. By Katelyn Hutchinson

Locals to take part in 118th Audubon bird count: Local bird lovers will be getting together for an early breakfast on Thursday, December 28, and then scatter to all corners of the county to take part in the 118th annual Audubon Society Christmas Bird Count.

Extended holiday hours for Christmas tree permit sales: In order to accommodate members of the public who may wish to purchase a Christmas tree permit on the weekend, the Coeur d'Alene River Ranger District's Fernan Office will be open from 8 a.m. to 4 p.m. Saturday, December 2, and Saturday, December 9.
November 15
Expect yucky, slick roads Thursday morning: Get ready for a mixed bag of weather, as a system brings rain, freezing rain and mountain snow to Boundary and Bonner Counties in Idaho and Pend Oreille County, Washington, and rain, yuck and slop to points south tonight.

Meet the sawyer who cut the Capitol Christmas Tree: Meet the local sawyer who was selected earlier this month to cut the 2017 U.S. Capitol Christmas Tree, which is now on its way east to Washington, D.C. Kootenai Forest Supervisor Chris Savage selected Pete Tallmadge of Troy with the honor.
Idaho fraud victims can seek compensation: Idaho Attorney General Lawrence Wasden announced Tuesday that Idahoans who sent money to scammers through Western Union's wire transfer service may be eligible for compensation from the U.S. Department of Justice's Victim Asset Recovery Program.
November 14
Timber thieves have law on their trail: Boundary County law enforcement officers would like to send out a stern warning to those who are apparently visiting logging sites around Boundary County, finding unmanned log decks and helping themselves to the fruits of someone else's labor.

Calling all socks! You've heard of coat drives, maybe even hat or mitten drives, but Valley View Elementary is trying something new to ensure that those in need don't suffer cold tootsies this winter; they are holding their first ever Sock Drive! Donations of new socks only, preferably warm, toasty new socks, can be dropped in a drop box that will be in the entry of Valley View Elementary November 26 through December 9.
Court dispositions and sheriff's log
November 13

Mt. Hall students salute our veterans: Patriotism is still alive and well at Mr. Hall Grade School! On November 13, approximately 25 veterans were treated to a delightful and charming Veterans Day salute by the students of this school. Upon my arrival at Mt. Hall, I was greeted by Principal Lisa Iverson. She graciously asked if there was anything she could do or provide for me. By Mike Ashby
November 11
Unsettled weather predicted in the week ahead: According to the National Weather Service, a very active weather pattern will envelope the region beginning Monday and continue through the week with frequent periods of mostly valley rain and mountain snow.

Thank you for your service: At 11 a.m. on the 11th day of the 11th month, 99 years after the guns of World War I fell silent, a crowd gathered in Veterans Memorial Park outside the library in Bonners Ferry and remembered the honor and the sacrifice of those among us who, at one time, took an oath "that I will support and defend the Constitution of the United States against all enemies, foreign and domestic." A NewsBF pictorial
Democrat House Party a fun success: More than 30 people from across the county, from Porthill to Naples, dropped in on the Democratic House Party for Puerto Rico at Debbie Flory's house on Tuesday, raising over $400 to be donated to World Central Kitchen.
Schweitzer kicking off season November 18: Thanks to consistent temperatures for snow making and some significant early natural snowfall, Schweitzer Mountain Resort is pleased to announce the start of the 2017/18 season on Saturday, November 18.
November 10

Family coping with sudden loss as holidays draw nigh: A young man died unexpectedly in Bonners Ferry Friday, leaving his wife and two children in mourning and facing costs they should not have to face at a time, with the holidays so close at hand, that they should be rejoicing. The reality of what's befallen them has yet to set in, but Bonnie's sister is asking all the family's friends to help with funeral costs and to help them put their lives back together. Updated with service notice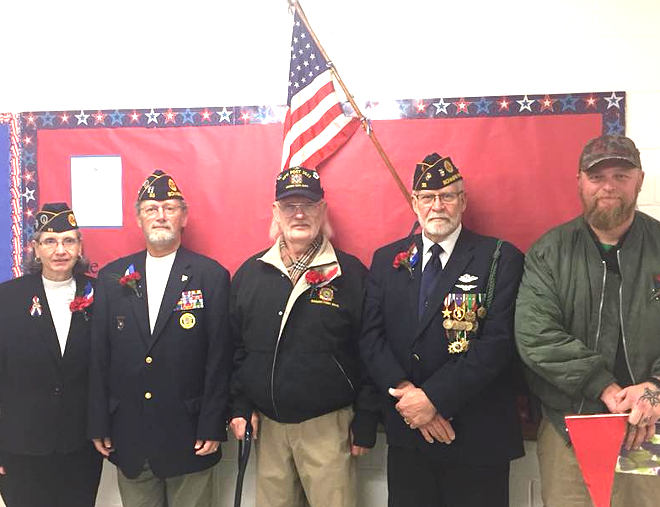 BCMS Leadership Class says thank you, veterans: The Boundary County Middle School Leadership Class extends a big thank you to the veterans who came and spoke to their advisory classes today, and to the students, who were very respectful and participated and wore red, white and blue!
November 9
Rural health in Boundary County: Across America, rural settings allow for a simpler way of life. However, when it comes to health care, rural health clinics are anything but simple. The Rural Health Services Act of 1977 has helped bring healthcare providers to rural areas, meeting the needs of families that would otherwise not have access to care. By Jeannie Harkness
Mark Fenton to speak of more active Bonners Ferry: The city of Bonners Ferry is pleased to bring Mark Fenton to our community Monday and Tuesday at the Kootenai River Inn to discuss public health trends and ways to combat childhood obesity in our community. Space is limited and you need to register by 5 p.m. today.

The incredible shrinking bladder: Age can be a funny thing, if it doesn't drive you nuts. Take the bladder, for instance. In my case, please, take it and replace it with a football or something. It has shrunk to the size of a toad's eyeball. Such was not always the case. Musings from Moyieboy by Ken Carpenter
Moyie Springs City Council Minutes, October 4
November 8

Women in Agriculture Conference here soon: The 2017 Women in Agriculture Conference will offer women in Washington, Idaho, Oregon, Montana and Alaska a unique opportunity to gather in 40 different locations for a one-day event featuring knowledgeable speakers, inspiring stories, networking with other producers and practical advice for learning new skills.

'Electrofrogging' clears way for climate adaptation grant: An invasive frog in the wetlands of North Idaho is triggering climate related habitat work in Boundary County. In recent years, warm temperature loving American bullfrogs have been making their way north along the Kootenai River Valley toward the Boundary-Smith Creek Wildlife Management Area (BSCWMA) near the US-Canadian border.
Sloppy weather expected: The National Weather Service has issued a winter weather advisory for mixed precipitation, in effect from 10 p.m. today through noon Thursday. Total valley snow accumulations of up to two inches are expected.
November 7
Thompson to join Bonners Ferry City Council: Val Thompson garnered 154 votes to incumbent Ken Toline's 50 votes to take a two year seat on the Bonners Ferry City Council, and in Moyie Springs, Geoff Hollenbeck was the top vote getter with 37 and Stephen E. Economu garnered 29 votes to fill two vacancies on the Moyie Springs City Council.
Gearing up for the Festival of Hearts: The 2018 Fry Healthcare Foundation's Festival of Hearts takes place at 6 p.m. Saturday, February 10, at the Kootenai River Inn. The Festival of Hearts is the foundation's major fundraising event of the year to raise funds for Boundary Community Hospital.
Bestowing honor on Idahoans: Governor C.L. "Butch" Otter unveiled a new public service advertising campaign today seeking nominations for the highest civilian honor the State of Idaho bestows on its citizens.
Court dispositions and sheriff's log
November 6
Friends of the KNWR to hold annual meeting: The annual meeting of the Friends of the Kootenai National Wildlife Refuge will be held in the refuge education barn at noon Tuesday, November 14, and they'd love to have your input!
RCC honors vets as Back Adit plays The Pearl: Looking for a way to honor and entertain your local heroes? Bring them to The Pearl this Veteran's Day to see Back Adit! The show starts at 7 p.m. Saturday, November 11. Rawlings Community Counseling sponsors all veterans for this show, offsetting regular ticket prices for our community's veterans.

Local Marines to celebrate 242nd birthday: They are the few, the proud. The U.S. Marines. A group, perhaps more than any other, that epitomizes loyalty, honor, service. A group that, once you join and serve, you are forevermore a part of. On Friday, November 10, the Corps celebrates its 242nd birthday, and all Boundary County Marines are invited and encouraged to attend this year's Marine Corps Ball, to be held at the Kootenai River Inn.
Flags half staff to honor victims of Texas shootings: We are deeply saddened by the shooting in Sutherland Springs, Texas, which took the lives of more than 25 innocent victims while they were attending church. As we mourn the victims of this unprovoked act of violence, we pray for healing and comfort for all the family members and loved ones who are grieving.

Idaho Family Reading Week just ahead: Idaho Family Reading Week starts next week, November 13-16, and Valley View Elementary has a full week of activities planned to get your family reading. Their theme of "Tell me a tale" will inspire children to write their own stories and read them to classes.
November 4
Winter weather advisory for snow continues: The National Weather Service has issued a winter weather advisory for continued snow, effective from 4 a.m. Sunday through 4 a.m. Monday in North Idaho and northeast Washington. An additional two to four inches of snow is expected to fall during that period in the lower elevations, with up to seven more inches falling in the mountains.
ISP offering winter driving class: The Idaho State Police will be holding a Road Safe Class for the 2017/2018 winter driving season from 9 a.m. to noon Saturday, November 11, at the Idaho State Police District 1 Office, W615 Wilbur Avenue, Coeur d'Alene.
November 3
Collision on icy road claims Bonners Ferry woman: A Bonners Ferry woman died today in a two-vehicle collision with a semi in Bonner County caused by slick roads.
Care-N-Share Christmas season is here: Care-N-Share Christmas is on its 35th year of helping insure the children of our community have a wonderful Christmas! If you or someone you know will be needing help this Christmas, applications are now available.

Badger Band Notes: letter, schedule and permission slip were sent home for Gathering of the Bands this week. Chaperones are needed, please contact Mrs. Hanna if you are available to travel with us on Wednesday, November 15, to North Idaho College in Coeur d'Alene. Excerpts from The BFHS Band November Newsletter

Christmas tree season on the IPNF: It is soon to be the most wonderful time of year to visit the Idaho Panhandle National Forests and find the perfect Christmas tree! Individual Christmas tree permits are $5 each and are available at the U.S. Forest Service supervisor or district offices.
Public comment sought for state insurance waiver: The Idaho Department of Insurance intends to apply to the Centers for Medicare and Medicaid Services and to the United States Department of the Treasury for a Section 1332 State Innovation waiver on or about January 5, 2018. Public comments will be accepted until December 15.
Archives