Boundary County Events
Home
Sports
Social
Obituaries
News
Letters
Classified Ads
Looking Back
Health Jewels
Stitch in Time
Note: The Boundary County Board of Commissioners meets from 9:00 a.m. til 5:00 p.m. each Monday and Tuesday.
Now Available
Boundary County Centennial coins, minted by the Chamber of Commerce via the Sunshine Mine, have arrived and can now be picked up at Mountain West Bank. For more information on these coins, see our story by clicking here.
Monday, May 4
The Boundary County Republican Central Committee will meet Monday, May 4, at 6 p.m. at Mugsy`s.
Friday, May 8
Valley View Kindergarten Registration for 2015-2016. Please pass the word; If you have a new kindergartner you would like to register for the coming school year, bring your child's birth certificate and immunization records, and we will get you signed up at Valley View Elementary Kindergarten.
Saturday, May 9
Boundary Community Hospital Health Fair 2015. Lots of great activities: tour MRI and other diagnostic equipment facilities, tour a fire truck, ambulance, and medical evacuation helicopter. Get a blood pressure check. Free labs offered. Informational booths available from many health-related sponsors and organizations. Meanwhile, the Fun Run (with 3K, 4K, and 10K races) starts at 9:00 a.m., and the Bike Rodeo, also at 9:00 a.m. is always fun.

May 9, 2015, all the excitement begins at 9:00 a.m. Click here to read the full story on this year's Health Fair.
Boundary County Museum continues its celebration of the Boundary County Centennial and also celebrates opening day of the summer Museum season. Activities for the day include textile demonstrations, metal lathe demonstrations, fly tying, blacksmithing, a presentation on Kootenai culture, a screening of the locally-filmed movie The Fish Between the Falls (about sturgeon recovery). Also, lunch will be served.

For all the details, times, etc., click here to see the official poster for this Museum event.
Wednesday, May 13
The Kootenai Valley Resource Initiative is hosting an open house for interested community members to learn about the Deer Creek Project. This open house will focus specifically on roads management as part of the treatment project implementation. Please come and learn and provide your thoughts.

The meeting will be at the Boundary County Extension Office on Wednesday, May 13 from 5:00 p.m. until 6:30 p.m.

If you have any questions, call Patty or send an email: (208) 267-3519), patty@kootenai.org.
Thursday, May 14
The KVRI Forestry Committee will meet on Thursday, May 14 to continue work on the Deer Creek Project. The meeting will be at 9:30 a.m. at the Kootenai Tribal Office.

Any questions, call Patty Perry at 208-267-3519; or send an email to patty@kootenai.org
All women of the community are invited to this year's United Methodist Women Annual Luncheon. This year's luncheon will be Thursday, May 14, at 11:30 a.m. in Fellowship Hall at the United Methodist Church, corner of Lincoln and Denver Streets. Special presentation by Becky James, Executive Director of Victim Services (Youth Crisis and Domestic Violence Hotline). All ladies welcome! RSVP Judy Dirks 208-267-3859 or Jeanne Osborne 208-267-1083 by May 11.

To see the official flyer for this event, CLICK HERE.
Tuesday, May 19
Boundary County School District #101 Zones 3 and 4 Trustee positions are up for election on May 19, 2015. The Zone 3 Trustee position is currently held by David Brinkman and Zone 4 is held by Melanie Staples. Trustees serve four year terms beginning July 1.
Monday, May 25
Memorial Day
Memorial Day Parade. Immediately following the parade, all are invited to a special Memorial Day Remembrance Service at Grandview Cemetery.
Thursday, May 28
Last day of school attendance for BFHS seniors, Class of 2015
Saturday, May 30
Graduation for Bonners Ferry High School Class of 2015, 1:00 p.m. at the BFHS football field.
Thurday, June 4
Last day of school for all Boundary County public schools. Classes dismissed at 12:30 p.m.
Eighth Grade Graduation, Boundary County Middle School gymnasium, 6:00 p.m.
Saturday, June 6
Borders 3 Jamboree, sponsored by Bonners Ferry Rod Benders. Car Show held on Main Street (and other streets) in downtown Bonners Ferry. Registration open 8:00 a.m. until noon, and costs $20. A registration form is available at the website: www.Idahorodbenders.com. Door prizes awarded throughout the day. Trophy ceremony is at 3:00 p.m. First 150 cars receive a goodie bag with tons of stuff and a free T-shirt.
Saturday, June 13
Kootenai River Run. 5K course and 10K course. Both begin at the Fairgrounds. Cost $20 with a T-shirt, $10 without a T-shirt. Entries accepted on the morning of the race with no late fee, however to assure receipt of T-shirt entry must be received by June 1. Registration at Fairgrounds parking lot from 7:30 til 8:45 a.m.. Pre-registration at www.kootenairiverrun.com. Pre-registered runners can pick up packets June 12 from 5:00 to 7:00 p.m. at Mugsy's, or can pick them up day of race at the Fairgrounds. Door prizes during the awards ceremony, with Grand Prize a $100 gift certificate toward purchase of running shoes.

Race begins at 9:00 a.m.
For more information: 208-290-7039 or 208-267-5776 or 208-597-1431 OR
email: jkcomman@gmail.com or bonnersbonn@gmail.com
Saturday, September 12
Kootenai River Ride (Bicycle Ride), sponsored by the Rotary Club. Rides are as follows:
100K begins at 8:00 a.m.; 60K begins at 9:00 a.m.; 16K begins at 9:30 a.m.
Open to cyclists of all ages and skill levels. Families are encouraged to ride. Prizes! Food! Entertainment!
Register on line at www.KootenaiRiverRide.com (or you can print registration forms from the site).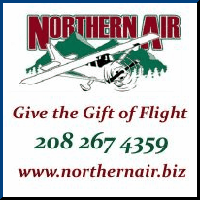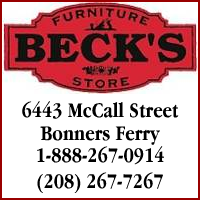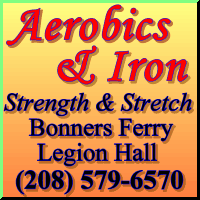 News Bonners Ferry
welcomes and publishes notices of upcoming events in our community, be it a meeting, a reunion, a party or a happening ... if it's something you'd like everyone to know about, we'd like to know so we can help spread the word! Events listings are always free ... but we appreciate your ad support to keep us publishing and to better promote your event!

To list an event, email publisher@newsbf.com or mail to

News Bonners Ferry
P.O. Box 1640
Bonners Ferry, ID 83805

with the date, time, location and a brief description of the event. Please include contact information so we can verify your listing ... to find out more about putting us to work promoting your event, click here!