Boundary County Events
Home
Sports
Social
Obituaries
News
Letters
Classified Ads
Looking Back
Health Jewels
Stitch in Time
Note: The Boundary County Board of Commissioners meets from 9:00 a.m. til 5:00 p.m. each Monday and Tuesday.
Saturday, March 21
Our next Kootenai National Wildlife Refuge Bird Walk is today. Bird Walks are led by expert birders. Come to find out what species are out and about at the Refuge. Sometimes we see mammals too. Gather at the Education Barn. Everyone is welcome, but children under 18 must be accompanied by a responsible adult. Bring binoculars and a field guide if you have access to them. Dress for the weather and expect to be out for about 2 hours. Today's Bird Walk begins at 9:00 a.m.
Bonners Ferry Invitational Track Meet Saturday, March 21 at Chuck Morgan Track at BFHS. Field events start at 10:00 a.m. We need some help running the meet. Contact info: George Hays (208)610-0770.
The Penguin Plunge, a fun event to raise money for Idaho Special Olympics, is March 21 at the Search and Rescue/Waterways Building with registration at 11:00 a.m., and the plunge starting at noon. Minimum age for the plunge is 14 years of age. All spectators are welcome--it's free! To see our full story on this event, click here.
Free clothing giveaway at the Naples Fire Station, Saturday March 21 10:00 a.m. to 3:00 p.m.. For more information, contact Aimee Christopherson from Hope House at 208-267-5105.
The 2015 Mr. BFHS competition will be held in Becker Auditorium (the high school auditorium) on Saturday, March 21, at 7:00 p.m. Tickets will be sold at the door: $5 for students and $8 for adults. Nine Mr. BFHS candidates compete for the title of Mr. BFHS 2015, as well as in other categories such as fitness, talent, and lip-sync. Expect lots of fun and lots of craziness!

All money raised will go towards helping the senior class go on their senior trip later this yeear to the Hot Springs in Canada.
Friday, March 27
Last day to purchase tickets for the Bonners Ferry Rotary 1st Annual Law Enforcement Appreciation Dinner and Awards ceremony! For details, see the announcement below for Friday, April 10. For tickets, contact Debbie Woods at the Bonners Ferry Police Department, 208-267-2412.
The Knights of Columbus from St Ann's Catholic Church are hosting a catfish fry from 5:00 til 7:00 p.m. in the basement of St. Ann's Catholic Church, 6712 El paso Street. All you can eat catfish, tater tots, hush puppies, coleslaw, green beans, desert and drink for $12 for adult and $8 for children. Family pricing available. All proceeds will go towards local charities.
Monday, March 30
Spring Break for Boundary County Schools will run March 30 through April 2. Happy Spring!
Friday, April 3
Joint Good Friday Service, Friday April 3, 6:30 p.m. at the United Methodist Church.
Sunday, April 5
Easter Sunday
Community Easter breakfast, Sunday April 5, 8:30 a.m., Egg Hunt- 9:30 a.m., and worship service- 10:00 a.m. at the Church of the Nazarene. For more info, go to www.bfnaz.org.
Tuesday, April 7
Kootenai River Days planning meeting at 5:30 p.m. at Mugsy's. To get things all set and all planned for a great Kootenai River Days celebration, these planning meetings will be held the first Tuesday of each month at the same time: 5:30 p.m. at Mugsy's. As Kootenai River Days draws closer, the meetings will occur more often. For further information or to help out in any way, contact Tamra Hiatt at Riverside Auto Center.
Friday, April 10
Bonners Ferry Rotary Club's 1st Annual Law Enforcement Appreciation Dinner and Awards Ceremony, with featured keynote speaker: Idaho Attorney General Lawrence Wasden. This event will honor law enforcement officers from federal, state, and local agencies. This will be a catered dinner at the Boundary County Fairgrounds. Tickets $18 per person, available only in advance. If you wish to attend, your RSVP and ticket purchase must be no later than Friday, March 27 at 1:00 p.m. For tickets, contact Debbie Woods at the Bonners Ferry Police Department, 208-267-2412.
Saturday, April 11
Runaway Symphony—the band is back in Bonners Ferry. They are performing at Bonners Ferry's fabulous Pearl Theater on Saturday, April 11 at 7:00 p.m. Special guest performance by Bonners Ferry's own Dillon Dietz. The doors open—along with the famous Pearl Café inside—at 6:00 p.m.

Advance tickets are available for $12 at Bonners Books and Mountain Mike's. Tickets at the door on the night of the performance are $15. For more information, cvll 208-610-2846.

See the official poster for this event by clicking here.
Saturday, April 25
The annual "Free CommUNITY Breakfast" is going to be held on Saturday, April 25 from 7:00 a.m. to 10:00 a.m. at the Valley Event Center at the Boundary County Fairgrounds.
Friday, May 1
Today is the day to pick up Boundary County Centennial coins, minted by the Chamber of Commerce via the Sunshine Mine. Pre-ordered commemorative coins will be available at Riverside Auto Center.
Friday, May 8
Valley View Kindergarten Registration for 2015-2016. Please pass the word; If you have a new kindergarener you would like to register for the coming school year, bring your child's birth certificate and immunization records, and we will get you signed up at Valley View Elementary Kindergarten.
Monday, May 25
Memorial Day
Memorial Day Parade. Immediately following the parade, all are invited to a special Memorial Day Remembrance Service at Grandview Cemetery.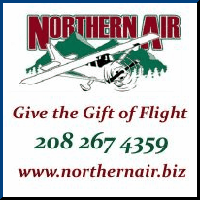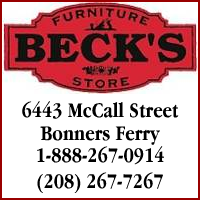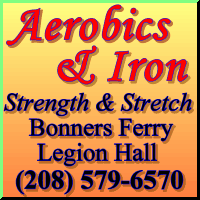 News Bonners Ferry
welcomes and publishes notices of upcoming events in our community, be it a meeting, a reunion, a party or a happening ... if it's something you'd like everyone to know about, we'd like to know so we can help spread the word! Events listings are always free ... but we appreciate your ad support to keep us publishing and to better promote your event!

To list an event, email publisher@newsbf.com or mail to

News Bonners Ferry
P.O. Box 1640
Bonners Ferry, ID 83805

with the date, time, location and a brief description of the event. Please include contact information so we can verify your listing ... to find out more about putting us to work promoting your event, click here!