Boundary County Events
Home
Sports
Social
Obituaries
News
Letters
Classified Ads
Looking Back
Health Jewels
Stitch in Time
Note: The Boundary County Board of Commissioners meets from 9:00 a.m. til 5:00 p.m. each Monday and Tuesday.
The Boundary County Ministerial Association is starting to collect funds for the upcoming Thanksgiving and Christmas box program. Please send donations for this purpose to P.O. Box 722, Bonners Ferry, Idaho 83805, and earmark the funds "Holiday Food Program."

Thank you!!! For further information, please call 208-304-3673.
Sunday, October 4
National Fallen Firefighters Foundation tribute to firefighters. The events begin on Sunday as a parade of fire apparatus will lead to City Fire's Main Station downtown at 2:00 p.m. to ring the fire house bells, reflect, read the list of those that lost their lives in the fire service last year, and encourage the living.

veryone is invited to attend. The Boundary County Chaplains Corps will be providing refreshments for the firefighters from all area departments and all those that come to support them.

All area churches are encouraged to participate by ringing their church bells at some time during the October 3-4 weekend.

For more information about our local remembrance, or to volunteer to assist with the event, please contact City Fire Chaplain Len Pine at 208-267-3327.

To read the full news article on this event, click here.
Monday, October 5
The Boundary County Republican Central Committee will meet on Monday, October 5, at 6:00 p.m. at Mugsy's.
Tuesday, October 6
The International Kootenay Lake Board of Control will hold a public meeting Tuesday, OctOber 6 in Nelson, British Columbia. The annual meeting will review the requirements of operation of Corra Linn Dam by Fortis BC under the International Joint Commission's Orders of Approval, and the associated Kootenay Lake water levels for 2015.

The Board will hear comments from the public regarding their concerns and suggestions on the Board's activities.

The meeting will be held 7:00 p.m. Tuesday, October 6, at the Prestige Lakeside Resort, 701 Lakeside Drive, Nelson, British Columbia. A similar meeting was held last year, and will be held again next year, in Bonners Ferry, Idaho. For more information about the meeting, contact Gwyn Graham in Canada at 604-664-4052, or Sara Marxen in the United States at 206-764-3595.
Friday, October 9
Special educational program on wolverines at the Kootenai National Wildlife Refuge. Program begins at 7:00 p.m. at the Refuge, with special program presenter Lacy Robinson from Idaho Fish and Game. See the full news story on this presentation by clicking here.
Saturday, October 10
Step back in time with the Friends of the Museum. On the first Saturday in October, which will be October 3, AND the second Saturday of the month, October 10, enjoy FREE days at the Museum. Admission will be paid by the Friends of the Museum, both Saturdays this month being sponsored by Don and Ann Hartman (Membe of the Class of 1961).
Monday, October 12
School Board Meeting Monday, October 12 at 6:00 p.m., to be held at Mt. Hall Elementary School.
Friday, October 16
Becky James Medical Fundraiser Spaghetti Feed/Silent/Live Auction will be held at the Valley Event Center at the Fairgrounds on Friday, October 16, at 6:00 p.m. For further information, contact Melissa Krejci at 208-267-7334.
Sunday, October 18
The Eagles Auxiliary is hosting a fundraiser breakfast for Becky James on Sunday, October 18, time to be announced.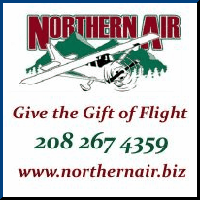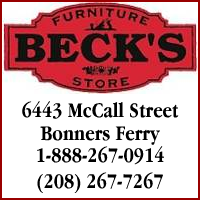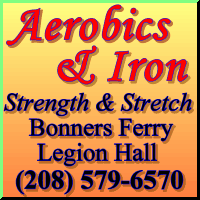 News Bonners Ferry
welcomes and publishes notices of upcoming events in our community, be it a meeting, a reunion, a party or a happening ... if it's something you'd like everyone to know about, we'd like to know so we can help spread the word! Events listings are always free ... but we appreciate your ad support to keep us publishing and to better promote your event!

To list an event, email publisher@newsbf.com or mail to

News Bonners Ferry
P.O. Box 1640
Bonners Ferry, ID 83805

with the date, time, location and a brief description of the event. Please include contact information so we can verify your listing ... to find out more about putting us to work promoting your event, click here!