Boundary County Events
Home
Sports
Social
Obituaries
News
Letters
Classified Ads
Looking Back
Health Jewels
Stitch in Time
Saturday, August 27
Garlic Festival at the Farmer's Market, held at the City Parking lot in Bonners Ferry from 8:00 a.m. until 1:00 p.m.
Tuesday, August 30
Pre-registration for classes at Boundary County Middle School.
Wednesday, August 31
Transition Day for new 6th graders entering Boundary County Middle School, from 8:00 a.m. until 11:30 a.m.
Thursday, September 1
Pre-registration for classes at Boundary County Middle School.
Friday, September 2
First home football game of the season, BFHS vs Lakeside, kickoff is at 7:00 p.m. at the high school football field.
Saturday, September 3
Free Day at the Museum, 10 a.m. to 4 p.m., 7229 Main Street, Bonners Ferry. Free admission for a step back in time, thanks to Friends of the Museum and sponsors for the day Dave and Dottie Gray.
Monday, September 5
Labor Day, national holiday.
Friday, September 9
The third annual Friends of Mirror Lake two person golf scramble, 1 p.m., Mirror Lake Golf Course. Friends of Mirror Lake is a volunteer group that raises funds to benefit Junior golf and ongoing golf course improvements. To find out more, call Mirror Lake Golf Course, (208) 267-5314.
Monday, September 12
School Board meeting at the District office, begins at 6:00 p.m.
Tuesday, September 13
Hospital Auxiliary Meeting, 11:30 a.m. at the Chic-N-Chop Restaurant. The September meeting will feature "Time Sensitive Emergencies" with Dr. Stu Willis, Hospital Education Director. Business meeting to follow the presentation. The Hospital Auxiliary meets the second Tuesday of each month September through May. New members are welcome! For more information, call (208) 267-6912 or visit the hospital website: www.boundarycommunityhospital.org/about-us/auxiliary.
Saturday, September 17
The Bonners Ferry Rotary Club is sponsoring its 14th annual Kootenai River Bicycle Ride on Saturday, September 17 at the Boundary County Fairgrounds. This ride features a 100K, a 60K, and a 16K ride--pick the one you want! Prizes, food, and entertainment available. Registration for the Ride is now open on the ride web site at http://www.kootenairiverride.com/ .
Waterfowl Hunters Workshop, hosted by the Kootenai National Wildlife Refuge, from 9:00 a.m. until noon. The waterfowl workshop is open to anyone interested in learning more about waterfowl hunting. No prior experience is necessary. Topics include waterfowl calling, retriever demonstrations, decoy placement, ammo, waterfowl identification, and more. Cost is $15 and includes lunch, coffee, and snacks. Lots of free door prizes. Space is limited to 30 participants, so don't delay. Registration and pre-payment is required. For more information, contact the Refuge at 267-3888.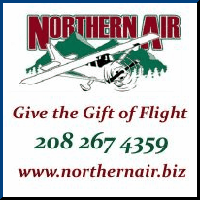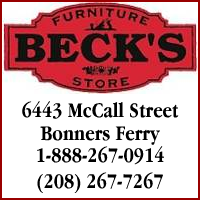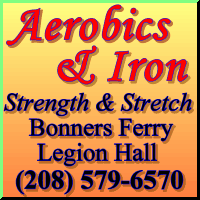 News Bonners Ferry welcomes and publishes notices of upcoming events in our community, be it a meeting, a reunion, a party or a happening ... if it's something you'd like everyone to know about, we'd like to know so we can help spread the word! Events listings are always free ... but we appreciate your ad support to keep us publishing and to better promote your event!

To list an event, email publisher@newsbf.com or mail to

News Bonners Ferry
P.O. Box 1640
Bonners Ferry, ID 83805

with the date, time, location and a brief description of the event. Please include contact information so we can verify your listing ... to find out more about putting us to work promoting your event, click here!
Thanksgiving Day.