Boundary County Events
Home
Sports
Social
Obituaries
News
Letters
Classified Ads
Looking Back
Health Jewels
Stitch in Time
Note: The Boundary County Board of Commissioners meets from 9:00 a.m. til 5:00 p.m. each Monday and Tuesday.
Tickets Now on Sale

Tickets for the 2016-2017 Distinguished Young Women of Bonners Ferry's Program, "Around the World in 80 Days," went on sale to the general public on Monday, April 18. Tickets may be purchased through the program's official ticket outlet, Mountain Mike's Health Food Store, located at 6486 Main Street. Get your tickets early as this event typically fills the auditorium!
Wednesday, April 27
Highway 95 Meeting at City Hall on April 27, 2016 at 4:30 p.m.
Saturday, April 30
Opening Day for this year's Farmers Market, Saturday, April 30 at the City Parking Lot in downtown Bonners Ferry, from 8:00 a.m. until 1:00 p.m.
Car Wash to raise money for Babe Ruth Softball / Baseball. Money will go toward purchasing new equipment. Cars will be entering dirty and leaving sparkling clean from 10:00 a.m. until 2:00 p.m. at Columbia Bank.

Distinguished Young Women 2016, at the Becker Auditorium at Bonners Ferry High School. The theme for this year's event is "Around the World in 80 Days."
Saturday, May 7
The 2016 North Idaho Veterans Stand Down will take place May 7 at the Kootenai County Fairgrounds from 8:00 a.m. to 2:00 p.m. The Stand Down is a kickoff to a program created by St. Vincent de Paul to assist veterans and their families in Idaho's five northern counties with services throughout the year.

Service organizations that provide medical, dental, housing, clothing, clothing repair, food assistance, haircuts, massages and bike repair will be available at the Stand Down. Employers who have immediate openings will be taking applications.

A hot meal will be served to all veterans, volunteers and service providers. There will be activities for the entire family. Military surplus will be available, but due to a new VA mandate it will only be distributed to homeless and disadvantaged veterans.

For more information or veterans assistance call Eric Swanbeck, St. Vincent de Paul Veteran Services Coordinator at (208) 664-3095, ext. 314.
Sunday, May 8
Mothers' Day
The Bonners Ferry Eagles #3522 will be hosting their annual Mother's Day breakfast from 8:00 a..m. til 11:00 a.m. on Sunday, May 8 at the Eagle Aerie on Second Street (behind Akins Harvest Foods). Menu will be omelets with ham or sausage to order, hash browns, fruit, fruit juices, coffee and tea. Donation is $6.00 with all proceeds going to The Friends of the Restorium. Bring "Mom" and the family in for a wonderful meal to honor Mothers everywhere.
Wednesday, May 11
Annual United Methodist Women's Community Ladies Luncheon will be Thursday, May 11 at 11:30 a.m. in Fellowship Hall, United Methodist Church, on the corner of Lincoln and Denver Streets. Special presentation by Gini Woodward, "Conduit of Care: Support for People Living with Mental Illness." All ladies welcome! RSVP by May 9 to Judy Dirks 208-267-3859 or Norma Gorman 208-267-1827. Click here to see the official poster for this event.
Thursday, May 12
There is a pesticide waste day Thursday, May 12 in Coeur d'alene. Pesticides may be dropped off at the Idaho State Department of Agriculture in Coeur d'Alene. They will be taking any unknown pesticides or pesticides that people no longer want or need. David Wenk, Boundary County Weed Superintendent, will be collecting pesticides to take down to Coeur d'Alene on that day. Contact Mr. Wenk, and he will meet with you to discuss proper disposal of your materials.

Mr. Wenk has stated he cannot take any paints, oils, or fertilizers. For more information, contact Dave Wenk at dwenk@boundarycountyid.org or 267-5341.
Driver Safety Class. A driver safety class will be offered on Thursday, May 12, at the Senior Center at 6635 Lincoln on the South Hill. The class is open to anyone, but emphasizes safety issues related to people 50 years and older. Attendees learn new safety tips in this half day course, starting at 8:30 a.m. They also benefit from auto insurance premium reductions for a 3 year period, per Idaho state law. The cost is $15 for AARP members, $20 for non-members. Class size is limited to 15 people, with 5 already registered, so pre-registration is important. Call Orrin Everhart at 267-6284 to register.
Saturday, May 14
Boundary Community Hospital Annual Health Fair, includes Fun Run with 3K, 5K, and 10K runs, a Bike Rodeo where kids can learn safe bike riding tips and get a free bike helmet, and the Health Fair, with free blood pressure, blood sugar, and cholesterol testing, tours of the MRI equipment and the Rehab Department (where you can test yourself on the therapy course. Many exhibits and booths will be set up and available. Local emergency services will be on display including Fire Department and Ambulance services, and medical evacuation helicopter. Plants will be available for sale to support the Extended Care Facility. Many more informative activities going on.

The Health Fair Runs from 9:00 a.m. until noon.

For more information, go to www.BoundaryCommunityHospital.org and click on Health Fair 2016.
Women in Business 2016, "The Exponential Woman—Thinking Outside of the Box." A seminar sponsored by the Bonners Ferry Chamber of Commerce for all women who plan to open or who have already opened their own business, or for any woman interested in entrepreneurship. The event will include lunch, special speakers, prizes and drawings, vendors, information, networking. Saturday, May 14, 10:00 a.m. til 5:00 p.m. Contact Alison Henslee: 208-610-8806. See facebook.com/bcwbc.
Friday, July 8
Rotary Club of Bonners Ferry will sponsor the Rotary Wine Walk on July 8 as part of the Kootenai River Days.
Saturday, July 8-9-10
Kootenai River Days. This countyh-wide event includes te PRCA Rodeo, Main Street party with music and dancing, Crazy Days Sales at local merchants, and more.
Saturday, September 17
The Bonners Ferry Rotary Club is sponsoring its 14th annual Kootenai River Bicycle Ride on Saturday September 17. Registration for the Ride is now open on the ride web site at http://www.kootenairiverride.com/ .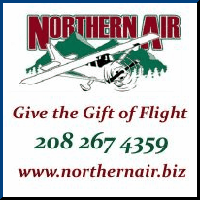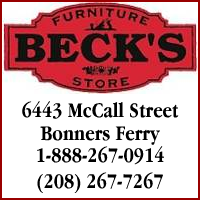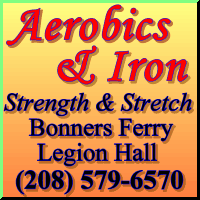 News Bonners Ferry welcomes and publishes notices of upcoming events in our community, be it a meeting, a reunion, a party or a happening ... if it's something you'd like everyone to know about, we'd like to know so we can help spread the word! Events listings are always free ... but we appreciate your ad support to keep us publishing and to better promote your event!

To list an event, email publisher@newsbf.com or mail to

News Bonners Ferry
P.O. Box 1640
Bonners Ferry, ID 83805

with the date, time, location and a brief description of the event. Please include contact information so we can verify your listing ... to find out more about putting us to work promoting your event, click here!
Thanksgiving Day.