Boundary County Events
Home
Sports
Social
Obituaries
News
Letters
Classified Ads
Looking Back
Health Jewels
Stitch in Time
Saturday, October 25
Tours of the Twin Rivers Sturgeon and Burbot Hatchery, open to the community from 9:00 a.m. until noon, at the new hatchery located at 1823 Twin Rivers Road in Moyie Springs.
The fourth annual Night for the Museum fundraising dinner will be held at the Boundary County Museum on Saturday, October 25, beginning at 5:30 p.m. This event is the major public fundraiser for the Museum and will consist of a buffet dinner catered by The Rusty Moose, a live auction, and raffles. All proceeds go to support the Museum. Tickets are $20 each and are available at the Museum, The Rusty Moose, or by calling John Standal at 267-9677. Advance tickets only, and seating is limited.
Friday, October 31
Halloween
Saturday, November 1
Fall Festival and Fashion Show. You are invited to this annual fundraiser for Boundary County Victim Services to support the Crisis Line and victims of crimes. The evening will be at the Pearl Theater, and will feature local entertainers, hors d'oeuvres, and beverages, a silent auction, and a live auction for three fabulous baskets assembled by Karen Moore.

This fun event will be Saturday, November 1. Doors open at 6:00 p.m. Tickets are $15, and are available at the door, or in advance at Under the Sun and the Boardwalk Boutique.
Monday, November 3
The Boundary County Republican Central Committee will meet Monday, November 3, at 6:00 p.m. at Mugsy`s.
Tuesday, November 4
Election Day. Polls are open from 8 a.m. until 8 p.m.
Saturday, November 11
Veterans' Day National Holiday. Watch for Boundary County's annual Veterans' Day Ceremony.
In honor of our Veterans, the Restorium will be hosting a free lunch on Veterans' Day on Tuesday, November 11, at 1:00 p.m. at the Restorium located at: 6619 Kaniksu Street, in Bonners Ferry. We will be serving spaghetti, salad, garlic bread and dessert. If you have any questions please call 208-267-2453.
We would love to see you come and bring a guest!
Tuesday, November 18
Bonners Ferry Community Blood Drive, 11 a.m. to 5:30 p.m., Mt. Springs Church, 6789 Main Street. Schedule an appointment at www.inbcsaves.org or call 1-800-423-0151
Kootenai Valley Resource Initiative

Our Wildlife-Auto Collision (WAC) Sub-committee Meeting will be held November 18, 2014 at 8:30 a.m. at the Kootenai Tribal Office.

Please try to attend on the 18th. We will catch up on where we left off, consider what we know, close any loops, and determine how to be the most effective and to partner effectively for our next steps and opportunities.

Call or send an email if you have questions: 208-267-3519, ext. 551 e-mail: patty@kootenai.org
Wednesday, November 26
No school in Boundary County due to Thanksgiving holiday.
Thursday, November 27
Thanksgiving Day
No school in Boundary County due to Thanksgiving holiday.
Friday, November 28
The Shook Twins will appear in performance at the Pearl Theater in a day-after-Thanksgiving concert, "Giving Thanks." Performing with them as special guest is John Craigie.

Pearl Theater, Friday, November 28. Doors open at 6:30 p.m., show begins at 7:30 p.m. Tickets are $17 in advance, and $20 at the door. Advance tickets are available at Bonners Books and at Mountain Mike's. For more information, contact the Pearl at 208-610-2846.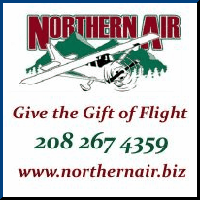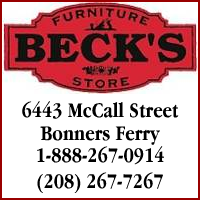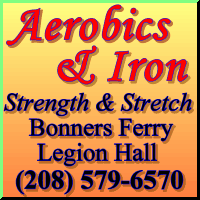 News Bonners Ferry
welcomes and publishes notices of upcoming events in our community, be it a meeting, a reunion, a party or a happening ... if it's something you'd like everyone to know about, we'd like to know so we can help spread the word! Events listings are always free ... but we appreciate your ad support to keep us publishing and to better promote your event!

To list an event, email publisher@newsbf.com or mail to

News Bonners Ferry
P.O. Box 1640
Bonners Ferry, ID 83805

with the date, time, location and a brief description of the event. Please include contact information so we can verify your listing ... to find out more about putting us to work promoting your event, click here!