Boundary County Events
Home
Sports
Social
Obituaries
News
Letters
Classified Ads
Looking Back
Health Jewels
Stitch in Time
Note: The Boundary County Board of Commissioners meets from 9:00 a.m. til 5:00 p.m. each Monday and Tuesday.
Friday, August 28
Bonners Ferry Badgers first home varsity football game of the season: Badgers vs Priest River Spartans, 7:00 p.m.
Saturday, August 29
Garlic Festival at today's Farmers' Market, begins at 8:00 a.m., until 1:00 p.m. at the City Parking Lot in Bonners Ferry.
The Amazing Race Against Cancer
Date: Saturday, August 29
Time: 11:00 a.m.
Location: Boundary County Fairgrounds Pavilion

$25 to enter a team of 2 to run the race! Teams will complete various challenges around town. Lunch will be served after the event – free for cancer survivors and race participants; $5 donation for anyone else! All proceeds support the American Cancer Society's lifesaving mission of fighting cancer in every community.

Click here to see the official poster for this event.
Noted local historian Howard Kent will conduct a Virtual History Walk tour of downtown Bonners Ferry with the BFHS Class of 1965 on Saturday, August 29, 2015. Anyone interested is welcome to join in the expedition. Meet at 1:00 p.m. at the Museum.
Tuesday, September 1
On Tuesday, September 1, 2015, Boundary County School District #101 will be hosting a FREE seminar focused on a philosophy and approach to parenting known as Love and Logic. This seminar features nationally-recognized speaker Jedd Hafer from Colorado Springs, Colorado.

A filling and tasty spaghetti dinner and dessert will be served at no charge prior to the seminar. This dinner will be served at the BFHS Commons from 4:30-5:30 p.m., and the presentation will be at the BFHS Auditorium from 5:30-7:30 p.m.

Click here to read more details of this school district-sponsored seminar event.
Thursday, September 3
First BFHS Cross Country meet of the season, Post Falls River Run at Post Falls.
First BFHS Varsity home volleyball game of the season vs Clark Fork Wampus Cats, 6:00 p.m.
Saturday, September 5
Step back in time with the Friends of the Museum on its First Saturday of the Month event for September: a FREE admission day at the Museum Admissions for that day will be paid by Friends of the Museum, and for September, the event is sponsored by Howard and Donna Kent. This will be the first Saturday of September, September 5, 2015. Drop by for a free visit at the Museum!
Monday, September 7
Labor Day
Tuesday, September 8
Can't believe we are saying this, but this day is the first day of school for students of Boundary County School District 101.
Friday, September 11
Friends of Mirror Lake are holding their 2nd Annual Two-Person Golf Scramble fundraising golf tournament on September 11. Tee-off time is 1:00 p.m. at Mirror Lake Golf Course in Bonners Ferry. We are a strictly volunteer group who formed to help make improvements to our community golf course with donated funds and labor. This year's project is to build an ADA accessible restroom facility on the course.

Those who wish to participate may sign up at Mirror Lake Golf course. For more information, call 267-5314.
Saturday, September 12
Kootenai River Ride (Bicycle Ride), sponsored by the Rotary Club. Rides are as follows:
100K begins at 8:00 a.m.; 60K begins at 9:00 a.m.; 16K begins at 9:30 a.m.
Open to cyclists of all ages and skill levels. Families are encouraged to ride. Prizes! Food! Entertainment!
Register on line at www.KootenaiRiverRide.com (or you can print registration forms from the site).
Monday, September 14
School Board Meeting at the School District office, 6:00 p.m.
Boundary County Middle School will be hosting Back to School Night on Monday, September 14 from 6:00 p.m. until 8:00 p.m. for all sixth, seventh, and eighth grade students and parents/guardians.
Thursday, September 17
Beginning Thursday, September 17, the Bonners Ferry United Methodist Church is hosting
"Easy Worship," a new, relaxed but sincere worship service in its Fellowship Hall. This service is meant to fulfill the needs of those people who cannot make it to church on Sunday mornings — for whatever reason.

This special evening service is an alternative time for worship that may prove to be more convenient for those in our community whose Sundays are taken up with other priorities and/or obligations. It is not meant to replace regular Sunday worship at your own church. We hope that those who want to worship with us will take advantage of this opportunity— be it a onetime event or more often than not. All are welcome!

Dress is casual; come as you are. A light potluck supper is planned for 6:00pm. Services begin at 6:30pm and will last no longer than an hour. Come! For more information, For contact information, our Bonners Ferry United Methodist
Church phone number is 208-267-2343.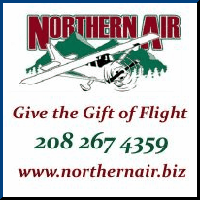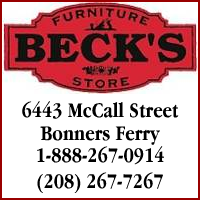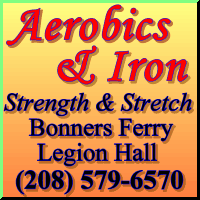 News Bonners Ferry
welcomes and publishes notices of upcoming events in our community, be it a meeting, a reunion, a party or a happening ... if it's something you'd like everyone to know about, we'd like to know so we can help spread the word! Events listings are always free ... but we appreciate your ad support to keep us publishing and to better promote your event!

To list an event, email publisher@newsbf.com or mail to

News Bonners Ferry
P.O. Box 1640
Bonners Ferry, ID 83805

with the date, time, location and a brief description of the event. Please include contact information so we can verify your listing ... to find out more about putting us to work promoting your event, click here!