October

Smith an FFA National Finalist: Thomas Smith of the Bonners Ferry FFA Chapter, earned the National Finalist award today for Agricultural Sales Proficiency as this year's National FFA Convention in Indianapolis drew to a close.

Easley wins Hall Mountain Fire quilt raffle: Don Easley, Paradise Valley, is the happy winner of the Hall Mountain Volunteer Fire Association Auxiliary Quilt Raffle and this awesome queen-size denim quilt, made and donated by Carol Martin, of Port Hill.

Son stepping up to help dad out at Pro-X: Andrew Brubaker from Pro X Home Center in Bonners Ferry is attending the Fall 2016 class of the North American Retail Hardware Association's Retail Management Certification Program, thanks to a $6,250 scholarship sponsored by Do it Best Corp. that will cover half of the course tuition.

Valley View PTO grateful: Totals are just in and the Valley View PTO Book Fair sold $4,800 in books! All of the profit from this sale will go directly back into our Valley View Elementary to purchase books that teachers will use with students.
United Methodist Women hosting Harvest Dinner: The Annual United Methodist Women Harvest Dinner will be held this year from 5 to 7 p.m. Thursday, November 3, at United Methodist Church, located at the corner of Denver and Lincoln Streets in Bonners Ferry.
Deadline extended to nominate Idaho Brightest Stars: Serve Idaho, the Governor's Commission on Service and Volunteering, has extended the deadline to accept nominations for the annual Brightest Star Awards, a program recognizing outstanding Idaho volunteers in a variety of categories.
Sanders, Arbeni exchange vows: Christiann Sanders and Andrew Arbini, both of of Liberty Lake, Washington, wed August 6 at Mt. Spokane, Washington. Jason Messman officiated. The bride's father, Steve Sanders of Bonners Ferry, walked her down the aisle.
September

Cady named school district Employee of the Month: Joanne Cady, special services teacher at the Boundary County Middle School, is September's Boundary County School District Certified Employee of the Month! According to BCMS principal David Miles II, who nominated her for the honor, Joanne is a special person.

Matthew Rice to marry: Chris Culp and Peggy Calloway of Omak, Washington, are pleased to announce the forthcoming marriage of their daughter, Ashley Culp, to Matthew Rice, the son of Marty and LaRae Rice of Bonners Ferry. The wedding will take place in Winthrop, Washington, on September 24.
August
Akalia Fayte Olson born: Akalia Fayte Olson, the daughter of Shelby Shelton and Dustin Olson of Bonners Ferry, was born at Bonner General Health in Sandpoint at 6:22 p.m. Tuesday, August 9.
Local students on U of I dean's list: The University of Idaho has announced the 2016 spring semester dean's list, including 10 Bonners Ferry students.
May

School District's April Certified Employee of the Month: Valley View Elementary fifth grade teacher.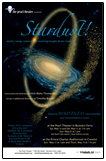 STARDUST! original performance at the Pearl Theater: Explore the universe in which we earthlings live and love, in song, story, science, and stunning photography. "STARDUST!" takes us from earth to the furthest reaches of the cosmos with an hilarious script and unusual characters.

Kathy Riebli BCSD April Employee of the Month: Kathy is a paraprofessional at Mount Hall Elementary.

School District Classified Employee of the Month: Jerry Jimenez: Brings organization and helpfulness to BCMS.

School District Employee of the Month for March: "Miss Molly" is a kindergarten teacher at Naples Elementary School.

Choir concert Thursday with Middle School and High School choirs: Four school choirs have prepared interesting and fun performances.

School District announces February Employees of the Month: The stories of the two Employees of the month are found here.

Hinthorn is School District Certified Employee of the Month: Boundary County Middle School is proud to announce Travis Hinthorn as Boundary County School District's Employee of the Month.

Colson is School District Classified Employee of the Month: Mrs. Julie Colson has been the librarian within Boundary County School District for the past 5 years, and is currently educating and supporting students at Valley View Elementary School.
Restorium busy with activities and events: A lot has been going on at the Restorium over the past few months, including many activities for residents during the past few months. Read the details here.

School District names Bateman December classified Employee of the Month: This month, Boundary County School District 101 highlights Mr. Cal Bateman as the District Classified Employee of the Month!
Idaho Arts Commission sponsors writing workshop and public reading by author: Author Renee D'Aoust will present readings of her work at Bonners Books in Bonners Ferry on Friday, following a day-long writing workshop.

Anderson is School District Certified Employee of the Month: Boundary County School District Certified Employee of the Month goes to none other than BFHS teacher Craig Anderson. Mr. Anderson has been teaching at BFHS for 32 years.
Archives