Bonners Ferry Community Choir begins rehearsals, all welcome: Welcoming singers from high school age to senior citizens, the Bonners FerryCommunity Choir begins rehearsals on Tuesday Oct. 20 at 6:45 p.m.
Rehearsals underway for new play at the Pearl: Live theater continues to flourish in Boundary County. Paul Rawlings has announced an all-original play, entitled Good Good Day: An Evening of Words and Music, to be staged at the Pearl Theater in mid October.
Traveling choir returns home, will perform music from tour of Greece: Recently returned from their singing tour of Greece, our local Northern Idaho and British Columbia singers present homecoming concerts from their international tour: SPIRITSONG's June 2015 tour to Greece.


Davis graduates from Air Force basic training: Air Force Airman Parker Davis recently graduated from basic military training at Joint Base San Antonio-Lackland, San Antonio, Texas.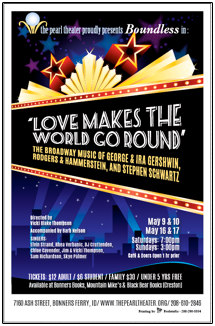 Original Broadway Revue coming to Pearl Theater: The vocal octet Boundless brings Broadway to Bonners Ferry's own Pearl Theater May 9-10, and May 16, 17. Their production, Love Makes the World Go Round, is an original Broadway revue featuring the beloved music of George and Ira Gershwin, Rodgers and Hammerstein, and Stephen Schwartz. You can catch it all at the Pearl.

Band with local roots Runaway Symphony wows 'em at the Pearl: Runaway Symphony (is it really a Moscow band, or is it a Bonners Ferry band on temporary loan to Moscow?), returned to its muse roots--Boundary County--for a performance at the Pearl Theater.
Task Force on Human Rights sponsors art show: The Boundary County Task Force on Human Rights is sponsoring an art show and sale in celebration of Dr. Martin Luther King Jr.'s dreams.
School District announces Employees of the

Month for November: Two employees have made great contributions in helping local students.
School District announces Employees of the Month for September, October: Four district employees were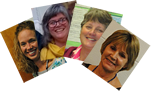 honored as recent Employees of the Month.
Multiple choirs to gather in Bonners Ferry for choral festival: Three choirs from Bonners Ferry and two choirs from Creston, British Columbia will gather in Bonners Ferry in November for a choral festival performance titled "Imagine."
80th birthday party for John Alt. October 4, 1:00 - 4:00 p.m. at the Chic-n-Chop: Stop by and wish him a happy birthday! (Sponsored by: Linda Alt)
LaPage - Barker Wedding: Brenda LaPage and Warren Barker were

married May 1st, 2014, on Pensacola Beach, in Florida. Click on this headline for the full story and a photo.
Community Band Festival a huge success: Some members of our

community participated in this band concert north of the border.
Eagles sponsoring Fathers' Day Burger Burn: Looking for a great Fathers' Day activity? The local Eagles Auxiliary is sponsoring a Fathers' Day Burger Burn, on Fathers' Day, Sunday, June 15. And what father doesn't like a great burger?
Annual Spring Dance Recital Announced: Almost 100 students ages 2 – 18 will perform creative dance, ballet, jazz, and contemporary dance styles in The Dance Studio's annual Spring Dance Recital, schedudled for Friday,

June 13 and Saturday, June 14. Both evening's performance begin at 7:00 p.m. at the BFHS Becker Auditorium.
Community invited to special church speaker: The community is invited to the Holy Myrrhbearers Orthodox Church this Saturday, June 7 for a special presentation about missionary activity throughout the world.
Frederickson selected Student of the Month: A good sense of humor, down to earth, fun to be around, and an appreci

ation of her community all apply to Kaprice Frederickson, Upsilon Chapter of Delta Kappa Gamma Women Educators' student of the month.

Click on the headline of this story to learn more about this student!
Local young women to perform with Majesty concert here: Two young women from Bonners Ferry are part of the singing group Majesty, that will

perform in concert here on June 6. Sara Owinyo and Caroline Martin, both raised in Bonners Ferry, are with the Master's College sponsored group from Santa Clarita, California.
Jan Klopfenstein retiring from hospital: After almost 29 years of service at Boundary Community Hospital, Jan Klopfenstein (Jan K), will be retiring from her position as Social Service Director.

Mendez Student of the Month: Having goals is important to Victor Mendez, Upsilon Chapter of Delta Kappa Gamma Women Educators' student of the month for April. Whether it is on the soccer field where he plays forward for the team, learning new things in his classes and achieving a 3.4 GPA, helping first graders learn to read at Valley View where he volunteers, or looking to his future at the University of Idaho where he will attend in the fall, this senior says he does his best when he has set goals.

Cossairt, Munson Students of the Month: The Bonners Ferry Rotary Students of the Month for March are two hard-working and talented Bonners Ferry High School seniors; Gabrielle Munson and Collin Cossairt.

Gaspar named Student of the Month: A gregarious and athletic senior at Bonners Ferry High School, Johnathan Gaspar is Upsilon Chapter of Delta Kappa Gamma Women Educators' student of the month for March.

BFHS grad Air Force NCO of the Year: Air Force Technical Sergeant Melissa A. (Easley) Danner, Bonners Ferry, distinguished herself as Air Force Aviation Resource Manager 1C0X2 Non Commissioned Officer Of The Year while serving as NCO in Charge, Host Aviation Resource Management, 375th Operational Support Squadron, Scott Air Force Base, Illinois, from October 1, 2012, to September 30, 2013.
Rotary names Students of the Month: Each month, the Bonners Ferry Rotary honors two students from Bonners Ferry High School as Rotary Students of the Month. For February, Rotary honors went to Kylie Byars and Dalin Hubbard.
Locals shine at U of I art contest: The University of Idaho recently announced the winners of the 23rd Annual High School Art Competition sponsored by the College of Art and Architecture's Art and Design program, including two from Boundary County.
Essay contest winners named: The Boundary County Human Rights Task Force has announced the winners in the essay contest submitted for Martin Luther King Day.
Local students on NIC Dean's List: North Idaho College recently announced its Dean's List for fall semester 2013. Students eligible for the NIC Dean's List must be enrolled in a minimum of 12 credits and obtain a grade point average of 3.75 or above.

Lyle BCH Employee of the Year: Charlene Lyle is Employee of the Year for 2013 at Boundary Community Hospital. Charlene has been employed at BCH for five years. As a Certified Nursing Assistant (CNA), Charlene works full time in Acute Care.

Barradale named Student of the Month: A junior who loves to sing and act, Samantha Barradale is Upsilon Chapter of Delta Kappa Gamma International Women Educators' student of the month for January.
Orr nominated for Air Force Academy: Representative Raúl Labrador (R-ID) announced his office's nominations to the U.S. service academies today, including Alan Orr, Bonners Ferry, who is being nominated for the U.S. Air Force Academy.

Shattuck, Flower engaged: Gavin Flower, the son of Heather and Allen Gemmrig, Bonners Ferry, and Jason Flower, Plummer, and Kirstina Shattuck, the daughter of Dale and Becky Shattuck, St. Maries, have announced their engagement.

Mariah Rae named Student of the Month: A junior at Bonners Ferry High School, Mariah Rae is a happy student who likes to laugh, enjoys humor and have fun in her many activities. She is November's Student of the Month, selected by the Delta Kappa Gamma Women Educators.
BCMS student takes honorable mention: The Idaho Forest Products Commission announced winners of the 18th annual Forest Products Week Essay Contest, November 30, and a Boundary County Middle School student was on the list.

Golden anniversary reception set: Bill and Jaylyn (Burns) Hayden were married on August 17, 1963, in Tonkawa, Oklahoma. All who know them are invited to a reception November 30 in their honor.

Wakkinen graduates Air Force basic: Air Force Airman Hayden W. Wakkinen recently graduated from basic military training at Joint Base San Antonio-Lackland, San Antonio, Texas.

Flower graduates Air Force basic: Air Force Airman Gavin J. Flower recently graduated from basic military training at Joint Base San Antonio-Lackland, San Antonio, Texas
Archives