Sports & Outdoors
Home
Obituaries
Social
Events
News
Letters
January
Take that hunter education course before the season starts: Even though Idaho's spring turkey hunting season is months away, now is a great time for beginning hunters to register for and complete a hunter education course.
Time to apply for spring bear hunt nears: Hunters wanting to participate in this spring's controlled hunts for black bear can apply from January 15 through February 15.
IDFG Commission to meet: The Idaho Fish and Game Commission will set seasons for moose, bighorn sheep, and mountain goat when it meets January 25 and 26 at Fish and Game headquarters in Boise.
December
Steelhead season opens New Years Day: For some anglers, the best thing about New Year's is the start of the spring steelhead season, which opens January 1 on parts of the Clearwater, Salmon, Little Salmon, Snake and Boise rivers.
Salmon forecast: sockeye up, chinook down: The forecasted return of adult spring and summer chinook salmon to the Columbia River basin in 2017 will be lower than initial estimates made last year in December, but the estimate of sockeye salmon is nearly twice the size of last year's estimate.

No more Moose Madness: Bonners Ferry and Sandpoint tipped off their annual basketball contest F

riday

night, but this time there are no moose antlers on the line. After eight years of Moose Madness basketball, along with its crazy, rambunctious, and noisy student competitions between the two schools, this year will be just a plain old basketball game.
Hunting, fishing seasons continue through holidays: There's still time to bag that Christmas goose, game bird, or maybe a nice solstice-season steelhead. For hunters and anglers itching to get out during the holiday season, several opportunities are available.
Local voices needed on trails council: The U.S. Forest Service is soliciting nominations for the Pacific Northwest National Scenic Trail Advisory Council. which provides recommendations to the Forest Service on the long-term management of the Pacific Northwest National Scenic Trail.
Hunters urged to turn in reports: With most of the major big game hunting seasons over for the year, Idaho Fish and Game reminds hunters who purchased a 2016 deer, elk, or pronghorn tag to report the results of their big game hunts as soon as possible.
IDFG seeks input on proposals: Idaho Fish and Game wants to hear from hunters on proposed changes to moose, bighorn sheep and mountain goat seasons for 2017 and 2018.
Idaho hunting and fishing licenses back online: People can once again buy Idaho hunting and fishing licenses and tags online, but they will have to establish a user name and password to get entrance into the system.
November
IDFG land deals could open 11,000 North Idaho acres: The Idaho Fish and Game Commission on Thursday, November 17, approved two land deals that will provide and protect public access to about 11,000 acres on various properties available for hunting, angling and trapping.

Walking a mile in an elk's shoes ... er: For the past several years Idaho Department of Fish and Game has been working on a project to get to know our elk a bit better. Efforts and methods to monitor elk populations have always been a high priority for IDFG but recently new technology has given us an opportunity to walk a mile in our elk's "shoes"… ermm … I mean "hooves," like we never have before.
Upland game bird seasons look good: Idaho Fish and Game reminds hunters that with several upland bird seasons extending into December and January, they may find hunting areas uncrowded and the action top notch.
Hunters urged to dispose of carcasses responsibly: Hunters who are successful at harvesting a big game animal are required by law to remove and care for all of the edible meat.
Idaho Trails Association holding membership drive: Idaho's network of backcountry trails leads hikers to and through some of our state's most beautiful, hidden places. As one of the state's fastest growing volunteer-driven organizations dedicated to clearing backcountry trails, Idaho Trails Association needs you to help restore and maintain this invaluable legacy.
Badgers well represented in All-IML: Badger senior Ethan Erickson was recently named one of two Intermountain League Linemen of the Year, and he joins four other Badgers on this year's IML first all-league team offense.

KR Gun Club kicks off another season: The Kootenai Valley Rifle Clubs are starting a new season. Rifle shooting is not just for hunting or plinking, to some it is a serious sport of precision. A group of dedicated Boundary County residents meet weekly from October to May to participate in the sport of small-bore target shooting.
October
Be prepared for unexpected night in the woods: Every fall, hunters get lost in the woods, and while most escape no worse than tired, chilled and hungry, the hazards of being lost in Idaho's woods shouldn't be underestimated. Hunters can take precautions and prepare for an unexpected stay in the woods.
Volleyball All Stars!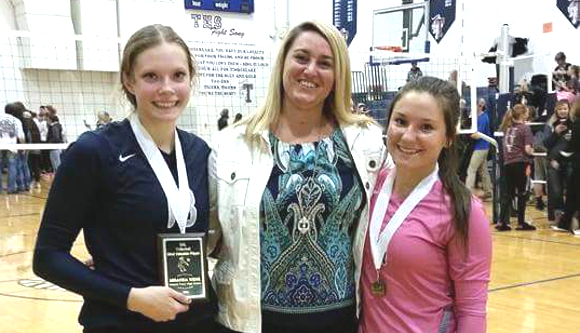 Congratulations go out to Badger volleyball stars Jadyn Bennett, named to the All IML Team, to coach Kendra Maas, honored as IML Coach of the Year, and Miranda Wenk, who was voted Most Valuable Player in the Intermountain League! The Badgers downed Priest River last week, and travel to state competition this weekend!

Lady Badgers bound for State: "Does it ever not rain at cross country meets? Because literally every meet I've ever been to it has rained," said first year runner Brady Bateman to his coaches at the Idaho 3A District I Championship meet. Indeed the rain came down hard all day long as Bonners Ferry, Coeur d'Alene Charter, Kellogg, Priest River, and Timberlake vied for the top team scores to qualify for the 3A State Championships.
Lake Pend Oreille Bull Trout population appears stable: A moratorium on angling and lake trout eradication efforts to address the threats of overfishing and a voracious non-native species appear to have stemmed the decline of bull trout in Lake Pend Oreille, according to a recent study.
Salmon, steelhead numbers low: With another drop in the fall Chinook forecast and a continuing poor run of steelhead and Coho salmon this fall, the two-state Columbia River Compact and the state of Washington shut down angling for salmon and steelhead from the mouth of the Columbia River to the Highway 395 Bridge near Pasco as of Saturday, October 22.
Jordan Young burns up Kellogg course: Rain and grass do not usually generate fast cross country times. During the Ben Castro Kellogg Invite, held at Pinehurst Golf Course, a flat course and talented runners managed some of the fastest times of the season.
Archives