Sports & Outdoors
Home
Obituaries
Social
Events
News
Letters
Classified Ads
Looking Back
Health Jewels
Stitch in Time
Leftover deer, elk tags going on sale: Approximately 156 deer and 161 elk controlled hunt tags not issued during the recent second drawing for deer, elk, pronghorn and black bear will go on sale first come, first served August 25 at 11 a.m. Pacific Daylight Time.
Controlled hunt results now online: Hunters who applied in the second controlled hunt drawing for elk, deer, pronghorn, and fall black bear can check online to see whether they were successful in the recent computerized drawing.
Idaho approves grizzly bear management plan to manage harvest as part of removing bears as endangered species: Action as part of a plan to limit the take of grizzly bears in Idaho toward the end of removing the Greater Yellowstone population from the federal list of threatened and endangered species.
Hunters can extend their seasons with second tags: The Idaho Fish and Game Commission reduced the price for second elk tags if purchased during August, and hunters are taking advantage of the savings.

Fall Chinook seasons open September 1: An exciting fall Chinook season is ahead for anglers, with September 1 marking the first day of the season.
Chinook fishing closing soon on most Idaho rivers: But fall season will be opening in about a month.
Fall Chinook fishing to open September 1: Chinook salmon fishing will open on three Idaho rivers, including the Clearwater.
Deer hunt blind available for hunters with disabilities through drawing at Kootenai Refuge: Those with disabilities that prevent or make it difficult to hunt big game can enter a drawing for a special hunting opportunity at the local Refuge.

Bonners Ferry 'Border Patrol' adds depth to Logger roster: In this story re-published from the Libby, Montana Western News, a few players from Bonners Ferry's championship baseball team are making significant contributions to Libby's team in the summer American Legion Baseball league. Thanks to the Western News for giving permission to re-publish this interesting story.
Badger Track has a great meet at State, including State Champion in discus event: The Bonners Ferry Badgers Track Team was off to Middleton, Idaho, for the State Track Meet a week ago, on May 20-21. They returned with some notable achievements, several personal best marks, individual medals, and a State Champion.

Badger Golf has great spring, both teams place at Districts, Boys' team competing at State: The Bonners Ferry Badgers Golf Team has had a great spring, doing well at the Intermountain League District Tournament, and competing in the Idaho State Tournament, where a Badger golfer took ninth place overall.

Badger Boys take 3rd Place at Idaho State Baseball Tournament: The Badger baseball team ended a phenomenal season by taking third place in the 2016 3A Idaho State Baseball Tournament. Here is the story and several photographs from the Third Place game.
Free Fishing Day aims to hook new anglers: On Free Fishing Day, anyone can fish without having to possess a valid fishing license. And that covers non-residents as well as residents.
Time to gear up for Kokanee fishing: The warm weather may finally be here to stay, and for

many anglers across the state, warm spring weather means kokanee fishing.
Free summer baseball / softball program offered: A free program providing instruction and both baseball and fastpitch softball games is being offered this summer for Boundary County boys and girls ages 9-12.

Badger Baseball wins District Championship, now On to State!: The Badger baseball team tops off their undefeated league season with an undefeated District Tournament run to move on to the State Tournament.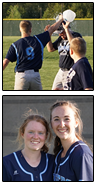 BFHS Baseball, Softball District Tournament Notes and a few more great photographs: Baseball and Softball District Tournament games are coming up in just a few days, and both the Badger Baseball and the Badger Softball teams are shooting for berths in the Idaho State Championship Tournaments. We just couldn't resist adding a few more photographs of this year's Baseball and Softball teams—what a great season for a couple of great teams and a bunch of great players and coaches. Take a look at our photos and a few notes on the District Tournament coming up.
Badgers defeat Timbelake Tigers to finish perfect in IML Baseball: The Badger baseball team completed their first ever perfect season in Intermountain League history by beating the Timberlake Tigers 9-5 last Tuesday.
Badgers sweep Kellogg Wildcats in IML Baseball, locking up second straight league title: Badgers break open a 5-5 tie in Game 1 when they score seven runs in sixth inning. Mercy rule, again, in Game 2.
With injured players out, Badgers still win in IML game: The Badger baseball team improved their IML record to 6-0 and 16-2 overall with a 9-1 win over the Priest River Spartans yesterday.
Boundary County Fishing Secret revealed here: Take a look at this story for some big hints about the secret.

Badger Girls Softball, Boys Baseball sweep all games vs Timberlake on Saturday, four games to none; both Badger teams now alone in first place in Intermountain League: Brief summary and photos of the Girls' game included here. Full story and photos on the Boys' game is in our Sports section.

Badger Boys sweep Tigers for sole possession of First Place: The Badger baseball team took control of first place in the Intermountain League by sweeping the rival Timberlake Tigers on Senior Day in Bonners Ferry.


Senior Badger Baseball Trading Cards: Collect them all!
Badgers pound Wildcats in IML baseball—invoke mercy rule yet again: The Badger baseball team beat the Kellogg Wildcats 19-6 in Intermountain League play on a sun-soaked Tuesday afternoon yesterday. The win improves their overall record to 13-2 and 3-0 in league.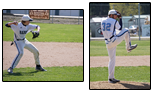 Badger Baseball sweeps Spartan series: The Badger baseball team began defense of their 2015 3A Intermountain League title by sweeping the Priest River Spartans Saturday at Bonners Ferry High School.
Spring Chinook season opens this Saturday: Predicted to be one of the top five Chinook returns since 2000.
Badgers win Colville Invitational: Defeat teams from Colville, Washington and Trail, B.C.
Badgers pound Rams in doubleheader: Dunham pitches first no-hitter of the season.
Badger Baseball keeps on winning; Latest victory features home run, standout pitching, diving catches, double play, and more: The team is playing great; details on their latest win by clicking on this story.
Youth Turkey Hunt begins soon: Youth turkey hunters get an early shot for a whole week before the regular turkey season begins. Click on this story for the dates and other details.
Thousands of trout coming to Boundary County: We are going to share a secret that will help with your fishing success.

BFHS Cheer and Dance Teams at State Competition; Track Team at Lewiston Invitational: Things have been busy for several BFHS teams in recent weeks. The dance and cheer teams have been to the Idaho State competitions, and the Track Team has already been to a large invitational meet in Lewiston.
Badger Baseball continues on a hot streak, takes two of three games from 4A Sandpoint: Badgers continue strong play, win series with higher-division school.
Badgers sweep Maniacs in three game series: The Bonners Ferry Badger baseball team traveled to Orofino this past weekend for their annual three game series against the Maniacs, winning all three games for the first time in program history.
Enter Idaho Super Hunt for hunt of a lifetime: Super Hunt tags allow winners to pursue deer, elk, pronghorn or moose in any open hunt.
$10,000 reward offered in illegal killing of Grizzly Bear in Bonner County: Two rewards are being offered, totalling $10,000. Contact information is listed in this story.
Big Horn Show coming in Spokane for its 56th year: The Inland Northwest Wildlife Council's 56th annual Big Horn Outdoor Adventure Show is coming up in Spokane. Established in 1960, the Big Horn Show is one of the oldest and longest continually operated sports and recreation shows in the United States.

Here is your basic starter information on catching some of Idaho's biggest fish: If you've thought you might want to tackle some of our state's biggest fish, here are some steps to get you started.
Anglers needed to catch Clearwater River steelhead for hatcheries: Have you always wanted to catch lots and lots of steelhead, way beyond the limits? Fish and Game is asking you to do just that.
Don't dump unwanted domestics into Idaho: It seems every year Idaho Fish and Game gets a few calls, emails or visits from citizens wanting to know the identity of some exotic creature they encountered.
Want to help out new hunters? Volunteer hunter education instructors needed: Idaho's hunter education program is looking for new volunteer instructors to help ensure that the newest generation of hunters has a thorough understanding of safety, ethics and conservation.
Learn animal tracking at NIC Sandpoint class: It's not too late to sign up for North Idaho College at Sandpoint's "Animal Tracking" class taught by wilderness expert and author Brian Baxter this Saturday, February 6.
Furbearer Trapping Course scheduled in Coeur d'Alene: Idaho Fish and Game has created a voluntary trapper education program to help educate trappers. The goal is to promote safe and ethical trapping, to minimize non-target catches, and to minimize impacts of trapping activity on other recreationists. Classes are being taught by teams of volunteers and Fish and Game employees.
F&G Director Declares Idaho wolf management a success: "The bottom line is Idaho has a healthy, sustainable wolf population that is over seven times higher than the federal recovery goal."
Radio collars are vital tool for game management: Idaho Fish and Game biologist Craig White recently got a message telling him two elk died, but it didn't come from a colleague or a citizen, it was from a satellite.
Studies Say: No more than 10 seconds air time for catch-and-release fish: Ten seconds is all the time an angler should take to remove the hook, take pictures and return a fish to water, according to a recommendation in a recent survey of studies about the impacts of exposing fish to air. Click on this story for more details.

Recap of December's Moose Madness 2015: The 2015 Moose Madness annual event was held on Friday, December 18. Everyone who attended had a blast, of course, although all Badger fans were disappointed to find out at the end of the evening that Sandpoint would remain in possession of the Moose Rack trophy this year.
Think you've got a big-game trophy animal? Here's how to get it scored and entered into the record books: Most big-game hunts are over and stories are circulating about some big trophies that were taken during the fall hunting seasons, including a possible state-record moose. If you are thinking you may have a trophy animal, here are the details on getting it officially scored.
New Year requires new Idaho hunting and fishing license: Before heading out in the New Year, Idaho hunters and anglers are reminded to pick up a 2016 license. Nearly all of Idaho's hunting and fishing licenses, tags, and permits are sold on a calendar year basis, and they expire December 31.
Opportunities coming up in North Idaho to have big game trophies officially measured: Got a big game trophy at home? Here's your chance to get an official measurement. But you've got to start the process right now.

FFA doing its part for Moose Madness: FFA members are ready to put the boot to Sandpoint. They are working in coalition with the Leadership Class, Staff, and the rest of the Student Body for Moose Madness.
Comments sought on upland, turkey, furbearer and falconry seasons: The Idaho Department of Fish and Game is seeking public comments on proposed changes to the 2016-2017 and 2017-2018 upland game, turkey, furbearer, and falconry seasons.
Winter big game aerial surveys underway: As snow blankets much of Idaho, wildlife biologists with Idaho Fish and Game are in the sky conducting aerial surveys of big game across the state.
Intermountain League All-League Teams announced for fall sports: See our list of Intermountain League All-League Teams for fall sports. Several Bonners Ferry High School student athletes recognized on the All-League teams.
F&G: Why you should keep fishing in winter, (Part 2): This article, the second of a two-part series, gives tips for ice fishing.
F&G: Here's why you should keep fishing in winter (Part 1): People may see hearty anglers wading streams or staked out on banks during winter weather and wonder "what are they doing?" The short answer is "probably catching fish."
Hunters asked to report hunting results: Idaho Fish and Game encourages hunters who purchased a deer, elk, or pronghorn tag to report the results of their 2015 big game hunts as soon as possible.
If you follow Grizzly Bear management and recovery—there's a meeting in Missoula: The multi-agency committee responsible for grizzly bear recovery in the contiguous United States and adjacent Canadian Provinces will be holding their annual winter meeting in Missoula, Montana from December 8, 2015 – December 9, 2015. The public is invited to attend.

Fish and Game conservation officer frees tangled buck; video goes viral: It wasn't an average day at the office for Idaho Fish and Game Conservation Officer John McLain when he encountered a white-tailed buck tangled in baling twine, but his average days don't go viral on the Internet, either.
2015 Cross Country awards announced: Bonners Ferry High School Cross Country held their end-of-season awards banquet last Thursday. Several Badgers made the All-League list of Cross Country runners, and individual awards were also given.
Interested in wolf trapping? Required course available in Coeur d'Alene: Idaho rules require a Wolf Trapper Certification course be completed and passed before a person can purchase wolf trapping tags.

Badger Cross Country competes at Idaho State Championships: Badger cross country season came to an end on October 31 at Farragut State Park at the Idaho State Championships. Runners from all over the state converged on a rainy North Idaho state park to compete in the largest ever Idaho state cross country meet.
Hunters can take survey about controlled hunts and auction tags: Fish and Game is getting opinions from hunters about possibly changing controlled hunt drawing odds and increasing the number of big game tags offered through auction.
Idaho Fish and Game encourages hunters to complete big game reports soon: Idaho Fish and Game encourages hunters who purchased a deer, elk, or pronghorn tag to report the results of their 2015 big game hunts as soon as possible. Reporting is required either 10 days after a deer, elk or pronghorn is harvested, or ten days following the end of the season for which a tag is valid.
Parachuting beavers go global: It wasn't exactly an unreleased Beatles tune or a missing

Monet, but the much-talked-about film featuring parachuting beavers was recently rediscovered in Fish and Game's archives.

Cross Country: Boys' and Girls' teams place second at District; both advance to State: Teams battle hard to bring home District hardware. Coach Warner named Intermountain League Coach of the Year.
Fall Chinook season ends soon: The fall Chinook season will end October 31 in the Clearwater River, a short stretch of the lower Salmon River and in the Snake River, except the section from Cliff Mountain Rapids upstream to Hells Canyon Dam, which closes November 17. More details available by clicking on this story.

Girls' and Boys' XC take second at Kellogg: Girls'—Manager steps in to help earn trophy; Boys'—Ranked 4th in state. Read all the details by clicking on this story.
Badger Cross Country competes at Sandpoint: The Badgers cross country teams were able to enjoy some time closer to home after a long week at Priest River and Moscow. On Saturday, October 10 the Badgers raced at Traver's Park in Sandpoint for the William Johnson Invitational hosted by Sandpoint High School.
From Idaho Fish & Game: From field to freezer: tips for processing your big game animal: You successfully shot a deer, elk or other big game animal. Now the work begins. You want to properly process the animal so you get many healthy, enjoyable meals from it.
Archives