Sports & Outdoors
Home
Obituaries
Social
Events
News
Letters
February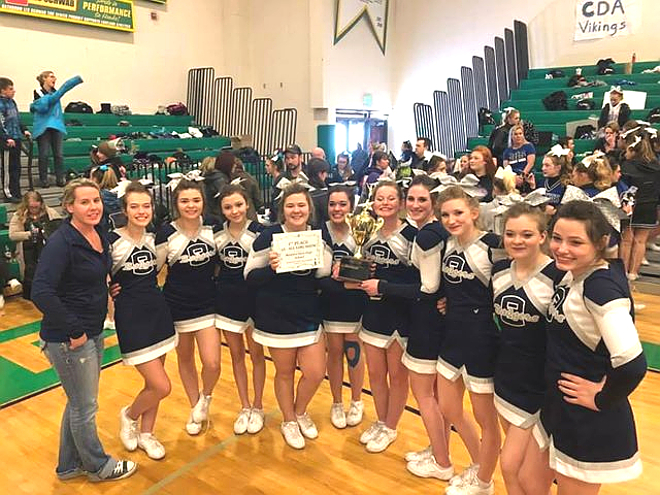 Badger cheerleaders top in IML: Bonners Ferry cheerleaders took first place with their show routine today at the district championships in Coeur d'Alene, and earned the overall Grand Championship for the Intermountain League! The team will travel to the Ford Center, Boise, March 16 to compete for the state title!
~ Hoops tourney cancelled ~
The Boundary County Middle School Basketball Tournament scheduled for today; Saturday, February 17, has been cancelled due to impending weather conditions.
Lady Badgers fall to Snake River, Timberlake crushes Buhl: Snake River edged Bonners Ferry in the Idaho State 3-A girl's basketball championships at Skyview High School, Nampa today, 58-51. Timberlake made easy work of Buhl, winning 46 to 25.
Lady Badgers going to state!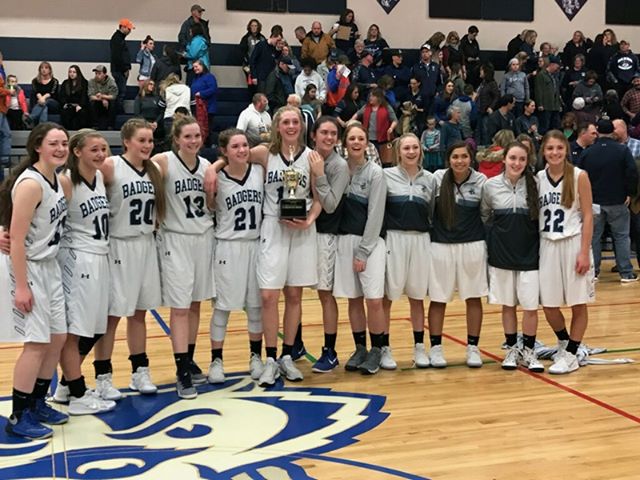 Thank you to Paula Burt
The Lady Badgers played a nail biter against the Kellogg Wildcats in front of an electric Badger crowd tonight, which energized the Badgers to a 46-36 win and the Badger girls' first trip to state since 2013! The Badgers take on Snake River at 8 p.m. Thursday in Nampa. GO, BADGERS!
Time to cheer on the Lady Badgers!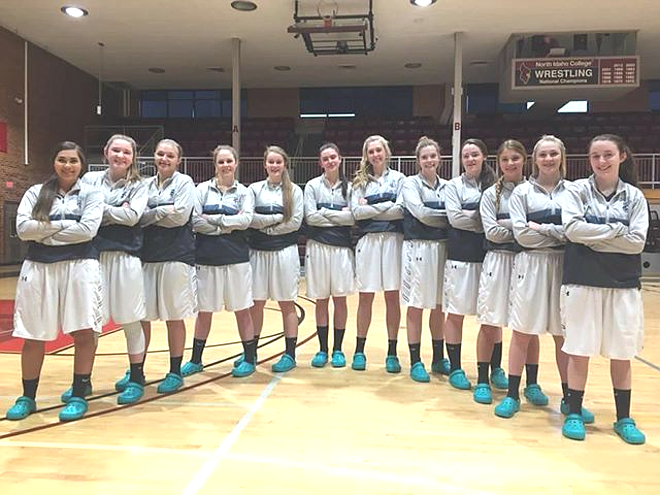 Courtesy Paula Burt
Calling all Badger fans! Come help light up the Badger Den at 6 p.m. Friday, February 9, to help light the way for the lady badgers to move onto the state tournament! The Badgers, ranked second in the IML, take of third ranked Kellogg, with the winner qualifying for state! GO, BADGERS!
Foundation accepting applications for grants: The Idaho Fish & Wildlife Foundation is accepting applications for its 2018 grants cycle. The grants program provides funding on a competitive basis to nonprofit organizations, the Idaho Department of Fish and Game, and tax-exempt organizations.
Lake trout fishing at Priest Lake will continue: Fish and Game will continue managing Priest Lake as primarily a lake trout fishery while also protecting native cutthroat trout and bull trout in Upper Priest Lake.
Parks & Rec hoops deadline Saturday: Deadline for Boundary County Parks & Rec basketball is this Saturday, February 3. After that there will be a $10 late fee. Basketball clinics will be held at Bonners Ferry High School on Saturday, February 10.
January
Third annual volleyball color run coming in June: Bonners Ferry High School Volleyball's third annual Color Blast 5k Run/Walk will be the event to be at on Saturday, June 16, for a splash of color in your life! Participants will take off from the Boundary County Fairgrounds at 10 a.m., heading west.

Peyton, Brody shine at Elk's district hoop shoot: Peyton Hinthorn is going to the Elks Idaho State Hoop Shoot in Blackfoot after hitting 23 of 25 free throws to win in the 8-9 year-old division today at the district hoop shoot in Kellogg. Brody Rice, in the 10-11 year old division, brought home a second place trophy as both represented their community well!
Lady Badgers bury the Miners: The Lady Badgers hosted Wallace Saturday on Senior Day, and sent the Miners home with a 56-23 trouncing. The Badgers opened with a 22-3 first quarter, with all three of the Miner's points coming from the free throw line.

Celebrate senior day Saturday with the Lady Badgers: It's Badger girls basketball senior day tomorrow, as the team's four seniors; Kadi Bateman, Tori Burt, Kassy Skeen and Miranda Wenk, have contributed to an awesome Badger season, and on graduating will leave a strong legacy for their teammates to carry forward.
Badgers prevail over Post Falls JV: Miranda Wenk scored 20 points and grabbed 18 rebounds to lead the Bonners Ferry girls to a 69-51 victory over the Post Falls JV at home Thursday. In the boys game, Chris Sabin scored 22 points to lead the Badgers to a 61-49 win.
Lady Badgers fourth in IdahoSports 3A power rankings: As of January 17, the Bonners Ferry Badger girls are ranked Number 4 in the Idaho State 3A bracket of the IdahoSports.com power rankings. The Badger boys are ranked Number 10.

Badger wrestlers 5-0 to win River City tourney: The Bonners Ferry Badgers went 5-0 in the Copper division to take first place at the River City Team Dual Tournament in Post Falls, beating West Valley, Gonzaga Prep and Shadle Park, Spokane, Whitefish, Montana, and Bishop Kelly, Boise to win.
What's this access/depredation fee? Why do I have to pay an extra $5 for my license? It's a question that will commonly be asked when hunters, anglers and trappers buy their 2018 licenses, so here's a quick refresher. The "Access/Depredation fee" is a new, one-time annual fee that applies to everyone – residents and nonresidents alike – when they buy their first annual license of the year.
St. Maries rolls over Badgers: The Badger boys fell at the hands of the 8-1 St. Maries Lumberjacks Thursday in a non-league away game, 57-44. The loss puts the Badgers at 4-5 on the season. Dylan Hittle led the Badger scoring drive with 11 points.
Badger girls fall to Timberlake: The Badger girls fell to Timberlake Tuesday in an Intermountain League road match 55-43. The Lady Badgers stayed within fighting distance throughout the game, with Miranda Wenk leading all scorers with 22 points.
Badger boys spank Spartans: Chris Sabin landed 21 points to lead the Badger boys to a 66-41 win over the Priest River Spartans at home Saturday night, improving their season record to 6-5 overall and 1-0 in league play.
Badger girls dominate Priest River: The Lady Badgers opened tonight's game against Priest River, the opening IML league match for both teams, with spark and pizzazz, jumping out to a 35-2 first quarter and never looking back in a 62-18 victory that saw the whole team enjoy game time.
Badgers ride a long way to beat the Lions: The Badgers traveled to Lincoln County High School on Wednesday in Eureka and both the boys and girl's varsity got on the bus for the long ride home with wins.

Porter named Vaughn CHL Goaltender of the Week: The Canadian Hockey League today announced that rookie James Porter of the Kelowna Rockets is the Vaughn CHL Goaltender of the Week for the week ending December 31 after posting a 2-0-0-0 record including one shutout with a goals-against-average of 0.48 and save percentage of .987.
December
Steelhead limits reduced for 2018 spring season: Steelhead anglers are reminded that Fish and Game commissioners extended the reduced bag and possession limits for the 2018 spring steelhead season, which starts January 1.
New Year, new hunting and wildlife watching opportunities: Welcome to 2018 and all it will bring for outdoors folks. Many are looking forward to hunting, and even if you're not a hunter, you're probably a wildlife watcher, so there's lots of cool things in the coming months.
Badgers topple Colville at Eagle Holiday tourney: The Lady Badgers outshot the Colville Indians through four quarters Thursday morning to win their second match 64-41 at the Eagle Holiday Tournament at West Valley High School, Spokane.
Eagles hold off Lady Badgers in tournament play: The Badger girls put up a tenacious fight today, but fell to Eagle Holiday Classic host West Valley High School in Spokane, as the 5-4 Eagles managed to grind out a 63-55 win in tournament play.
Boys fall, girls win in hoops action: The Badger boys fell to the St. Maries Lumberjacks at home Thursday, while the girls hosted Lakeland Friday night and won.
St. Maries caps Lady Badger win streak: The Badger ladies started out strong Thursday at St. Maries, leading 14-8 after the first quarter, but the Lumberjacks chipped away through the rest of the game to hand the girls their first loss on the season, 57-45.
Lady Badgers undefeated in six games: The Badgers traveled to Post Falls Saturday for a day of basketball at Genesis Prep, and the Lady Badgers kept their undefeated season alive, defeating the Jaguars 61-37 to improve their record to 6-0. The boys results were not reported.
Badger boys fall to Grizzlies: The Badger boys traveled to Newport, Washington, Thursday night, where they fell to the Grizzlies 74-38 to drop their season record to 3-2.
Girls win, boys fall to Bulldogs: The Badger girls pulled off a win in the house of the Bulldogs Saturday, keeping their winning streak so far this season alive at five with a final score of 65-52. The Badger boys put up a tough fight, but couldn't over come a second quarter deficit and suffered their first loss of the season to the Bulldogs, 75-66.

BCMS wrestlers win District 1 championship: Your District 1 Middle School Champions for the second year in a row are the Bonners Ferry Badgers! Taking first place spots on the dais were Jake Summerfield, Marcus Regehr, Eli Richards, Joel Cowley, Kyle Smith, Andrew Sandelin and Hunter Higeretta.
Badger varsity romps at Cusick, face Sandpoint: The Badger girls trounced the Cusick Panthers in an away game Thursday, outshooting their opponents in every quarter to chalk up a 59-24 win. The undefeated Badger boys also won their match Thursday with a 78-66 win.
GPS collars show the hidden lives of deer and elk: The whup, whup, whup of a helicopter grows louder as a herd of deer flees toward a trap. A small army of Fish and Game staff and volunteers hide as the animals run into a hidden net and become entangled. People rush to the thrashing animals, and within seconds, untangle and calm them by placing a mask over their eyes and carefully pin their legs to their bodies.
Badgers go 3-0 with win over Wallace: Brady Bateman scored 22 points Tuesday night to lead the Badger boys to a 68-53 win Tuesday night at home, improving their record to a perfect 3-0.

Looking for action? Try Pickleball! Pickleball is similar to tennis and badminton. It's played indoors with a paddle rather than a racket. It's found its way to Bonners Ferry! If you are 14 or older and like being physically active, you might like to try the fastest-growing sport for adults.
Trapper classes offered: Beginning July 1, 2018, every trapper who purchased their first trapping license after June 30, 2011, will be required to attend and pass a mandatory trapper education course before they can purchase an Idaho trapping license.
Archives