Sports & Outdoors
Home
Obituaries
Social
Events
News
Letters
Classified Ads
Looking Back
Health Jewels
Stitch in Time
October
Jordan Young burns up Kellogg course: Rain and grass do not usually generate fast cross country times. During the Ben Castro Kellogg Invite, held at Pinehurst Golf Course, a flat course and talented runners managed some of the fastest times of the season.

Though it's early, deer season looking good: Judging deer hunting success a week into the season is kind of like predicting a football game after the first quarter when the score is 7-3, but so far, deer hunters are reporting seeing plenty of animals and expressed general satisfaction with their hunts.
Big game hunters must call in reports: Fish and Game's online hunter reports have unfortunately been a casualty of the data breach of our online vendor's database, but hunters can still file their reports by calling the toll-free number at (877) 268-9365.
IDFG can be reached 24/7: With Idaho's hunting seasons in progress, the Idaho Fish and Game reminds people who spend time outdoors that there are several ways to contact a Fish and Game officer on weekends or after hours.

Badgers trounce Wildcats: In their second of three conference matchups, the Badgers came onto the rain-soaked field full of energy and ready to take on the Wildcats from Kellogg.

Badger sixth graders dig deep for win: The Badger sixth grade football team reached down deep Saturday and pulled out a come-from-behind win in the fourth quarter to beat Timberlake 26-18. The fifth grade team, hampered by few players who turned out this year, fought a good, hard fight, but fell 13-0.

Badgers blaze at Travers Park: A cool, wet morning at Travers Park in Sandpoint led to fast times on Saturday in one of the last cross country races of the season. Three mostly flat one-mile loops around the park gave spectators great opportunity to watch many schools from across northern Idaho test the 3.1 mile course.
Special deer, elk hunts offered: In response to a wildfire that burned about 75 percent of the Tex Creek Wildlife Management Area near Idaho Falls, Idaho Fish and Game is offering special controlled hunts with 500 antlerless deer tags and 500 antlerless elk tags to be sold on a first-come, first-served basis at 9 a.m. Thursday, October 13.

Young Badgers shine against Eureka: Two young Badger football teams took a road trip to Eureka, Montana, Saturday, and both teams put on performances that bode well for the future of Badger football, with the fifth graders fighting their way to a 16-14 win and the sixth graders romping to a 14-0 blowout.
Think twice before taking a roadside shot: That buck or bull standing next to the road might be a tempting target, but it might not be what you think it is, and it could be a very costly mistake.
What you need to know about IDFG check stations: Hunting seasons are here, and hunters will see Fish and Game check stations throughout the state. Remember that all hunters, anglers and trappers must stop at Fish and Game check stations, regardless of whether they've harvested game.

Badger ladies take second at invite: Bonners Ferry cross country enjoyed a warm, sunny day in Priest River for the Ivan Benson Invite at PRLHS. The 5k course drew several area schools including 4A Lakeland, 3A Kellogg, IC Academy, and Classical Christian Academy. Lakeland would finish first in team scoring with a score of 28. Bonners Ferry took home a second place trophy with a score of 40.
September

Badgers arrive late, finish strong: Bonners Ferry cross country made its way to the Elks Golf Course on the east edge of Moscow for the Bob Weisel Invite Saturday. Moscow High School hosted several distances, include a 1.5-mile middle school course, a 5k high school course, and a 2k high school course.
New blinds at KNWR: In an effort to better serve our waterfowl hunters, Kootenai National Wildlife Refuge has been replacing the old waterfowl hunt blinds with a newly designed blind. Three blinds were replaced in 2015 and five blinds were replaced this summer.

Badgers edge Kellogg, Priest River: What started as a cool morning on North Government Way in Hayden Saturday turned into a soggy affair as Badger cross country hit the 5k course at Hayden Canyon. Over 18 teams from all over the Northwest converged on the halfway point of the season to make for tough competition.
Easy ways to introduce novices to hunting: It's easier than ever to introduce someone new to hunting in Idaho. One way is through Idaho Fish and Game's Hunting Passport, which offers novice hunters, both young and old, the opportunity to hunt for one year before needing to complete a hunter education course.
Identity theft services offered for IDFG breach: Active Network, the Texas-based company that owns and operates Idaho Fish and Game's hunting and fishing license system, announced Friday that it will offer the following identity theft services to all Fish and Game license buyers whose personal information may have been compromised by an attempt last month to access the online license system.
Another exciting demo derby!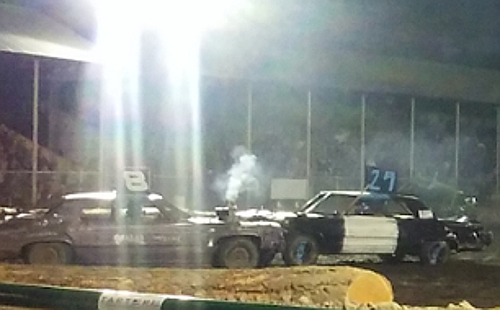 Brandon Regehr, Bonners Ferry, smashed his way to a first place finish in the 2016 Lions Club Demolition Derby, defeating second place finisher Chris Cook, Lewiston. Coming in third was James Smith, Bonners Ferry. In the women's competition, Cindy Sumpter, Bonners Ferry, went home with the first place trophy. In all, around 30 drivers took part.

Badgers return to Farragut: On Saturday the Badger cross country team returned to the site of the 2015 State Championships: Farragut State Park. Timberlake High School hosted the 5k course, featuring a wide variety of turns and hills on a warm, sunny day. Schools from as far as Boise made the trek north to test the course and North Idaho competitors.
Badgers fine-tuning their game: With the five non-league games the Badgers face this season, they are getting much needed playing time as well as a fierce test. Week one culminated with a 44-0 loss to Lakeland, a strong 4A rival. And now with week two behind them, having played Lakeside, they are picking up their game and fine-tuning the offense and defense to bring it strong in the upcoming conference games.

Badger runners at home for first time in years: Badger cross country returned home for the first time in five years when Bonners Ferry High School hosted the home invite at the 3.1 mile Naples course on Saturday. A cool morning and rain the night before kept the sandy course packed down which aided runners in tackling difficult hills and turns.
Youth invited to IDFG hunt: Any youth hunters ages 10-15 are welcome to join the Idaho Department of Fish and Game's annual youth waterfowl hunt on Saturday, September 24, at the Clark Fork Driftyard near Clark Fork, Idaho.
Volunteers needed for trail party: Volunteers are needed for repairing the Boulder Meadows trail near Naples in a work party set for Friday, September 9. Volunteer crews will be digging water drainage ditches, installing water bars, and replacing soil that has been washed off the trail.

Badger harriers work out rust in season opener: Badger cross country racing began on August 27 at J. Neils Park in Libby, Montana. The flat, three-mile course made for great times and an early learning experience for young Badger teams. This year the Badgers return seniors Eric Ellis and Alex Urbaniak as well as gaining senior Elisabeth Cowley.
August
Leftover deer, elk tags going on sale: Approximately 156 deer and 161 elk controlled hunt tags not issued during the recent second drawing for deer, elk, pronghorn and black bear will go on sale first come, first served August 25 at 11 a.m. Pacific Daylight Time.
Controlled hunt results now online: Hunters who applied in the second controlled hunt drawing for elk, deer, pronghorn, and fall black bear can check online to see whether they were successful in the recent computerized drawing.
Idaho approves grizzly bear management plan to manage harvest as part of removing bears as endangered species: Action as part of a plan to limit the take of grizzly bears in Idaho toward the end of removing the Greater Yellowstone population from the federal list of threatened and endangered species.
Hunters can extend their seasons with second tags: The Idaho Fish and Game Commission reduced the price for second elk tags if purchased during August, and hunters are taking advantage of the savings.

Fall Chinook seasons open September 1: An exciting fall Chinook season is ahead for anglers, with September 1 marking the first day of the season.
July
Chinook fishing closing soon on most Idaho rivers: But fall season will be opening in about a month.
Fall Chinook fishing to open September 1: Chinook salmon fishing will open on three Idaho rivers, including the Clearwater.
Deer hunt blind available for hunters with disabilities through drawing at Kootenai Refuge: Those with disabilities that prevent or make it difficult to hunt big game can enter a drawing for a special hunting opportunity at the local Refuge.
Archives