Sports & Outdoors
Home
Obituaries
Social
Events
News
Letters
Classified Ads
Looking Back
Health Jewels
Stitch in Time
Badgers pound Wildcats 14-4 in five innings: After a sluggish first three innings, the Badgers unleashed 13 runs on 10 hits in the 4th and 5th innings to beat the Kellogg Wildcats 14-4 in an Intermountain League game.

Badgers thump Spartans behind Anzalone's 10 strikeout performance: Senior Steve Anzalone struck out 10 batters, walked one, allowed one hit in five innings, and the Badger offense exploded for 11 runs in the second inning to beat Intermountain League opponent Priest River 13-1. See this story for details and photos.
Badger Track duels with Timberlake, Kellogg, and in Freeman meet: Three meets in seven days made for a

tough week for the BFHS track team. Take a look at this story for all the details and some great action photos from Karen Perkins.
Badger track shines on rainy day in Kellogg: A rainy morning turned into a decent afternoon at the Kellogg Track last Saturday. In spite of occasional gusts of wind, the sun broke through and made for improved times, distances, and heights. Both Badger track teams finished 4th out of 12 teams.
Time to apply for moose, sheep, and goat hunts: Hunters have until April 30 to apply for moose, bighorn sheep and mountain goat controlled hunts.
Badgers sweep Spartans in IML season-opening double header: Vince Bennett pitched a complete game striking out 10 and Brady Bateman and Steve Anzalone collected four hits each on the day as the Badgers won 9-6 and 17-1 in the Intermountain League doubleheader opener for both teams. Read more with this story.
Annual Wolf Report available online from Idaho Fish and Game: The 2014 annual summary of wolf monitoring in Idaho is now available, and, among other things, shows wolf numbers remain well above the 150 wolves and 15 breeding pairs required to keep gray wolves off the endangered species list under the 2009 de-listing rule.
BFHS Baseball: Badgers upend Dawgs in extra inning thriller: The Bonners Ferry Badgers staged a dramatic come from behind 5-4 win in extra innings against the 4A Sandpoint Bulldogs last Saturday.
Badgers beat Spartans, lose to Bulldogs in BF baseball tournament: The Bonners Ferry Badgers beat the Priest River Spartans 9 - 3 in the first game of the Bonners Ferry tournament last Friday, then lost to the Sandpoint Bulldogs 6-2 in the night cap.
Badgers split with Stags in baseball doubleheader: The Bonners Ferry Badgers baseball team traveled to North Spokane to take on the Deer Park Stags on Saturday, March 21, and split a doubleheader.
Fish and Game releases rainbow stocking schedule for area lakes: Idaho Fish and Game has released their planned schedule for stocking Idaho Panhandle area lakes with rainbow trout.
Turkey hunting season opens soon: It opens in April.
Fish and Game Commission approves Chinook salmon season for this spring: The Fish and Game Commission has approved seasons and rules for the earliest of Idaho's Chinook salmon fishing. Read this story for more details.
Badger baseball splits home opener with Lake City JV: The Badger baseball team looking good in the early season, splitting its home opener doubleheader last Thursday with Lake City JV, the Badgers losing the first game 12-4, but then coming back to earn the split with an 11-3 win.
Track meet this weekend looking for volunteers: Bonners Ferry High School Trach Coach George Hays is asking for volunteers to help with this weekends' BFHS track meet.
Idaho Fish and Game offers new bowhunter online course: Idaho bowhunters in need of bowhunter education certification now have the option of being certified online. The course is designed to help Idaho bowhunters sharpen their skills and learn safe in-the-field practices.
Fish and Game Annual Fur Auction set : You don't have to be a taxidermist to find a treasure at Idaho Fish and Game's annual fur auction. This year's auction of furs, hides, antlers, fishing poles, and other items is set for Saturday, April 11 at Fish and Game's Salmon Region office in Salmon.
Trapper Education Course scheduled in Coeur d'Alene: Idaho Fish and Game is now offering voluntary trapper education courses to help educate both new and experienced trappers. The introduction to trapping class teaches basic trapping techniques with a strong focus on safety and ethical trapper behavior. Space is limited--click on this story for the details.
Black bear or Grizzly? Idaho Fish and Game offers online bear identification course: You don't want to be shooting those grizzlies.
Fish and Game seeks public input on Big Game rules via online web chat tomorrow: Wildlife managers with Idaho Fish and Game are in the process of crafting seasons and rules for the 2015 big game hunting season, and they want to hear from those interested in providing input.

Badger Basketball: Three named to All-League Team: See photos of the Badger boys basketball players named to this year's All League team, also photos of the senior players on the team.
Kootenai Refuge sponsors evening Owl Calling event: We look forward to seeing you at the Refuge for the Friday, February 27 Owl Program. All the details are in this article.
Don't get stuck in the Autumn rush--sign up for Hunter Education now: Every autumn as the leaves begin to change, thousands of Idahoans begin to focus on one thing: heading to the back country to hunt. If you are new to hunting, you must first complete a hunter education course. Far too often, new comers learn that they have waited too long to sign up, and finding a class is difficult.

Badger boys almost knock off #1 ranked Kellogg: The Bonners Ferry Badger Boys' Varsity basketball team took Idaho's #1 ranked Kellogg Wildcats right down to the closing seconds before losing the game by 3 points, 46-43.
Badger girls lose first District Tournament game: Basketball's year-end District Tournament is where teams earn the right to go to the Idaho State Basketball Tournament. In this year's Tournament, the BFHS Girls' Varsity team opened District competition with a game against Priest River. During the regular season, these two teams split, with each team defeating the other once.
Intermountain League standings in Boys' and Girls' Basketball, as of February 11: Click on this headline to see where all the Intermountain League steams stack up in basketball.
If you're anticipating steelhead fishing on the Clearwater River, here's the story you're looking for: This winter has been a good one for steelhead anglers in Idaho; especially on the Clearwater River. There are plenty of fish still moving through the system, and the best is yet to come.
Badger Boys' and Girls' Varsity get overtime wins: Boys defeat a 5A JV squad, Girls take down Idaho's top-rated team.
Intermountain League standings in Boys' and Girls' Basketball, as of February 6: Click on this headline to see where all the Intermountain League steams stack up in basketball.
Fish and Game to present update program on Lake Pend Oreille Fishery: For Idaho Panhandle anglers and biologists alike, one of the greatest highlights of 2014 was watching scores of anglers enjoy great Kokanee fishing on Lake Pend Oreille. To update anglers and all others interested, Fish and Game will be presenting a program later this month on the lake's fishery.
Intermountain League standings in Boys' and Girls' Basketball, as of February 2: Click on this headline to see where all the Intermountain League steams stack up in basketball.
Intermountain League standings in Boys' and Girls' Basketball, as of January 28: Click on this headline to see where all the Intermountain League steams stack up in basketball.
Badger Girls win, Boys take a loss at St. Maries: The Girls' Badger Varsity Basketball team defeated St. Maries High School 60-38 last Saturday in St. Maries. Girls' JV also win, while the Boys' Varsity team comes home with a loss.
Idaho wolf population remains well above federal recovery levels; livestock depredations down: Idaho Fish and Game Staff Biologist Jim Hayden's recent report on Idaho wolves offered three key messages: Idaho's wolf population is well above all standards for a recovered population; wolf monitoring was intensified and expanded in 2014; needs and expectations for predation management vary widely across the state.
Mild winter keeps Idaho deer and elk herds strong: After a banner year for Idaho hunters, deer and elk populations continue to benefit from mild winter conditions. Preliminary harvest surveys suggest high harvest and high success rates in 2014.
Intermountain League standings in Boys' and Girls' basketball: Click on this headline to see where all the Intermountain League steams stack up in basketball.
Badger Girls split games last week; Girls' JV team mowing down opponents: Things went great last Thursday and Friday for the BFHS Varsity Girls' basketball team--great for a game and a half that is.
BFHS Boys split their games last week: The Bonners Ferry Badgers Boys Varsity basketball team lost a league came to Kellogg, but defeated Genesis Preparatory Academy in their games last week.
Enter now for Idaho 2015 Super Hunt Drawing: Super Hunt and Super Hunt Combo tags allow hunters to participate in any open hunt in the state for deer, elk, pronghorn and/or moose. For the chance to win a tag, hunters must purchase entries for the Super Hunt drawings.
Idaho bighorn sheep tag sells for $100,000: Idaho's bighorn sheep auction tag sold for $100,000 to an online bidder at the national Wild Sheep Foundation Sheep Show in Reno Saturday night (Jan 10). This is the fifth highest winning bid since the program started in 1988.
Fish and Game might charge you more for a license, unless you purchase every year: Idaho Fish and Game will ask Idaho lawmakers this legislative session to consider a proposal to increase resident Idaho license and tag fees, but the request has a twist where you can keep your fee the same.
Steelhead season opens with the New Year: For some anglers, the best thing about New Year's is the start of the spring steelhead season, which opens January 1.
Apply soon for Spring controlled hunts: Black bear, turkey: The application period for spring black bear controlled hunts opens January 15 and continues through February 15. This year, the spring turkey controlled hunt application period opens February 1 and runs through March 1.
Ever wanted to "Super Hunt" in Idaho?: If someone you know loves hunting (and that someone might be you), and dreams of hunting moose, elk, deer, or pronghorn in any and all areas of the state during any and all hunts, including general hunts and controlled hunts, then think about Idaho's Super Hunt drawing.
Moose Madness: here's what it's all about: Take a look at this article for the inside story on what all the Madness is about this week.
Fish and Game looking for your input on next year's hunting season: Fish and Game is drafting proposals for the 2015 hunting season, and is seeking public input on proposals to moose, bighorn sheep and mountain goat. Those proposals are now available for public review and comment.
And the Idaho Panhandle National Forest wants your comments on a restoration project: The Idaho Panhandle National Forest (IPNF) is accepting comments for the Treasured Landscapes Prescribed Fire and Whitebark Pine Restoration Project, located on the Sandpoint Ranger District in the Lightning Creek watershed north of Clark Fork, Idaho.
Furbearer trapping course scheduled in Coeur d'Alene for January 16-17: Much of Idaho's history from the early 1800s is linked to trapping. For those who are interested in pursuing modern-day trapping in Idaho, Fish and Game is offering an introductory course in trapper education. Read more about the course by clicking on this headline.
A relative 'Newcomer' inhabits one of Northern Idaho's river/lake systems: A newcomer is establishing itself in northern Idaho. Walleye, a staple of the Midwestern United States, have not historically been a part of the northern Idaho landscape. They have found their way into area waters fairly recently.
Badgers and Panthers tangled last night in basketball double header: Badger Varsity Girls have a relatively easy win, while the JV Boys come up just short in an intense loss.
Badger Girls' Varsity Basketball opens season with win: The 2014-2015 edition of the Bonners Ferry Badger Girls' Varsity Basketball Team opened their season last Thursday, November 20 against the JV team from 4A Lake City High School of Coeur d'Alene.
Low water levels at Boundary Creek-Smith Creek Wildlife Management Area: Visitors to the Boundary Creek-Smith Creek Wildlife Management Area (WMA) near Bonners Ferry have noticed that water levels across the WMA are low this year. The lower than normal water level is making trapping and waterfowl hunting very difficult.
Here's where you check your trivia skills on record fish caught in Idaho: Ready for your Idaho Record Fish Trivia Extravaganza Contest? See if you can answer a few questions about record-setting fish caught in Idaho.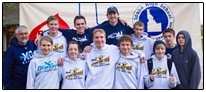 Here's the full story on BFHS Cross Country at State: Eleven weeks of training, teamwork, dedication, and deter-mination paid dividends for eight representatives of Bonners Ferry High School cross country, during the season and at the Idaho State Meet. The State details are all right here.
Fish and Game reminds hunters of rules for hunting private land: Deer rifle seasons opened in mid-October in much of Idaho. You may be surprised at some of the rules regarding hunting on private land in Idaho.
Wolf trapper certification class scheduled in North Idaho: If you are interested in trapping, a class has been set up to be held in Coeur d'Alene in a couple of weeks. This class is required before a person can purchase wolf trapping tags.
BFHS Cross Country competes at Idaho State Cross Country Meet: The Bonners Ferry Boys' team finished in 8th place at the Idaho State Cross Country meet, completed earlier today at the three mile course around the lake at Eagle Island State Park in Eagle, Idaho. Click on this headline for more details on individual finishes at the state meet.
BFHS Volleyball team competes at State Tournament: The Bonners Ferry Badger Volleyball team earned their way to the Idaho State Tournament by winning both the regular season Intermountain League championship and first place in the District Tournament. Click this headline to see the details of their trip to state.
Cross Country team does well at Districts, prepares for State Tournament; Perkins claims District Championship, Warner named Coach of the Year: The rain let up just in time for the District 1 3A Cross Country Championships to get underway last Thursday, October 23.
Social media page in the fight against poaching: Several recent poaching cases are catching the attention of Facebook users who follow the Citizens Against Poaching page.
NEXT UP IN STATE TOURNAMENTS:
BFHS Volleyball begins state competition with two matches this Friday at Twin Falls. They will first play Sugar-Salem at 9 am.

The BFHS Cross Country team will run this Saturday on a beautiful 3 mile course around the lake at Eagle Island State Park. The girls run first at noon, with the boys following an hour later.

We plan to keep the latest updates for both teams posted right here.
BOYS SOCCER: In spite of Caleb Blackmore's eight saves for the Badgers, Sun Valley's Community School wins the consolation trophy at the Idaho State 3A Soccer tournament, defeating Bonners Ferry 2-0 on Friday. Congratulations on a great season!
SOCCER: In State Tournament play today, Thursday, October 23, the District I champion BFHS Badger Boys' Soccer team loses its first game to Wendell with a score 5-0. They will next play American Falls tomorrow, October 24.
VOLLEYBALL: After winning the Intermountain League championship, the BFHS Volleyball team sweeps six of six games to win two matches and capture first place at the District Tournament. They now move on to the Idaho State Volleyball Tournament, held in Twin Falls October 31-November 1.
Fish and Game approves historic Coho Salmon season; restored species had been technically extinct: Anglers, a unique salmon season opens in a river not that far off. The Idaho Fish and Game Commission has approved an historic fishery for the Clearwater River. For the first time ever, a specific season for Coho Salmon will open in Idaho.

Great regular season finale for BFHS Cross Country: District competition up next.
BFHS Cross Country performs well at Priest River and Moscow: The Badgers gain momentum in meets last weekend, including some first place finishes.
Rifle season for deer opens Friday: Deer hunters are gearing up for opening day across Idaho, as numbers are up and opportunity is high. Three consecutive mild winters across most of Idaho are resulting in unusually high numbers of mule deer and whitetail deer.
It's that special time of year: Deer hunt opening soon: The regular deer season opens October 10 in most regions of Idaho. Take a look at this story to see some tips from Fish and Game on hunting opportunities for youth, their guide in taking care of game meat in the backcountry, and information on hunting rules.
Ask Fish & Game: Hunting on private land: Idaho Fish and Game answers some commonly-asked questions.

Badger cross country at Plantes Ferry meet: Battling against the heat and high-level competition, the Badger cross country team gave it their best shot at the Plantes Ferry meet in Spokane.
Fish and Game: How to legally recover roadkill: We have to admit it: This is a subject that secretly we all sort of wonder about, but publicly, we all turn up our noses in disdain: roadkill. And we're not just talking about roadkill, we are talking about salvaging roadkill.
Wolf trapping class scheduled in Pocatello: The Idaho Department of Fish and Game is holding a wolf trapping certification class in Pocatello on Saturday, September 27.
All hunters and anglers required to stop at check stations: Throughout the deer and elk seasons, Idaho Fish and Game (IDFG) will be running check stations to collect data on hunter and angler success. Idaho Code requires that "all sportsmen, with or without game, must stop at Fish & Game check stations."
Badger runners perform well at meets in Kellogg, Coeur d'Alene: The

BFHS Cross Country team had a busy week last week, running two races in three days. The team began by running at Kellogg at Pinehurst Golf Course, a notoriously fast race, on Thursday, September 11, and again at Coeur d'Alene's hilly Hayden Canyon for the Super 1 Invitational on Saturday, September 13.
BFHS Women's soccer posts another win: BFHS Women's Soccer won their match this weekend against Kellogg. "The girls played amazing," said Coach Delude.
Spotlighters beware! you might be shooting an ASA: Fish and Game is taking aggressive action to catch and prosecute people who spotlight game animals.
Fall turkey season opens soon: Hunters looking to bag a wild Idaho turkey can start hunting on Monday, September 15.
BFHS Womens' soccer posts a win: The Bonners Ferry Badger Womens' soccer team picked up a road win in Kellogg in their latest game on Saturday.
Cross Country team again performs well: With the cancellation of the annual Silverwood Coaster Cross meet, Coeur d'Alene High School stepped up to host a "jamboree" meet.
BFHS Football: Badgers fall in home opener: A report on Friday's football game, BFHS vs Newport.

Badger cross-country opens season with great meet at Post Falls: Badger cross country kicked off the 2014 campaign by shaking off the rust at Kiwanis Park in Post Falls on Thursday.
Badger football loses at Libby in action-filled game: On August 30 the Bonners Ferry Badger football team traveled to Libby, Montana to take on the Libby Loggers. This year the Badgers are a young group with only one senior available for the first 2 games.
Fish and Game releases area fish stocking information: Looking for some ideas on spots where you can do some fishing this fall?
Fish and Game looking for your help: Have you seen a wolf? Scouting for upcoming hunting seasons, huckleberry picking, and general late summer recreating are all good reasons for getting away to Idaho's great outdoors. If during these forays, you see a wolf, Fish and Game staff would like to hear about it.
Second controlled hunt drawing complete (find out if you got one): The moment you've been waiting for is here! Here's how hunters who applied for controlled hunts in the second application period can find out if they were successful.
Disabled hunter access available in the Idaho Panhandle National Forest: The Disabled Hunter Access Program on the Idaho Panhandle National Forest will be available again this year to qualifying hunters. The program allows motorized access for hunters with disabilities on two roads on the Bonners Ferry Ranger District and three roads on the Sandpoint Ranger District.
Last chance to apply for controlled hunts: The application period for the second drawing for deer, elk and pronghorn remains open through Friday August 15.
New ADA Deer Hunt Blind on Kootenai National Wildlife Refuge: Kootenai National Wildlife Refuge has a new Deer Hunt Blind constructed specifically for disabled big game hunters. The Refuge will conduct a random drawing on August 15, 2014, to award ten hunters an ADA Deer Hunt Permit.
Latest Fish and Game news on: drawing for controlled hunts, leftover controlled hunt tags, and fireworks or explosive targets: In this story, read the latest news from Idaho Fish and Game on these important topics.
Successful summer for Badger Girls' basketball: The Badger Girls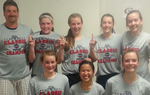 have been bringing championships home in summer tournaments recently. Click on the headline of this story to read more.
North Idaho baseball team with BF players wins Idaho championship again, moves to regional play: The Idaho Little League state champions, with three members from Bonners Ferry, is once again playing for a spot in the Little League World Series. The North Idaho Little League team beat out Boise in the state championship held in Sandpoint on July 12th.
Wildlife officials predict good year for deer hunt: Many Idaho hunters are optimistic about taking a deer, or maybe even two, this fall. Three consecutive mild winters across most of Idaho are resulting in unusually high numbers of mule deer and whitetail deer.
Badger cross country ramping up; first practice in two weeks: Summer seems like it just began, but already the time has come to look forward to the fall running season. The Badger cross country staff would like to remind high school runners that first practice will be held Friday, August 15 at 4:00 p.m. Click on the headline of this story for more details.
Football players are working hard preparing for 2014 season: Coach DePriest writes about preparations for Badger Football 2014, and gives important dates to remember for members of the team.
Once nearly gone, Lake Pend Oreille kokanee have rebounded in a big way--over one million fish: The Lake Pend Oreille kokanee are back over the past eight years, due in large part to an Idaho Department of Fish and Game strategy aimed at reducing predation on the smallish game fish.
Unsold non-resident deer and elk tags now available to anyone as second tag: The Idaho Fish and Game Commission reduced the price of unsold nonresident deer and elk tags will sell them as second tags. Any hunter who has already purchased a deer or elk tag at the regular resident or nonresident price can now purchase a second tag for the same species.
Submit your great photos to Idaho Fish and Game website: Do you have a photo from a recent Idaho hunting or fishing adventure you want to share? How about a photo you've taken of wildlife in Idaho? You can submit your favorite photos electronically for display on Idaho Fish and Game's website.
Badger Football summer conditioning update: The Badger football team started our summer strength and conditioning workouts last Monday. There were many positives and some areas of concern.
Fish Stocking Schedule: Time to plan your fishing strategy for the month of June. And to help out, check out the June fish stocking schedule for Idaho's Panhandle waters, just released by the Idaho Fish and Game Department. You can see the stocking schedule, which includes several Boundary County lakes, by clicking here.
June 14 is Free Fishing Day in Idaho: Saturday June 14 is your chance to try fishing for the first time, or dust off your rod and put it back into use. It is Free Fishing Day in Idaho, and Idaho Fish and Game invites everyone to celebrate the day by fishing anywhere in Idaho without a license.
Kokanee Catch Limit Increased on Lake Pend Oreille: Anglers fishing Lake Pend Oreille will be allowed to harvest more kokanee as a result of a vote by the Idaho Fish and Game Commission to increase the limit there.
Badger softball finishes strong in league and district play: Let's go back in time t

o Friday, April 25. The Badgers hosted the visiting Troy Trojans for Senior Night. All three seniors: MaKenzie Carle, Brianna Reasoner and Arista Winey were honored as well as the foreign exchange students Ale,

Mint and Jin in addition to three seniors from Troy. The Badgers had a standout performance.
Badgers Advance to Championship Game, Add Three to All-League Team: The Bonners Ferry Badgers baseball team advanced to the district championship game by defeating the Priest River Spartans 6-1 in the first round of Intermountain League tournament play Thursday afternoon.
Idaho F&G Accepting Applications for Controlled Hunt: Hunters hoping to draw tags for big game controlled hunts this fall should submit their applications in the next few weeks, according to the Idaho Department of Fish and Game.
IDFG considers increased kokanee harvest: Continued improvement of North Idaho's Lake Pend Oreille kokanee population has the Idaho Department of Fish and Game considering an increase to the harvest limit.
April busy for Lady Badgers softball: April continues to be a busy month for the high school softball team, with many girls putting in time for both the JV and Varsity squads. With six games over the course of six days between the two, the Badgers had a disappointing record to show for a hard fought week of softball. With many close loses, the team went 1-5 overall between April 14 through 19.
Adam Hall qualifies for 2014 World Team trials: In his first tournament since his ACL knee surgery last August, Adam Hall qualified for the 2014 World Team Trials at the Las Vegas/ASICS U.S. Open wrestling tournament April 18-19.
Busy week for Badger girls: It sure has been a busy week for the Badger softball team! With seven games in the past six days they have earned a well-deserved day of rest on Sunday.

Kelly's Excavating wins championship: The Boundary County Volleyball Association finished their season with a round robin tournament and in a close competition between the top three teams, Kelly's Excavating won the 'A' League championship.
Badger Pride ...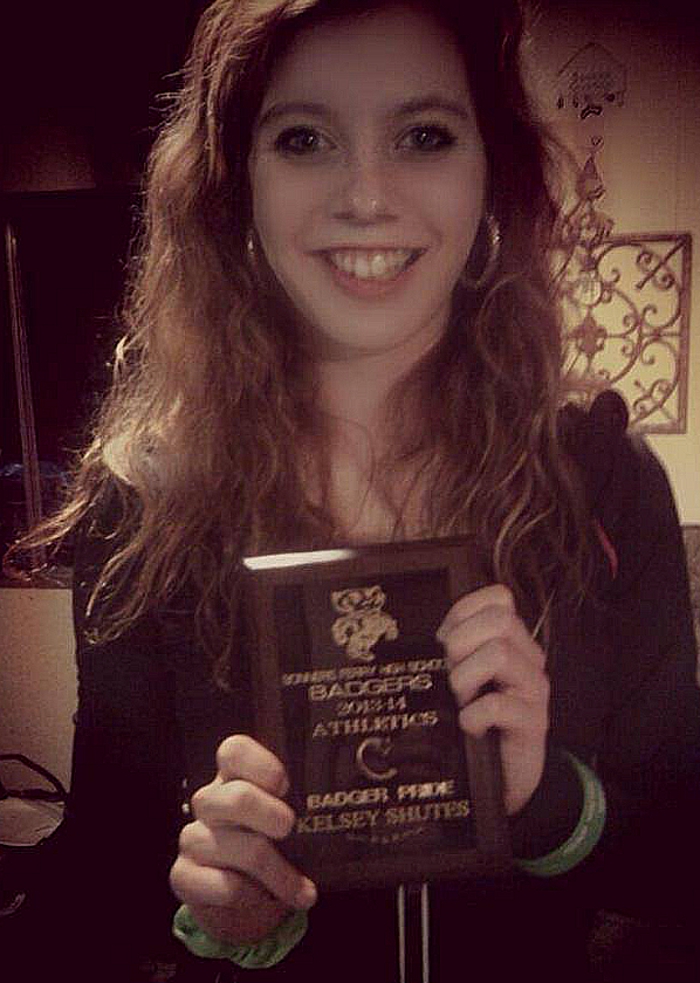 Though she couldn't compete with her fellow cheerleaders at state due to injuries from a car crash the night the team earned their state berth, the team presented her with a beautiful Badger Pride plaque for her indomitable spirit following their state performance. Kelsey and her parents were able to attend state, but they're back home and Kelsey is hard at work in rehab to gain back what she lost.
Lady Badgers take first win of the season: The Badgers varsity girls softball team travelled to face Sandpoint's varsity team in a double-hearer Tuesday evening, falling dismally in the opener but roaring back to win game two 7-3 and their first win of the season.
Badger wrestlers keep tradition alive: The Bonners Ferry Wrestling Program is in full swing for the spring season, with wrestling Freestlye and Greco-Roman in several tournaments over the last couple of weeks.
Little League tryouts this week: Little League tryouts will be held from 5 to 7 p.m. Friday, March 28 and from 9 a.m. to noon Saturday, March 29, at the west end of the fairgrounds ball fields. Please be at the batting cages, located near the parking lot of the old downtown mill, if your child plans to play this year in any group other than mini-minors.
Coaches looking to build lacrosse program: Are you looking for an exciting new spring sport? Coaches John Niewieroski and Brandon Glaza are looking to start a new lacrosse team in Bonners Ferry for boys in grades four through eight.
JV girls have good first outing: The Badger's JV softball team played a double header Thursday, March 20, against the Post Falls Trojan's C-team and did very well for their first game. By Sam Schneider
B-run steelhead restrictions lifted: The Idaho Fish and Game Commission voted unanimously to lift the restrictions on harvest of "B-run" steelhead on the Clearwater River for the remainder of the 2014 season effective immediately. The decision was made during the commission meeting on Thursday, March 20, 2014.
IDFG Commission adopts 2014 rules: The Idaho Fish and Game Commission Thursday, March 20, adopted the 2014 seasons for deer, elk, pronghorn, black bear, mountain lion and gray wolf, as well as seasons and limits for Spring Chinook Salmon as proposed by Fish and Game biologists.
Bound for state ...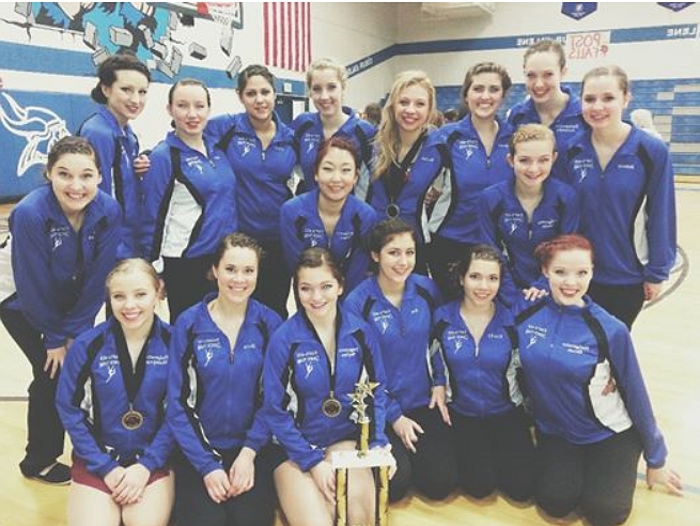 The Bonners Ferry High School Dance Team will also be traveling to the Idaho Center in Nampa Friday, where they will compete in four different dance categories ... GO, BADGERS!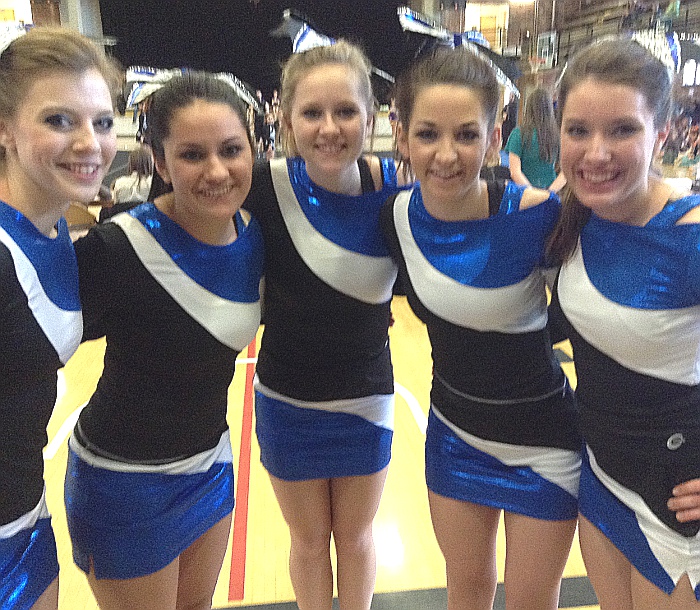 The Bonners Ferry High School Cheerleaders will be heading to state competition Friday, March 21, at the Idaho Center in Nampa. The Badgers will be competing in three divisions; 3-A All Girl Show Routine, Group Stunt, and Pom Routine. They are very hopeful that teammate Kelsey Shutes, recovering from injuries sustained in a car crash the day she and her team won district and the state berth, will be able to attend and watch. The community's prayers and support are appreciated.
Senior fitness leaders wanted: Do you want to reduce your risk of falls? Stretching and bending your arms and legs with a crowd of happy people can help you reach that goal. Panhandle Health District (PHD) coordinates a group of volunteer leaders who teach Fit and Fall Proof classes.
Badger boys off to state: The Bonners Ferry Badger boys basketball team earned a trip to state Thursday evening, traveling to Timberlake and downing the Tigers 36-33 in a loser-out game decided at the free throw line with only 35 seconds left on the clock.
-- Badger boys open district play tonight --
The Badger boys basketball team travels to Timberlake to take on the Tigers at 7 p.m. tonight, February 27, in the opening round of the Intermountain League Championships. Please plan to go cheer them on!
Go, Badgers!

Bateman tops in Elks Hoop Shoot: Trey Bateman, 8, won the Elks Hoop Shoot Northern Competition in Kellogg last Saturday. Trey hit 23 out of 25 free throws to win the 8 and 9 year old division. Trey also earned top shot honors by hitting the most free throws in all age groups. The district competition hosted the best free throw shooters in North Idaho
Archives