Penguin Plunge changing venue
January 17, 2013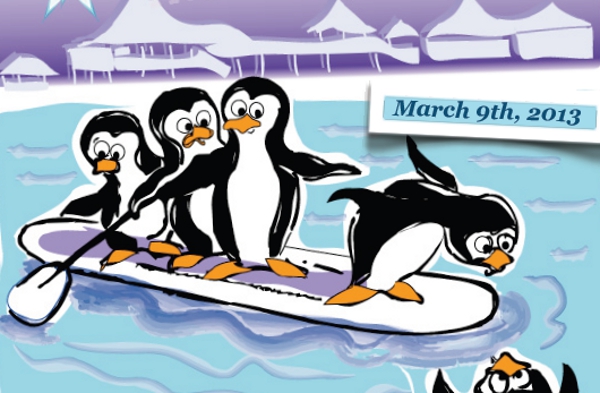 By Mike Weland

This year's Penguin Plunge, in which intrepid and slightly crazy people immerse themselves in frigid water in support of Idaho Special Olympics, will still be in the cold, cold Kootenai River, but a little closer to town, in a place where getting warmed back up shouldn't be quite as hard as it was for last year's plungers.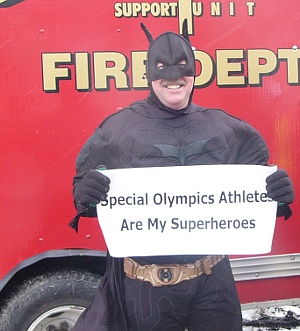 Even Batman made the Penguin Plunge in 2012 ... there's no telling what superheroes might appear this year.

Instead of going all the way out to the mouth of Deep Creek, as in years past, Penguin Plungers this year will gather at the Boundary County Search and Rescue/Waterways building on Riverside Street just west of the fairgrounds on Saturday morning, March 9, where a warm building awaits those brave, blue-tinged souls as they come out of the water, avoiding a potential repeat of what happened last year despite the best-laid plans.

No one can predict early March weather in Boundary County except to assure it will be chilly.

Last year, the Penguin Plunge fell on a cold, gray blustery day, so blustery, in fact, that folks were hanging onto their tents to keep them from blowing away, including the warming tents ... many of which blew off anyway! The day was saved as fire departments from around the county pulled in with their vans ... even the Beck's Furniture van was brought in ... to serve as warming sheds.

No matter how this March 9 dawns, that contingency won't be repeated this year, though other contingencies may well arise. With the Penguin Plunge, you never know what will happen to keep organizers scrambling ... it just adds to the fun.

In spite of last year's appalling conditions, around 40 brave souls took the plunge, raising more than $7,500 for Idaho Special Olympics.

Some came in teams, some as individuals. Many more just went to watch. What makes it so much fun isn't just the chance to see plungers get wet and cold; but how they dress for the occasion ... it's the closest thing to an outlandishly cold circus you'll find in Bonners Ferry. To get an idea, click here for some images of the 2012 Penguin Plunge.

As always, this year's Boundary County Penguin Plunge is being organized by the community's staunchest Idaho Special Olympics supporters, our local peace officers, and the same great core group that so ably ran last year's event and coped with all the crises, are back this year; former Bonners Ferry Police Chief Dave Kramer, Bonners Ferry Police Officer Tiffany Murray and Sue Wilson and Tish Lagerway, both with U.S. Customs and Border Patrol.

With indoor restrooms, changing rooms and warming rooms new this year, they expect fewer natural disasters to contend with, allowing them to spend more time enjoying human inflicted fun.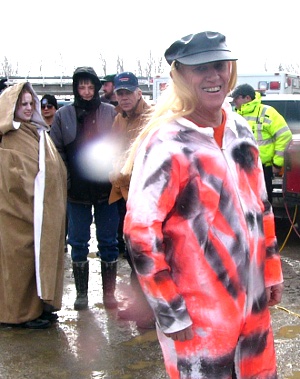 Jackie Flinn, abandoned at birth and raised by chickens, showed up at the 2012 Bonners Ferry Penguin Plunge and became a sensation. Sadly, she hasn't been seen in these environs since, and it's assumed she returned to life in the coop.

As in the past, there will be several contest this year; Spirit of the Penguin Plunge, most money raised, costume and more, and they are inviting and encouraging local groups and businesses not only to enter teams, but to issue challenges: Boy Scouts vs. Girl Scouts, say, Bonners Ferry High School seniors vs. juniors, Boise State alumni vs. U of I, Safeway vs. Super 1 vs. Akins, county employees vs. city, the BFHS football team vs. the nerds on the robotics team, Baptists vs. Methodists. Eastport vs. Porthill ... the possibilities are endless and all add to the fun.

Plungers are also encouraged to invite their own cheering section, band and/or orchestra, and cheering sections, bands and/or orchestras are invited to come just to add to the melee.

They're also looking for prizes and donations to award the intrepid plungers, and for judges to assume the awesome responsibility of staying warm and dry and determining who wins ... a difficult task in an event in which everyone wins.

To enter the event as a plunging individual or team, visit www.idso.org; to share ideas or to pitch in on the sidelines, be it providing hot food for the plungers, offering prizes, judging or providing additional ice for Sheriff Greg Sprungle to add to the water prior to the first plunge ... just to make sure the water is cold enough, call Tiffany at (208) 267-2412, or email Dave, kramer@meadowcrk.com.

Those with but a shred of sanity left are also invited to come watch the shenanigans; there's no admission fee and the crazy people dressed in outlandish costumes willing to jump into the icy Kootenai River in March seem motivated to have more fun with a big audience present. Just ask Jack Flinn and his long-lost twin sister, Jackie.

Everyone in the community is asked to begin thinking how you can add to the ambiance of the event, and to make plans to make this the most successful Penguin Plunge so far.

The plungers, after all, will be Freezin' for a Reason.
Questions or comments about this letter? Click here to e-mail!