Swish a smash!
July 16, 2011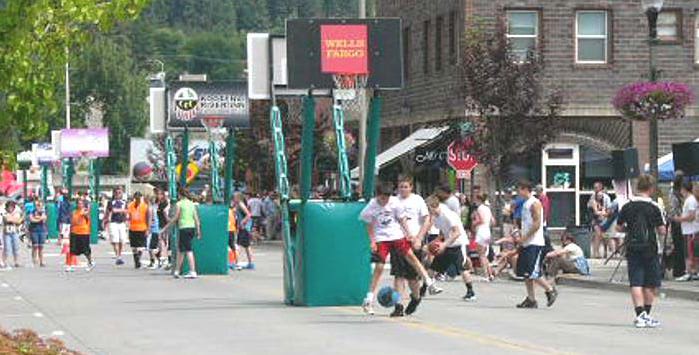 Downtown Bonners Ferry was given to hoops today as Swish 2011 got underway.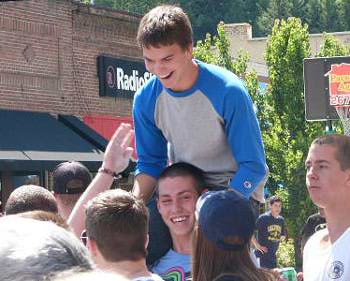 While the action on the courts was fast-paced, the feeling on the sidelines was pure fun!

While the number of teams was slightly down this year, the fourth annual Bonners Ferry Swish is carrying on a tradition of excellence that grows stronger each year the three-on-three hoops tournament is played.

Put on this year under the aegis of the Bonners Ferry Rotary Club and first-year manager Ron Sukenik, this year's event built on the solid foundation laid by founding manager Brett Brown and last year's manager Brad Hollifield, both of whom, along with more than 100 volunteers from throughout Boundary County, volunteered once again to make this event a northwest showcase.

For the first time this year, those behind the scenes volunteers are able to post results on-line, updating hourly as games are underway, so the families of teams who traveled a long way can keep track of what's happening. Visit http://www.allprosoftware.net/bfswish2011/ to keep up to the minute if you can't be downtown to watch the action, and some great action it's been.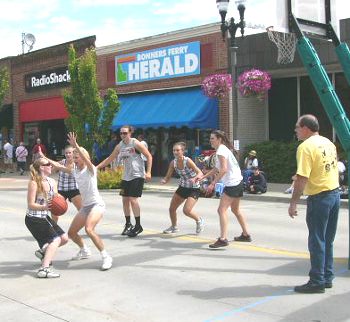 Tom Bushnell, one of more than a hundred volunteers, keeps a sharp eye on the action.

In the opening hours, No Blood No Glory went undefeated to lay claim to the 9-10 boys division and the K Gals won the 9-10 girls division. The Traveling Four won the girls 13-14 division and Flower Power won the girls 15-16 division. Later, Lavender & Roses won the 19-35 women's division, the Wolfpack took the 11-12 male division and Victorious Secret won the 36+ mens division.

Play resumes at 9 a.m. Sunday morning.

Seventy teams signed up to compete in this year's Swish, down five from last year, but understandable with the economy and the highway construction both north and south of Bonners Ferry. But while the team count was down, the number of activities on the sidelines appear to have grown this year, with more food booths, raffles, bouncy slides and more, giving everybody something to do and look forward to.

And it appeared that the number of spectators on the sidelines grew, too, as folks brought their lawn chairs and other comforts from which to cheer on their favorite teams.

But one of the biggest hits this year was one guy who had a following no matter where he went. The crowd, young and old alike, fell in love with former Harlem Globetrotter Seth Franco, whether he running from game to game to call the action and cheer on the competitors or center stage dazzling the crowd with his basketball virtuosity. And it was just as obvious that Franco, who married Bonners Ferry girl Sarah Parlow, fell in love with the people of Bonners Ferry. (More photos below)

Here are the teams participating in Bonners Ferry Swish 2011 (*= Division Champion):

| | | |
| --- | --- | --- |
| Age Group/Div. | Team Name | Players |
| 9-10 Female | * K Gals | Kelsey English, Grace Villelli, Leilani Ram, Amanda Maggi |
| 9-10 Male | Loggers | Jay Beagle, Ryker McElmurry, Dawson Young |
| | * No Blood No Glory | Dylan Hittle, Kemeren Hill, Drew Foster, Kenny Branson |
| 11-12 Female | Banditas Loca | Jadin Tucker, Avery Lane, Jordan Young, Nicole Hensley |
| | BF Hotshots | Nicole Donn, Grace Coughlin, Melissa Kimp, Brianna Clizer |
| | Kiss My Pass | Cassie Madden, Ketelyn Bennett, Jade Rhoades |
| | KMAK | Kassy Skeen, Maggi Pluid, Abbie Byars, Kinzie Unruh |
| | Little Loggers | Sidney Stevenson, Shannon Reny, Kllalyn Hageness, Jillan Hawthore |
| | Swishin' Sweets | Mykal Copeland, Jarreka Byars, Whitney Olson, Makallah Dowell |
| | Timberlake Tigers | Lilly Kelley, Stephanie Bremer, Matraca Rocheleau, McKeeley Tonkihn |
| | * Wired | Grace Kirscher, Rebekah Zufelt, Maysun Wellsandt, Jocie Osika |
| 11-12 Male | Badger Jammers | Ryan Merritt, Andrew Clarkson, Anthony Schutes, Mason Eby |
| | Super Fly | Nate Pollard, Rilee Rickshaw, Carson Umphenour, Kendall Stone |
| | Swoosh | Elijah Price, Seamus Ryan, Micgwire Ryan, Evan Wasmer |
| | * Wolf Pack | Caleb Harrington, Keither Lecrinski, Kaleb Stockton, Mason Kelson |
| 13-14 Female | Geeks in Sneaks | MacKenzie Mendenhall, Katie Colson, Scout Seley, Amanda Wilson |
| | * Travelin' Four | Jasmine Hill, Emma Pluid, Abby Skeen, Kendra Merritt |
| | Zeida | Jaiden Everhart, Aaligah Zarate, Abby Davis, Hannah Lysne |
| 13-14 Male | 2 Legit to Quit | Chris English, Evan Ellis, Jason Schutes, Juan Allaneueda |
| | Ball Busters | Mitchell Kramer, Vincent Bennett, Colton Moore, Karsten Foster |
| | Foolin' Around | Denzel Tucker, Tyler Harrington, O'Shawnasee Skeen, Caleb Munson |
| | * Hoopfest Heroes | Mathew Curtis, Brett Hutchins, Paul Sundquist, Kyle Perry |
| | Masters of the Universe | Davis Merrifield, Chad Guthrie, Austin Kerr |
| | Purple People Eaters | Ty George, Brandon Hausladen, Brady Nowlan, Thomas Hauck |
| | Sagle Heat | Jacob Graham, Vaughn Goodsen, Jarred Hall, Kyle Hertel |
| | Sagle Slam | Tres Hiatt, Troy Mitton, Caiden Mitton, Tanner Jacobson |
| | Sandpoint Super Stars | Matt Timonty, Jake Timothy, Davan Norns, Cooper Spaulding |
| | Take it to the Hole | Austin Hittle, Ethan Racer, Shawn Kimp, Spencer Jantz |
| 15-16 Female | Air Ball | Ashly George, Neredes McComb, Rae Hohle |
| | * Flower Power | McKenzie MacDonald, Ciera Woods, Jailee Foster, Savannah Woods |
| 15-16 Male | Blue Eyed Boys | Noah Price, Collin Stone, Wyatt Nelson, Preston Johnson |
| | Bonners Ferry Wrestlers | Anthony Skeen, Matt Kramer, Parker Davis, John Brown |
| | BROH | Matt Henslee, Connor Bennet, Josiah Owinyo, Kyler Rice |
| | Skyforce | Isaac Price, Aubree Wasmer, Casey Smith, Collin Cossairt |
| | Street Kings | Christian Trocke, Walter Jackson, Matt Sabin |
| | * TFA | Jesse Woods, Josh Pluid, Evan Moe, Cameron Woods |
| 7-18 Male | Clifty Crew | Tom Highun, Christian Furman, Joseph Tompson, Nathan Koeten |
| | Cougar Bait | Garrett Skeen, Andre Zarate, Bradley Clausen, Austin Skeen |
| | Dough Boys | Jason Ball, Andrew Crunican, Dominie Quaglia |
| | East Coast Love | Luke Roberts, Austin Holdhouse, Sean Fanning, Shane Heffernan |
| | Goobers | Grant Johnson, Ethan Parts, Austin Mardanado |
| | Hoods in the Woods | Coolin MacDonald, Ethan Rilgore, Brian Moore, Bryan Murphy |
| | Kaboom | Jordan Helmuth, Rodney Helmuth, James Mong |
| | Kick'n at Money Money | Chase Mellon, Zane Peycke, Thomas Osborn, Katylinn Rice |
| | * Pat Smith Insurance | Connor Vickaryous, Philip Lalalpoor, Zack Hayes |
| | Schrom's Bombs | Isaac Ryckjeghem, Jordan Becker, Cameron Taylor, Shane Miller |
| | Stay Thirsty | Alex Awbrey, Hayden Wakkinen, Reed Bennett, Thomas Amoth |
| | Super Friends | Carmen Krichbunm, Alexander Demarco, Teaundtre Roberts, Dan Hill |
| 19-35 Males +6' | 8 Golf Balls | Aaron Moe, Dillon Deitz, Carey Reynolds, Derek Deitz |
| | Akins Harvest Foods | Nick Akins, Tyler Greewalt, Chris Bessler, Scott Spaldinig |
| | Hamburglers | Kevin Dinning, Mat Evans, Brian Dinning, Jake Luikens |
| | Money Maker$ | Tony Navarro, Tyler Barton, Tim Youngwirth, Randy Lamp |
| | Painfully Employed | John Becker, Roshaun Pesho, Mike Becker, Jake Becker |
| | * Super Slackers | Josh Anderson, Cameron Jefferes, Bradly Amersfoot, Jared Broggi |
| | Sweet William | AJ Bennett, Casey Lanford, Ryan Winebark, Mike Martin |
| | Top Dawg Ballers | Jeremy Vasquez, Jeff Johnson, Christopher Tomkinson, Shane Rasmusson |
| 19-35 Females-6" | Boundary Abstract | Michelle Woods, Britta Peterson, Kelly Wombacher |
| | * Lavender & Roses | Becky Lowther, Lacey Dinning, Jennita Baker |
| | Salty Pirates | Jana Nearing, Jenna Gust, Deanna Nearing, Casey Whalton |
| | The Allie-Oopps | Melody Braden, Sara Anderson, Johanna Rijkenbereg, Meadow Braden |
| 19-35 Male +6' | Bringing Heat | Jeremy Benson, Luke Marble, Jeremy Stewart, Lyle Kittell |
| | First Class | Stephen Girod, Jerry Harding, Joseph Miller, Marcus Girod |
| | Misfits | JJ Barker, Jerry Jiminez, Troy Roberts, Jeremy Gus |
| | * Viscious & Delicious | Joey Dinning, Blaine Schultz, Dan Mayzel, Alek Lopez |
| | Welco Warriors | Joshua Florea, Steve Munsen, Armando Zarate, Mark Elliston II |
| 36 + Male -6' | Coaches Gone Wild | Cory Kramer, Armando Zarate, Doug Evans, Barry Davis |
| | Eastport Mafia | Chris Clausen, Donovan Delude, Keith Thompson, Joe Meyer |
| | Hard Pudding | James Solum, Jeremy Stewart, Jody Kibler, Brett Brown |
| | The Has Beens | Arlan McLain, Rob Piipo, Josh Young, Marc Taggart |
| | * Victorious Secret | Arlan McLain, Dusty Cash, Dan Tadlock, Jim Pannell |
On courts running the length of Main Street, the action was fierce at the 4th Annual Bonners Ferry Swish.

And it wasn't all hoops action ... during one break, the Bonners Ferry High School Cheerleaders wowed the crowd with a spectacular dance routine.

Former Harlem Globetrotter Seth Franco seemed to be everywhere at once, walking from court to court with a microphone to call the action and encourage players, handing out commemmorative basketballs, having fun and bringing the fun to a higher level.

He even got a little game of his own going, playing a mean game of simple catch with six volunteers from the audience, including Mary Pluid, "Best Basketball Dad" George Schutes, and "Justin Beiber." The game wasn't entirely fair, however. Seth would go to high-five one of the players who made an outstanding catch and when they reciprocated, Seth's other hand sent the ball zipping right at them ... When it was over, the only player still standing was ...

Mary Pluid, who safely took a high five from her new hero!

During intermission, Seth not only showed off his incredible skills, but did so after telling how he overcame a career-threatening leg injury in high school to go on to a storied basketball career ... no doubt inspiring many in the crowd to follow their dreams to do what they love.

Swish manager Ron Sukenik was another guy who was everywhere at once, but if he was getting frazzled, you couldn't tell it as he remained cool and collected even amidst all the action. Here he confers with Seth Franco on one of the myriad details to be attended to. A big tip of the hat to Ron, to Seth, his wife Sarah and brother-in-law Don Parlow ... and to everybody who volunteered and worked so well together to make the first day of this year's Bonners Ferry Swish another outstanding event.

Tune in tomorrow for the final Swish results and more pictures!
Questions or comments? Click here to email!