Jury trial set in grizzly killing
August 23, 2011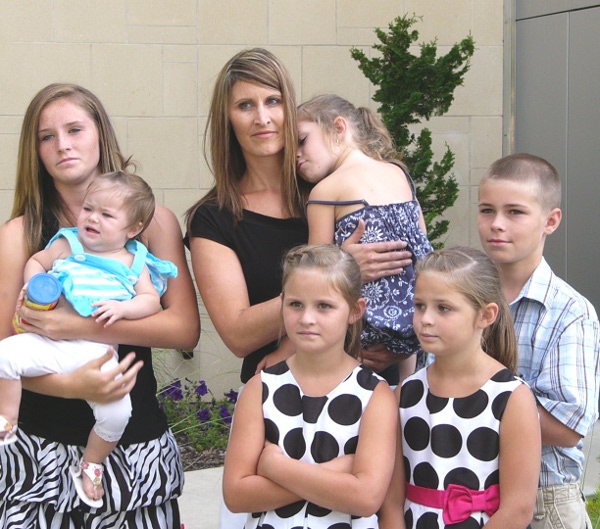 Rachel Hill and she and Jeremy's six children, including Jasmine, holding the baby at left, who celebrated her 14th birthday by attending her dad's arraignment on a federal felony charge for killing a grizzly bear.
by Mike Weland
newsbf.com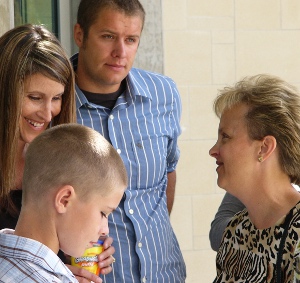 Idaho Senator Shawn Keough (right), talks with Rachel Hill after her husband Jeremy Hill's arraignment Tuesday in Coeur d'Alene.

Jeremy and Rachel Hill and their children would much rather have spent the day at home today celebrating the 14th birthday of their eldest daughter, Jasmine. Instead, they faced an overly intimidating morning in federal court more than 100 miles away in Coeur d'Alene, where Jeremy heard the charges and potential penalties he faces, entered a not guilty plea, and had a jury trial date set for 9:30 a.m. Tuesday, October 4, before Judge Edward Lodge.

Judge Candy Dale conducted today's hearing, officially informing Hill, 33, that he was innocent until proven guilty of a single charge of killing an endangered or threatened species, in this case a two-year-old male grizzly bear cub that was on his property about 150 feet from his Highway 1 home on Mother's Day May 8.

If convicted, he faces up to one year in prison, up to a $50,000 fine, or both, up to one year probation and forfeiture of the bolt-action rifle he used to shoot the bear.

Hill, solemn on the stand, answered each question simply, "yes, your honor," "no, your honor."

On the matter of his release pending trial, the prosecution requested that he forfeit his passport and be required to report to a probation officer each time he goes into Canada, a common occurrence as the family often visits Creston. His defense attorney noted that Hill was not a flight risk and objected, and Judge Dale met him half way, not requiring forfeiture of his passport but requiring that the court be notified each time he planned to enter Canada.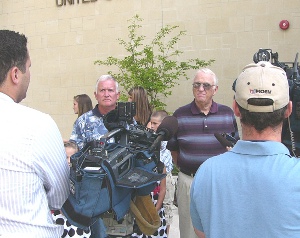 Jeremy's father Mike Hill (left), and Commission Chair Ron Smith meet with Spokane television reporters after Jeremy Hill's arraignment hearing.

About 70 people attended Hill's first appearance since the charge was filed August 7, forcing the hearing to be moved to a larger courtroom, which still proved too small for everyone. Prior to entering the building, everyone had to go through a security check to rival any at the airport, removing belts, shoes, having U.S. Marshals go through purses.

Evelyn Smith had to hand over her two-inch metal nail file, I had to take my camera back to my car and remove my P-38, a can opener used by old GIs to open cans of C-rations. Once inside the large courtroom, I was ordered to find a seat in the packed gallery or leave; fortunately, people in the front row were able to squeeze just enough to give me space.

Teacher Linda Endow Hall, who taught the two elder Hill children, snapped a few pictures inside the courtroom with her cell phone before everyone was ordered to turn all electronic devices off, not having seen the signs barring photography; she was hustled out not once, but twice, where she said she was subjected to questioning, forced to erase all the pictures, and forced to give her identification, presumably, she said, to add her information to federal watch lists. She was warned that if any photos of the proceedings turned up in the media, she could face prosecution.

Among those in attendance were Jeremy's father, Mike Hill, his uncle, Steve Hill, Idaho Senator Shawn Keough, who gave Rachel a big hug after the hearing and promised her staunch support, and county commission chair Ron Smith, who met outside, along side Mike and with Rachel and the children in the background, with reporters from Spokane television stations KREM and KHQ. Donna Capurso, chairman of the Boundary County Republican Central Committee, was there as well.

Saying that he and his fellow county commissioners strongly felt it their duty to protect the rights of citizens to protect themselves, Smith told KHQ's Anthony Gomes, "My hope as that before then (the trial), they come to their senses and drop the charges."

Mike Hill told the reporters that there wasn't much to say. He described what he knew of what transpired May 8, saying that the bears, which he said had been spotted a week earlier more than five miles away in a grizzly recovery area, were within 150 feet of the house and in an area where the six Hill children, ranging in age from 14 to 10 months, normally played. The sow and one cub ran, but the male cub didn't, leading Jeremy, who had just stepped out of the shower when he saw the grizzlies, to grab his rifle. Not knowing where the kids were, called for them and got no answer.

When the grizzly cub refused to run, he shot him three times, and he died just a few feet from the swingset the kids often play on. Jeremy then called Idaho Fish and Game to report the encounter.

"If your kids are threatened, you're going to do everything to protect them," Mike told KHQ reporter Anthony Gomes. "Their lives revolve around their kids, and he did everything right."
---
Reader's Comments
---
I guess bears are more important than human lives, one more instance of the 'Federal Government' gone amok ... Will it never end?

Bears, wolves, lions ... as long as they stay out of the belt line we will have to endure the idiots that reside there, forcing them on the rest of us.
Jim Murrray
Lakeview, North Carolina
---
Thanks, Mike, for this story. Thanks, Boundary County, for taking care of our own even in these tough times. Thanks, Idaho Fish and Game, for your common sense. Thanks US Fish and Wildlife ... for nothing, you worthless, mindless morons..
Mike Boatman
Las Vegas, Nevada
---
We had a 'trouble garbage bear' some years back ... tore off screens, chewed up the garage doors, tore down bird feeders, rubbed muddy paws on the front window of the house ... and nothing done! Just a bear, says Idaho Fish and Game

Maybe grizzlies should be relocated to Washington, D.C.? Just thinking ...
Sharon Smith
Bonners Ferry
---
Griz are originally from California. We could give them back to the idiots who love them so much ... just sayin'.
Heather Gemmrig
Bonners Ferry
---
This is outrageous ... charges from the USFWS! Is Idaho Fish and Game involved in this? The grizzly are a recovered species that should be no longer listed as endangered or threaten species. But the heavy-handed over zealous USFWS just love to crush small families instead of protecting them.

There are more grizzly per square mile in the Northern Rockies than in Alaska. The USFWS, the corrupt court and the Federal DA are disgrace to be called Americans. Who where they trained by, the Nazis?

Nowhere in the US Constitution does it say give grizzly bear more rights than a father protecting his children. Every single Federal personnel involved in this case should be fired on the spot then charged in Idaho State court with family abuses, given a fair trial, and sent to prison.
Bruce Hemming
North Dakota
---
The judge should throw the case out after ruling prosecution responsible for defendant legal fees.
Rotchy Barker
Cody, Wyoming
---
The decision of the US Attorney's Office to bring criminal charges against Jeremy Hill for protecting his beautiful family on mothers day from one of nature's most vicious killers is simply beyond understanding. I hope and pray wisdom will prevail and charges will be dropped before this wonderful hard working American family is put through the gruel of a Federal trial.
Darrell Kerby
Bonners Ferry
Questions or comments?

Click here

to email!