By Mike Weland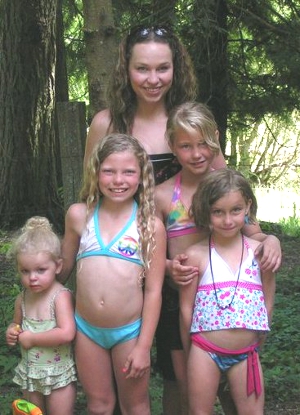 Amber Copeland and her daughters, Abigail, Gracie, Lillian and Baylee.

Amber Copeland grew up here and graduated from Bonners Ferry High School in 1999.

Growing up here, she says, her world consisted of people she knew and would come to know. She grew up with two parents in her home, who had a handful with she and her brothers and sisters, Casey, Sean, Jody, Sarah and Billie Jo.

Her house, overseen by her parents, Pam and Larry Copeland, wasn't her only place of haven; she could always visit her grandparent's homes, either Tom Copeland's or Ron and Evelyn Smith's.

"Oh, don't call him grandpa … he hates that," Amber said, referring to former sheriff and long-time county commissioner Ron Smith. "He prefers grandaddy, guess it's his southern roots! He is the one who made what I'm trying feel doable and achievable, but my main inspiration for going into public service is an innate desire to help people and to create positive change."

What she's trying is a run for a seat on the Coeur d'Alene City Council. But Amber isn't the typical candidate for high public office. She's the single mother of four beautiful children, currently unemployed but pursuing higher education.

What many would construe as weaknesses in a candidate for public office, though, many others see as strengths.

She's rough, tough, opinionated and not afraid to speak her mind. Sure of herself, happy with who she is and determined to make her life and the lives of her children; Lillian, 10, Gracie, 8, Baylee, 6, and Abigal, 3, better.

And not only theirs, but the lives of the many who are just like her, people who most often go unheard.

"Growing up in a small town," she said, "gives you a valuable perspective on what the world is. As a young person, my world consisted of people I knew and people I had seen and come to know. I was fortunate to have two parents in the home and five siblings. Growing up in a small town, I feel, is one of the big reasons I have the kind of ambition I have always had … it makes you feel a sometimes unrealistic sense of what is possible, a certain kind of naivety and idealism which has stayed with me my entire life."

Amber grew up in a school invited and aware of local politics, city and county. Here, a child was as welcome in the "halls of power" as an adult, but they were made so welcome, they didn't really seem anything more than neighbors listening to one another … there was little to no "sense of power," though there was, she said, a sense of duty.

In moving to the city, she said, that sense of approachability and familiarity is lost.

In moving to a bigger world, she said, she came to recognize that too many people, people just like her, have no voice simply because they don't ask to speak.

"When someone else looks at me," she said, "they may see a person who has failed a lot, but the truth is that every failure has shown me what my limitations are, which is very valuable. A lot of people in the world spend their lives wondering what they can do, but I have always known my capabilities because I never stop trying. How I thank my parents for always being the voice in my head, even when the voice didn't often say what I wanted to hear."

The values instilled in a small town kid don't change. Every stumble is just a pebble on the path to success, if only you keep your head up and keep walking.

Amber Copeland is still walking tall.