Sergeant Goad solves Bigfoot disappearance
January 5, 2011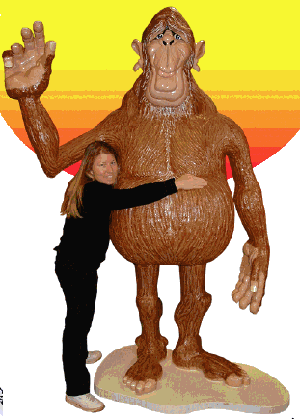 One man is in jail after a cBoundary County icon, Biggie, was destroyed at the Good Grief Grill & Store.

For several years, the eight-foot-tall Bigfoot sculpture waved to those passing by the home of Robert McRay on Highway 95 near the Mt. Hall Junction. When the former "Conan the Adventurer" actor and master sculptor returned to California, he left "Biggie" in the care of Kathryn Ray, poised outside her iconic Good Grief Grill and Grocery near Eastport, where people from around the world stopped regularly to have their picture taken with the friendly looking monster. On Tuesday night, one late-night group of passers-by went a little too far, and as a result, one of them is now sitting in jail.

Kathryn noticed that the statue she calls "Biggie" was missing when she went to the Good Grief early Wednesday morning. The base and two feet were there, but the rest of him was gone.

Before calling the sheriff's office, though, she had other business to attend to; her dog wouldn't abide missing their regular morning walk up a remote Forest Service road in Addy.

It was on that snowy road, she said, that she came across a young man and woman standing outside a red Dodge Durango truck with Washington plates, hopelessly stuck and partially hanging over an embankment. Not suspecting that they had anything to do with the mysterious disappearance, she gave them a ride to a home near Good Grief so they could call for help.

At 8:10 a.m., she called 911, and sheriff's deputy Sergeant Bobby Goad was sent out to look into the matter.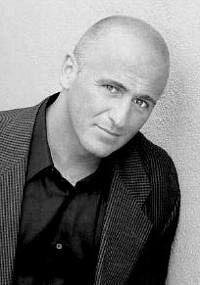 Actor, writer and artist Robert McRay

According to Goad's report in court records, he arrived at Good Grief a short time later and, after talking with Kathryn, went to where she'd told him she met up with the two, taking along her brother, retired sheriff's deputy Tim Day, who knew the area, along with him. He found Darrell L. Curtiss Jr., who had celebrated his 22nd birthday the previous evening, his girlfriend and his parents working to free the Durango.

Goad quickly noticed grains of blue foam around the pickup, and flat out asked those there if they'd had anything to do with the theft of Bigfoot.

Almost immediately, Curtiss fessed up, saying that he and two male friends had been riding around and drinking at about 10 p.m. when they spotted Biggie and decided that they, too would like some pictures. Curtiss told Goad that he tried to hang off the sculpture, but that it immediately broke off at the ankles.

With Bigfoot lying on the ground, he said, he panicked, and instead of leaving a slightly shorter Bigfoot lying in the lot, broke it into pieces and loaded him into the pickup, then went looking for a suitable place to ditch the body.

The remote Forest Service road seemed a good idea at the time.

"They had the unfortunately luck to drive up the Forest Service road I walk my dog on every day," Kathryn said.

Confession in hand, Goad asked Curtiss where Bigfoot was, and Curtiss led him a short distance away to a heavily treed area where all the dismembered parts of Biggie, save a single finger, were found, recovered and returned to the rightful owners.

After disposing of the evidence, Curtiss said, the three men got stuck trying to turn around. His two companions hiked out, and he called his girlfriend, the owner of the truck, who joined him, and with him spent a restless night trying to free the pickup.

After Kathryn found them and gave them a ride, he called his parents, who drove out to help free the truck.

Curtiss insisted that he was solely responsible for Bigfoot's dismemberment and theft, and was charged with grand theft, a felony, for taking the body parts away, and for malicious injury to property, a misdeameanor, for breaking the body into parts. He remains in custody at the Boundary County Jail in lieu of posting $5,000 bond.

Kathryn has been trying to reach Bigfoot's sculptor, McRay, ever since the theft, both to let him know what befell his creation and to see if there's any hope the piece of art can be restored. She's broken hearted, she said, because she was only baby sitting Biggie, but the six months McRay expected to be away stretched much longer, and she and Biggie became attached.

"I don't really see how Biggie can be fixed," she said, "but Bob is pretty amazing, so I do have hope."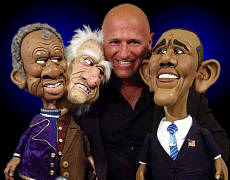 Robert McRay, center, with some of his famous "dummies."

Indeed.

After a childhood growing up in Northwest hippie communes, he joined the Navy at the age of 17, served honorably and well, then attended the Ron Baille School of Broadcasting in Washington,

Moving to Southern California, and by then a world-class body builder, he became a trainer to stars, produced movie trailers for Disney/Touchstone, served as casting director for numerous projects in film and television, and acted in motion pictures including "Legend of the Phantom Rider," "The Mob" and "Double Crossed."

In the late 1990s, he co-starred in the 22-episode TV series "Conan the Adventurer," playing Zzeben, Conan's mute and loyal sidekick. For that role, he created his own unique form of sign language so as to reflect the imaginary era during which Conan reigned.

After purposely stepping out of the acting limelight, he turned his attention to a craft that he'd admired from the time, at age 5, he enjoyed his first brush in front of the camera as one of the kids on "Romper Room."

Backstage, he met an adult guest, the incomparable Edgar Bergen and sidekick Charlie McCarthy. Largely because of that chance encounter, he became an accomplished professional ventriloquist by the age of 12, doing shows in Vancouver, Washington.

He began making ventriloquist sidekicks, those dummies who typically sit on a knee and who, in Edgar Bergen's generation, looked a little wooden.

McRay's dummies brought intelligent design to the field, and were soon the "must have" dummy for professionals around the world. What a cartoonist did on a sheet of paper, he did in 3D, crafting puppets that can move, show emotion, reflect life in real time, limited only by the talent of the ventriloquist.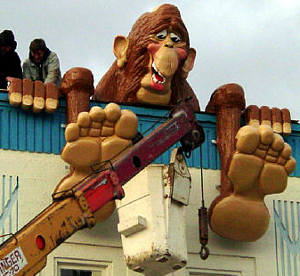 Biggie's big cousin, Bigger, greets customers at a Creston mall.

He then branched out ... adding inanimate characters to his repertoire ... characters including "Biggie," who once greeted friends to his Boundary County home and came to grace the Good Grief.

A much bigger Biggie greets customers at a mall in Creston ... feet hanging down, fingers over the rim of the roof, big, smiling face welcoming everyone who pulls into the parking lot.

Each of his creations are one of a kind and irreplacble, as he has a policy of literally breaking the mold when he's satisfied of perfection.

Goad's report lists the value of Biggie as "over $1,000" dollars because, Kathryn says, no one knows how to put a price tag on McRay's works of art ... most of which are consigned at many times beyond that price.

McRae made Biggie for himself, stood him in his own front yard in Boundary County through the years he lived here to wave "hello" to everyone passing by, and left it care of a trusted friend and in a place he loved when he moved away.

"I am grateful Deputy Goad found Biggie, brought him home and found out who took him," Kathryn said.

Boundary County chief investigator Dave McClelland was also effusive in his praise.

"Sergeant Goad is an outstanding officer and he gets all the credit for solving this one," he said. "This is excellent police work. He asked the right question at the right time, obtained a voluntary confession that led to the recovery of stolen property, determined who was responsible for the crime and filed the proper charges that the prosecutor can work with."

McClelland also hinted that this story should be filed right above yesterday's "word of the day" article.

A pizza might be involved. I don't like anchovies.

Editor's note: The images in this story were unscrupulously stolen from Robert McRay's website, http://www.robertmcray.net. Some of Mr. McRay's backgound information wa stolen from http://en.wikipedia.org/wiki/Robert_McRay. I didn't attempt to contact Mr. McRay, but I did call Kathryn ... who is on dial up, to pass along the information on how she might reach him. MW
Questions or comments?

Click here

to email!