A hero comes home
August 17, 2012
As the cortege passed through Bonners Ferry, chatter stopped. Hands went over hearts, solemn salutes were held as the white hearse bearing the body of 22-year-old Army Specialist Ethan Jacob Martin, made its sad and slow way.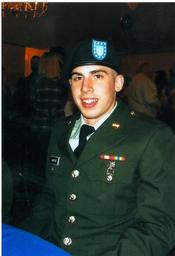 Ethan, an elite paratrooper with the 1st Squadron, 40th Cavalry Regiment, 4th Brigade Combat Team, 25th Infantry Division, Joint Base Elmendorf-Richardson, Alaska, paid the ultimate cost in service to his country, laying down his life in the line of duty August 7, 2012, while serving in Korgay, Afghanistan.

He left behind not only a grieving family, but a grieving community that remembered a boy who grew up here with fondness, a boy grown up in our midst to become a man dedicated to serving a nation.

They turned out today in droves to show their appreciation, love and respect, to tell the family of a fallen young hero that they are not alone in their grief, that they pray a small measure of comfort helps ease the burden of a family that, to paraphrase the words of President Abraham Lincoln, laid a terrible sacrifice upon the altar of freedom.

Those who witnessed the arrival of the military aircraft that brought Ethan home one final time say they will remember the moment forever.

"Everyone was silent and respectful as the casket was lowered from the plane," Julie Reinbold, Sandpoint, wrote. "American flags were flying and people held their hands over their hearts. Everyone's thoughts were centered on Ethan and his family and their touching reunion under the blue summer skies. I will never forget it."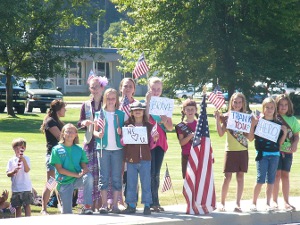 Long before the cortege reached Bonners Ferry, people started gathering. "Closed" signs went up in business doorways.

At the street corner leading to the junior high, a Bonners Ferry Fire Department ladder truck slowly extended the ladder, bearing an American flag at half staff to wave over South Main Street on a busy morning, a road filled with traffic.

Across the highway, members of the National Guard gathered, unfurled the colors, and patiently waited. In ones and twos, small groups and large, people began pulling off wherever there was a parking space to be found.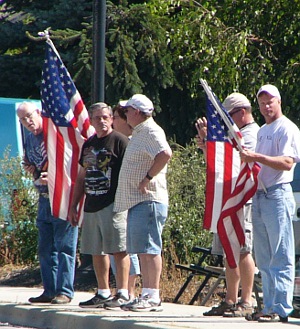 "I had people from Canada to California checking into their rooms here at the lodge," wrote Dodge Peak Lodge manager Tamra Hiatt. "Several wonderful comments were made regarding our outstanding community, but what sticks most in my mind is the older gentleman who said that in all his years, he has never seen such an outstanding welcome or a more proud community honor a soldier home like Bonners Ferry did today. Now that says a lot about our community."

As a reporter, my intent was to travel back and forth from Harrison Street south to capture pictures of gathering crowds; my wife Debbie and I saw small groups just arriving to set up and took note of all the reader boards in front of businesses expressing thoughts for Ethan and his family.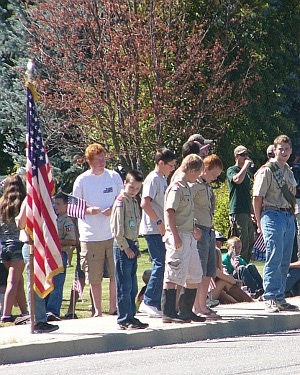 Debbie remembered halfway through, still nearly an hour ahead of time, that she'd not brought with us the flag of our son, who died in 1998. We thought of returning home to get it, but worried at the delay.

Instead, Debbie decided to stop in at Huckleberry Variety to buy several U.S. Flags. As we entered the parking lot, we watched a young woman seeing her toddlers into the truck, handing each a small flag as they got in.

Inside the store, Debbie found no flags remaining; she settled for a red, white and blue windsock we took turns holding as she drove back up the South Hill, and a handful of patriotic pinwheels.

The South Hill we'd just left, while still heavy with traffic, was transformed. Where there was scant moments before bare ground there were now flags big and small. As we watched, places to park filled as if a firehose full of cars had been opened.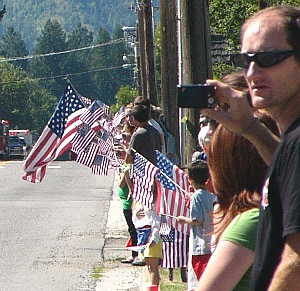 We pulled in at the first parking place found.

It was a good thing we did.

Shortly after we parked, another car pulled in and a family stepped out.

"What's going on?" the driver asked after his wife and several children stepped out and gathered at roadside.

I told him of Ethan. He nodded and joined his family curbside.

"How many people live here?" he asked a bit later. I told him.

"I don't think everyone's here," he said, "but I bet it's more than half."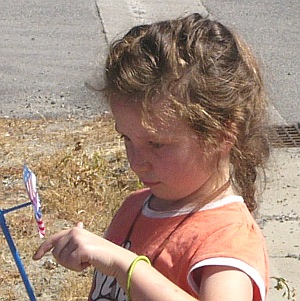 Debbie noticed that the two youngest of their children were watching the waving flags and seemed to wish they had something to wave as well. She unwrapped two of the new pinwheels, whirling red, white and blue, and they took them eagerly, with profuse thanks.

After the cortege passed, the father, whose name I never asked, stopped as he was leading his family back to their car and said "thanks."

I asked him where he was from, he said northern Alberta. A long way from home, I said.

"Very," he replied. "At home, you'd never see anything like this. As we were driving through, we saw that big flag, and I noticed it was at half staff, and I wondered what was going on. As we came up the hill, I started seeing the people gathering, and we decided to stop to see. Thank you for sharing with us."

As they were getting into their car to continue on to Bonner County for a family reunion, we noticed the youngest children holding the pinwheels high. We saw the tears course down Mom's face as she seated them in safely.

"Thank you," she whispered our way as she stood and opened her door, not looking at us, but across a community.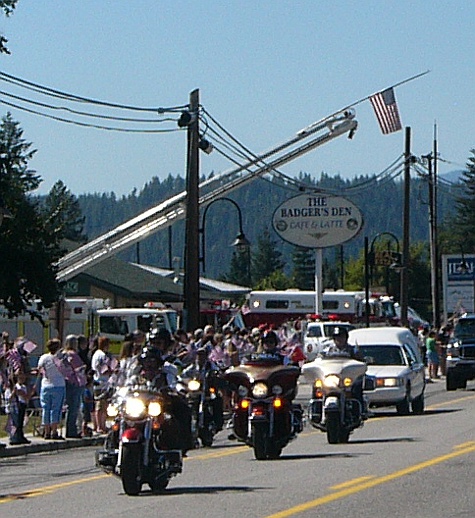 Questions or comments about this article? Click here to email!