Relief in a sling ... a love story
September 25, 2012
By Mike Weland

When a person undergoes and survives an event that suddenly and profoundly changes life as it was just moments ago, be it something as dramatic as a crash or as subtle as a stroke, a whole new world of learning opens up.

Relearning simple things so easy you don't remember having ever learned them in the first place; eating, sleeping. Putting on your clothes of a morning.

Losing the use of part of you that has always been there, and suddenly is not, is an education.

I experienced such an event April 22 when I had a stroke and lost most of the use of the left side of me. In less time than the blink of an eye, who I was before was profoundly and suddenly changed.

This story, though, isn't about me.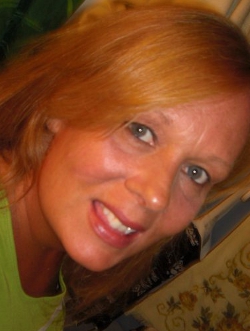 Sharon Baker

It's about a girl in Bunker Hill, West Virginia, who experienced a stroke just a few days before I did. Like me, her left side was affected. Like me, she developed a painful malady that afflicts most who experienced what she and I have, and that's a lot of people.

It's estimated that in the U.S., a stroke occurs about once every 40-seconds. And that doesn't include all the people who suffer traumatic head injuries in myriad other ways; car crashes, shootings, falls and more.

This article, though, isn't about strokes or head injuries. It's a love story, and a tale of how small the world has become, thanks to the Internet. It's about how one man's love for a woman brought she and I a measure of relief, and how that relief has the potential to help millions.

But we'll get to that part in a bit.

In addition to learning how to cope, those who live through a traumatic brain injury have to learn a whole new vocabulary; the doctors who treat us bandy them about but seldom take time to explain.

"Hemiperesis," is a word few but doctors and those affected know. It means "weakness on one side." Another word most never learn is "subluxation," which commonly occurs in those affected by hemiperesis, typically in the shoulder on the affected side.

The shoulder is an amazing joint, allowing great range of motion when all works as it's supposed to. But it's also a very delicate joint, held together by muscle and sinew. When you lose the muscle, the joint can no longer hold together, and the weight of the arm inexorably pulls it apart, resulting in a subluxation, or dislocation of the shoulder joint, a condition so painful it affects the sufferer's ability to sleep or to do the work necessary to regain the muscle strength necessary for the shoulder to hold itself together.

With all the people affected and all the intelligence and ingenuity of those who treat them, one would imagine that there would have long since been a range of effective treatment options for a shoulder subluxation, but one would be wrong.

In the majority of cases, traditional slings that hold up the elbow but do nothing to hold the shoulder together are prescribed, along with pain medications.

Now to the love story.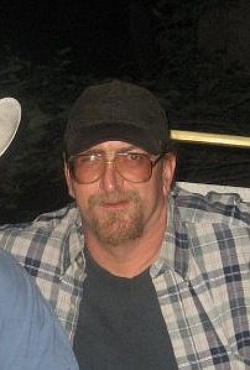 Robert Thornton

Robert Thornton is a craftsman, a man who makes furniture and unique wood creations at his home and shop, Level 3 Creations, on Specks Run Road in Bunker Hill.

When his "soul mate," Sharon Baker, suffered her stroke April 4, he closed up his busy shop to spend all his time at her side. Hers was much more severe than mine; for nearly a week her very survival was in question. Doctors held out little hope, telling Robert that if she survived, she'd likely never regain the use of her left side.

Sharon did survive, and Robert was there, helping her relearn how to eat, begging doctors to hold off putting in a feeding tube for just a little longer. His devotion paid off; Sharon recovered enough to be moved to the arduous rehabilitation floor for intense physical, speech and occupational therapy. (Don't misunderstand "occupational;" it's not about getting a patient back to work, but about teaching them anew how to do simple, everyday things; button a blouse, brush your teeth, take a shower).

Sharon made great progress; every therapy she underwent, Bob watched, and continued to work with her in her room. Everything was slowly getting better, her speech was clearing, her eating. She was gaining strength in her weakened leg. Everything except her left arm, which was too painful to use due to shoulder subluxation.

Robert asked everyone if there were something that would ease that pain, that would hold her shoulder together so she could work to regain the muscle tone needed; all told him that there was no sling that could do the job; the only solution was for her to work through the pain.

He watched as her physical therapist held her arm in place, giving enough relief that she could do the exercises, and he began going through all the different types of slings they could offer, searching through catalogues and the Internet. He found that the doctors and therapists were right; there were none that would work for the shoulder.

Eventually, Sharon went home and began outpatient therapy, still suffering the excruciating pain of subluxation. Robert began making slings on his own, trying to replicate what he'd seen her therapist do that day. Every time Sharon went in for therapy, he had a new sling to show the therapist, who'd tell him why it wouldn't work.

He made 10 versions before the therapist agreed that one showed promise; Robert went back to the workbench set about refining it; they loved his 11th version, and better yet, when Sharon began wearing it, the pain diminished to the point she no longer need pain medications.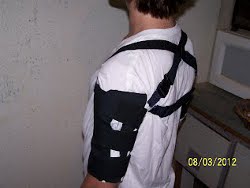 Elegant in its simplicity, the final version of Robert Thornton's hemiperesis subluxation sling finally accomplished what he'd set out to do.

Elegant in its simplicity, Thornton's hemiperesis subluxation sling allowed Sharon the full range of arm motion needed for her exercises. In two weeks, she recovered 80-percent of her arm use and was able to reduce her time in the sling incrementally as her arm improved.

Robert donated his sling to the doctors and therapists who worked with Sharon, and soon others began asking about it. Robert started taking orders, donating slings to stroke rehab centers, and he finally added a website, https://sites.google.com/site/subluxationsling/, where people in need of relief can learn more and order on-line.

Soon after Robert perfected his sling, I happened across a blurb about it in one of the stroke survivor chat rooms I now frequent. I'd been hurting for weeks, and felt that this might offer some relief. I sent an email for more information, but my skepticism held me back from ordering for about a month; the pain getting worse all the while.

I finally placed my order on-line Monday, September 17, expecting to wait six to eight weeks. Instead, I got an email the following morning saying the sling was on the way; he figured folks who ordered needed relief as soon as possible, and the sling arrived on Wednesday. Within two days, the pain was reduced almost entirely, and I let all my "strokie" friends on the internet know.

"You have no idea how happy Sharon feels," Robert responded. "Every time she reads your posts it makes her feel better about having a stroke, knowing what she went through is now helping others."

In addition to relief, I got two new friends on the other side of the country, and though we'll likely never shake hands, I'm very grateful they're there.

Then, late last week, I got a message from a new member of the group, a lady who hails from South Africa.

"Who do I contact to find out about that sling?" she asked.

I was happy to tell her, and decided to write this article so others might know as well.

In the meantime, Robert has reopened his shop, working with wood again when he's not hand-crafting his amazing slings. Sharon now works beside him as she can; the work being a good form of rehabilitation in itself.

The slings are a bargain at $89, not quite $100 when you add shipping and handling. In addition to the website, you can visit Robert on Facebook; http://www.facebook.com/level3creations/info, or just give him a call at (304) 279-6701.
Questions or comments about this article? Click here to e-mail!