Angie Schnuerle surprised at Mt. Hall School
October 10, 2012
According to Mt. Hall Elementary principal Jim Nash, kindergarten teacher Angie Schnuerle had an inkling that whatever prompted this morning's special assembly in the school gym involved her. She had that look, Jim said, when she brought in her class and saw her parents and family there.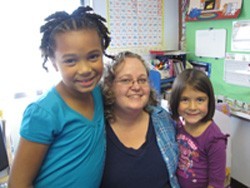 Ms. Angie Schnuerle, flanked by two grateful students who know she's the best teacher, first-graders Asha Abubakari (left) and Anna Chase.

What she wasn't quite prepared for, however, was the appearance of KHQ news anchors Dan Kleckner and Stephanie Vigil, trailed by cameras, who called her forward to announce that she'd been selected as KHQ's October Teacher of the Month, an honor sponsored by Eastern Washington University, KHQ and Century Link.

In 18 years presenting the honor, it was only the second time a KHQ team has visited a Boundary County school to present the award; in 2007, high school special education teacher Diane Niewieroski was honored.

To be considered, a teacher in the KHQ viewing area, which covers a lot of geography, must be nominated by a student. Beknownst to very few, if any, just such a letter had been sent to KHQ by two first-graders, Asha Abubakari and Anna Chase, who were both in Ms. Schnuerle's class last year, extoling how "awesome" Ms. Schnuerle is.



That letter was just one of hundreds KHQ gets each month, and theirs was the one a team of judges from all three sponsors said was the very best.

"It's such an honor for this community, this little school and especially this educator to be recognized like this," Nash said. "I'm so proud of those two girls for making such a great nomination."

While she'd be a great teacher anywhere, it's fitting that Ms. Schnuerle received the recognition at Mt. Hall Elementary. She grew up attending school there; it's where her love of learning, and her dream of becoming a teacher, took root.

After college, she taught kindergarten in Alaska before returning to a classroom at Mt. Hall Elementary.

"She came back home from Alaska and came back to the school she grew up in," Nash said, "and we're so fortunate to have her. I couldn't be happier for her; she's the kind of teacher every student deserves. It's been a joy watching her students grow and do well."

One of the kindergarteners, though, wasn't so impressed. When Kleckner strode into the gym and stopped about three feet away from the little boy, the boy's eye's went wide.

"I know you!" he yelled out. "You're on TV! My Dad watches you!"

While Kleckner bantered with his newest fan, Vigil spoke of what a beautiful school Mt. Hall Elementary, the northern-most school in Idaho, was.

"We're only ten miles from Canada!" she pointed out in the 6 p.m. news broadcast.

The piece will also be aired tonight during the 11 p.m. broadcast, and will be posted on the KHQ website as soon as the producer, Carla, who's doing triple duty tonight thanks to end of summer vacations, finds time in her whirlwind evening to get it posted.

When she does, it will be on-line at http://www.khq.com/category/80113/teacher-of-the-month.

Questions or comments about this article? Click here to e-mail!