Bear spotted on South Hill
October 17, 2012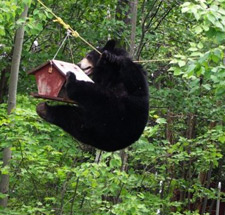 With the coming of fall weather, local bears are on the prowl as they fatten up to prepare for the winter's hibernation, and as is fairly common this time of year, their search for food is bringing them into town.

According to Bonners Ferry Police Chief Steve Benkula, officers on patrol, usually in late evening or early morning, have spotted bears several times in recent days, particularly in the area of Atlanta and Boise Streets.

"We've increased patrols in areas where bears have been seen to protect public safety," Benkula said, "and we're working with Idaho Fish and Game to live-trap them and transport them away from town."

With bears common throughout Boundary County, all local residents should take simple precautions to "bear proof" their homes, particularly as the bears prepare to bed down.

Keep garbage picked up and garbage containers tightly covered. Avoid feeding dogs or cats outside, particularly on porches that a bear can get on. If you store feed outdoors, make sure it's in a secure, bear-proof container.

Suet and seed put out to attract wild birds this time of year can very well attract critters you might not want, including bears, whose appetites are voracious. Even grease in the family barbecue from summer cookouts can serve to entice a bear into your yard.

In nearly all cases, if you remove the food, and the food odor, you'll also be removing potentially troublesome bear.

Questions or comments about this article? Click here to e-mail!