Be safe on Halloween
October 24, 2012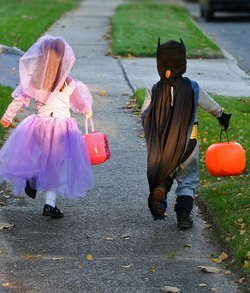 Halloween is a night of spine-tingling fun, with little ghouls and goblins, princesses and super heroes, hobos and characters of every stripe traipsing house to house on city streets and county roads. It's a night to be cautious, as well, lest the terror become real.

Members of Boundary Volunteer Ambulance and North Bench Fire are teaming up Halloween night to pass out free glow sticks to help the little monsters be better seen, along with candy and loads of treats, plus some sage advice to avoid the tricks that could await the unwary.

Before you get the goodies, though, they'd also like to impart a few tips to help you and your little spooks safe as you set out to reap the Halloween booty.

Make sure that your children's costumes don't impede the child's eyesight or hinder their ability to walk. When you go out, carry flashlights or glow sticks, not so much to see but to be seen. If children set out in groups, make sure they stay together.

Any trick-or-treaters age 12 or younger should be accompanied by a responsible adult, and parents should check the candy and treats before the child partakes.

Before going out, go over the dos and don'ts you expect them to pay mind to, including "don't pick candy up off the streets" and "don't take candy from people on the streets." Be sure to dress the kids so they'll be warm enough for a cold North Idaho fall evening.

If you're not with them, always know where your children will be trick or treating, and make sure that everyone knows that if you see or hear anything suspicious, you're going to get to the nearest safe place and call 911 for help.

Now, if you're one of the older of the trick or treaters and you're going to be enjoying some of the Halloween parties that are going on, by all means have fun, but please party responsibly don't drink and drive, don't text and drive, don't drive while chatting on a cell phone ... in a county as Rural as Boundary County, you never know where you might see little ghosts and goblins on the road. If you're going too be imbibing in the liquid spirits, have a designated driver.

The little spooks should have lights or reflective material on their costumes to make them easy to spot, but the final and ultimate responsibility rests with the driver; there should be nothing to distract the driver that might take their eye off the road for the split second it takes for fun to turn to tragedy.

When you go out trick or treating next Wednesday night, you and your whole family are invited to make one of your first stops the lot behind the Boundary County Extension Office, where members of Boundary Volunteer Ambulance and North Bench Fire are going to be set up.

EMTs and firefighters will be out from 4:30 to 8:30 p.m. giving out free glow sticks, and they'll have lots of goodies to toss into Halloween bags and buckets to get the night started out right. They'll also be able to look over all the kids' costumes and do little nips and tucks to ensure that your children have the safe and fun evening that Halloween is supposed to be.

Questions or comments about this article? Click here to e-mail!