Helping Ryan Win
November 8, 2012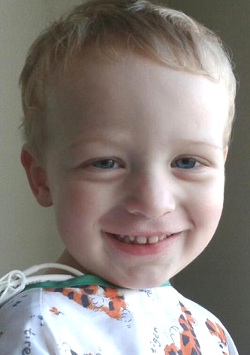 Ryan Stippich, the son of Jason and Rachel Stippich, Bonners Ferry, is a cheerful two-year-old who is facing a terrible illness. But he's not doing it alone, as the people of the community are stepping up to help Ryan and his family through the ordeal.

Ryan was recently diagnosed with hepatoblastoma, a childhood cancer that affects the liver. He is currently undergoing chemotherapy, which will be followed by surgery.

To help Jason and Rachel with travel expenses, the time they have to take off work and all those little things that can so easily become overwhelming in such a crisis, Keith and Jessica Fairchild and Jeremy and Shawndrea Hofer are spearheading two raffles, and the Bonners Ferry Eagle's Aerie will host a Sunday breakfast to help the Stippichs offset the expense and ease their burden as the people of Boundary County do so well.

Boundary Tractor/Yamaha rallied to the call for help, donating a new Husqvarna Model 460 chainsaw, which is to be awarded in a "Helping Ryan Win" raffle drawing on Saturday, December 15. Tickets, which are red, are $5 each or a dozen for $50.

Donating for the blue raffle drawing was North Idaho Energy Logs, giving two full units of logs or pellets, winner's choice, each to be awarded to separate winners in two drawings. Blue tickets are $3 each or a dozen for $30.

Raffle tickets are available at Boundary Tractor/Yamaha, Mountain West Bank, Pape' Machinery and Boardwalk Boutique, or you can call the Fairchilds, (208) 610-0192, or the Hofers, (208) 818-3265.

An account has been set up for Ryan at Panhandle State Bank, and donations are welcome at any bank branch. Those who'd like to mail in a donation should make checks payable to Jessica Fairchild for the benefit of Ryan Stippich, and mail them to Panhandle State Bank, P.O. Box 1479, Bonners Ferry, ID 83805.

The Eagle's breakfast to benefit Ryan takes place from 8 to 11 a.m. Sunday, November 18, in the social room of the Eagle's Aerie, 7159 2nd Street in downtown Bonners Ferry, right behind Akins Harvest Foods, and everyone is welcome. Tickets for the raffles will be available at the breakfast, which includes hearty food, good company and the knowledge that you're helping a family through a difficult time.

Questions or comments about this article? Click here to e-mail!