Katz honored with ISBA award
November 9, 2012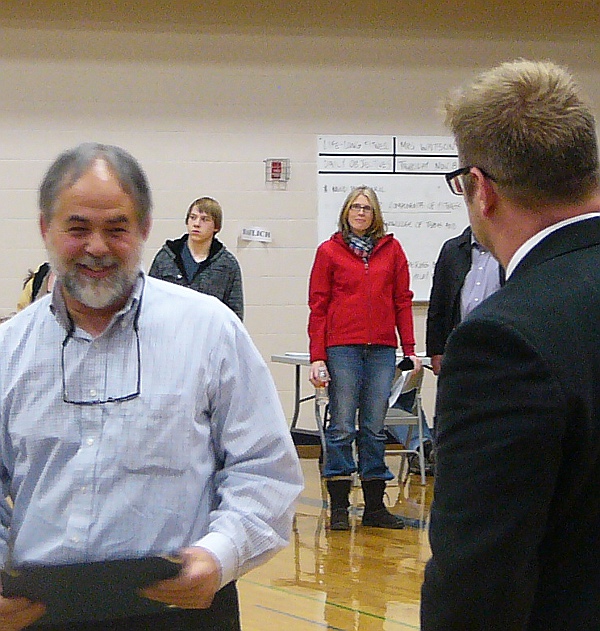 Bonners Ferry High School science teacher Ed Katz was called away from a parent/teacher conference last night in the high school gym by school board trustee David Brinkman, who presented him with the Idaho School Board Association's Citizenship Award, an honor bestowed on only one Idaho public school teacher each year for promoting education both in and out of the classroom.

Brinkman nominated Katz for the honor, submitting this letter:

"Thank you for taking the time to consider my candidate, Ed Katz for this award. Ed is not only a science teacher for BFHS but the founder of the robotics club. It is this dedication to our students that takes him above and beyond the call of an educator.

"The fact that Bonners Ferry has a robotics team is an amazing feat but what is even more exciting is the success of the program. This year again saw the Badgers compete at the regional tournament with 63 other teams from the northwest. The Badgers showed well against the bigger schools, winning two of the top awards and then heading off to nationals.

"Students do not join Robotics knowing how to do this kind of work and a lot of hours go into teaching them everything from design and manufacturing to marketing and fund raising. When they leave a student can have up to four years experience with technical programs, engineering, computer drafting and more plus recognition on the state, regional and national levels. As an example our Robotics students have worked with NASA and MIT getting a chance to apply their code in the actual satellites orbiting our planet.

"Creating and maintaining this program takes both time and money. Ed has been able to find funding for his students by gathering grants and going to businesses throughout the region. A recent trip to Boston for the team had enough funding secured that students only had to cover their meals for the trip.

"The Robotics team students have made the program visible locally by doing exhibitions at Hoopfest in Spokane (this year's robot competition was a bot that shot baskets), the Boundary County Fair, the high school football games and more.

"Mr. Katz's dedication to science for our community does not just apply to the high school or his robotics students. Ed was a key piece of bringing the Discovery Bus to Bonners Ferry during the fair. This brought a full assortment of interactive science experiments to the young people of the county. Ed is now working with our Gear Up coordinator to start the Lego Robotics program for our middle school students.

"All of that is great but the pay off is even bigger. 80% of Ed's Robotics team enter college for engineering. The other members have used Robotics skills toward their degree studies as well. When I discussed his program with him Ed said that the best part for him was fostering the love of science in these students and building on the interest that they develop. He spoke specifically about a student who was homeless and joined his program and used it as a springboard for college, getting scholarships to make that dream a reality.

"When a coach has a team do well (and even when they don't) they get recognized on the front of the paper but when our Robotics team is one of the best in the Northwest it's coach, our science teacher, deserves more. Ed deserves the recognition of the ISBA for his dedication to not only his students but his promotion of science and the way he has helped to foster that love from young people into the next generation of scientists and engineers."

"I was so glad to have been able to surprise Mr. Katz with this award," Brinkman said after the presentation. "I really didn't think we'd be able to keep it secret!"

Questions or comments about this article? Click here to e-mail!