Screenings way up during awareness month
November 19, 2012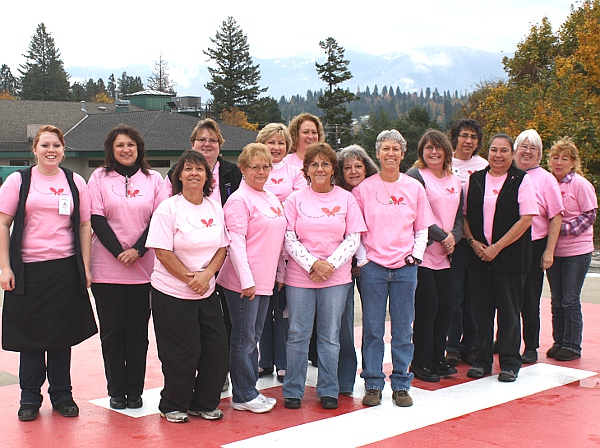 These ladies on the Boundary Community Hospital staff donned their pink T-shirts and gathered on the hospital helipad to support the hospital's Breast Cancer Awareness, Early Detection campaign
Marcia Morman photo
By Marcia Morman

The seven-week average for mammogram screenings at Boundary Community Hospital is 97. During the seven-week period of the hospital's Breast Cancer Awareness, Early Detection campaign, 211 women had mammogram screenings. Our goal was 147 mammogram screenings.

"The community-wide response to early-detection of breast cancer was a tremendous, positive, happening in our county," said Craig Johnson, administrator of Boundary Community Hospital. "Men as well as women responded with enthusiastic participation in the promotion of the hospital's Breast Cancer Awareness, Early Detection campaign."

"This pro-active action on the part of the community speaks volumes about our local people," he continued. "Idaho is ranked as one of the lowest states in the union for mammogram screenings. This increase of 114 Boundary County women who initiated good healthcare practice exceeded all expectations and goals. We can all be very proud of our hard work; from the grocery stores, restaurants, banks, and local business managemers who agreed to participate to promote women's health; to the checkers, servers, tellers and workers who wore the Breast Cancer Awareness Early Detection T-shirt and handed out the campaign's post-cards. I want to thank all of you."

The team of radiologic technologists, Kathy Howarth and Ingrid Haviland, worked efficiently and long to conduct all the tests. If everything works out perfectly—no late patients, no delays of any kind— the maximum number of tests that can be performed in a day is eleven.

Most days, they performed eight to eleven tests.

Linda Irwin, Mark Bonar and Bill Blumenauer worked and re-worked the scheduling, creating a smooth flow of patients so that everyone who wanted the exam could get one during the discounted time period between October 5 and November 16.

Dr. Melendez, Boundary Community Hospital's highly trained and respected radiologist, increased his working hours to accommodate the more than double number of screenings that he read and studied.

In the reception room at the outpatient clinic, Carla Ratzloff and Lauri Edwards worked tirelessly to help women fill out the necessary paper work and be comfortable as they waited for their appointment.

The media was a tremendous help. Mike Weland of the online paper, newsbf.com attended the Georgia-Mae Plaza Mayoral Proclamation, taking photos, and later writing a story. In addition, he ran several press releases about the campaign on his website.

The Bonners Ferry Herald published several articles covering the event, as well as featured many other Breast Cancer Awareness happenings in the county during the entire month of October. Jo-Jo Baker at KBFI radio station interviewed Marcia Morman, community relations coordinator for Boundary Community Hospital, on his Wednesday noon talk show. Bonners Ferry Newsline published a full-color article.

The media's promotion and exposure served the community well.

Questions or comments about this article? Click here to e-mail!