505 Steak & Sushi ready for grand opening
November 29, 2012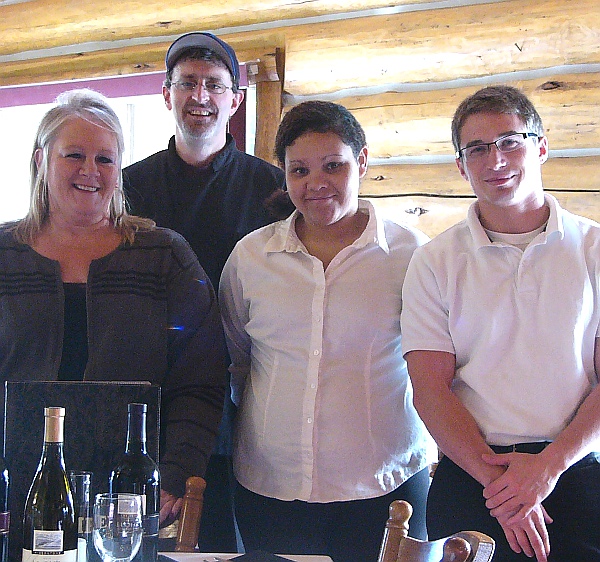 Tamra Hiatt, Tim Linton, Destiny Jackson and Tyson Madden are ready to serve you at the new 505 Steak & Sushi.
There's a new, upscale eatery in town, and while 505 Steak & Sushi began serving their first guests Tuesday, which was the day of the "soft" opening … the actual grand opening begins when they open their doors at 4 p.m. Friday, November 30.

"The soft opening gives us a chance to iron out the kinks and make the adjustments to ensure that our guests will always have a great dining experience," said manager Tamra Hiatt. "It's to make sure that we haven't overlooked anything as we prepare to formally open."


The business, formerly known as Bear Creek Lodge, has been undergoing a steady and on-going transformation since being purchased by Kevin and Jennifer McLeish early last spring.

Now named Dodge Peak Lodge/505 Steak & Sushi, the dining room and kitchen have undergone a major remodel to bring out the ambiance of the natural wood construction and take full advantage of the warm beauty in the dining area of the new restaurant.

While the work was underway through the summer, concerns about staffing fell by the wayside almost serendipitously.

Tamra, who was raised in Bonners Ferry but moved away to pursue a career with Kia, was living in Wenatchee when, after 13 years, Kia cut staff. She decided to go to school to pursue an accounting and business degree and was just finishing when she learned of the new venture and came home to interview.

She returned to Wenatchee, learned she'd been accepted, graduated June 16, packed up and moved back to Bonners Ferry with her son, Kobe, now in the eighth grade at Boundary County Middle School.

Tim Linton had been the chef at the Coeur d'Alene Resort for about a year when he saw an ad for the new Dodge Peak Lodge and a new restaurant that hadn't been given a formal name yet. On a whim, he and his wife, Angela, made the drive north and liked what they saw, and just like that, one of the hardest to fill positions in any restaurant, that of chef, was filled.

Before taking over at the restaurant, Tim had grown up in Seaside, Oregon, and he began working at Dagget's Restaurant, starting out on the ground floor and working closely with two classically trained French chefs until, two years later, he was made chef and for the next 20-years he took on ever greater responsibilities in the Keg Restaurant chain, which operates 105 restaurants in the United States and 85 in Canada.

"By training, I'm a French chef," he said, "But over the years I've worked all cuisines. So now I call myself a 'contemporary French chef with my own flair!"

And that flair fits perfectly with the concept behind 505 Steak & Sushi, so named because it's right at milepost 505 on Highway 95.

"We're upscale and semi-casual," Tamra said. The menu, as the remainder of the name implies, includes steak, seafood and sushi. There's prime rib and fresh salmon, a variety of burgers, including their signature burger; a half pound patty of fresh beef snuggled between two grilled cheese sandwiches. All the sauces and soups are made fresh from scratch. There's a full children's menu, a fine selection of beer and wine, and the focus, Tamra said, is on featuring local meats and wines.

In addition to fine dining, 505 Steak & Sushi is also going to be a great place for special occasions, business meetings and other get-togethers, and a place for sports fans as well. Each Sunday will be "Super Sports Sunday," with a game on the big screen and plenty of snacks, including wings.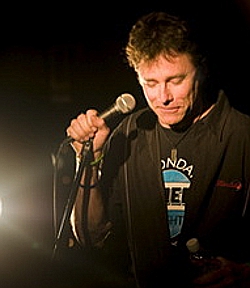 Daryl Makk

On New Years Eve, they're bringing in comedian Daryl Makk, who has regaled audiences in the U.S., Canada and Australia since first taking the stage in 1993, for an evening of fine dining and fun, or just fun if you're so inclined.

By reservation only, the evening begins with dinner at 7 p.m. and comedy at 9 p.m. Admission is $35 per person or $65 a couple, which includes an entrée meal of prime rib, pork tenderloin or salmon, and the Daryl Makk show. For those wanting only to see the show, admission is $15.

Plans are also underway for a big Super Bowl party February 3, and 505 Steak & Sushi is already taking reservations for upcoming holiday parties.

Formally, 505 Steak & Sushi is at 5952 Main Street, just south of Bonners Ferry, right at Funkhouser Street, though milepost 505 is much easier to remember. To learn more, make reservations or book a party, call (208) 267-7268. You can also visit their website, http://www.dodgepeaklodge.com, or visit them on Facebook.

Questions or comments about this article? Click here to e-mail!