Community Choirs set to brighten Christmas
December 12, 2012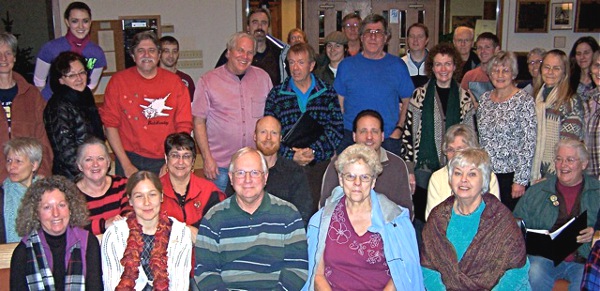 The Bonners Ferry Community Choir
For over 40 years the Bonners Ferry Community Choir has been ushering in Christmas for Boundary County. This year 90 singers in the combined Bonners Ferry Community Choir and Swingin' on a Star Children's Choir have worked since October to prepare "Christmas Across America."

Performances are Friday December 21 at 7:30 pm and Sunday December 23 at 3 pm at Trinity Lutheran Church on the South Hill in Bonners Ferry. Suggested donation is $10 or $25 for the family.

This year's concert will feature the uniquely American sounds of Christmas.

It includes spirituals, carols form Appalachia, Hawaii and our Hispanic community, Gospel music, as well as carols that our so much a part of our heritage that it is hard to imagine Christmas without them, and works by American composers old and new.

Both choirs are conducted by Victoria Blake Thompson. Barbara Nelson is accompanist. Ceitleen Albertson is the assistant conductor for the children's choir. They are joined by Diane Olson on piano, and Sophia Smith from Creston, BC, on cello.

The Bonners Ferry Community Choir is a non-auditioned choir open to all singers high school age and up. Swingin' on a Star: the Bonners Ferry Children's Choir is an auditioned group for eight to 18 year olds.

Each year the group also performs sections from the performance for the residents of the Restorium and Extended Care Facility on Sunday before their afternoon concert. For more info call (208) 304-0866.

Questions or comments about this article? Click here to e-mail!