Christmas bird count coming Friday
December 23, 2012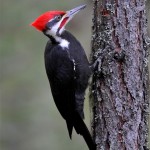 The National Audubon Society's 113th annual Christmas Bird Count takes place Friday, and once again Bonners Ferry birders are pitching in.

Local birders, whether beginner or expert, will gather at the Chic n' Chop Restaurant, 6421 Main Street, Bonners Ferry, at 6:30 a.m. Friday for breakfast and to get organized for the day's count, and they'll all meet back up at 2 p.m. in the Kootenai National Wildlife Refuge education barn, 287 Westside Road, at 2 p.m. to discuss the results over hot beverages and a potluck.

This year, birdfeed counters are also encouraged. These are people who live within seven miles of Bonners Ferry who can't join in for the official count, but can count the birds that come to their feeders that day.

They can email or call in their count, letting us know their location, what birds came and how many. If it is an unusual bird for this time of year, pictures are encouraged. Please call Jan Rose, (208) 267-7791, for more information.

The Bonners Ferry Christmas Bird Count is locally supported by the Kootenai National Wildlife Refuge and the Friends of KNWR. To find out more abot the 113th Christmas Bird Count, visit www.christmasbirdcount.org.

Questions or comments about this article? Click here to e-mail!