Christmas eve ruined by vandals
January 3, 2013
Joe Ward and his wife, Adelle, came to Boundary County to enjoy the good life and spend time with their grandchildren after his retirement from a career as a math teacher in big-city schools. After what happened Christmas eve, they're beginning to wonder if this piece of heaven is all it's cracked up to be.

Joe, who gave up retirement to step in and teach math at Bonners Ferry High School when they desperately needed a teacher, had parked his 2008 Honda Accord in a pull out in front of their home on the Westside Road December 23 because the drive to the house was iced up.

The car was well off the road in a pull-out, not posing any kind of hazard or blocking traffic.

On December 24, Joe and Adelle got dressed up to come into town to enjoy the Christmas festivities and attend Christmas eve church services. They drove their Blazer out the frozen driveway to Westside Road, intending to take both rigs to town.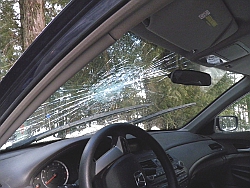 Their plans were abruptly shattered when they spotted the shattered red lens of the Honda's busted tail-light scattered across the snow. Instead of a peaceful evening in church and a nice Christmas eve, their first in Boundary County, the rest of their afternoon was spent filling out reports with a sheriff's deputy, arranging for a tow truck and filing an insurance claim.

In addition to the tail-lights, both of them shattered, vandals had smashed the windshield on the driver's side, making the car unsafe to drive, and ripped out the drivers side mirror.

Nothing was stolen from the vehicle ... it appears that whoever is responsible did what they did out of sheer meanness.

"Why would someone do this in such a calculated way?" Joe asked. "I wonder how they would feel if someone did this to their grandparents' car? I'm out the deductible and I lost Christmas eve. I imagine that while they were doing this, their mommies were making nice-nice for them for Christmas."

To add insult to injury, Joe mailed off the final payment on the car December 27.

Anyone who may have seen suspicious activity in the area or who has information on this act of vandalism is asked to call the Boundary County Sheriff's Office, (208) 267-3151, extension 0, and help bring the person or persons who did this to justice.

"The individuals responsible need to be apprehended and make full restitution for their crime," Joe said. "The perpetrators and their parents are in our prayers."

Questions or comments about this article? Click here to e-mail!