Crapo sentenced, releases statement
January 4, 2013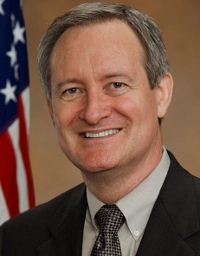 U.S. Senator Mike Crapo, charged with DUI after running a red light December 23 in Alexandra, Virginia, pled guilty to the misdemeanor charge Friday. After being sentenced, he issued a statement taking responsibility for his lapse and apologizing to his family, his church, his colleagues and to the people he represents.

Crapo was sentenced to a suspended four-month jail term, lost his drivers license for a year, fined $250, placed on probation and ordered to undergo an alcohol safety program.

Here is Crapo's statement in full:

"I have recently made personal choices that are at odds with who I am, who Idahoans rightly believe me to be and who I strive to be. I believe public officials should be held to higher standards, since I have been entrusted by Idahoans to make choices and votes on their behalf. I offer my apologies, ask for your forgiveness for my recent failings and I make a firm commitment that I will strive to regain the trust that I have lost.

"As a public servant, I owe Idahoans a full and accurate explanation of my failings. I appreciate the opportunity that I have had in the last few days to privately explain and apologize to my family. I love them deeply and appreciate their encouragement and support in helping me face this situation.

"In recent months, and for less than a year, I have on occasion had alcoholic drinks in my apartment in Washington, DC. It was a poor choice to use alcohol to relieve stress — and one at odds with my personally-held religious beliefs.

"However, on the night of Saturday, December 22nd, I made another even worse decision to go for a drive to get out of my apartment and try to wind down. I left my apartment, driving out past the monuments. I was alone during this drive and never left my vehicle. After driving around for approximately 30 to 40 minutes, I realized what a mistake it had been for me to drive and decided to return to my apartment. I approached a multi-street intersection and mistakenly turned against a red light. It was at that time that the police pulled me over. As has been publicly reported, I cooperated fully with the officer. I failed the field sobriety tests. As you know, I pled guilty and will follow through on the punishment imposed by the court.

"As a lifelong member of The Church of Jesus Christ of Latter-day Saints, which is well-known for its standards against consumption of alcohol, I have endeavored for the majority of my life to be an upstanding representative of my faith. My mistake in using alcohol in recent months has therefore brought additional embarrassment and shame to me, my family and other church members who care about me. I will carry through on the appropriate measures for repentance, and I ask all of you for your forgiveness.

"I sincerely regret the choice I made for many reasons, especially because tragic consequences can result from drinking and driving. I am truly, truly grateful that no one was injured and, as has been suggested, I will find an opportunity to help further the message: "don't drink and drive".

"In summary, I am profoundly sorry for the pain and embarrassment that I have brought to my family, to Idahoans, to my church, to my colleagues in the U.S. Senate and my staff, to anyone who has placed their trust in me. I am also deeply appreciative of those who have reached out to me over the last few days with messages of encouragement, support and forgiveness. These words mean more to me and my family than they can ever know. I will work hard to regain the trust of my family and Idahoans."

Questions or comments about this article? Click here to e-mail!