'Emory's Gift,' a Boundary County must read
January 8, 2013
Samuel Coleridge said way back in 1817 that if a writer could infuse a "human interest and a semblance of truth" into a fantastic tale, the reader would suspend judgment concerning the implausibility of the narrative.

Said easier, a good work of fiction can make the reader forget all they know, for the moment, and fall into the tale the writer conveys.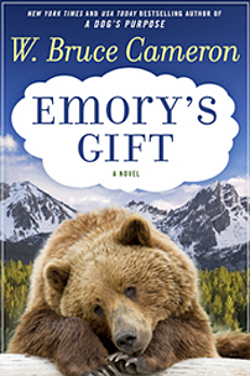 There's a book in the Boundary County Library, "Emory's Gift," signed by the author, that does just that.

It's the joy of fiction, but the bane of all but the best writers.

Especially when the fiction is set directly in a place familiar to some. A place like Boundary County, Idaho, featuring a town that's never been but places we all know.

W. Bruce Cameron is an acclaimed author now living in Los Angeles whose book. "A Dog's Purpose: A Novel for Humans," published in 2010, has now spent 48 weeks on the New York Times best seller list. An earlier book, "8 Simple Rules for Dating My Daughter," became the basis for the ABC comedy, "8 Simple Rules," starring John Ritter, James Garner and David Spade, which aired from 2002 to 2005 and can now be seen on The Disney Channel.

He began developing the concept for "Emory's Gift" while "A Dog's Purpose" was still in galleys, and to flesh out the story about a young boy and a very special bear, he needed two things for the setting; a time when grizzly bears were rare and hard to find but were still being hunted when and if they appeared, and a place where such an appearance would be plausible.

"Not many places would qualify," he said.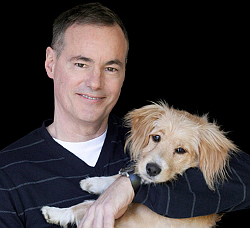 W, Bruce Cameron and friend.

He'd earlier spent some time with a cousin who lives in Coeur d'Alene, and spent time on Priest Lake, so he had an idea of what North Idaho was like. He'd met a young woman in California who shared the same eye doctor and learned that her parents, Jim and Lisa Nash, were from Bonners Ferry.

Lisa was happy to tell him all about the area, and Boundary County, he said, soon became the only choice for place.

He chose 1974, just before grizzly bears were listed as endangered, as the time.

Lisa became his tour guide when he visited Boundary County, introducing him to people who told him more about living here in all four seasons, and introduced him to Dr. Marty Becker, who would write the forward to "A Dog's Purpose."

You won't recognize the small town west of the Selkirks where then 13-year-old Charlie grew up, where he lost his mother to cancer and where the tale begins, and in the beginning, that won't matter.

By the time you recognize that some things don't really fit, you're captured by Charlie's struggle to come to terms with his grief, to regain his father, trapped in his grief, and to cope with the angst of being a teenager.

By the time you begin to see the discrepancies wrought by Cameron's imagination, you've completely suspended judgment concerning the implausibility of the narrative and only want to read on, as Charlie meets Emory, who, as mentioned, is a rather special grizzly bear.

The story carries you from 1974 to present day, and back in time to the Missoula Floods and the Civil War, melding human interest and just enough truth to keep you turning pages long after bedtime.

And in the end, even many the characters you'll meet along the way come to question whether the events they played a part in were real or just a boy's vivid imagination. But the paint on the wall attests to the truth of the tale … doesn't it?

"I enjoyed the time I spent there meeting and talking to people," Cameron said. "It's beautiful, rugged country and the story wouldn't have worked anywhere else. It's a book I'm proud of. The people I've talked to from there who've read the novel seem surprised, but they usually appreciate the story, and it takes a forgiving person to accept fiction about the real place where they grew up."

The fact that the book came out at a time when grizzly bears were much in the news here is coincidental and intriguing, he said.

"While I tried to keep Emory as true to a real grizzly as the story allowed," he said, "this isn't a story about bears."

He says that, much to his regret, he doesn't get up here but rarely; his work keeps him exceedingly busy. After "Emory's Gift," he wrote a third novel in the series, "A Dog's Journey: Another Novel for Humans," which was published in 2012.

He and his wife, Cathryn Michon, have written two movies, "Cook Off" and "40 Happens," and another novel, "The Dogs of Christmas," will be in bookstores this fall.

You can read more about the author, order his books and enter W. Bruce Cameron's Dog of the Week contest on his official website, http://www.brucecameron.com.

Teachers can also get a study guide to using "Emory's Gift" to spark imaginations in the classroom, designed by educators for junior high, high school and advanced classes.

Questions or comments about this article? Click here to e-mail!