County icon stepping down
January 11, 2013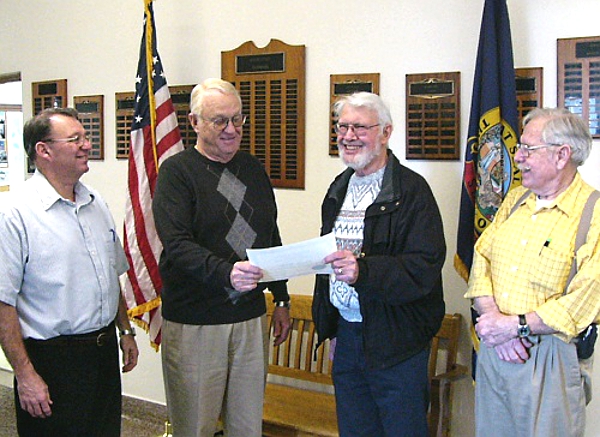 Throughout his 16-year's service on the Board of Boundary County Commissioners, Ron Smith showed his great appreciation for the people he was privileged to work with. In 2002, he and fellow commissioners took time to thank Dean Miller for 19 year's service on the Boundary Community Hospital Board. Left to right; Commissioner Dan Dinning, Smith, Miller and Commissioner Walt Kirby.
Boundary County photo
By Mike Weland

If the late Gladys Richardson earned the sobriquet "Ma Badger," it would be safe to say Ron Smith has earned the title "Pa Badger." As a devout Badger fan and the longest serving commissioner ever to serve the people of Boundary County, Idaho, his greatest joy has been to watch "his" students and his community succeed.

After serving the people of this wonderful place for five years as sheriff from 1983 to 1988 and as county commissioner for 16 years, 14 of those as commission chair, his final official day in office is Sunday, January 13.

He has seen plenty of change during his years as a public servant, helped resolve a lot of issues that divided not only the people of Boundary County, but the various entities of local government as well. He was often the driving force who pushed to bring disparate groups to compromise and move forward, always with his great good humor, his smile and his unstinting faith in the good in the people who call this place home, his manner so deft that people didn't even realize they were being pushed.

He saw us through many difficult times during his tenure; floods, fires, snow storms, new federal regulations that threatened to cost millions, an infamous standoff and more, not often in the forefront, but helping and trusting in those whose job it was to handle the various contingencies. He took control when he had to, which wasn't often, getting everyone back on track and working for the good of the county.

And he always gave credit where it was due, lauding the people he had the privilege of working with regardless of the situation. He stood up for them, gave them what was needed and backed them up.

No matter the official difficulties he faced, his support for the Bonners Ferry Badgers never wavered; he and his wife, Evelyn, have seldom missed a game, home or away, and their house was often filled with students for team barbecues or in preparation for school events. A parade of Junior Miss contestants, later to be known as Distinguished Young Women, practiced for the grueling interview portion of the competition in the Smith's living room, kids came together there to cram for important tests and the unending refreshments.

Perhaps his favorite official duty as county commissioner was in helping "his" Badgers attain their dreams. He wrote hundreds of persuasive letters to other officials on their behalf, helping countless students be nominated to U.S. service academies, prestigious colleges and universities, helping them gain scholarship assistance to enable them to reach their highest potential.

They were persuasive because they weren't canned form letters ... he watched these students come up, knew and share the sidelines with their parents, stood in the front ranks with them to pass school levies and bonds to make sure that Boundary County students had the opportunity to excel. Every one of the many letters of recommendation he wrote were personal, telling first-hand the accomplishments and drive of the person about whom he was writing.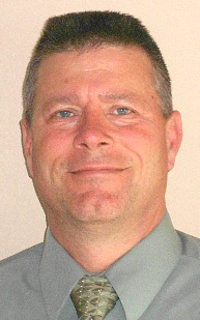 Incoming County Commissioner Lee Pinkerton.

In most cases, his recommendations were heeded, and he took great joy in watching kids go off in pursuit of higher education, excel, and come back to visit and tell of their journey.

While his tenure as county commissioner may be at an end, Ron's commitment to the community he loves will not waver, you can count on that.

At 9 a.m. Monday, a new county commissioner will be sworn in to take the seat Ron has so ably held for so many years.



"Please allow me to extend my genuine praise and gratitude to Commissioner Ron Smith for his years of exemplary service to the citizens of Boundary County," incoming commissioner Lee Pinkerton wrote after winning election in November. "Commissioner Smith performed his elected duties with honor and commitment and he has duly earned our communities' respect and adulation for his civic devotion."



Questions or comments about this article? Click here to e-mail!