Dr. Newhouse to help fill void
January 15, 2012
By Marcia Morman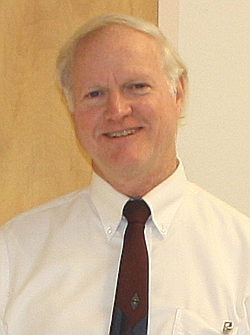 Chuck Newhouse, M.D., has agreed to help for two months with the treatment of Dr. Lucero's patients during this time of transition following Ernie Lucero's unexpected passing.

It is a time of sadness for all who knew and worked with Dr. Lucero.

Dr. Newhouse has practiced in the medical community of Boundary County for 11 years. He grew up in Boundary County graduating from Bonners Ferry High School in 1973.

He currently serves as an emergency room physician for Boundary Community Hospital.

Dr. Newhouse will attend all of Dr. Lucero's patients at Dr. Lucero's old office, 6641 Kaniksu Street.

"Some people in the community have wondered how things will change with Dr. Lucero's office joining Boundary Community Clinics," said Dr. Newhouse. "There won't be a change felt by his patients. The change that is happening is that the attending physicians will have more time with patients by eliminating the hassles of running an office. As time marches on, the trend in health care is more and more paperwork. Joining Boundary Community Clinics is a way of releasing physicians from paperwork and giving us the thing we value—time with our patients. When a patient calls for an appointment, they schedule their appointment with their primary physician. That choice is a patient's choice, just as it has always been."

Dr. Lucero is a familiar name in Boundary County. He was a forty-year resident as well as the personal physician to many local families. Papers were signed and plans made by Dr. Lucero and Boundary Community Clinics for the merging of Dr. Lucero's practice with the clinic. It was to be an easy transition—not even requiring a physical move. He would have still been practicing in the same office space.

In an interview just days before his death, Dr. Lucero explained his plans.

"Medicare is becoming too cumbersome to deal with," he said. "I was facing two choices, neither of which I wanted. I was looking at either having to stop seeing Medicare patients or end my practice.

"Boundary Community Clinics really saved my practice as far as keeping me working seeing patients. Medicine is what I enjoy. I get a lot of fulfillment from my work."

Dr. Lucero was looking forward to doing the thing he enjoyed most, practicing medicine.

Boundary Community Clinics is a joint venture between Boundary Community Hospital and Kootenai Health.

Kootenai Health, which is known as Kootenai Medical Center, employs the physicians, mid-level providers and the support staff of Boundary Community Clinics. Boundary Community Hospital participates in the cost of operations and provides clinic space, housekeeping and maintenance services.

This model allows the physicians and providers to devote their efforts to serving their patients.

Boundary Community Clinics provides electronic health records that soon will interface with the hospital's electronic health record system. This communication between the systems will be secure and will allow for improved patient care and safety.

"The sole purpose of Boundary Community Clinics is to recruit and retain qualified practicing physicians for service to our community," said Craig Johnson, administrator of Boundary Community Hospital. "This partnership will assist in stabilizing our physicians and providers workforce thereby improving patient access to both local and regional physicians and specialty physicians."

Michael Snyder, M.D. and Amanda Horricks, P.A. continue to serve the community at Boundary Community Clinics. Patients schedule with the primary physician of their choice. New patients are welcome. Working together as a clinic ensures that any patient who needs medical assistance will receive it in a timely manner.

Dr. Newhouse, just like Dr. Lucero in the past, and just as the other caregivers at Boundary Community Clinics, has admitting privileges to the hospital.

This is a huge factor in health care.

When a patient needs hospitalization a physician with admitting privileges can offer a continuum of care by treating the patient with whom he is familiar. The patient's medical background is already known and understood when their primary-care physician is the one treating them in the hospital as well as in the clinic setting.

Boundary Community Hospital is searching for a full-time primary-care physician to practice at Boundary Community Clinics.

For information about Boundary Community Clinics, or to make an appointment, call (208) 267-2086.
Questions or comments about this article? Click here to e-mail!