A tip of the H.A.T.S.: A vision comes to life
January 23, 2013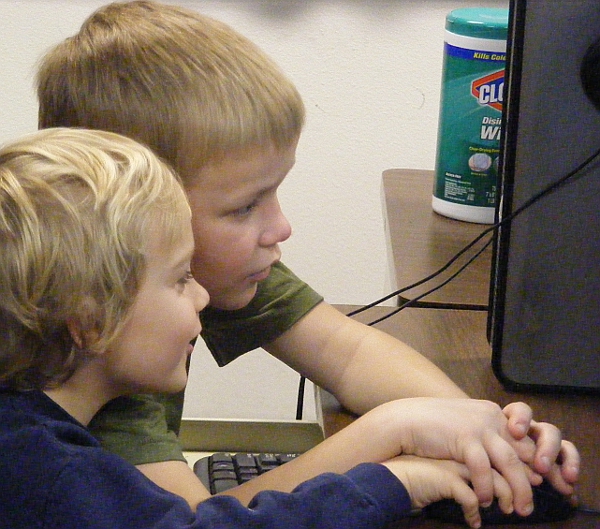 Students at Naples Magnet School explore a range of opportunities that integrate multiple aspects of learning in H.A.T.S.
By Reenie Doolin
Third Grade Teacher
Naples Magnet School

The effectiveness of high quality education is evident in all schools in Boundary County School District 101. As teachers follow scientifically-based research curriculum with high standards, we see a variety of high quality education in each school. This article will specifically address the Naples Magnet School with its unique enrichment program.

"Today we have H.A.T.S.," a teacher announces as an eruption explodes with enthusiastic students showing excitement and unbridled energy for what is to come.

With overwhelming success, the H.A.T.S. program has enhanced learning with a variety of classes and enriched learning.

For the past three years, Naples Magnet School has added cross-age special enrichment classes focusing on Humanities, the Arts, Technology, and Science (H.A.T.S.). Sometimes a school theme will align with the classes such as physical health or social skills.

The well planned classes incorporate the Idaho State Standards, problem solving skills, and provide a challenging, differentiated, and enriched environment for learning. Three principles from brain research are emotional safety, appropriate challenge, and self-constructed meaning, which prove what we already know: kids are not the same; they learn in different ways, that they respond to different kinds of incentives.

Differentiated instruction is responsive to students' varying readiness levels, varying interests, and varying learning profiles. This is apparent during the H.A.T.S. classes.

Students are offered choices for each eight-week session.

The students are grouped by interest, not grade level. A variety of classes are offered each session with support from staff, P.T.S.A., community members, and South Boundary Fire Chief Tony Rohrwasser and staff. Some classes have included CPR/First Aid, many technology classes including Claymation, Power Point Beyond Basics, Microsoft Word with Integration and Intricacy, Photo Editing and Manipulation, Technology Educational Games, Young Scientist, Physics, and Photography.

Other classes include Drama, Piano, Primary Art, Passion to Paint, Publishing, Science, Creative Writing, Juggling, Beading, Guitar, Book Making, Dance, Card Making, and Surprise, with a different guest each week.

With highly qualified teachers, staff, and support from the community, H.A.T.S. is a Naples "Vision Comes to Life."

It is about the kids!

The time and effort putting together this vision of learning has made a difference for our kids. We want to thank all the people in Boundary County, businesses, volunteers, and organizations for any and all contributions in supporting our school.

You have made a difference in the lives of our children. Ask a child attending Naples Magnet School about H.A.T.S. and wait for a smile.

Reenie Doolin grew up going to Naples Elementary School. She has taught 34 years grades K-6 in Washington and Idaho; She has a Master's Degree in Administration, Curriculum, and Instruction. Her favorite memories are teaching with her mother, Donella Kramer, at Naples.
Questions or comments about this letter? Click here to e-mail!