Last chance to be included in walking map
January 24, 2012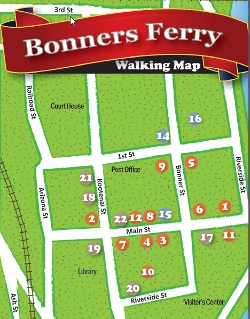 The Friends of Downtown are once again publishing the Bonners Ferry Downtown Walking Map and Business Directory, and if you're not in it yet, you'd better hurry and call (208) 267-1000, the deadline is 1 p.m. today!

"We have most of the basic listings filled, but we still have some display ads available," said Michael Listman, Boundary Computer, who is putting the map together and needs to get it to the publisher by close of business today.

The 15,000 printed copies will be released on Friday, February 1, and will include maps for downtown, the South Hill and Three Mile.

The map will be distributed both locally and regionally, and with the All-Class Reunion coming up in August, the 2013 Bonners Ferry Walking Map and Business Directory, which will also appear on-line, is going to have a lot of extra reach this year.

Display ads cost from $150 to $300, and if you hurry, there is still time.
Questions or comments about this letter? Click here to e-mail!