DYW orientation Monday
January 26, 2013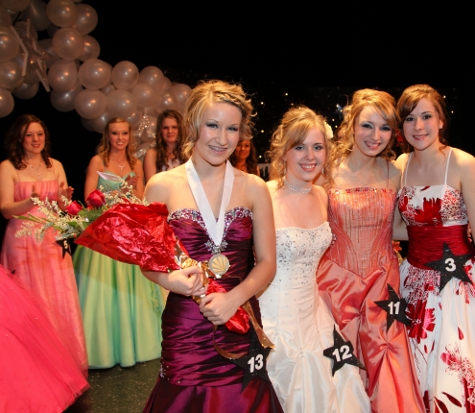 Photo courtesy Andrea Kramer
Kayla Branson, left, was crowned the Bonners Ferry High School 2011 Distinguished Young Woman Saturday evening in the Becker Auditorium. Jaymi McGinn was first runner up, Lexi Wages-Shutes second runner up and Laura Worley third runner up.
Bonners Ferry's Distinguished Young Women's Scholarship Program is accepting applications from high school girls graduating in 2014. The program will take place on April 27, 2013, in at the Becker Auditorium, located at Bonners Ferry High School. The orientation meeting for participating students and their parents will be held at 6:30 p.m. Monday, January 28, 2013, in the Bonners Ferry High School Library.

Interested girls should visit www.DistinguishedYW.org and click Participate under the Join Us drop down box to complete the application.

Only high school girls graduating in 2014 may participate. There is no entry fee.

Applicants will compete in fitness, public speaking, interview, scholastics, and on-stage talent and will be eligible for more than $10,000 in college scholarships.

The local winner will advance to Idaho's state program in Idaho Falls where she will be eligible for more scholarships.

All state winners will travel to Mobile, Alabama, to participate in personal development activities and community service projects before competing for the opportunity to become the Distinguished Young Woman of America for 2014 and for a share of more than $125,000 in cash scholarships.

Founded in 1958 in Mobile, Alabama, America's Junior Miss, now Distinguished Young Women, is the largest and oldest national scholarship program for high school girls. During its 55 years of operation, the program has provided life-changing experiences for more than 700,000 young women.

Last year Distinguished Young Women provided more than $63 million in cash and college scholarships opportunities.

Distinguished Young Women is a scholarship program that inspires high school girls to develop their full, individual potential through a fun, transformative experience that culminates in a celebratory showcase of their accomplishments.

National sponsors include the City of Mobile, Mobile County, Encore Rehabilitation, The Spanx Foundation, and Mobile Gas: a Sempra Company, Alabama Power Foundation, and Regions Bank.

For more information about Distinguished Young Women of Bonners Ferry, please contact Shelly Hoisington Distinguished Young Women of Bonners Ferry Co-Chairman, at mccormick_school@hotmail.com or (208) 267-5932.

For more information about Distinguished Young Women, contact Cassidy Grimes at Distinguished Young Women, Cassidy@DistinguishedYW.org or (251) 622-5335 or visit the Distinguished Young Women Web site: www.DistinguishedYW.org.
Questions or comments about this letter? Click here to e-mail!