'Fill the Bus' drive a success
January 26, 2013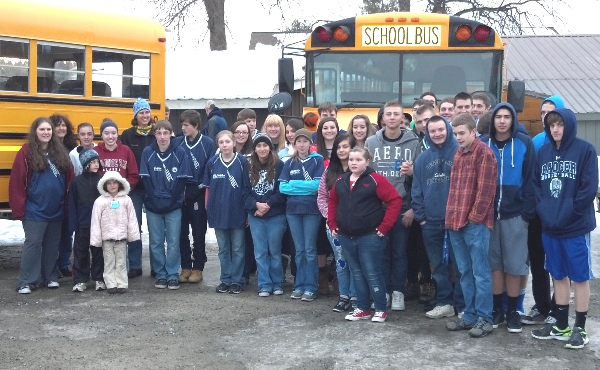 Angela Hittle photos
A lot of hands made short work Monday during this year's "Fill the Bus" food drive.
Empty school buses pulled into the parking lots at three local grocery stores Monday for the sixth-annual "Fill the Bus" food drive, but they didn't sit empty for long, as once again the people of Boundary County showed their generosity and hard work in fine fashion.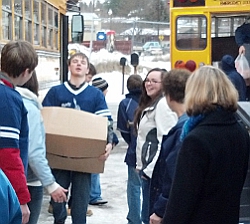 Coinciding with Martin Luther King Jr. Day, 65 volunteers, instead of enjoying a day off, made it a day on in service to the community, taking donations of both food and money to restock the shelves of the Bonners Ferry Food Bank.

A service project of the Lewis-Clark Serice Corps/Americorps, donors gave generously, even before the buses pulled up. Food drives were held for two weeks before the big event, and students collected more than 2,000 non-perishable food items.

The buses pulled into the parking lots at Akin's Harvest Foods, Safeway and Super 1 at 9 a.m. Monday, and when they closed the doors at 3 p.m., they volunteers had collected over 3,100 pounds of food and cash donations of $452.12, thanks to the generosity of shoppers.

With the shelves at the food bank nearly bare after the holidays, and with the year around need for food, the donations came at the perfect time.
Questions or comments about this letter? Click here to e-mail!