Pack 114 enjoys an exciting Pinewood Derby
January 27, 2013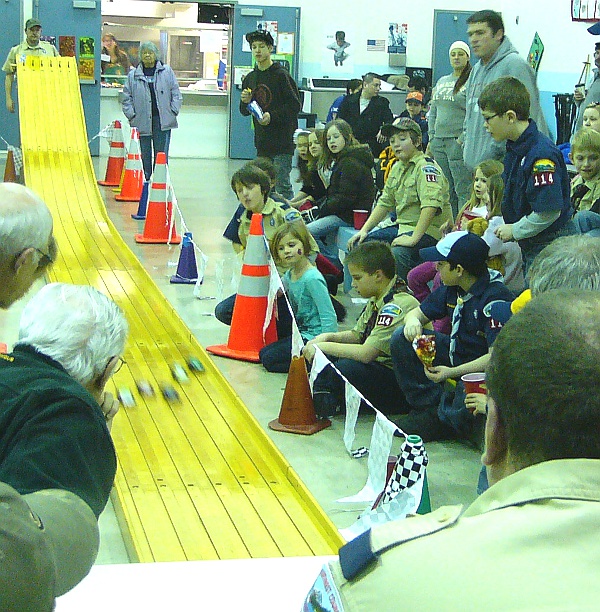 The Naples Elementary gym was abuzz Saturday morning as Cub Scouts and Webelos from Pack 114 gathered for their annual Pinewood Derby.
Mike Weland photo
By Mike Weland
Photos by Katie Blumenauer

The Naples Elementary gym was a hive of activity Saturday as 31 Cub Scouts and Webelos from Pack 114 gathered to compete in the 2013 Pinewood Derby and carry on a lasting legacy, racing on a track hand-built by long-time scout leader Rich Carlson and his sons.

Rich and his wife, Nancy, donated the track to Pack 114 after they were forced to retire from scouting when Rich fell ill. He passed away last August at age 52 after a valiant battle with pancreatic cancer.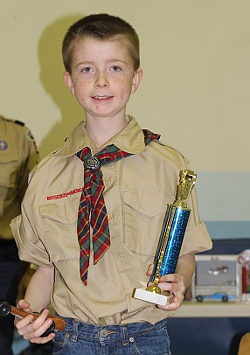 When all the racing was finished, Webelos Scout Adam Matyi came away with the first place trophy.

The racing action was fierce Saturday, and the handcrafted cars were spectacular. In the initial heats, the Scouts raced according to age bracket, but it was everybody against everybody as they headed for the finals, with Pack Committee Chair Bill Blumenauer lining up the cars, awaiting the "go" signal from race commissioner Tom Husk before sending the cars tearing down the track toward judges Pat Warkenton, Greg Sprungl, Merle Dinning, Allen Flory and Alva Baker, who has been part of the Pack's history for more than 60 years (he was honored for his long service last year, and you can read about it here.)

Formed in 1943 and staying busy in all the years since, Pack 114 is one of the oldest Packs west of the Mississippi.

There were a lot of races Saturday, as each car was raced on each lane in every heat to rule out the potential of a fast lane giving an unfair advantage, with five or six cars being raced at a time.

When it was over, Adam Matyi took home the first place trophy, Matthew Donn earned second and Michael Youngwirth third, followed by Jason Colegrove, Robert Skilton and Skyeler Zimmerman.

The Wolf Den, second-graders led by Natalie Colegrove, took the award for best pit design; Tiger Cub Zap Andrejczak won the Scout Spirit award for an individual car; Bear Cub Dylan Collier took home the prize for Best Craftsmanship for an individual car; Tiger Cub Ossian Soltis won the Best Engineering award and Webelos II Scout Seth Inman won Best Creative Design for an individual car.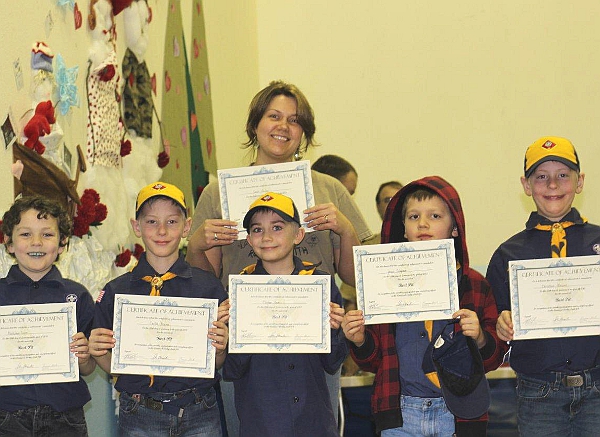 The Wolf Den, second graders led by Nadine Colegrove, took honors for Best Pit design at the 2013 Pack 114 Pinewood Derby held Saturday. The Scouts are (l-r) Matthew Donn, Curtis Blevins, Clayton Isaacs, Jason Colegrove and Christian Blevins.
| | |
| --- | --- |
| | Matthew Donn earned the Second Place trophy ... |
| ... and Michael Youngwirth finished race day with the Third Place trophy. | |
| | Jason Colegrove won the fourth place medal ... |
| Robert Skilton took Fifth Place ... | |
| | ... and Skyeler Zimmerman earned the Sixth Place medal. |
| Race Commissioner Tom Husk congratulates Dylan Collier, who won the Best Craftsmanship award, as Cub Master Stan Martin looks on. | |
| | And the day wasn't just for boys, either! Scout sister Savannah Shepherd won the day's Hard Luck race, which gives sisters and little brothers the chance to compete. |
Questions or comments about this letter? Click here to e-mail!