Club 55 to open Super Bowl Sunday
January 30, 2013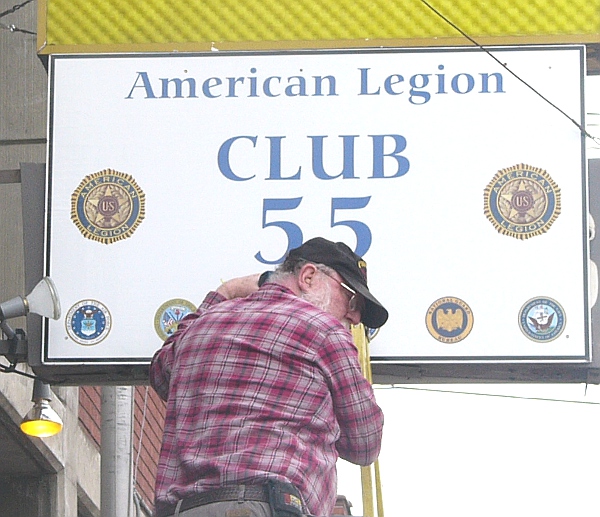 Bonners Ferry American Legion Post 55 member Ray Harris put the finishing touches on the new sign now outside the Legion Hall on Tuesday.
After months of work cleaning, scrubbing, painting and remodeling, an old venue is opening Sunday with a brand new look and feel, as Bonners Ferry American Legion Post 55 assumes management of their lounge, now renamed Club 55, for the first time in more than 30 years.

Club 55 will reopen to the public at 2 p.m. Sunday, February 3, just in time to air Super Bowl XLVIII on their big new 60-inch television.

When you go in, be ready for some big changes.


"It's not a bar anymore, it's not a saloon," said American Legion Post 55 Commander Terry Spence, wearing a dusty, paint stained T-shirt. "It's a lounge. We wanted to make it a place where adults in the community could come to socialize."

Legion members seriously considered putting the Bonners Ferry landmark up for sale last year, but their sense of history and service to the community won out, and since before Thanksgiving, an all-volunteer crew, mostly Legion
and their families, spent hour upon laborious hour in preparation for Sunday's opening.

"We're not that young anymore," Spence said. "A lot of our members are veterans from World War II and Korea and they don't get around too well anymore. But they still came and helped, doing what they could."

Local businesses helped out a lot, too, Boundary Tractor/Yamaha, Boundary Electric, Beck's Furniture, Home Depot and Trader's Building Supply all pitched in, and quite a few folks, wondering what was going on, stopped in as well, saw a task needing done, and pitched in to help.

"We had people who aren't even from here, veterans mostly, stop in and help for an hour or two," Spence said. "People from the community just walked in to lend a hand. We had veterans on canes and in wheelchairs in here working. We are sincerely grateful to everyone."

That bodes well, because the 151 members of American Legion Post 55 want Club 55 to be something they, and the community, can be proud of.

"We have a lot of ideas, a lot of goals," said retired Navy Master Chief Ken Toline, who will manage Club 55. "There's a lot of potential here. I'd like to see us host Saturday night dances, have a ladies night, community dinners upstairs. Doing all that takes people to help, and we're open to ideas."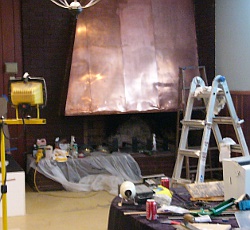 The new Club 55, with interior design by Brenda Toline, is brighter, more open. A copper-sheathed fire places in the back corner offers a warm and inviting place to sit.

One veteran from out of the area who happened to be in town wandered in one day, stayed to help out for a while, and before leaving asked if an old turnbuckle from the grand old USS Constitution would be something that would fit the decor. Assuredly, he was told, and he said he'd donate it to Legion Post 55. As soon as it arrives, it will be put on display.

Where old ceiling fans that no longer worked once hung to swirl the smoke now hang tasteful chandeliers ... there will no longer be any smoke to swirl.

"We will be a non-smoking facility," Spence said. "It will have a distinct military feel, and more of a community feel. That's who we're here for, the community, and this is what makes much of what we do in the community possible."

One old veteran, now too frail to help but still proud of his Legion post, stopped in a few days ago to see how the work was progressing. He had tears in his eyes as he surveyed the transformation.

While most think of Veteran's Day services and Memorial Day parades when thinking of the American Legion, they quietly do much more, supporting scholarships for the high school Distinguished Young Women program, sending local students to Boise to attend Boys State and Girls State each year.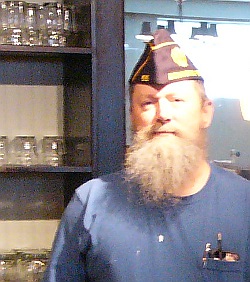 American Legion Post 55 Commander Terry Spence, Captain, U.S. Air Force, retired.

"This is where all that comes from," Spence said, sweeping his hand across a room strewn with ladders and saw horses, work lights, drop cloths and make-shift tables covered with tools and paint cans. "We're here to serve veterans of our nation's services and to serve our community. And everything we do here all goes right back into the community."

Sunday's opening will be a "soft" opening; the Legion is planning a grand opening in the spring, likely around May 27, Memorial Day, though the date hasn't officially been set.

And there's still a lot of work to be done before Super Bowl Sunday; they've designated this Thursday as clean-up day, and invite everyone in the community to pitch in and help.

Club 55, offering a full bar, beer, wine and a pleasant, relaxing atmosphere and located at 6416 Kootenai Street in downtown Bonners Ferry, will be open from 2 p.m. to midnight each Friday through Monday, though the hours may change down the road to better fit the needs of customers. While all veterans are, of course, welcome, Club 55 is open to the general public aged 21 or older.

To find out more, call (208) 610-8407.

American Legion Post 55 meets on the second Thursday of each month in the lounge, with a soup supper at 6 p.m. and business meeting at 7 p.m., and new members are always welcome. To find out more, visit http://www.bonnersferrypost55.org.
Questions or comments about this letter? Click here to e-mail!