Dianna Cossairt employee of the month
January 30, 2013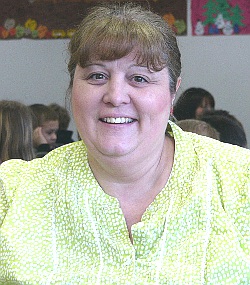 Dianna Cossairt

Dianna Cossairt, a para-professional Title I aide at Valley View Elementary, was named Boundary County School District 101 classified employee of the month for January.

"After being a principal for over 20 years, you can quickly identify the strengths in a school district," wrote Valley View principal Gary Pflueger in nominating her for the honor. "The skills of an individual teacher head the list, the quality of the support staff is always next. The classified staff or paraprofessionals are essential in the education of the children; simply put, they are the glue that holds a program together. And this brings us to Dianna Cossairt; a school is only as good as the people who serve it and Dianna makes us all better. She is dedicated to the children: loyal, dependable, intelligent and kind. She is a professional educator! It is my honor to work with Dianna!"

"Dianna is an extremely dedicated individual who goes above and beyond all expectations to do what is right and best for kids,"" wrote Valley View kindergarten teacher Lauren Bartoe. "She has a phenomenal work ethic and continually strives to better herself, her educational knowledge and service to our school. I am so thankful that we have Dianna working with our Kindergarten program and feel that she is an asset to the School District beyond measure."

For the honor, Cossairt received a $15 gift certificate from the district, good at Super 1 Foods.
Questions or comments about this letter? Click here to e-mail!