Local woman to attend MoH ceremony
January 30, 2013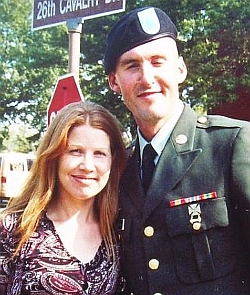 Jessica Tingley with her brother, Joshua Kirk, following his graduation from Army Advanced Individual Training.

On Monday, February 11, President Barak Obama will confer the nation's highest award for bravery, the Medal of Honor, upon Clinton Romesha for his actions in combat at Outpost Keating October 3, 2009, in Afghanistan. Among those attending the ceremony will be Jessica Tingley, Bonners Ferry, whose brother, Joshua Kirk, was one of eight American soldiers to die in the Battle of Kamdesh.

"Clint was kind enough to invite one family member of each of the eight who were killed in that battle," Jessica said. "Mom (Bernadette Kirk-Bonner, also of Bonners Ferry) asked me to attend in her place."

There were many heroes in that battle, chronicled in the book "The Outpost: An Untold Story of American Valor" by ABC News White House Correspondent Jake Tapper, a fact Romesha is quick to bring up any time talk turns to the Medal of Honor. Having been honorably discharged from the Army as a staff sergeant in April, 2011, to be able to spend more time with his family, he, like most Medal recipients, he downplays his heroism, and is uncomfortable at being singled out.

The honor, he said, should go to all who served with him on that long day, especially those who died.

In addition to writing the best-selling book, Tapper, along with Vanessa Adelson, the mother of Stephan Mace, who also gave his life in that battle, are spearheading a tremendous fundraising effort to bring her and the other families of the others who died, to Washington, D.C. for the ceremony, helping with air fare and lodging.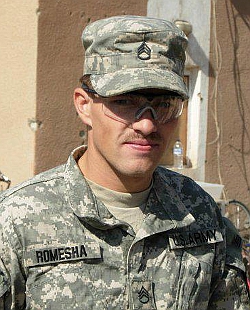 Army Staff Sergeant Clinton Romesha

Photo by Colby Bowman
From Facebook

On that fateful day, Romesha was one of 53 U.S. soldiers from the 3rd Squadron, 61st Cavalry Regiment, based in Fort Carson, Colorado, who, alongside International Security Assistance Force soldiers from the Afghan National Army and the Latvian Army, manned the outpost a few miles from the Pakistan border that day in 2009, a total force of 90 men.

More than 300 Taliban fighters, armed with rocket propelled grenades, mortars, machine guns and small arms and on high ground, launched a coordinated attack from three sides on Outpost Keating in the early morning hours. Soon afterward, the 35 member of the Afghan National Army abandoned their post, leaving just 55 fighters to face the onslaught.

In the first three hours, the Taliban fighters breached the outpost and set it afire.

According to his citation, Romesha led the firefight to retake the compound, regrouping the remaining force and keeping them in the fight. Forming a five-man fire team, he attacked and took out one machine gun emplacement. Going at another, he was wounded by shrapnel from an RPG round, but he continued fighting, rescuing three wounded soldiers and recovering the bodies of those who had fallen and taking out several more Taliban positions before the battle ended 12 hours after it began.

It was one of the deadliest attacks on U.S. forces during the war so far; eight men killed, most wounded. Nine men received Silver Stars, the Army's second highest award for valor.

"What I got injured with wasn't nothing," Romesha said later. "I have buddies who lost their eyesight, who lost limbs. For that, I would rather give them all the credit they deserve for the sacrifices they made. For me, it was nothing. I got a little peppered."

In addition to the Medal of Honor ceremony at the White House, Jessica will also attend a formal reception at the Pentagon following the presentation. On Saturday evening, she'll attend a 3-61st Cavalry reunion party hosted by Tapper, and on Sunday morning, she'll join a group visiting the resting place of Stephan Mace at Arlington National Cemetery.

Those who'd like to help can send donations or cards and letters of support to Vanessa Adelson, 392 Hughs Road, Charles Town, WV 25414, or donate online at http://fundly.com/ssg.
Questions or comments about this letter? Click here to e-mail!