Will it stay or will it go?
January 30, 2013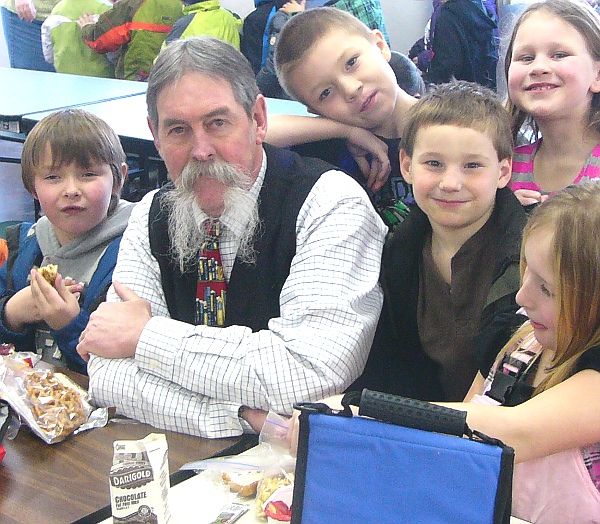 Principal Gary Pfleuger sits with students in the lunch room at Valley View Elementary.
At the beginning of the school year, Valley View Elementary principal Gary Pfleuger set a series of reading and writing goals for all the students there, and made them a promise; he wouldn't cut his mustache unless they reached them.

The time is drawing near to see if they've lived up to the challenge.

March 4-8 is "I Love To Read" week, and on March 6, if all goes well, a special assembly will be held during which they may, or may not, get to see those lengthy lip whiskers come off.

"The problem is, some of the kids don't want to see it come off!" he said. "I sure hope they meet the challenge, though. I can feel this think blowing in the wind, and I'm worried I'll zip it up in my coat."

The goals he set, specific to each individual class, focus on both reading and writing, subjects that go hand in hand, and it looks right now like the kids are going to make it.

"I firmly believe that if you work harder at writing, reading will follow," Pfleuger said. "If you give them a word-rich environment, it motivates the kids."

Valley View students are formally tested three times a year, and Pfleuger said he's seen promising improvements in sentence structure, punctuation and capitalization, key ingredients to good writing, which bodes well for improvements in reading speed and comprehension.

The final results, though, won't be in until March 6, time to be determined, when mid-term reports are due.

If all goes well, a lot of Valley View students will be going to class on Thursday morning, March 7, wondering who the new guy is in the principal's office. And Mr. Pfleuger will have kissed Mrs. Pfleuger goodbye with much less tickle.
Questions or comments about this letter? Click here to e-mail!