Not necessarily news ...
Tragedy on the North Hill
January 30, 2013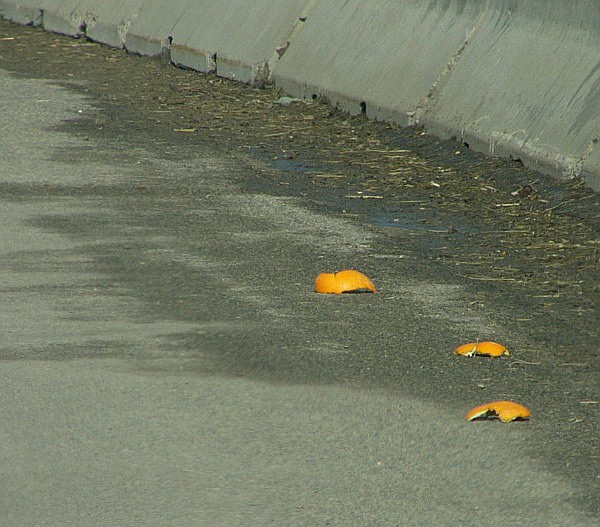 All that remains of an unidentified orange found dead this morning by a passing motorist on Highway 95 on the North Hill.
By Mike Weland

A passing motorist isn't sure of the exact circumstances, it happened so fast, but the Idaho Sheriff's Office is investigating a death this morning on the North Hill as either a case of apparent homicide or vehicular manslaughter after an as yet unidentified orange met its gruesome and tragic demise.

"It happened so fast!" said an obviously distraught Anita Bryan, 72, Grove, Florida, who was driving north on Highway 95 and reported the incident this morning at 7:61 a.m. "It wasn't quite light yet and there was a bit of fog, and all I saw was a brief, colorful flash just ahead. It wasn't until I slammed on my brakes and came to a stop that I saw that it was an orange, beaten to a pulp. This is such a tragedy, I just can't stop shaking. Oranges are very low in saturated fat, cholesterol and sodium, and they're also a good source of thiamin, folate and potassium, as well as a very good source of dietary fiber and vitamin C. Such a sad waste of life."

According to police deputy Dave "Bubba" Nehigh, there were no skid marks at what is being considered a crime scene, and statements from Bryan lead investigators to believe that whomever is responsible never even braked.

"We're not sure yet whether the victim was struck and killed while crossing the road or if there'd been an argument inside the vehicle and the victim got throwed out," he said. "Either way, it was pretty gruesome. There sure wasn't much left for the coroner to pick up, I mean this poor thing was beat to a pulp. It didn't leave us much to work with. No fingerprints, nothing."

What is clear from the available evidence is that the victim wasn't local.

"We've pretty much narrowed it down that our victim is from California or Florida or somewheres," Nehigh said. "No ID in the pockets, and no pockets to put it in. I'm just glad I didn't have to go knock on someone's door. Why heck, I haven't even had breakfast yet."

If it turns out the victim was struck crossing the road, Nehigh used the incident to stress pedestrian safety.

"Before you cross the road, always look left, then right, then left again," he said. "If you're going to be walking where there's traffic, always wear bright colors, like yellow or something, so motorists can see you."

Had this pedestrian heeded that advice, he said, this orange may well have lived.

Bryan described the suspect vehicle as a brown, beat up older model sedan, but she couldn't be sure of the exact make or model, nor could she identify the vehicle's occupants, though she did tell officers she definitely saw two and that both were white.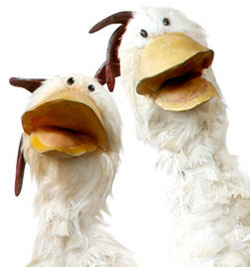 "The car was dirty and pretty beat up," she said. "I did see a yellow bumper sticker that said Foster Farms, and 'Washington Grown' was scrawled in the dirt on the back window."

Though the information she was able to provide is sketchy, investigators were able to identify at least two "persons of interest," whose picture is shown. They don't have names as yet, and they remind everyone that these are not suspects until they've been found guilty in a court of law.

If you see them, Nehigh advised, don't try to be a hero and wring their necks yourself; call for professional help.

"We're not sure if these guys were really involved or not, but by what Miss Bryan tells us, they were in a position to at least see what happened, and we want to talk to them. We don't want people to be taking the law into their own hands, these guys could be dangerous, and we have ways to soften 'em up a bit, if necessary. Tenderize 'em a little, you might say."

Anyone who may have information on this incident is asked to call BR-549, ask for Bubba.

"This is such a tragedy, and I am absolutely traumatized. It's, it's like, I don't know," Bryan wailed. " Like a day without sunshine ... or something!"

Bonners Ferry Police Chief Steve Benkula shook his head as he walked away, wiping away a tear.

"At worst, the chickens responsible for this are cold-blooded murderers," he said. "At best, they are guilty of littering our beautiful town."
Questions or comments about this letter? Click here to e-mail!