Chamber members reminded it's dues time
January 31, 2013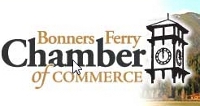 The Bonners Ferry Chamber of Commerce would like to remind members that it's time to budget for this year's dues, and encourage businesses that haven't joined yet that now is a great time to do so!

The Bonners Ferry Chamber of Commerce is dedicated to promoting a strong and healthy business climate in Boundary County, and they do that in a number of ways, including providing members access to their website, http://www.bonnersferrychamber.org, which provides members a way to post information that will reach people around the world and around the clock interested specifically in doing business in Boundary County and Bonners Ferry.

They also advertise weekly in the Bonners Ferry Herald to promote chamber events and member businesses, hold quarterly meetings to keep members up-to-date on the work they're doing on their behalf, giving members the opportunity to promote their businesses and what they have to offer, they publish and distribute a monthly news bulletin, host educational meetings and seminars beneficial to businesses in Boundary County, work with local and state government to promote a strong business environment and a lot more!

Membership in the Bonners Ferry Chamber of Commerce is $50 a year for non-profit organizations and individuals, $75 for businesses in Boundary County, including home-based businesses, $85 for businesses outside of Boundary County, and $150 per year for real estate offices, restaurants, grocery stores, financial institutions, hotel/restaurant combos and campgrounds or RV parks.

Member dues can be mailed to the Bonners Ferry Chamber, PO Box X, Bonners Ferry, ID 83805, or you can stop in at the Visitor's Center, 6373 Bonner Street. To find out more, call (208) 267-5922, or email info@bonnersferrychamber.org.
Questions or comments about this letter? Click here to e-mail!