Barbara Barnes 'Bobby' Goodson
May 15, 1927 ~ September 21, 2012
September 26, 2012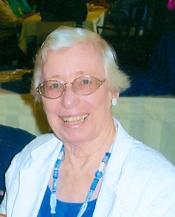 Barbara "Bobby" Barnes Goodson passed peacefully away September 21, 2012, at Turtle Mountain Ranch, the mountainside home she loved so dearly in Bonners Ferry. A Memorial Service will be held at 3 p.m. Saturday, October 6, at United Methodist Church in Bonners Ferry.

She is survived by her loving husband of 61 years, Chester Wayburn Goodson, daughters Sue Goodson Williams of Bonners Ferry and Nancy Goodson of Phoenix, Arizona, grandson Benjamin Kropatch of Escondido, California, Grandaughters Barbara "Boo" Drake of Newton Falls, Ohio, Andrea Bjork of Stockholm, Sweden, and Kimberly Fields of Bonners Ferry. Her beloved great-grandchildren include Bennett and Cason Kropatch, Carter and Austynn Drake, Kyla Dowdy and Cierra Pendergraft, and "her girls," Samantha, Alina and Lexi Fields, who lived down the driveway and brightened every day with joy and endless hugs. Bobby is also survived by her beloved cousin, Cynthia Clingner of Bozeman, Montana. Numerous step-grandchildren and step-great grandchildren claim her as their own and will mourn her passing as well.

Bobby was born May 15, 1927, the only child of Roger Pierson Barnes and Helen Humphrey Barnes, in Detroit, Michigan. Her early years were happy and she was an avid reader and a bright, capable student.

She graduated from Albion College in Michigan and spent her first summer "out west" working in a Camp Fire Girls summer camp. She then found a job working for as an engineer for General Electric. In 1951, Bobby was in charge of a USO dance in Moffat Field, California, when she and Chet first laid eyes on each other.

In a true "love at first sight" moment, Chet told his buddies that he just saw the woman he was going to marry. Bobby never wavered in her love for him and they were married just a few months later on August 18, 1951, in San Jose, California.

A sailor's life took Chet away to Japan for a time during the Korean Conflict and Bobby remained in the Bay Area awaiting his return. A posting to the Pentagon relocated the young couple to Oakton, Virginia. Life became interesting as they added their two daughters to the family – Sue in 1955 and Nan in 1957. Within a few years the family received a posting to Columbo, Ceylon (now Sri Lanka), and they moved to this tropical paradise island in 1960.

Bobby began her administration of education in Columbo as she took on the role of the school principal at the English School in Columbo.

Following adventures too numerous to list, the family returned to Oakton, where Chet would finish his Navy career and Bobby would teach at Oaklawn Academy and attain her Masters degree at American University.

Upon Chet's retirement from the Navy, he accepted a position with Sylvania Electronics in Mountain View, California, and the family relocated to Sunnyvale.

Bobby began her California teaching career in the Cupertino Union School District. As her dear friend Vicky Smith Bingham recalled recently, "We fondly remember that lovely and amazing white-haired wonder as the Mother of computer education.

She and a handful of others in California interested in computers in education in the very early 80s got together and called themselves Computer Using Educators … and, of course, the vibrant CUE association lives on today."

"California was where everything was really happening in those early days of technology in schools. Bobby was teaching in the Cupertino schools at the time - you know, that city where those boys who developed the Apple computer grew up.

"When she saw the prototype of the first Apple II, she was hooked. Her junior high school purchased three 16K Apples and found some old black-and-white TV monitors, and Bobby worked to develop a curriculum and train others.

"She learned as we all learned in those days, by talking to one another and getting together to share ideas."

These early Apple computers had to be "loaded" via a cassette tape each time it was powered up, but Bobby knew this was the future for education and she and her cohorts would help to change the face and future of educational computing forever. From the time in the early 80s that CUE was founded, Bobby would go on be the second president of the association. She would later receive one of the first Gold Disk Awards from this association, recognizing significant and lasting contributions to the field of educational computing.

With her "Good ol' Girls," Bobby would travel to many conferences and more than a few weekend spa trips. She and dear friend Dr. Ann Lathrop would go on to write the first definitive book on educational software, "Courseware in the Classroom."

In 1984, Bobby became the president of the International Council for Computers in Education (ICCE). She went on to be a part of a Congressional Task Force that produced the first comprehensive report about Technology in Education. Titled "Informational Technology and its impact on American Education," its 400-plus pages include a large section about Bobby's school project and represents hours of Congressional testimony in Washington D.C.

Her involvement in the ICCE lead to her work with the Star Schools Project, a favorite effort of Senator Ted Kennedy. Bobby had the honor of being the United States Representative to the International Conference on Technology in Education that was held in Paris, France. She and Chet turned the conference into a wonderful vacation, visiting the British Isles.

About the time that her activities hit a peak, Bobby retired from active teaching and formed Bobby Goodson and Associates, her consulting firm that allowed her to continue her work and speak at numerous meetings throughout the country, keynoting many conferences during the course of her career.

Her awards are numerous and received in a state of bewildered joy – including the NECC Pioneer Award given for a lifetime of work that changed the face and future of education. During this time period Chet and Bobby bought a small sailboat to enjoy – the Potter was a fun little sailboat and it lead them to buy a larger sailboat – the Rawson 40' motor sailer was joyfully named "Happy Hours" and that was exactly what it brought them – many happy hours sailing in the San Francisco Bay.

In 1987 Chet retired from Sylvania, declaring "I gave the first 20 years to Uncle Sam, the next 20 years to GTE Sylvania, so the next 20 years are for me!"

Chet and Bobby found a little piece of heaven after coming to visit daughter Sue in Bonners Ferry and bought the piece of land that became Turtle Mountain Ranch.

The next few years were spent dividing their time between Sedona, Arizona, and Bonners Ferry, until they finally decided to settle full-time in Idaho.

Daughter Sue designed their mountain side home and supervised the building of the mathematical marvel on the hill.

Bonners Ferry United Methodist Church would become their church home and while Chet sang in the choir, Bobby began the "Banner Project" that would ultimately produce the beautiful collection of church banners that are used throughout the year.

She also began her lay ministry and would find great joy in the annual conferences and meetings that are such an integral part of the UMC life.

Bobby took great joy in re-creating and expanding the church library, a labor that would last trough the rest of her days.

Her love of turtles inspired the name of their home, and the unparalleled collection of turtles, thousands of turtles of every description - just one of the many ways we will remember her with a smile. If there is a need for organization and polishing of halos and brushing of wings, we know that she is a busy lady once again.

She will be profoundly missed by her family, and all those who knew and loved her. Her legacy lives on in us all!

Family and friends are invited to sign Bobby's book at www.bonnersferryfuneralhome.com. Arrangements are entrusted to the care of Bonners Ferry Funeral Home.