Olive Jane (Dickey) Doolin
May 26, 1916 ~ September 27, 2012
October 1, 2012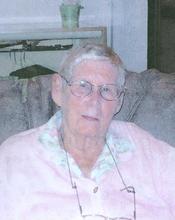 Olive Jane (Dickey) Doolin, 96, was born May 26, 1916, in Beloit, Wisconsin. She went to be with her Lord Jesus September 27, 2012, at Boundary County Nursing Home, in Bonners Ferry.

There will be a celebration of her life at Mountain Springs Church, Bonners Ferry, at 4 p.m. Saturday, October 13. All friends are invited.

Jane moved with her family, at two years of age, from Wisconsin to Puyallup, Washington, where they had a poultry farm. Her father, Phillip, earned many national and international awards in hen laying.

Jane and her brother spent many hours playing in the Clark's Creek, picking berries, and doing the usual ranch chores. They enjoyed an idyllic childhood going to the Puget Sound beaches, Mount Rainer, camping, and learning from their school teacher mother, Agnes.

After high school graduation, Jane studied at Washington State University and graduated with a double major in sociology and English with a minor in music. After graduation, she worked as a social worker in Tacoma, Washington, for three years.

July 1942, Jane married Francis George Doolin in Salt Lake City, Utah, where he was stationed in the Army. After being discharged, they moved to Puyallup, Washington. While there, Annie, Pat, and Mary were born. They then moved to Anchorage, Alaska, where Frank was in federal law enforcement and son Mike was born. Jane worked for the Alaska State Employment Service. It was an adventurous time in the Alaska Territory.

After Frank's early disability retirement, they moved to Eugene, Oregon. Then they lived on the beach in Lincoln City, Oregon, a lifelong dream of Jane's, where they operated an auto wrecking business.

Years later they moved to Bothell, Washington, to be closer to family. In 1999, tragically, daughter Mary died of breast cancer at age 49.

Frank and Jane then moved to Colville, Washington, where they enjoyed small town living and granddaughters' 4-H projects, including dog and horse shows. Jane also pursued her love of playing piano and knitting.

Frank passed away in November, 2002, in Colville. In 2004, Jane moved to Bonners Ferry with her son Pat and daughter-in-law, Reenie, when Pat retired. She lived at the Restorium for seven years, where she wanted to be involved in every activity. She deeply loved the staff there who took extraordinary care of her and she met many wonderful friends.

Jane was a serious gardener, loved to knit, read, and do crossword puzzles. Her favorite activity was playing the piano, which she did very well. She had a wonderful sense of humor and thoughtfulness of others.

She was preceded in death by her mother, Agnes Dickey, her father, Phillip S. Dickey, daughter Mary, and brother Phillip S. Dickey IV.

Jane is survived by her children: daughter Annie and husband Dana Smith of Palm Desert, California, son Pat and wife Reenie of Naples, Idaho, son Mike and wife Nancy of Portland, Oregon, nine grandchildren, and ten great grandchildren.

The family is very grateful for the wonderful staff at the Restorium and Boundary County Nursing home for their love of mom and for providing the best care and family atmosphere for her. God Bless you all!