Lilly M. Figgins
January 7, 1928 ~ November 16, 2012
November 18, 2012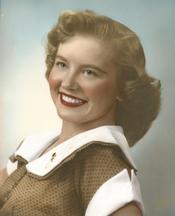 Lilly Figgins, 84, left us to be once again in the loving arms of her husband, Joe, on November 16, 2012. She passed away peacefully at Boundary Community Hospital after a brief illness. A private graveside service will be held Tuesday at Grandview Cemetery.

Lilly Maybelle Smith was born on January 7, 1928, in Clyde, Washington, to George W. and Mabel Smith. She grew up on a wheat ranch with six sisters and two brothers.

She graduated from Prosser Senior High School in 1945. After graduating in 1949 from Kinman Business University in Spokane, she moved to Walla Walla, Washington, where she lived with her parents. By that time, George and Mabel had retired from farming and purchased a home in Walla Walla.

She worked for Braden's Caterpillar there, and it was during this time she met her future husband, Joe. They met at her sister's wedding, Lilly a bridesmaid and Joe a groomsman, and it was love at first sight. They were married January 21, 1951, and soon after moved to Bonners Ferry.

Together Joe and Lilly raised five children on the farm. She was a wonderful mother, kind and nurturing, but with a will of iron. If her mind was made up, there was no changing it. She loved watching Little League baseball games, and she and Joe often would be hauling kids in the station wagon.

While Joe farmed, Mom did the books, gardened and raised chickens. She also found the time to be a Brownie leader. Lilly and Joe enjoyed getting together with friends and playing pinochle. They always had a pot of coffee on if anyone stopped by for a visit. She enjoyed a good joke or story and a good laugh. Lilly had a beautiful smile and a wonderful sense of humor.

In 1996, Lilly had a debilitating stroke which affected her mobility and memory, bringing on early dementia. Joe took care of her until his passing in 2009. She was never the same after the stroke, but she knew she was loved. Mom, we will miss you always and will keep you forever in our hearts.

Lilly was preceded in death by her parents, George W. and Mabel Smith, brothers Pug and Elmer and sisters Grace Jessee and Margie Ballard.

She leaves behind her loving children Joe (Carrie) Figgins of Bonners Ferry, Peggy Figgins Dexter of Sagle, Idaho, John (Valerie) Figgins of Bonners Ferry, Carol (David) Ehrmantrout of Priest River, Idaho, and George "Pete" (Julia) Figgins of Coeur d' Alene, Idaho. Her 15 grandchildren include Lynsie (Matt) Odd and Josh (Rachel) Figgins, Christopher, Carly, Jessie, and Jared Dexter, Justin (Liz) and Casie Figgins, David (Sarah), Nick (Brittany), Mackey, Ashley, and Adam Ehrmantrout, and Kayla (Garrett) Lunders and Jacob Figgins. She also leaves behind six precious great grandchildren; Kellen and Brennan Odd, Gage, Ashton, and Hunter Ehrmantrout, and Aria Lunders.

She is also survived by her sisters Frances Wright, Louise (Bob) Andrews, LaVonne Reser, Shari (Doug) Richmond, and several nieces and nephews.

Family and friends are invited to sign Lilly's book at www.bonnersferryfuneralhome.com. Arrangements are entrusted to the care of Bonners Ferry Funeral Home.