Thomas Ervin 'Tom' Copeland
July 11, 1927 ~ November 8, 2012
November 9, 2012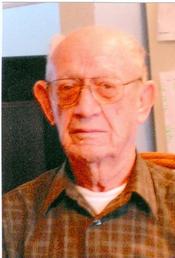 Thomas Ervin Copeland 85, passed away November 8, 2012. Services will be at the Bonners Ferry Free Methodist Church at 1 p.m. November 17.

Tom was born in Spokane on July 11,1927. He moved to Bonners Ferry with his family in September of that year.

Tom grew up working on the family farm in Bonners Ferry. He graduated from Bonners Ferry High School in 1945. Tom then joined the Navy. He served in the Navy 1945-1949 working as a ship's boiler man transporting recruits to Europe.

Tom married Billie Jean Moore on September 21, 1951. Tom and Billie Jean were together until her death in 1988.

Tom loved farming and took over the family farm from his father and grandfather. He worked the farm until he retired in 1992. He was always very active in his community serving on the co-op board, the ASCS committee both locally and at the state level. He was a member of the Eagles and Knights of Pythias. He was a lifelong member of the grange at the local and at the state level. He was involved in the Idaho Wheat Commission traveling often to meetings. Tom was also a member of the American Legion and served on the honor guard for many years.

Tom was an avid card player. Bowling was also a passion of his for many years bowling on several different leagues. He enjoyed time spent with family and being on the farm whenever he could.

He was a snowbird for many years both to California and Arizona. He loved talking about the good old days and wasn't a fan of too much progress.

He moved to the Boundary County Restorium where he spent many years. He was very happy and enjoyed living there. Tom was dad, he was grandpa, he was Uncle Tom. He was loved by many and always ready with advice, sometimes even when you didn't ask. He touched the lives of all who knew him and set a great example of hard work and family dedication for his children and grand children.

Tom is survived by his five children Jim (Larry) Copeland, Roy (Fang) Copeland, Larry (Pam) Copeland, Sandi Copeland and Patti (Bob) Thomson. Brother Delbert (Sydney) Copeland, sisters Mary (Les) VanEtten and Linda Krasselt. 12 grand children, and 29 great grand children

He was preceded in death by his parents Roy and Clista Casey Copeland, wife Billie Jean Copeland, wife Rita Copeland, loving companion Myrta Kjos and granddaughter Tanya Trulove. The family asks that in lieu of flowers donation be made to the Boundary County Restorium Memorial Fund. 6619 Kaniksu Bonners Ferry, ID 83805

Family and friends are invited to sign Tom's book at www.bonnersferryfuneralhome.com. Arrangements are entrusted to the care of Bonners Ferry Funeral Home.