Edward Raymond Jennings
April 11, 1925 ~ December 25, 2012
December 28, 2012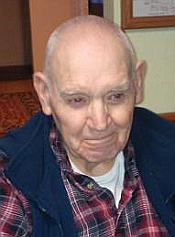 Edward Raymond Jennings, 87, passed away on December 25, 2012, at his residence in Bothell, Washington. A memorial service is being planned in the spring, with burial to follow at Grandview Cemetery in Bonners Ferry.

He was born on April 11, 1925, in Wheatland, Wyoming, to Ed and Virginia (Jennings) Mullen.

Ed grew up in Denver, Colorado, and was raised by his grandmother, Anna L. "Mom" Jennings.

He graduated from South High School in Denver in 1943. After high school he immediately joined the U.S. Navy, was trained as a diesel mechanic and served in the Asian Pacific on the USS PCE (R) 851 through the end of the war. After being honorably discharged at the end of 1945, he returned to Denver, where he pursued his career as a diesel mechanic and spent most of his time in Denver working for Cummins and specializing as a rebuild mechanic for more than 20 years.

Ed married Maxine in 1952 in Englewood, Colorado, and they were happily married for 35 years. In his time in Denver, he was a Mason, and a Shriner, participating with his Harley Davidson as part of the motorcycle patrol. He loved to get away to go fishing at Williams Fork Reservoir.

After moving the family to Bonners Ferry in 1973, he owned and operated his own diesel repair shop, Valley Repar, in District 2, for fifteen years. In northern Idaho, he took full advantage of the abundance of options to go fishing in the many lakes and streams.

Ed is survived by his children, Ed Jennings, Bothell, Washington, and Patti Nicholson, Sandpoint; five grandchildren, Erika, Kirsten, Brad, James and Rachel; two great grandchildren, Gage and Henry; and many nieces, nephews and other relatives.
Ed was preceded in death by "Mom" Jennings, his wife Maxine, and his beloved sister, Viola.

In lieu of flowers the family requests memorial donations be made in his memory to Shriners Hospitals for Children or Ronald McDonald House Charities, both in Spokane.