Eric William Christenson
January 31, 1924 ~ December 11, 2012
December 15, 2012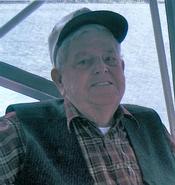 Eric William "Chris" Christenson returned to the Lord on December 11, 2012. A memorial service for Chris will be held at 2 p.m. Friday, December 21, at the Crossroads Chapel in Bonners Ferry, Pastor Gayle Morman presiding.

Chris was born on 31 January, 1924, in Brooklyn, New York, to Charles and Astrid Christenson. He graduated from Mepham Senior High School on Long Island New York, and enlisted in the United States Navy in May, 1941.

Chris served throughout World War II as a radio operator and back seat gunner in TBF Avenger torpedo bombers and SB2C dive bombers, flying off a variety of fleet and escort carriers in both the Atlantic and Pacific theaters. By war's end, he had flown some 500 combat missions. It was at the end of the war, in 1945, when he met Betty Gail Hammond, also in the Navy at the time. They were married on September 14, 1945.

Chris and Betty settled initially in Slocum, Rhode Island, where they raised two sons, Eric C. and Jan Christenson. Chris continued his Navy career, flying in a variety of aircraft off Navy carriers and deploying frequently from the East Coast, retiring as a Senior Chief Aviation Electronics Technician in 1960.

The family moved west to California in 1961, when Chris took a position with Lockheed Missiles and Space at the West Coast Satellite Operations Center in Mountain View. Throughout this time the family continued to look for that ideal place, eventually finding it off Old Addie Road in Bonners Ferry in 1968.

Chris was a dynamic and imaginative man who was never afraid to tackle any new challenge. He would try anything, from designing his own camper, raising beef cattle and running a saw mill, to radio electronics and computers. His interests included amateur radio, wood working, the saw mill, computers, and of course the outdoors.

Both he and Betty loved the life they carved out for themselves on the ranch in northern Idaho. Chris was a hard driver and excellent problem solver who did not suffer fools gladly, and was the kind of man who made this country what it is today.

Chris was preceded in death by his wife of 64 years, Betty, and his son Jan Christenson, and is survived by his son Eric C. Christenson, grandsons Eric W. Christenson II, Jan David Christenson, and Jeremy Christenson, as well as granddaughter Jennifer Christenson Duer.

He was also blessed with five great-grandchildren: Abigail Christenson, Lauren Christenson Duer, Erica Christenson Duer, Andrew Christenson Duer, and Tyler Christenson.

Family and friends are invited to sign Chris's book at www.bonnersferryfuneralhome.com. Arrangements are entrusted to the care of Bonners Ferry Funeral Home.