Frances Marie Colby
January 21, 1930 ~ December 16, 2012
December 16, 2012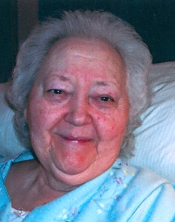 Frances Marie Colby, 82 years old, passed away December 16, 2012, at Valley Vista Care in Sandpoint. A Memorial Service will be held at 11 a.m. Wednesday, December 19, at Bonners Ferry Funeral Home, Minister Ben Nystrom officiating.

Frances was born to Ole and Rosa Brown at Dunn Center, North Dakota, January 21, 1930, the fourth of their five children. She grew up on the family farm in Dunn County. She was baptized and confirmed at Vang Lutheran Church and spent her early school years in Dunn County and in Osage, Iowa.

When Frances was a teenager, her mother developed cancer and Frances missed a year of schooling to stay at home and care for her. After her mother died, Frances, her father and her younger sister moved west to St. Maries, Idaho, where she continued her education and graduated from St. Maries High School in 1949.

It was in St. Maries that Frances met her true love, Lyle Colby. They met on a blind date arranged by Frances' aunt and uncle. She often recounted how it was a wonder she ever went out with him a second time because Lyle fell asleep on their first date. They were married in Coeur d' Alene February 26, 1949, and made their home in St. Maries, where Lyle was employed with Safeway Stores.

Their marriage was blessed with three daughters, Linda Marie, born June 14, 1951; Vicki Lynn, born July 7, 1952; and Dianne Joyce, born June 5, 1956.

Lyle's career with Safeway moved them to Spokane, Omak, Washington, and Sandpoint.

She and Lyle operated a small dairy and raised beef cattle. In 1970, they settled in Bonners Ferry.

Frances cooked at Three Mile Restaurant for Jim and Nadine Jackson, at Valley View School, and at Cone's Café and Grocery which she and Lyle owned and operated from 1976 till 1981. She was also a home health care provider for several of the county's elderly. She was a hard worker and expected those who worked for her to do the same.

Frances was a Master Food Preserver. She loved to garden and can. She raised beautiful dahlias and cannas and was an excellent seamstress, always sewing clothes and quilts for her family. She enjoyed her cows and regularly attended the weekly livestock auctions where she was known to haul baby calves home in the backseat of her car. Her coffee pot was always on and her cookie jar was never empty.

She was a member of Trinity Lutheran Church in Bonners Ferry and taught Sunday School there for many years. After Lyle retired, they travelled across the United States with their camper and spent many happy days camping at the local lakes.

Lyle passed away in 2007 and Frances eventually moved to Sandpoint, where she resided at Life Care Center. Recently she moved to Valley Vista Care, where she was living at the time of her passing.

Preceding Frances in death were her husband Lyle, her parents and her siblings: Adaline Straub, Opal Boyd, Richard Brown and Joyce Shippy.

She is survived by her daughters Linda (Mike) Ashby of Bonners Ferry; Vicki (Troy) Blake of Burbank, Washington; and Dianne (Joe) Cousins of Sagle, Idaho. She leaves behind thirteen grandchildren and their families: Tanya (Ben) Nystrom, Audrey, Wallace, Clayton and Anders; Brian (Susannah) Ashby, Hope and Alvin; Allen (Jennifer) Ashby, Andrew and Eli; Amanda (Scott) McGillivray, Levi and Ellie; Lisa (Jamy) Landis, Joella, Aleyah, Dinah, Eva and Hannah; Thomas (Anika) Blake and Brylee; Kristen (Greg) Ditty, Isaic, Deven, Ethen and Averi; Travis (Kimberly) Blake, Troy, Tanner and Madison; Stacey (Kevin) Kennedy, Austin, Shaylynn and Cameron; Heather Conard; Jeffery (Simi) Conard; Chris (Brianna) Cousins, Chyah and Joseph; and Stephen (Kellye) Cousins. She is also survived by three sisters-in-law and numerous nieces and nephews.

Bonners Ferry Funeral Home is in charge of arrangements. Frances will be laid to rest at Grandview Cemetery. Please sign her guest book at www.bonnersferryfuneralhome.com.