Lester 'Les' Herbert Richardson
March 21, 1939 ~ November 25, 2012
December 3, 2012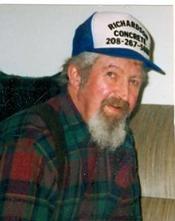 Lester Herbert "Les" Richardson, 73, went to be with the Lord on November 25, 2012. Services will be held at a later time.

Les was born in San Jose, California, to Herbert and Olive Richardson on March 21, 1939. He was one of four children. He lived an adventurous childhood in southern California, where he loved riding the rails on the train where his father was the conductor.

He joined the U.S. Navy in March, 1956, where he served six years as an aircraft mechanic on the USS Princeton. He was honorably discharged as an ADR 3 in April, 1962. He then moved to Las Vegas, where he worked as a bartender and learned his lifelong trade as a cement mason, which he loved. He then moved to Paradise, California, where he met the love of his life, Patti.

They were married in September, 1974, and spent the first seven years of their 37 year marriage in Nevada before moving to Bonners Ferry. He finished concrete from the Canadian border throughout Boundary County up until last spring.

Besides loving his trade he enjoyed fishing, riding his motorcycle, BBQs, and "bullshitting" with neighbors, friends and anyone who would listen.

His family was very dear to his heart and he loved nothing more than the sound of his grandchildren playing in the cabin he built by hand in the Good Grief area.

This past year he got a job at the Duty Free Store in Eastport, which he thoroughly enjoyed. He met and worked with the greatest people until his last day on earth.

He was preceded in death by his parents. He is survived by his wife Patti, four children: Ron Richardson and wife Mary and Gary Richardson, both of Fresno, California, Julie Vignari and husband Troy of Elk, Washington, Jennifer Davis and husband Brian of Bothell, Washington and grandchildren Tyler, Alisa, Tristan, Natalie, Terry, Reagan and Tatiana, another six grandchildren and 15 great grandchildren.

Family and friends are invited to sign Les's book at www.bonnersferryfuneralhome.com. Arrangements are entrusted to the care of Bonners Ferry Funeral Home.