Tyler R. Piper
May 20, 1948 ~ December 5, 2012
December 12, 2012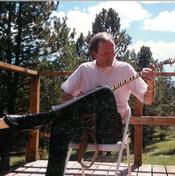 Tyler R. Piper died peacefully at his home in Idaho on December 5, 2012. Services will at 2 p.m. Friday, December 14, in the chapel at Sunnylane Cemetery in Del City, Oklahoma. Local arrangements to be announced.

He was born on May 20, 1948, in Greensburgh, Pennsylvania. He is the son of the late Robert W. and Evangeline Piper.

He was a founding member of the Greater Oklahoma Bluegrass Music Association and owner and founder of Imperial Banjos. He was a graduate of U.S. Grant High School and attended University of Oklahoma, as well as served in the U.S. Army

He is survived by wife, Marilyn of the home; mother Johnnie Piper of Edmond, Oklahoma, brother Joel (Sharon) Piper of Moore, Oklahoma, son Travis R. (Sharon) Piper of Oklahoma City, daughter Stephanie (Richard) Howell of Edmond, son Don (Dianna) Price of Wilson, Oklahoma, grandchildren Christopher Clark of Edmond, twins Malylee and Thomas R. Piper of Oklahoma City, Chad Price and Ethan Price of Wilson, as well as many other family members.

He was loved by many and will be truly missed In lieu of flowers, please donate to the American Cancer Society.

Family and friends are invited to sign Tyler's book at www.bonnersferryfuneralhome.com. Arrangements are entrusted to the care of Bonners Ferry Funeral Home.