Beverly Lou Tuin
October 17, 1929 ~ January 15, 2013
January 20, 2013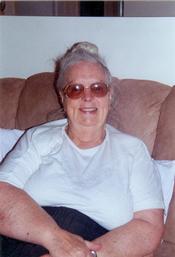 Beverly Lou Tuin, 83, passed away January 15 at the Boundary County Nursing Home, Bonners Ferry, surrounded by loving family members and caring nursing home staff. Funeral services will be held at 1 p.m. Saturday, January 26, in the Bonners Ferry Funeral Home Chapel, 6485 Harrison Street, Bonners Ferry.

There will be no gravesite services, as Beverly's final resting place will be in Troy, Montana, at the Troy Cemetery next to her husband, Ralph.

There will be a viewing all day Friday, January 25, at the Bonners Ferry Funeral Home for those who wish to pay their respects before the funeral.

Beverly was born to Charles and Edna McGlocklin on October 17, 1929, in Bonners Ferry, where she grew up. She was the youngest of six children.

In August 1946, Beverly met Ralph Tuin, a tall handsome Army soldier, at a church convention near Bonners Ferry. They fell in love and married January 10, 1947, in Spokane. They produced eight children and had 45 years 7 months and 24 days of marriage together until Ralph's sad passing September 4, 1992.

Beverly and Ralph began their life together in Bonners Ferry, but also lived in Estelline, South Dakota, Ryer Island, California, and Troy, Montana.

While spending most of her life as a stay at home wife and mother, Beverly did try her hand at selling Avon on Ryer Island, and Fuller Brush products in Troy. Beverly loved to visit, so she spent more time visiting her potential customers than she did selling.

Deciding she wanted to make more money, she got a job working for the St. Regis Lumber Company in Libby, Montana, the same company Ralph was working at in 1967. Health problems prompted her to quit that job after working in the box factory department of St. Regis for a couple of years.

One of Beverly's greatest pleasures was going out in the mountains to pick huckleberries, so when they moved to Troy in 1965, Beverly looked forward to every huckleberry season after that and continued to pick huckleberries every year until she could no longer roam the mountains. Her mind wanted to go, but her worn body refused, so she had to give up picking her beloved berries.

Another of her passions was going to Sater's Auction in Bonners Ferry. She loved getting "good deals" and gossiping with her friends at the auction.

After Ralph passed away, Beverly stayed in the Troy family home for several years, but eventually decided to move back to Bonners Ferry. She lived on her own until she had a stroke that took away her ability to live by herself.

Needing 24-7 care, Beverly moved into the Boundary County Nursing Home in March, 2005, where she received wonderful love and care by the nursing home staff until her passing.

Beverly was happy and content and appreciated what everyone did for her there.

One of her favorite activities there was playing bingo, it was a thrill for her when she won and got to pick out a prize. She often gave out some of her prizes to her many grandkids and great-grand kids, who were a great joy to her. She became a great-great grandma for the first time November 29, 2012.

Beverly was preceded in death by her parents, Edna and Charlie McGlocklin, husband, Ralph, her four brothers, Bob, Gene, Paul, and lee, and sister-in-laws, Dorothy and Hazel.

She is survived by her eight children, Sharon (Ron) Lambert, Trail, Oregon, Karen (Belvin) Jellesed, Troy, Tom (Denny) Tuin, San Diego, California, Rosetta (Graydon) Tyskerud, Nanaimo, British Columbia, Canada, Julie (Rod) Ingrum, Bonners Ferry, John (Rhonda) Tuin, Carson City, Nevada, Richard (Melissa) Tuin, Dillard, Oregon, and Dan Tuin, Troy. Also grandchildren Mark (Cecie) Nicolette, Cindy (Terry) Cummings, Kristy lyons, Tom (Lisa) Tuin, Sabrina Chase, Matthew (Julie) Tyskerud, Jackie Tyskerud, Nicole (Nate) Pieren, Jennifer Rucker, Felecia (Kyle) Casci, Johnny (Tristian) Tuin, Amber (Mark) Managhan, Ricky Tuin, Shelly Fancher, Patrick Smith, Casey Tuin, and Ashley Tuin; great-grandchildren Markie Nicolette, Danielle Cummings, Megan Cummings, Jessica lyons, Heather lyons, Tatum Tuin, Sean Tuin, Chelsea Chase, Bradley Chase, Ethan Tyskerud, Madelynn Tyskerud, Elise Pieren, Zeagan Pieren, Madison Ingrum, Brysin Jenkins, Brody Ingrum, Raven Rucker, Emily Managhan, Tyson Fancher, and Akili Fancher; and great-great grandchild Porter Schiller.

Beverly is also survived by her sister, Marita (Russell) Albert, sister-in-laws Betty McGlocklin and Gerrie McGlocklin, as well as many nieces and nephews.

Family and friends are invited to sign Beverly's book at www.bonnersferryfuneralhome.com. Arrangements are entrusted to the care of Bonners Ferry Funeral Home.