Chester Wayburn Goodson
July 20, 1930 ~ January 25, 2013
January 28, 2013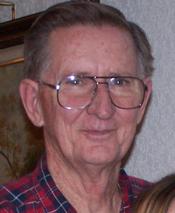 Chet Goodson passed away peacefully in his sleep at home on January 25, 2013. There will be a memorial service for him at 1 p.m. Friday, February 1 at Bonners Ferry United Methodist Church, 6568 Lincoln Street.

Chet was born to Chester and Veree Goodson in San Diego on July 20, 1930. Chet joined the Navy when he turned 17, just in time to serve during the Korean conflict.

It was at a USO dance in San Jose, California, while he was stationed at Moffet Field, that he met his wife, Bobby.

They were married three months later in August of 1951. Daughters Sue and Nan joined them over the next few years, and being a Navy family they enjoyed the sights and sounds of living overseas and taking advantage of all the sightseeing possibilities

He loved living in Ceylon (Sri Lanka), and had many adventures, including a successful hunting trip to find a rogue leopard that was terrorizing local villagers. He was on a two man scull crew with the embassy team and enjoyed many victories.

Hong Kong, Rome, London, Cairo, elephants, camels and snake charmers are all part of the memories made.

Chet's last station was the Pentagon where he served with the intelligence department until retirement in 1968.

Chet moved his family to Sunnyvale, California, where he accepted a position with GTE Sylvania as military attaché and security specialist until his final retirement in 1988.
In 1989, daughter Sue had bought her property in Bonners Ferry; Chet and Bobby followed close behind, buying the neighboring 20 acre parcel. They built their dream house on the hill and enjoyed having the grandchildren next door; they gardened, traveled and genuinely enjoyed their retirement. They tried the snow-bird lifestyle for a few years but found they missed Bonners Ferry and the mountains and became year round residents by 1995.

Chet leaves a legacy of love; being the sweetest, nicest gentleman most people had the honor of meeting. Ask anyone who knew him and they would say he was a living example of someone with a true heart for God, and the way he loved was an example we should all follow.

He always had cheerful happy attitude, a servant's heart and willing hands. He volunteered his time and efforts in numerous ways from serving on various church activities and committees, missions to Mexico to construct a church and work on homes. UMCOR relief centers, Walk to Emmaus and Chrysalis where he was the coffee guru for many kitchen teams. He was also an avid supporter of The Wounded Warrior Project.

He lived his life graciously and deeply cherished and loved his family. He will be profoundly missed.

Chet is preceded in death by his parents Chester and Veree, brother- in-law Don, and his wife Bobby.

Chet is survived by brother Solon and his wife Denise, sister Patty, nieces and nephews Teri, Michael, Crystal, Norman, Veree and Greg, daughters Sue and Nan, along with their spouses Jason and Gari. He was also loved by four grandchildren, Barbara (Jerry) Drake, Ben (Jynell) Kropatch, Andrea (Joel) Bjork, Kim (Logan) Fields, and nine great grandchildren.

Everyone called him Poppa G.

Family and friends are invited to sign Chet's book at www.bonnersferryfuneralhome.com. Arrangements are entrusted to the care of Bonners Ferry Funeral Home.